Mid-Century Modern Dresser
Last Updated on December 8, 2022
Oh Emily. I'm so sorry. I do realize you are completely distraught with some people's irreverent taste in ghastly sofas, but I know you're really only masking your sadness because you peeked at my front room. Charlie Hendo has been gently wiping the tears streaming down your face and cooing oh so sweetly, "Don't cry momma." But that Craigslist hairpin table was just not right, was it? And not even a cute giggle from your little man could make it better.
I knew it right after I placed it there. It wasn't perfect. You've probably been sitting in some fabulous Mid-Century Modern closet, painted in bright white, screaming at the ceiling (with gorgeous wooden beams, obvs), "It's hideous! Yes, hairpins are having a moment, but that table is wrong! So! So! SO WRONG! Wrong height! Wrong length! Wrong color! JUST PLAIN OLD WRONG!" Nothing can console you.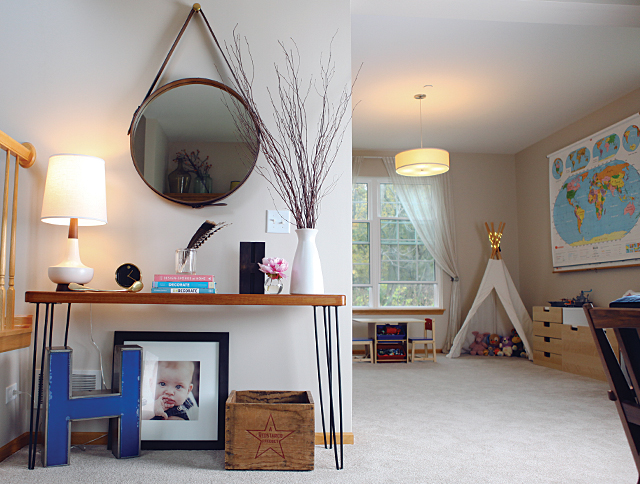 I thought maybe if I just put a large letter "H" and propped up some artwork, it would pass the Emily test, but alas, I failed you once again. I've terrorized your dreams and not even gifting a pair of high-waisted pants and a new Anthro floral top could turn that frown upside down. To be honest, I never liked it myself. Not even a vintage wooden box or the addition of the perfect Caravan Pacific lamp could gain your approval. I knew it. We all knew it. It's ok, sometimes you just need to scream out your feelings. Let it go. I disappointed you greatly. That is until White Attic closed and put their entire inventory on clearance. 40% off everything. Yes, that's right m'dear. Take solace, the hairpin table has been replaced with this fancy little number.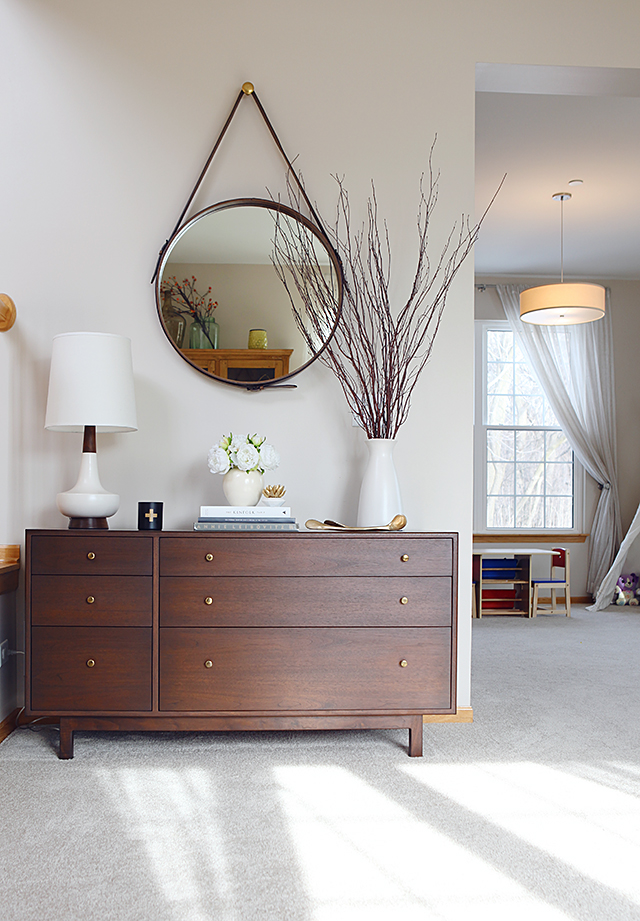 The most perfect Mid-Century Modern dresser with original brass pulls. Let me explain. See, it happened without warning while The Boy was in the middle of some frigid field or river duck hunting. The kiddos were playing nicely and momma was having a little morning Facebook alone time. Scroll, scroll, scroll…someone complaining their coffee's too hot. Scroll, scroll, scroll…someone I haven't seen since the 5th grade on a beach in Maui (bastard). Scroll, scroll, scroll…say happy birthday to this person you haven't seen or heard from in 37 months. Scroll, scroll, scroll…sweet baby Jesus! White Attic is closing…sadzies…but 40% off all inventory. Shut the front door! Hold the phone! Wait, no gimme that phone! Where are my keys! No, I haven't brushed my teeth or my hair, and yes, we are all still in jammies. Priorities people! My heart was racing frantically, for I had just seen 2 beautiful dressers only days before in their Facebook feed. I needed to pounce and had only a meager 38 minutes before they opened. I'd never make on the Kennedy…crap.
Also, I needed permission. See, The Boy and I have a $200 rule. If a purchase is over $200, we have to talk about it. Yes, I've found loopholes. Like, make 2 purchases for $199.99 each (and tax SO doesn't count). Shhhh, don't tell. That will remain our little secret. But the point is, I couldn't do that with two dressers. This needed to be talked about. Besides, I was completely broke and this purchase would have to be procured on his credit card. It couldn't wait until his return. Since he was hunting with his buddies and drunk off meat sticks,  ammunition and testosterone, I knew he would be in a good mood. The text basically went like this. Me: "Hi! Catch anything? So, 2 dressers are 40% off. Best deal ever. I should totally buy them!" Him: "Oh of course! You're completely right! Maybe you should add side tables and a couple of chairs while you're at it!" Me: "You're right! I probably should! Hope you're having a fabby time!" Well, that's pretty close in my mind as to how it went down in my mind. Anyhoo, I got the approval.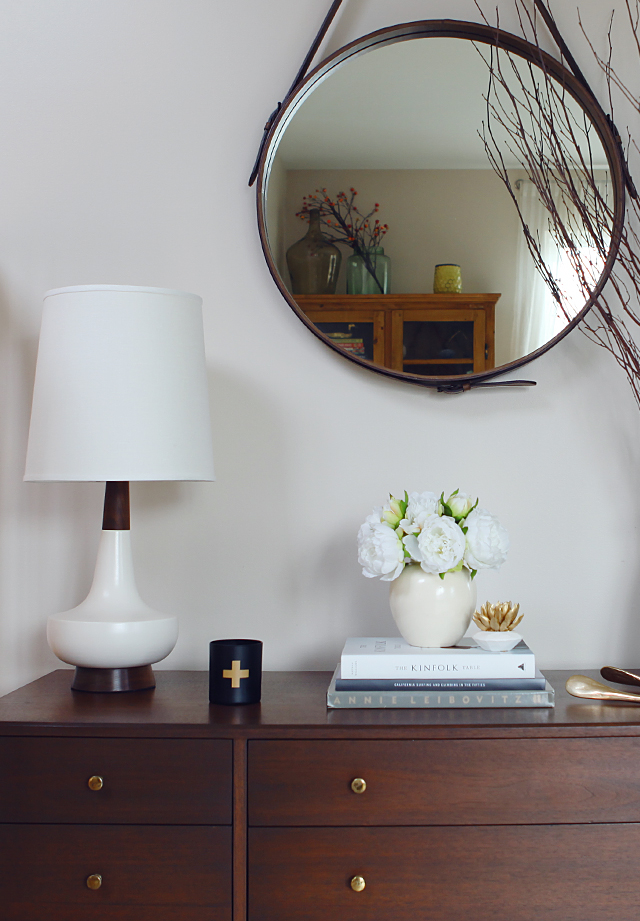 I waited until 9:57 AM and made the call 3 minutes prior to open. I would force them to take my credit card over the phone if I had to. Thankfully the owner Terry answered the call. He and I had spoken before and he remembered me. The one dresser was sold the day prior, but the other was still in the showroom. Slap a sold sticker on that sucka, it's mine!
And that dear, sweet Emily Henderson is how I saved you from the downward spiral of despair this month. And I know you're literally losing your mind (in a good way) over my styling this time. At least I hope you are, but that I will save for yet another addition of "I Make Emily Henderson Cry". I know, I know…it could totally use a man bust, but I did manage to squeak in a miniature brass succulent. Until next time sweet kitten, please keep those tears at bay and venture out of the closet. It's a beautiful day in LA and it deserves to see your lovely smile.