How To Decorate With Plants
Last Updated on December 2, 2022
Up until last summer, I steered away from owning a houseplant. It had nothing to do with not liking plants, I guess I just tend to kill them faster than most humans on the planet. and should really stick to faux plants. In general, I think I'm a bit intimidated. I owned a jade tree in junior high and it thrived, but everything else seemed to die when I neared it. After moving into the new house, I longed to have pretty greenery but really knew nothing about feeding or watering…only killing. I dragged my feet until last August when I attended The Renegade Craft Fair with my friend Laura. Henceforth, I've become slightly obsessed with how I decorate with plants.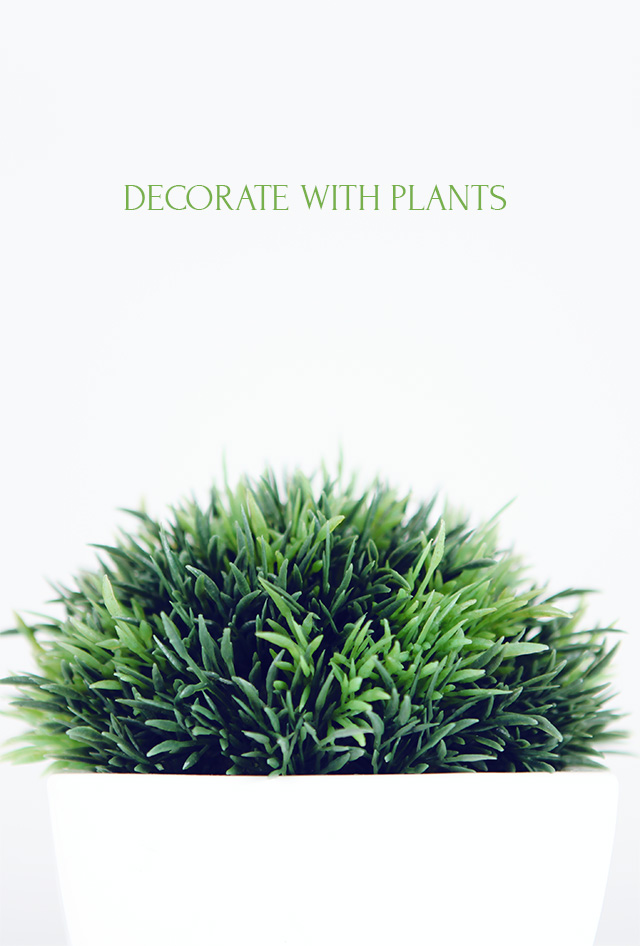 At the craft fair, we saw these pretty, pretty air plants and decided to take the plunge. My love of owning plants flourished right then and there. After much research on easy to care for houseplants, I drove to Home Depot and purchased a snake plant. When The Boy wasn't looking, I quietly whispered to it, "I'll try really hard not to harm you." I swear it gave a little shiver in its pot. Poor thing was scared to death! Can you imagine?
A couple of months later, I found some fabulous brass planters at Schoolhouse Electric. Wow! Succulents would look amazing in these puppies. Terrain shipped me a package of 6. Since writing this post, I have been told not to pot succulents in potting soil, so I'm off to find succulent soil with better drainage and repot soon. This is probably the main reason only 5 remain alive. Sorry little guy, I didn't know.
At the moment, most of my plants are sitting in my front room in a jumble by the window. I was kindly reminded this morning that I really need to incorporate said plants in my home decor…kindly reminded when The Boy texted me that he had just cleaned up dirt from the carpet where my son accidentally kicked that pretty brass planter over. Sad face. Dirt everywhere. So off to the interwebs I went. Searching high and low for different ideas to decorate with plants.
After picking a few inspirational images from Pinterest to get the ball rolling, I decided I can totally get behind this whole jungle plant trend. Whether in a grouping, hanging from a macrame, or neatly arranged on a shelf, they add so much more life to a room. A fresh pop of luscious greenery and nature. Now if I can just get the fiddle fig tree to love me back, we'll be in business! Such a fickle fickle tree. I think it's trying to kill itself, but that is another story for another time.
Find More Home Decor Inspiration
Summer Living Room Decor Ideas
7 Tips To Decorate A Bedroom Like A Pro
Clever Budget-Friendly Decorating Ideas