Fall Porch Decor Ideas
Last Updated on June 28, 2023
Welcome to the very first time I've shared the exterior of my home. It's funny; I didn't notice things like all those weeds and the much-needed upkeep until I took this photo. Now that I've stared at it for hours, I guess I have another project on my hands, thanks to Cherished Bliss' Seasonal Design Series. I'm presently sitting here, wondering, "When was the last time the landscaping guys were here?" I'm also silently judging the outdoor lighting, and the choice of pink on the front door is doing nothing for me…as well as the door itself. Ya, the entire outdoor space needs some added charm and curb appeal.
Present State Of My Front Porch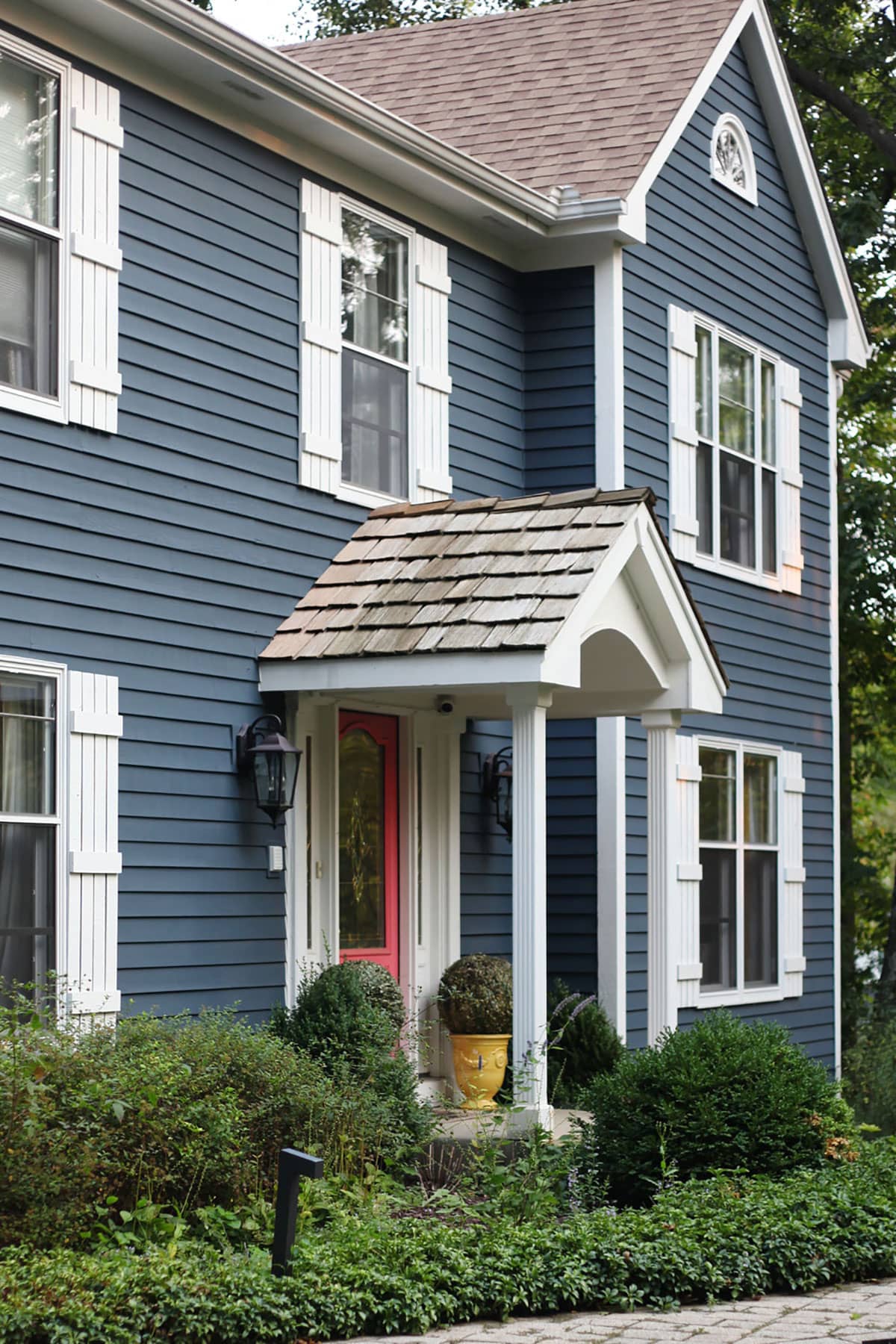 Today's the last installment of this fall home decor series, and we're focusing on outdoor decor. Because I have some serious work to do, I'll be sharing fall porch decor ideas that are inspiring me to zhush my own space…and maybe yours too! Be sure to check out the other bloggers sharing their fall porch decor ideas. Each talented lady is linked at the end of this post, and if you missed the first three fall home decor posts from the series you can check them out here:
Cozy Textiles /// Fall Home Decor /// Unique Artwork
When I look at my front porch decor and compare it to what I put together below…oh child, we're gonna make this happen. To begin with, the path lights are crooked, the pavers have weeds in the cracks, and the hedges need trimming. I'm starting to think there's some sort of maintenance that needs to be done to those shake shingles (must Google after posting). And what are those long stalks? We were going for maintained without the look of being maintained, but I think we've gotten a bit lax. Here are a few inspo designs I put together. You'll have to tell me if you have a favorite in the comments.
Three Fall Porch Design Ideas You Can Shop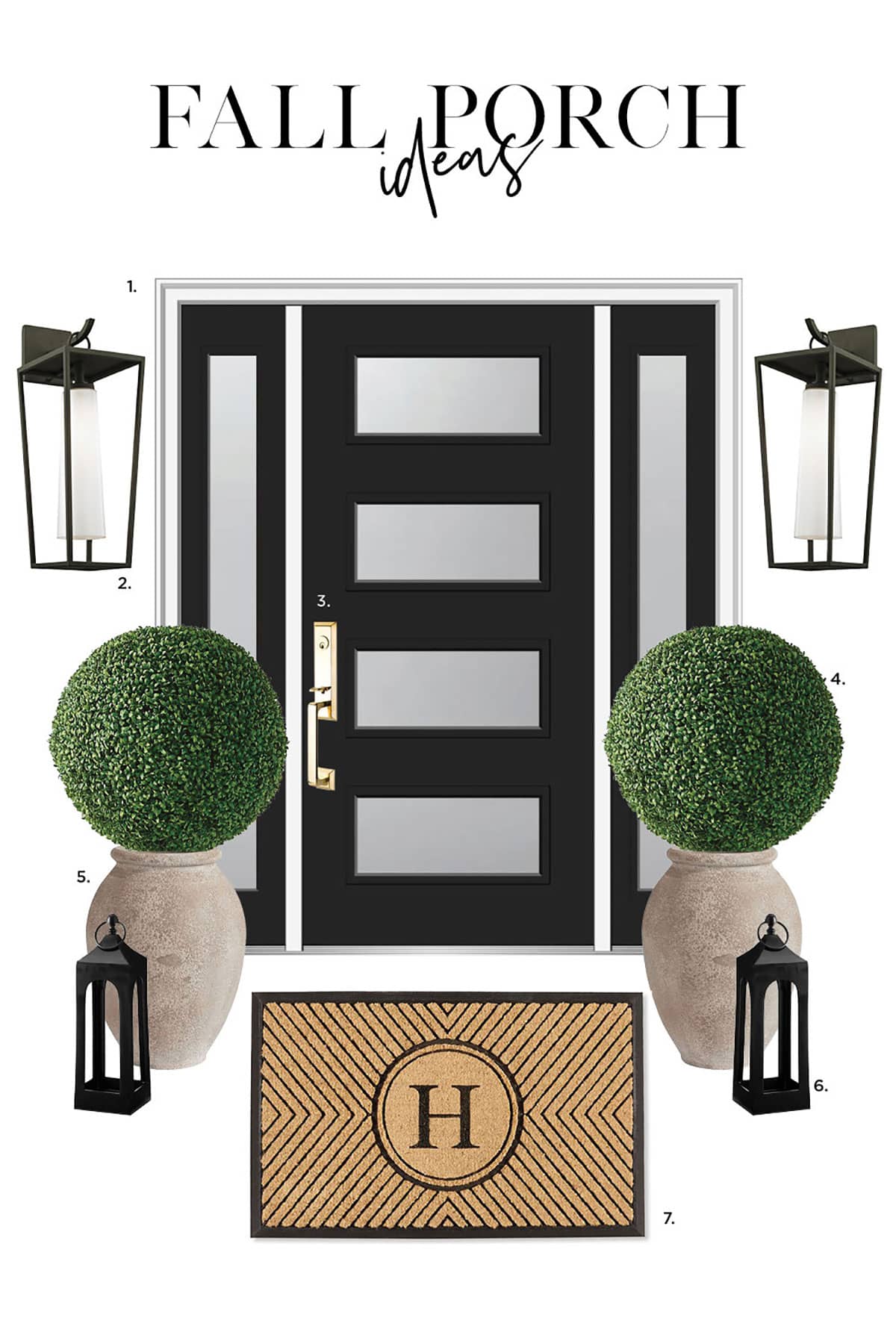 Virtual Design – Shop This Front Porch Design
1 – Front Door
2 – Outdoor Lantern Lighting
3 – Exterior Door Hardware
4 – Large Topiaries – no longer available
5 – Large Outdoor Urns – no longer available
6 – Black Outdoor Lanterns – no longer available
7 – Doormat
I know topiaries lean towards the traditional side of design, but I love their simple modern look. The stacked ball is a classic design. And those little lanterns are just too cute…I also love these with the moss inside. Maybe add in a few in different sizes and some LED candles to add ambiance.When I showed The Boy all the porch designs, this is the one he chose…which is funny because it's the last one I threw together. Isn't that the way it goes? At first, I was unsure of the rectangular lantern lighting paired with the windowpane doors, but I really dig the simplicity of this look.

RELATED: If you're looking to spurce up your backyard, check out my round up of the most comfortable patio furniture.
Virtual Design – Shop This Front Porch Design
1 – Front Door
2 – Outdoor Lantern Lighting – no longer available
3 – Faux Snowball Plants – no longer available
4 – Exterior Door Hardware
5 – Large Outdoor Planters
6 – Faux White Pumpkins
7 – Woven Doormat /// Woven Doormat Wide
8 – Olive and Billy Button Wreath – no longer available
9 – Olive and Eucalyptus Leaf Wreath
10 – Wild Blooms Wreath

Shop This Design
1 – Front Door – no longer available
2 – Outdoor Wall Lighting
3 – Large Outdoor Urns
4 – Exterior Door Hardware
5 – Faux White Pumpkins
6 – Striped Doormat – no longer available
This last look was trying to be a bit funkier, yet it still has a few classic pieces. I'm pretty much obsessed with the door (sold out). The windowpane design is modern but still fits with the house. For comparison's sake, here's an up-close and personal shot of my existing porch decor. I've never been a fan of the ornate glass door, but the light it lets in is fabulous. When we moved in, my daughter would scream, "rainbow." When the afternoon light hits, the sun hits the different cuts in the glass. The rainbows still make me smile when I see them.

My front porch is by no means hideous, but I think we can all agree that those topiary balls have seen better days. The yellow urns feel kinda like a fruit bowl with blue, pink, and greenery. The welcome mat is 6 years old, and it srsly needs to be replaced…although it makes every guest laugh. I also think adding a fun tile to the cement stoop might add a bit of oooh la la and interest as well. But first things first, I'm painting those rust marks on the columns. Yikes! So tell me, what design do you like best?
More Fall Front Porch Decor From These Bloggers
Cherished Bliss | Fox Hollow Cottage | Inspiration for Moms | Taryn Whiteaker
And be sure to check out this patio and outdoor garden decor round-up of all my favorite outdoor furniture. 



Discover More Eclectic Home Decor Ideas
It's finished! Well, kinda. Sharing the before and after look at my bedroom closet remodel.
Did you know that mushroom decor is trending? I've rounded up all my favorites.
Fireplace styling got you down? Here are some expert mantel decor ideas to inspire you.
Bobby Berk told me he has always invested in quality bedding. Here's the ultimate guide to the best sheets and bedding.
Find affordable velvet curtains to cozy up your space and soften your windows.
If you're looking to replace your ceiling lights, here are a few boob light alternatives.
If you want to spruce your backyard, check out this round-up of the best outdoor patio furniture.
Ever second guess yourself on what rug size to buy for a living room? Here lie the answers you desire.
Love plants as decor but have a black thumb? No worries! I have a rounds ups of the best faux olive trees and my favorite faux fiddle leaf fig trees.
If you're looking for an Anthropologie mirror dupe that doesn't break the break. This one is for you.
If you want to make your home a bit smarter, check out the best smart home devices I've tested and my post about smart lighting for your home.