One Room Challenge — Week 3
Last Updated on September 19, 2023
We're screamin' into Week 3 of the One Room Challenge and have reached the point in construction where every room is covered in dust, and the house is a disaster. But that's where the magic happens, am I right? At least that is what I'm telling myself. If you've been watching my Stories on Instagram, you know the tile is installed and we're starting to grout, but let's recap anyway. Oh, and if you missed Week 1 or Week 2, you can get all caught up here.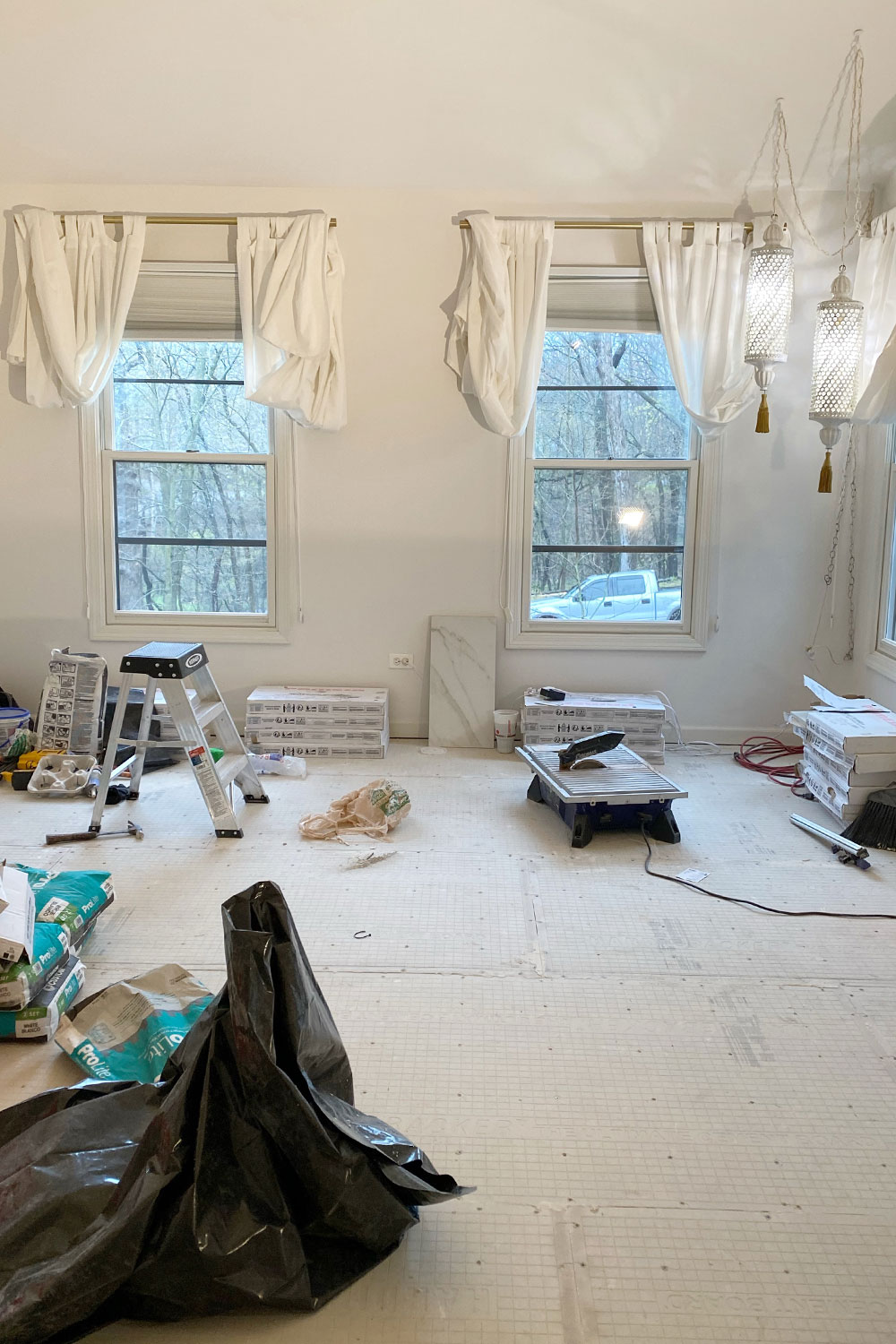 ORC Week 2 was wrapped when The Boy ripped out the carpet, and Gerry began to install the backer board to prep the floor for tile. At the end of that day, I grabbed him before he left, and sheepishly asked about adding an arch to the entrance of the home gym. It was a "hell ya, I can do that!" That last-minute decision was an absolute genius one, and I'm so glad I asked. The arch has really transformed the space.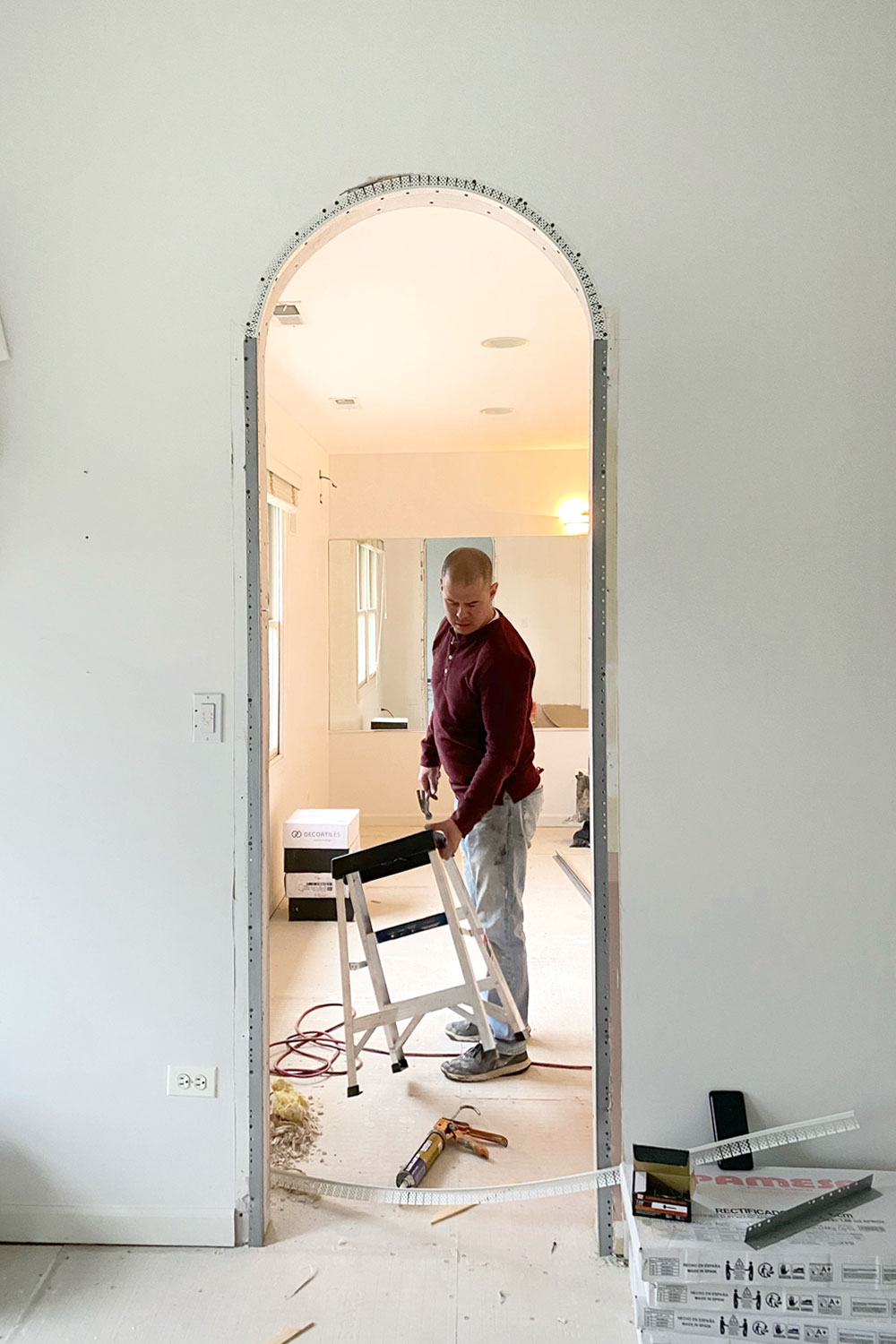 The black tile accent wall was up next on the project punch list. We went back and forth on grout and spacers, but in the end, we decided to get crazy and install without spacers. Clutch the pearls are you insane? Yes, if the wall shifts, I could be in trouble, but we're just going to hope that doesn't happen. Besides, the tile is double super triple glued, and I'm eyeballing it like go ahead and try to move tile…I dare ya.
I'm really digging the clean look of tile on tile, and no grout made cleaning the tile after mortaring fairly simple. Just a wipe with the microfiber tile, and the haze was gone. Also, I had another last-minute creative spark to add even more shazam to this wall.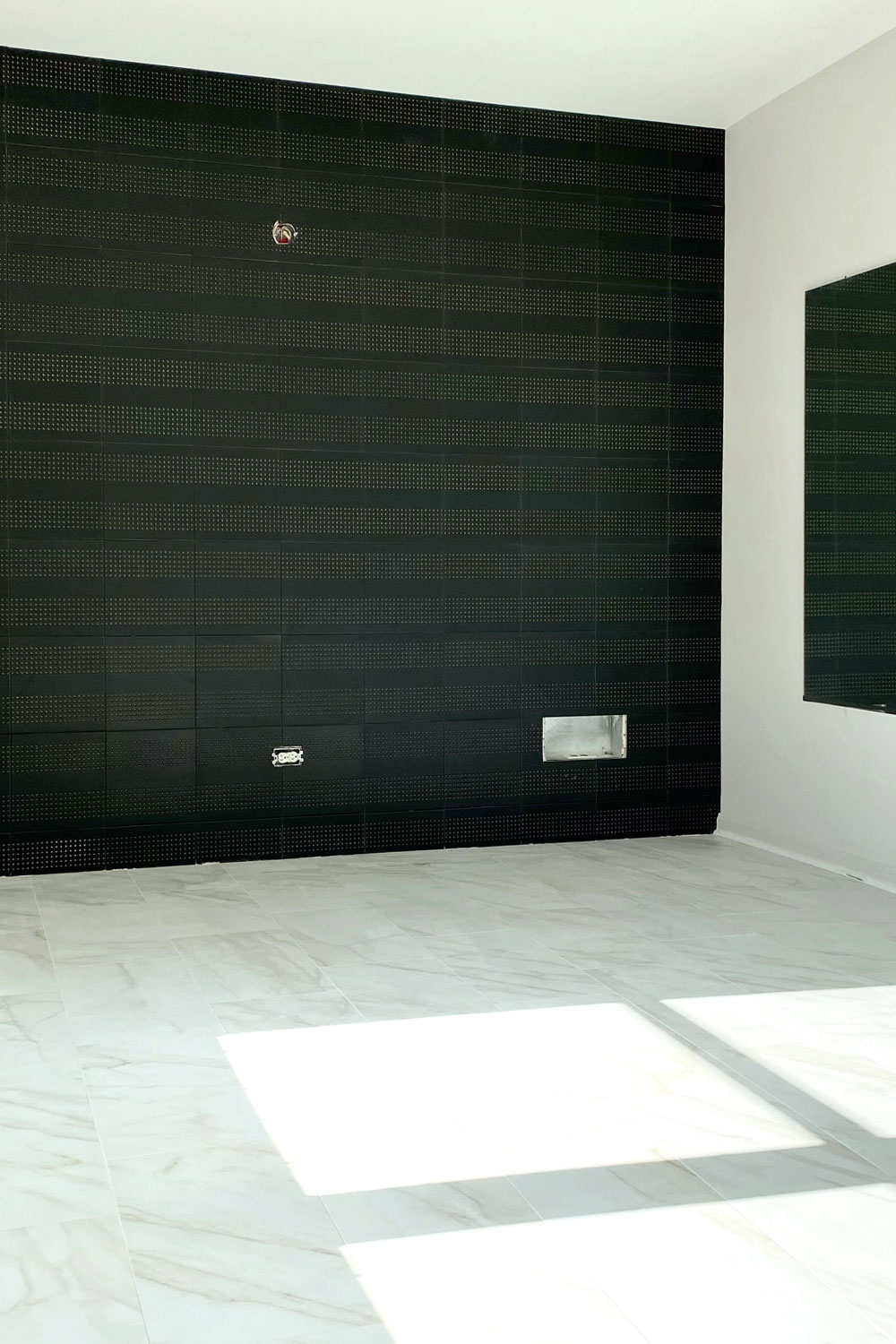 Now that I'm closing the vintage shoppe, Imma haul that vintage marble fireplace back over here and work some magic. Hopefully, it turns out as good as it looks in my head.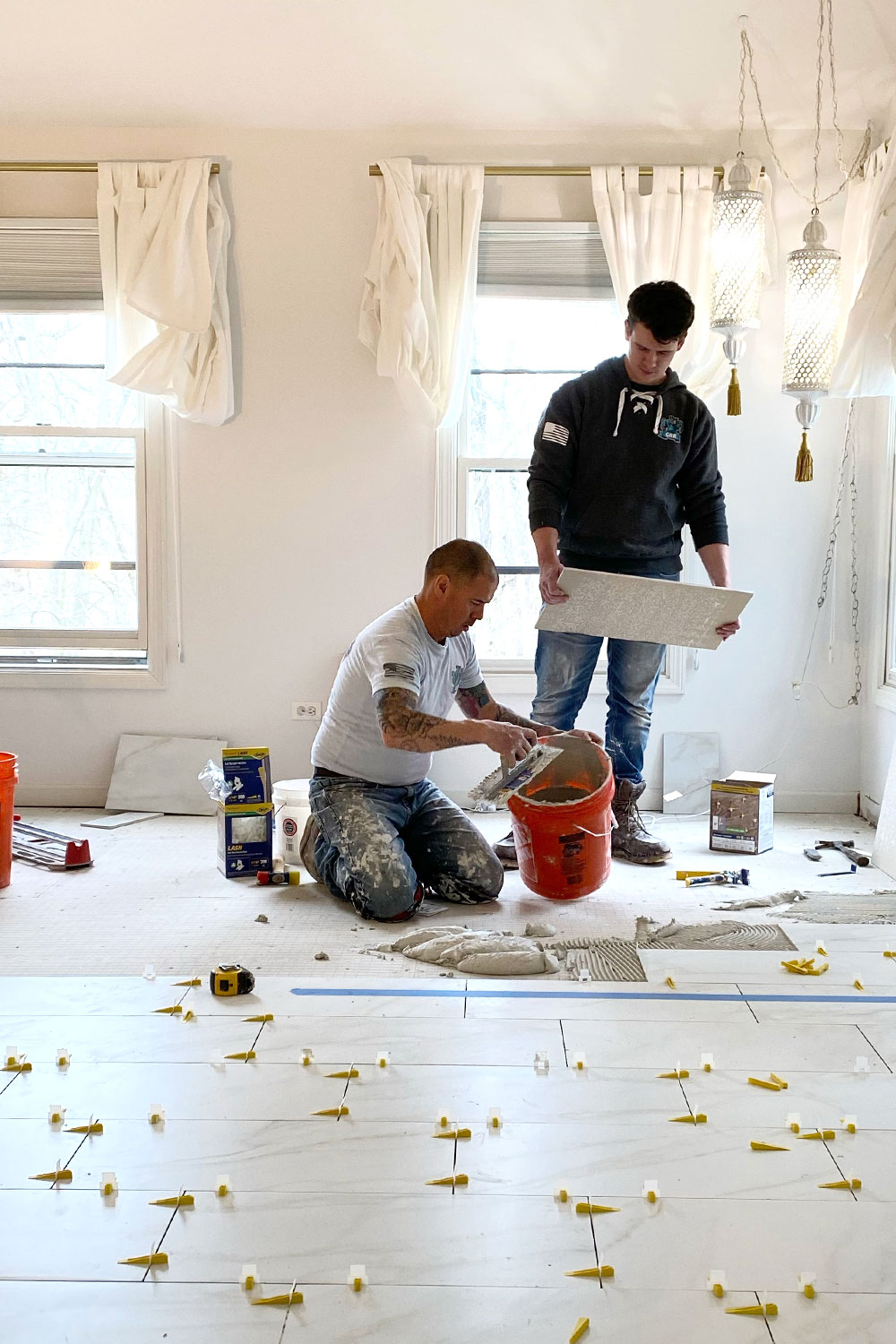 When the floor tile was installed, Gerry made a beautiful mess. This place was a disaster for a good 3-4 days, but wow was it worth every speck of dust. If you told me this flooring was marble, I'd believe you. Can you believe it's porcelain tile? The matte finish makes it virtually indistinguishable.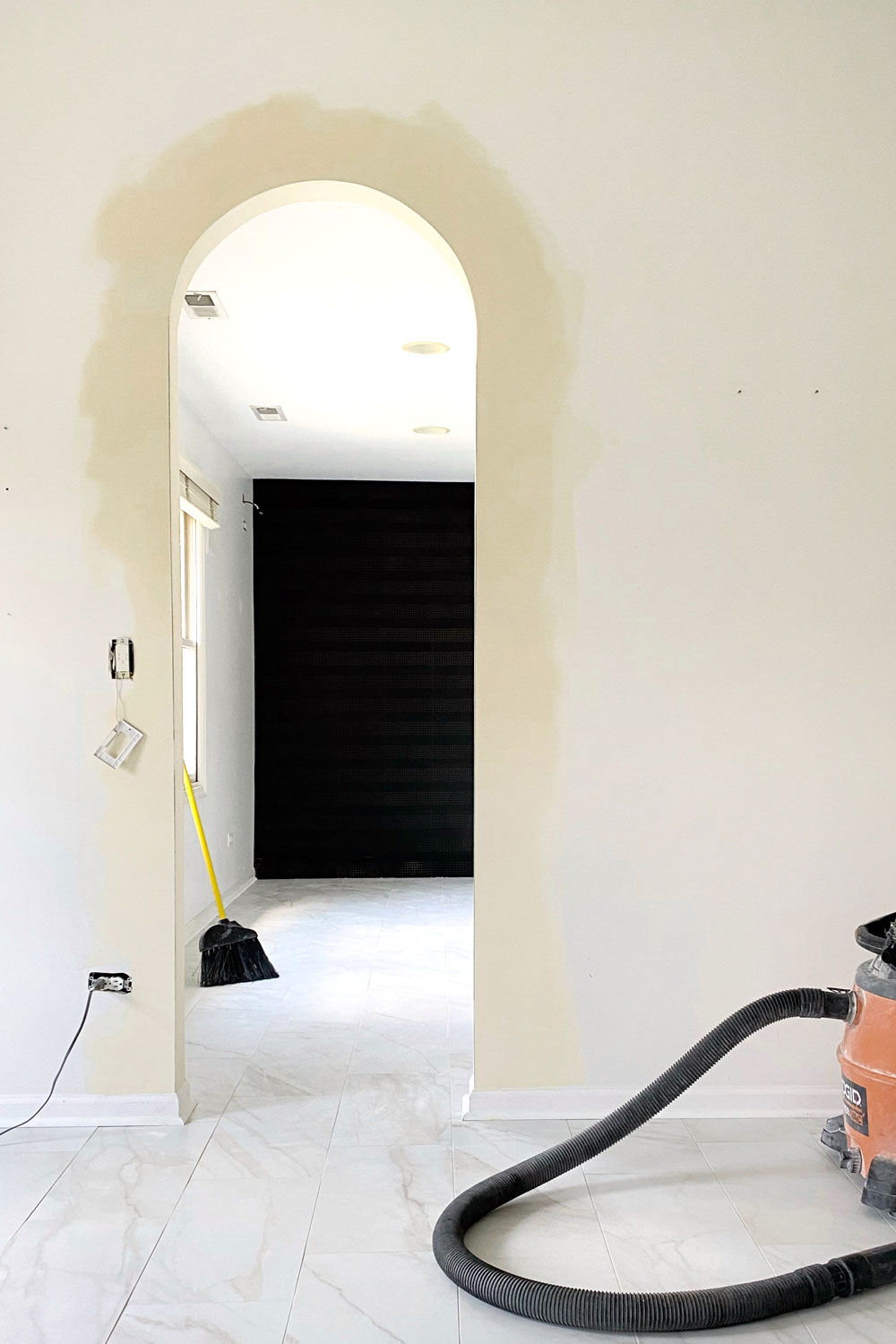 Gerry also hit my deadline like a boss and mentored his son in the art of tile installation to boot. That is how we got around social distancing. Only Gerry or people from Gerry's container were allowed in the house and everything had to be wiped down after they left for the day. Renovating during Covid has been an interesting feat, but we've all managed to work together safely and adapted to a new normal.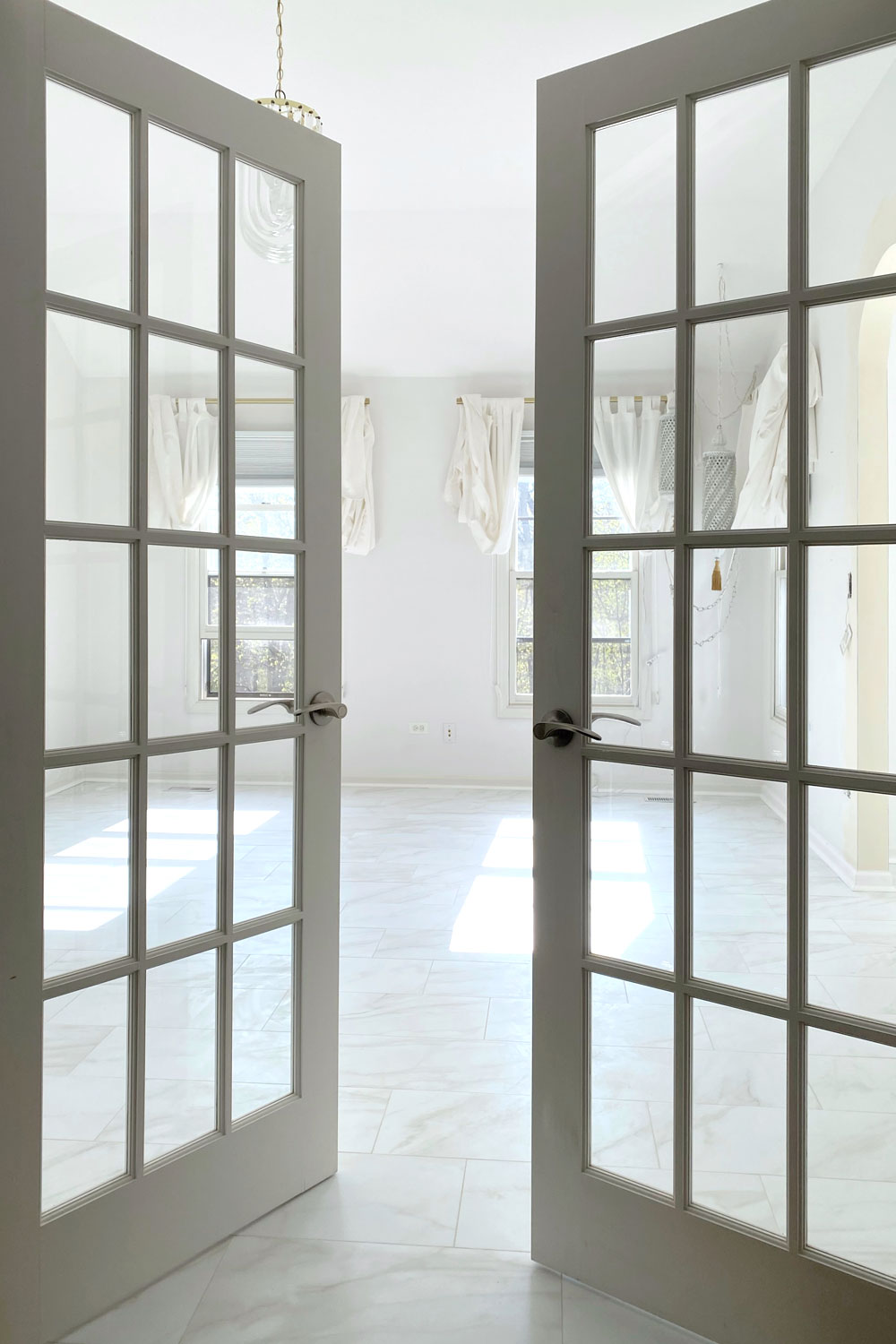 After the grout dried, I really wanted to get a closer looksy at that rug from Couristan. As of today, it was still in the plastic wrap rolled up like a burrito in the basement (next to this chandelier I still have yet to open). Colorways can be difficult to match online, so I was slightly nervous. My fingers and toes were crossed for less gray and white and more taupe and cream. Shazam! Perfect color!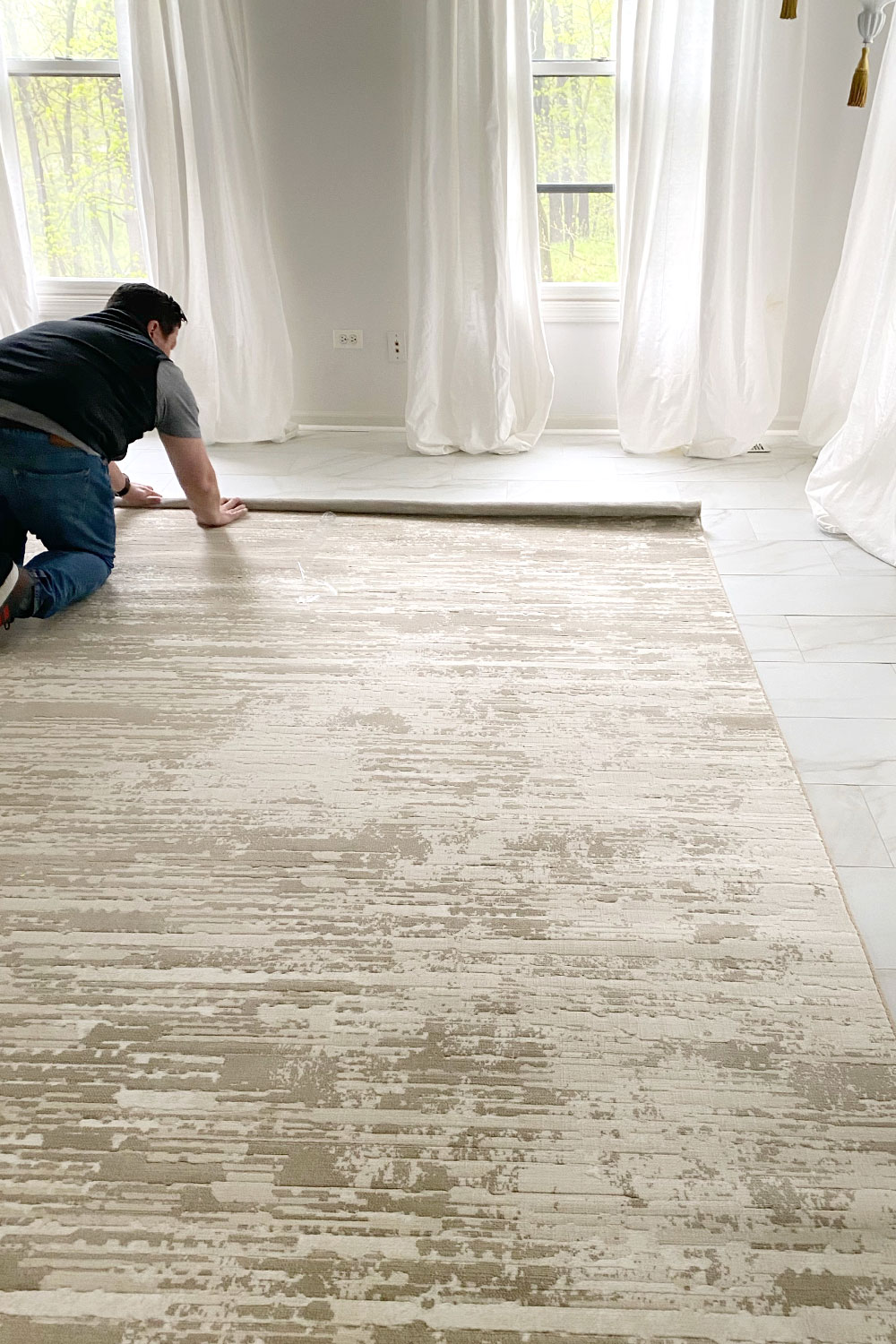 The final decision has been made on the wallpaper from Pacific Design International, and we chose not to install it ourselves. After speaking with Steven, the wallpaper hanger, I know we made the right decision to hire a professional. He taught me about balancing a room and kill corners…terminology I had never heard of before. And with this wallpaper having a texture to it, I felt as uncomfortable as a cat in a bathtub with the thought of DIYing. Entirely too expensive to experiment and screw up, ya know?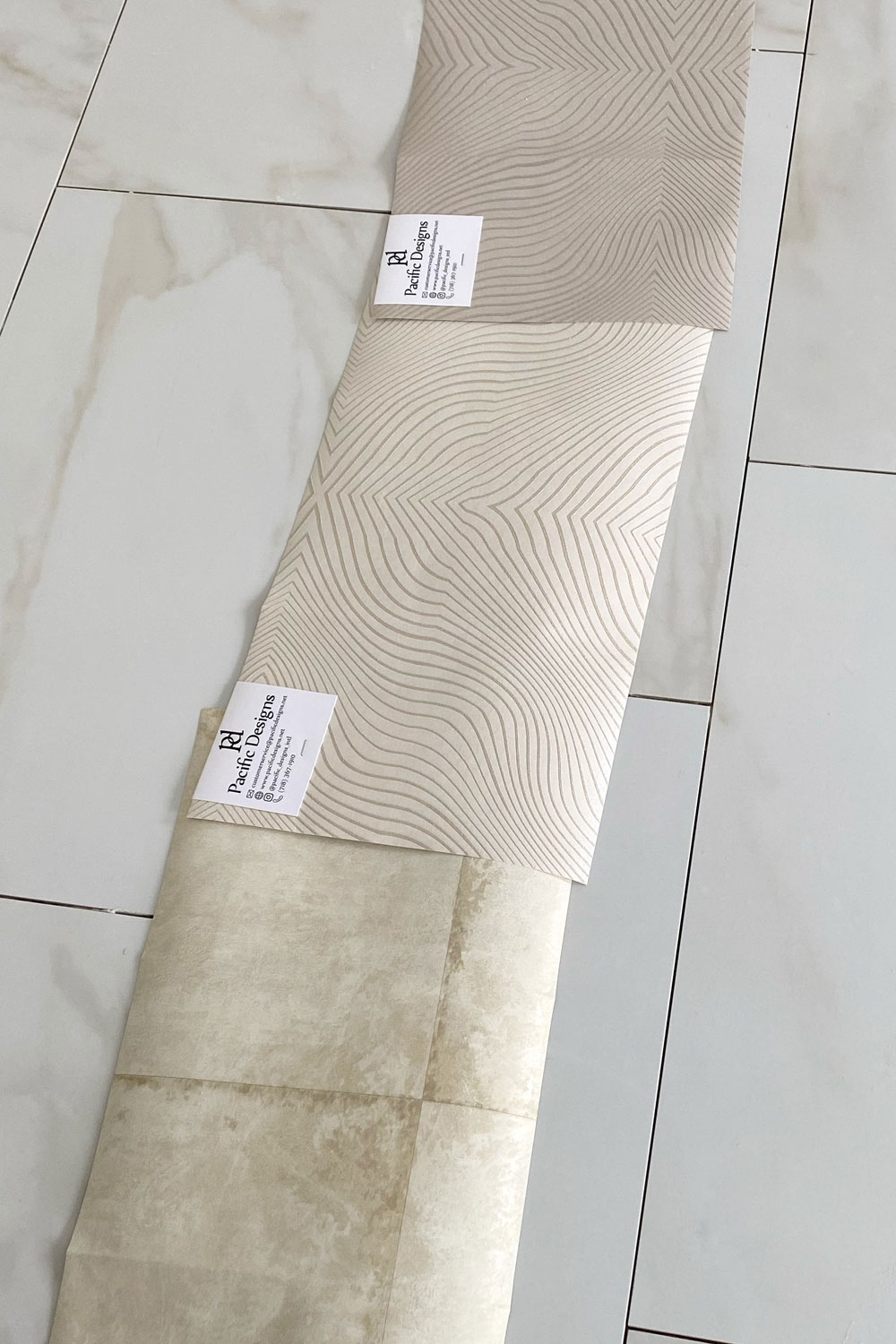 Decor To Be Shipped
Overstock: Sofa, Pillows, Side Table, Chairs
Tony Curry Artwork: Tony is feverishly working on the commissioned piece. I haven't seen anything yet and srsly cannot wait to get an updated text from him. Last we spoke, he was thinking of a blush pink slice canvas. I'm so excited about this collaboration! You can see an example of the slice art here. It's the second row, the middle photo. The one he's is painting for me is a lighter blush.
One Room Challenge To-Do List
I still need to order up the Emtek hardware. Last week, I was leaning towards the knurled brass and matte black Emtek Select, but now I'm leaning towards the marble and matte black or marble and brass Emtek Select levers. Tell me what to do in the comments because I'm having a difficult time sticking with a decision. They're both so beautiful.
I also need to contact Calico Corners about the Vern Yip fabric for curtains.
I did order all the supplies I need to paint the french doors black…and thanks to TikTok, I found a hack that's going to save me so much time. I'll be sharing more on that next week. Gotta test it out and make sure it works first.
Hang the Lotus lamp chandelier and unbox the bonkers good floor lamp. Both are from Hudson Valley Lighting. Side note, I just stumbled over their new collection with Kelly Behun and hummena, hummena, hummena! This sconce and the Tiptoe table lamp are on fire!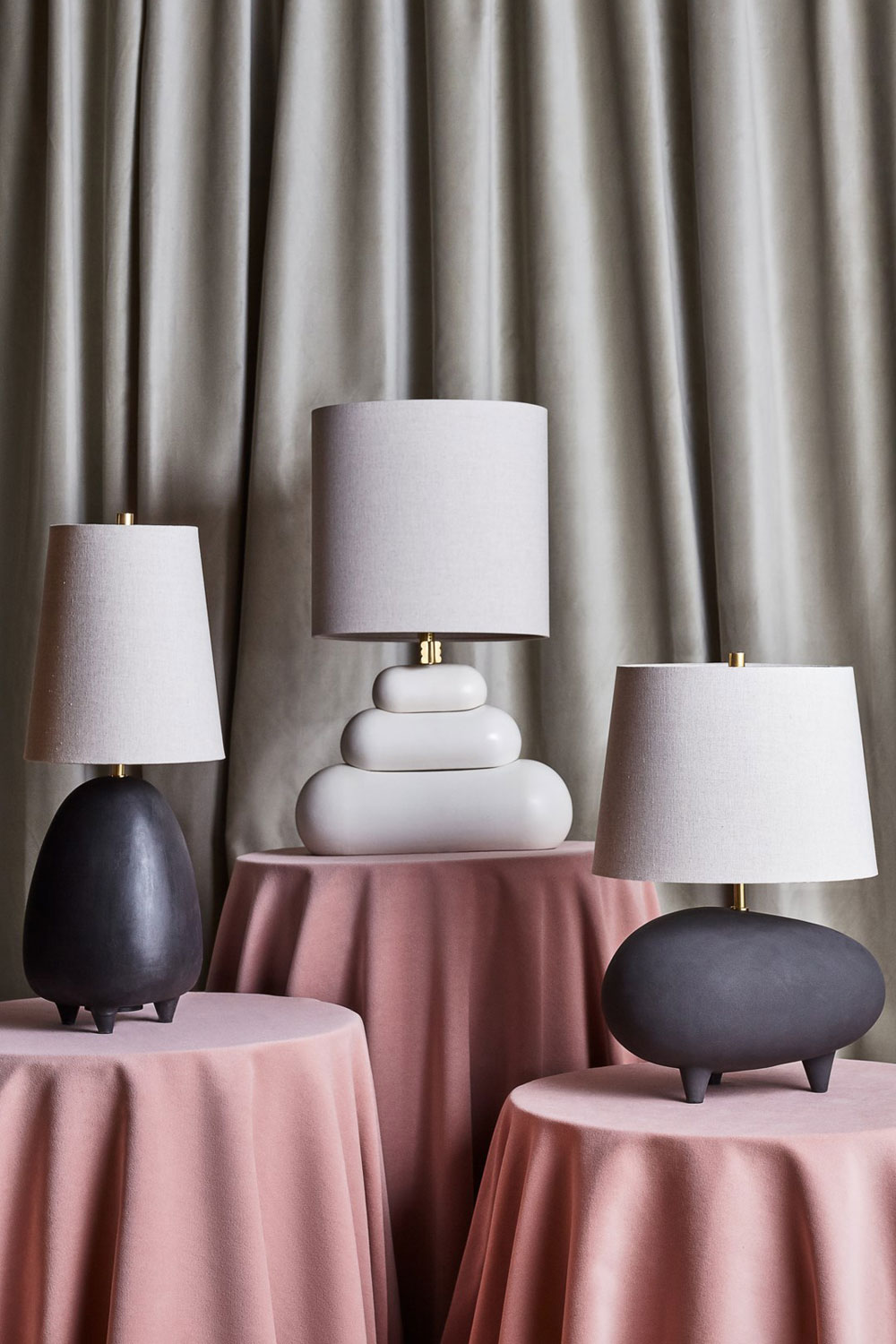 Haul the Apt2B storage coffee table upstairs…it's really heavy, I'm slightly dreading the 2 flights up the stairs. Kinda dragging my feet on that one.
Hang the Blueprint sculptural wall sconce. Because of excitement, I was going to hang this sucka as soon as the grout was dry, but now that I have the whole vintage marble fireplace idea, I need to wait until I know the mantle works. Side note, there's a special offer Blueprint just emailed to me. Exclusively for House Of Hipsters readers, they are offering a 35% off coupon code (use HIPSTERS35 at checkout) plus they have FREE shipping (no promo code needed) through the end of May. So, if there is something you have your eye on, this is a deal you wanna jump on.
So ya, lots of small details that I'm sure will take up a ton of time, but at the moment, I'm feeling good about where I'm at in this challenge.



Discover More On House Of Hipsters Interior Design Blog
Check out this list of Amazon Must Haves that I own, love, and can't live without — want more, check out all my Amazon Finds here.
Faux olive trees are trending hard, so I updated this popular post with my top picks that are available and in stock.
If you have an awkward living room layout with a fireplace, try these 5 floor plan options out today.
Get all my tips on how to declutter your home plus a downloadable checklist to help keep you on track.
Headed off to college? Check out these trending dorm room decor ideas.
If you're looking for affordable drapes and curtains, this round-up of window treatments is for you!