Creating A Vintage Modern Home Office
Last Updated on August 25, 2023
Vintage modern home office? Hmmm, if that's not a dichotomy, I'm not sure what is. There may not be such a design style, but that's the look I'm for in my home office. Last year I ditched my old white IKEA cabinets and tabletop for an old vintage pine desk. Kind of a nod to my dining room table and keeping the theme of mixing old wood with glam Hollywood Regency brass chairs. Now that I'm spending more time here, I'm bound and determined to pretty this space up.
Slowly but surely, it's coming together, but I owe a lot of inspiration to Pinterest. Every night I'm lying in bed, pinning unique home offices that catch my eye…taking special notice when I see a beat-up old wood desk. But if it's a space I love, I ask myself, "what elements can I take from here for my home."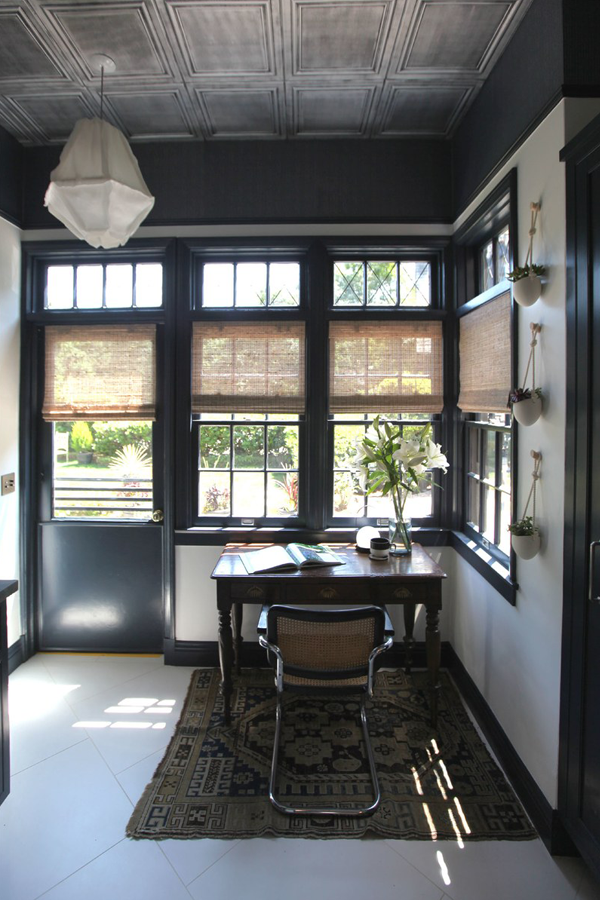 Photo: Dana Triano/2017 Pasadena Showcase House for the Arts
Believe it or not, this cozy nook is in the laundry room (The Pasadena Showhouse for the Arts, designed by Dana Triano Designs). I don't know about you, but my laundry room does NOT look like this…but it could…and that's what is intriguing to me. When you break it down, it's white walls, black trim, old wood table, vintage chair, rug, funky lighting. Boom.
Up until last week, I had a plastic mat (the ones you find in cubicles) under my desk to help my very corporate-looking Herman Miller Aeron office chair glide around. Without the plastic mat, the wheels get stuck in the carpet. Practicality can go suck an egg. Practical equals boring, and it monkeys up my Instagram photos. That vintage kilim rug up above got me thinking. I could place a rug over the mat. Wheels don't get stuck, and it no longer looks practical.
On a side note, I'm also obsessed with the Cesca chair by Knoll.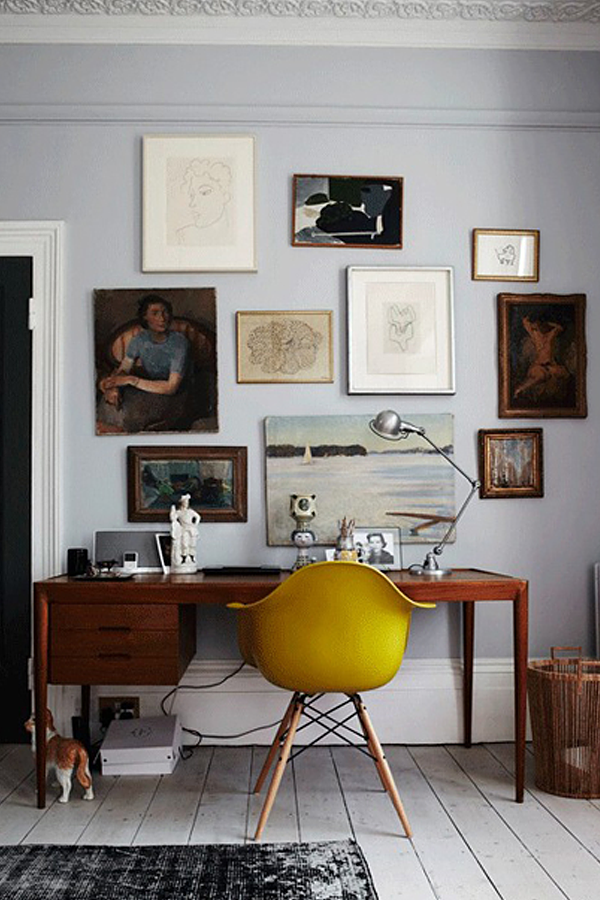 My love for Mid-Century Modern knows no bounds, so you can only imagine how my heart skipped a beat with this space by pejper. And between that Cesca chair and this bright yellow shell chair, I'm really second-guessing my whole Aeron sich. Don't get me wrong, it's the comfiest chair, but it's so…office-y looking. Kind of like when you go to a restaurant and order the salmon…sounds delicious, but when it arrives, it's just so…salmony. I digress.
Now, these office spaces are all pretty, but where's the computer, right? Not sure about your space, but there's a honkin' huge monitor on my desktop. It's like a black hole. Let's see what Pinterest has got.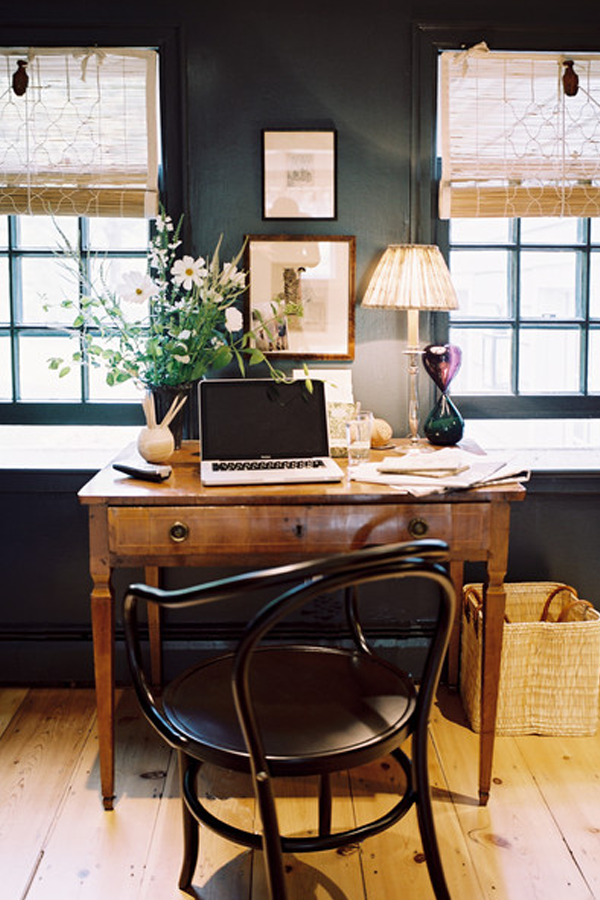 Ok, so this is not quite the honkin' huge monitor I was searching for, but it's a monitor nonetheless. What I love about this office space is the dark wall. It masks the black screen, while the art and florals are basically waving their hands screaming, look at me! This is pretty much the more brilliant idea Lonny.
I too have my desk sitting between two windows, and I'm digging the mismatched art up above. It draws your eye up. What's also catching my eye are the bamboo blinds. In my mind, there were always white flowing curtains in my office, but the wood really warms up the space. After pinning them to my inspo board, it's interesting to see elements like this pop out at you. Something I never thought I'd like, but something I'll now look at.
Again, there is another office chair alternative. Even though I probably won't change out my comfy office chair, this is something I'm drawn to.
So what elements am I going to explore in my office space decor? Dark accent wall? Maybe I'll play with that digitally first, but I like the idea of it. Every wall in the house is white, so a black wall would be a huge leap for me. Mismatched artwork over the monitor? Yes! For sure. A lamp that is taller than my monitor? Yuppers! Bamboo shades? I might order one to see how it looks. Rug over plastic mat? Heck ya! That's a sure thing. New office chair? Hmmmm, I'd consider it, but it would have to be really comfy…that my office chair is practicality I may not be able to part with.



More Home Decor Ideas
Back To School Dorm Room Essentials
Karndean Luxury Flooring In The Basement