Wireless Smart Lightbulbs
When Sengled Lightbulbs asked if I wanted to try their wireless smart lightbulbs, I was like, ummmm, it's a lightbulb. *shrugs* What's to try, right? Before I agreed, I typed Sengled into google to do a little research and soon found out that these were not your ordinary lightbulbs. 
Wireless Smart Lightbulbs
The Boy is all about controlling the house from his phone. We live in a smart home. From the thermostat to a vacuum cleaner, all devices bow to the palm of his hand. Sengled lightbulbs fit right in because they could be controlled from an app. Element bulbs could be scheduled, dimmed, turned on or off, and integrated with Alexa. (Since install day, there's been a lot of, "Alexa, dim lights to 20%.") Pulse had a wireless built-in JBL Bluetooth speaker, and Snap (which I didn't test) has a built-in security camera. Who knew lightbulbs could be exciting.
The former owners of our home built an edition and installed speakers in the ceiling. The "whole house" audio was a very cool feature that sold us on the house, but it was only one half of the house…nothing in the basement…nothing in the front room. The two spaces we chill in the most were silent. So the Pulse speaker lightbulbs intrigued me the most.
When Pulse arrived, I ripped open the packaging immediately and of course, did not read the directions. That's not how I roll…I live dangerously and wing it. I downloaded the app, screwed a bulb into a lamp, and swearing ensued. Allow me to explain.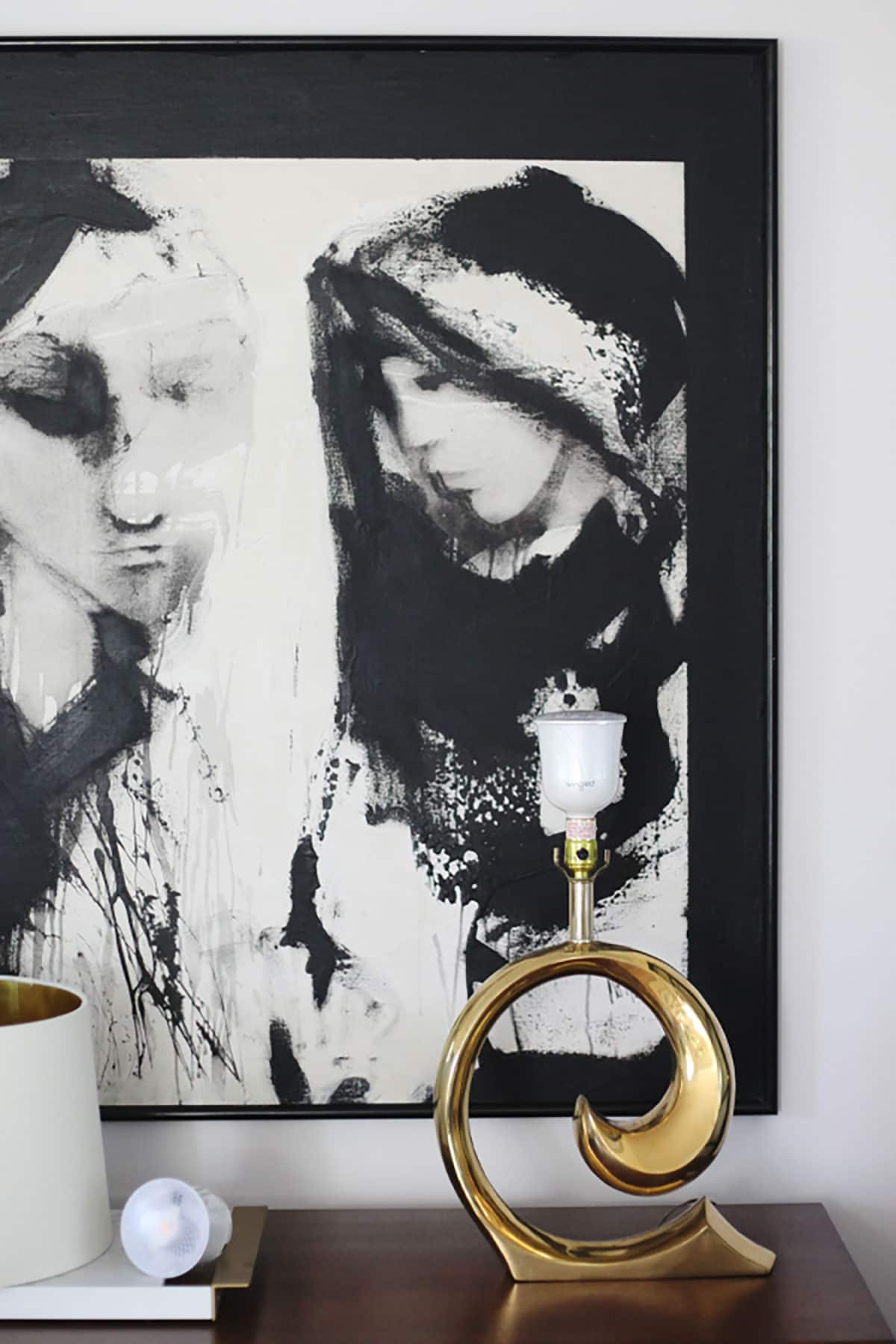 The Pulse starter kit comes with two bulbs. A master bulb and a satellite bulb. If I had read the directions and installed it in the master first, there would have been no swearing. I had a 50/50 chance but grabbed the satellite bulb. As I said, we lived in a smart home, but sometimes the homeowner is not so smart *palm to forehead*. 
Once I figured out my mistake and plugged in the master, the app paired with the bulb seamlessly. I screwed in the satellite and shazam, let there be yacht rock. Hall and Oates were singing Maneater in the front room. Virtual high fives all around! BTDubs, you can connect up to 8 bulbs for whole-home sound. No longer am I wanting to spend thousands of dollars to rip out ceilings to install additional speakers… not like that was going to happen anyway…The Boy gave me a hard no on that brilliant idea months ago.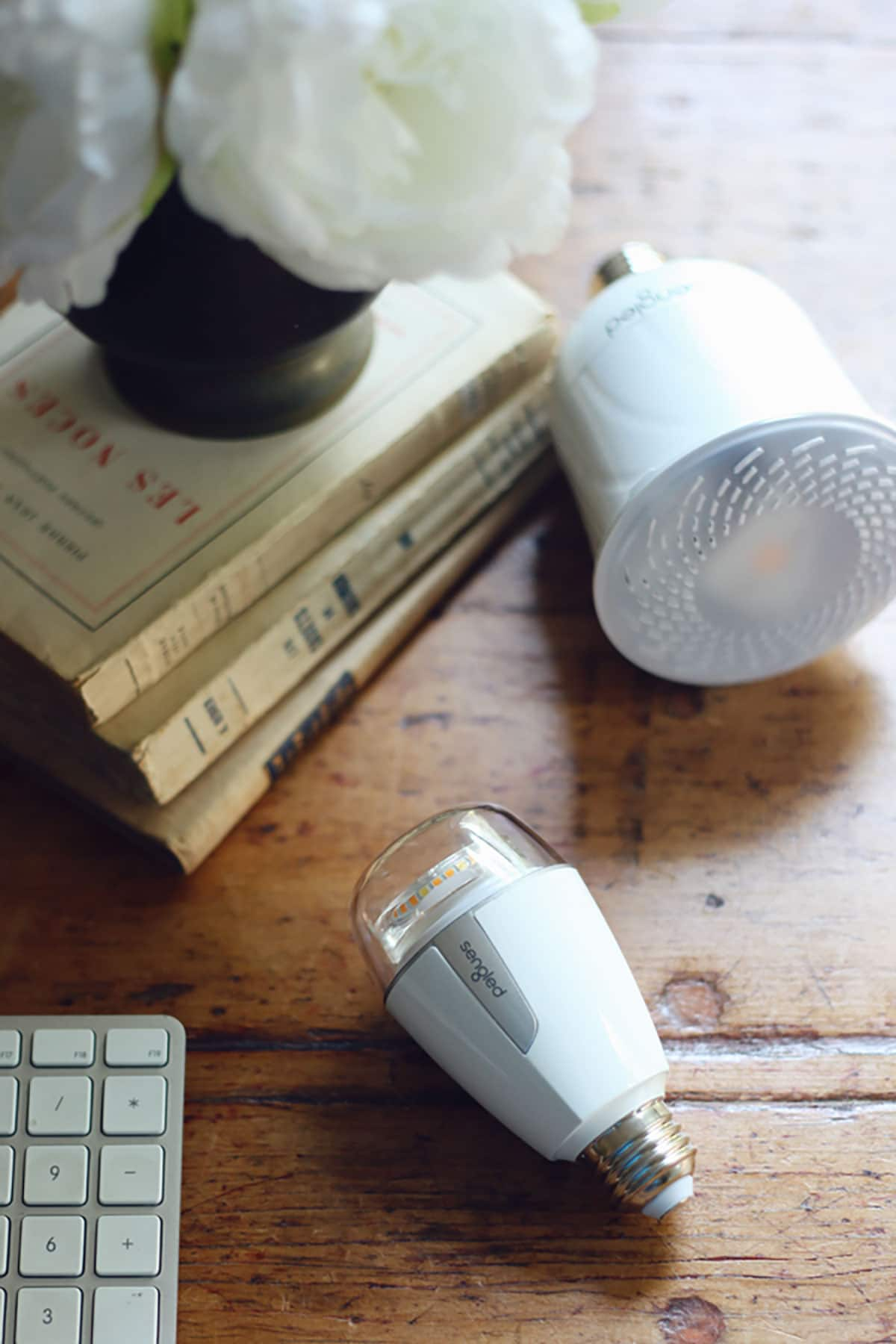 With Darryl Hall crooning in the background, next up was Element. This time I read the quick start cuz I learn I'm smart. This install was as easy the Pulse…connect the hub to your router and open the app. The Element bulbs arrive pre-paired.
Using Wireless Smart Lightbulbs For Vintage Lighting
I chose to use Element in my hanging vintage office lights. To turn them on, you must pull on the tassels, and every time I pull, hold my breath, and pray, "please don't fall out of the ceiling". I also bought another Element smart lightbulb for my Sonneman lollipop lamp. You have to be so careful with vintage lighting. With the switches being 30 plus years old, it's quite relieving to know I no longer have to turn, jiggle, push, pull, click, and remember to breathe.

To set up these wireless smart lightbulbs with Alexa, all we had to do was tell her to discover new devices, and boom, she found the bulbs. Now I to say, "Alexa, turn on The Bat Cave, " and my lights turn on. "Alexa, dim The Bat Cave to 20%," and my lights dim. "Alexa, make The Bat Cave neutral (or warm or cool)," and they change color. If I'm at the flea market and think, oops, I forgot to turn off the lights, I can control them from the app. Pretty cool huh?

The last bulb we tried was Twilight wireless smart lightbulb. I'll admit, I wasn't totally sold on this one until we decided to put it in Cooper's bedroom. He's at the age where it's no longer cool to sleep with his nightlight on, yet he's still a bit scared of the dark…although he will never admit that. He loves to read after we put him to bed, and sometimes he plays with his legos. This means I'm not the one to shut his light off, he is. Enter Twilight. After turning this bulb off, it has a 15-second delay to give him enough time to crawl into bed without being afraid of the boogie man living under his bed. Not a bulb I'd have in every room, but convenient for the guest room, a bathroom, or kid's room.
So here's the million-dollar question. Would I recommend Sengled lightbulbs to my readers? Ya, for sure I would. Heck, I went out and bought a few more Element Plus bulbs to protect my jiggle, push, pull, and clicks. I don't think you realize the convenience of a wireless smart lightbulb until you try it and see for yourself how it fits in your lifestyle.
Pulse with the JBL speakers is rad. We have been listening to music in only half the house for a year…all day erryday. I love that we now have music in the two rooms we hang out in the most. I will definitely be investing in a few more to complete the audio chain. As for Twilight, yup, I'll be getting another for Zozo's room. Every night after reading a bedtime story, I have to spray "No Fear" spray (air freshener) before leaving. Until she no longer refuses to get out of bed after the lights go out, there will be Twilight bulbs in the little ones' rooms.
Discover More Smart Home Technology and Home Decor Inspiration
Holiday Entertaining Tips and Tricks
White Kitchens Are Not Out Of Style
For this post, I received product to review from Sengled. All opinions are my own and always will be. Thanks for supporting the content that keeps House Of Hipsters going.