Beautiful Distractions No. 7
Last Updated on January 14, 2022
It's Friday, plus a long weekend!!! Wahoo! Time for a few Beautiful Distractions. We're talking about books to read, a sofa sale, how to style an Insta-home, pranks, Chicks With Plants, and more. I need a 15-minute break. How about you? Let's dig in.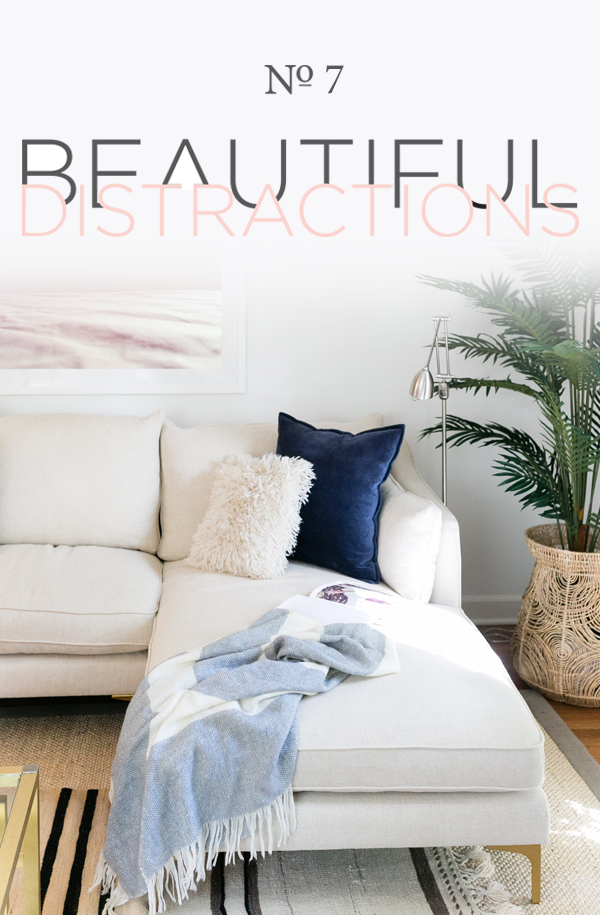 Photo by Emilia Schobiri
One of my favorite Instagrammers, Susana Ordovas, had her home featured on Design Sponge. Lately, it's been popping up in my Pinterest feed. All the greens and incredible wallpaper in her space makes me smile. If you don't already, be sure to follow her on Instagram for shares of her beautiful homes in Madrid and Mexico City.
Presently I'm reading The Woman In Cabin 10, and I think next up is The Couple Next Door. Both have twists and turns that keep you in suspense, but I think after that I want a rom com…got any suggestions? What are you reading right now? Got any good suggestions?
I stumbled upon this wild article showcasing the obscure and candid captures by Weegee…a photographer from the 1940s. He photographed his subjects in the movie theater using infrared. True voyeurism at its best.
If you've been eyeing my sofa from the living room makeover, now is the time to buy. Interior Define is holding a storewide Labor Day Sale. You can find my sofa here.
The new Instagram account @chickswithplants might be the most brilliant account I've seen to date. It's a bunch of chicks…and Steve (lucky guy)…who pose (sometimes in the buff) with you guessed it, PLANTS! I swear, I've seen it all now. Want your peaches featured with your monstera? Just tag #chickswithplants
Believe it or not, I too am a person who wishes their home was always Insta-Styled. If you were to pan a photo left or right, you'd see a shit storm of a room, and if you watch my Instagram Stories, you already know this. I like to show my mess for some reason. My friends Susan and William — the masterminds behind House of Brinson just posted an awesome post, Styling the Photo Perfect Home. Use the slider to see Susan's notes about what she would change and how she analyzes her captures.
The Boy just pulled another prank on me. I opened the fridge and almost everything had googly eyes. The ketchup, mayo, LaCroix cans, jam…my wine…everything. No, it didn't top Nicholas Cage greeting me in my car's backup camera, but I got a good laugh out of it. I need to prank this prankster back. Got any ideas?