Creating A Morning Routine
Last Updated on September 27, 2023
How many of you hit the snooze button? I don't know about you, but I'm so not a morning person. I wish I was. The Boy hears that first beep and boom, he's up, showered, has emptied his inbox, and probably had a conference call or two. He has a very rigid morning routine. Yes, we are complete opposites.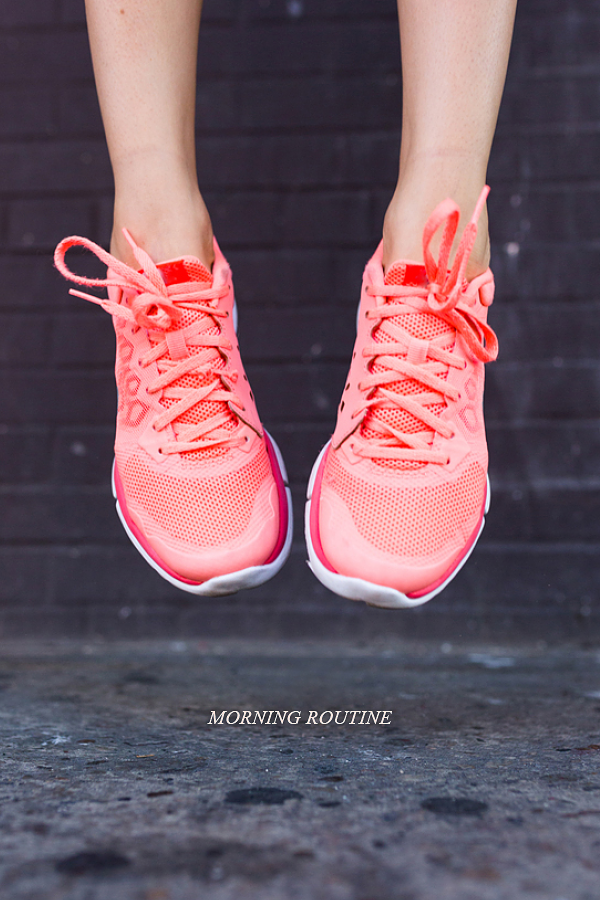 The old routine was awake by 6:12 AM, shower, coffee, train nap, and walk from the Metra station to work. Since getting laid off, I smack my phone about 17 times. My kids climb into bed with me, curl up, play with their iPads or watch cartoons, and I'm in dreamy dreamy land. My brain says to my body, "really…why do you need to wake up?" Well, I don't, but I should. If I wake up at 9 AM, the morning is gone. Suddenly I fell behind. I haven't been on Instagram or checked email, the coffee is almost gone, and I'll probably shower around 2 PM if I'm lucky. I no longer have time to work out. My day is now a scramble of playing catch up. That feeling is no bueno. Also, now know I have adult ADHD, this all makes a lot more sense.
No longer having to commit to a morning routine has completely screwed up my day. It's also not helping my eating habits or my weight. Time to figure a new schedule…not unnecessary elaborate plans, but something a bit more involved than hit snooze and repeat. I'm not a morning person, and I've accepted that fact. Thinking otherwise is only setting myself up to fail.
First thing's first, let's tackle the biggest culprit…the snooze button. I'm going to dig out my old alarm clock (it's in a random drawer from when we moved) and put it on the other side of the room. It seems silly, but this will actually going to force me to get out of bed. My brain can no longer scream, "just 5 more minutes".
Drink 1 full glass of water before 9 AM. Pour a cup of coffee and a glass of water…eventually, I'll drink the water. Must hydrate better.
Since I no longer have my daily walks around the city, I'm bound and determined to fit in a quick workout at home. No, this will not involve driving to the gym, signing up for morning barre class, or running 8 miles after the kids leave for school. That life is not for me. This is, get your lazy butt outta bed, and do a few jumping jacks to get the blood flowing. The bar is being set real low here folks.
What's the jumping plan Jack? Maybe I'll finally peruse my handy dandy Pinterest workout board…I knew I'd use this board eventually…to pull together something doable.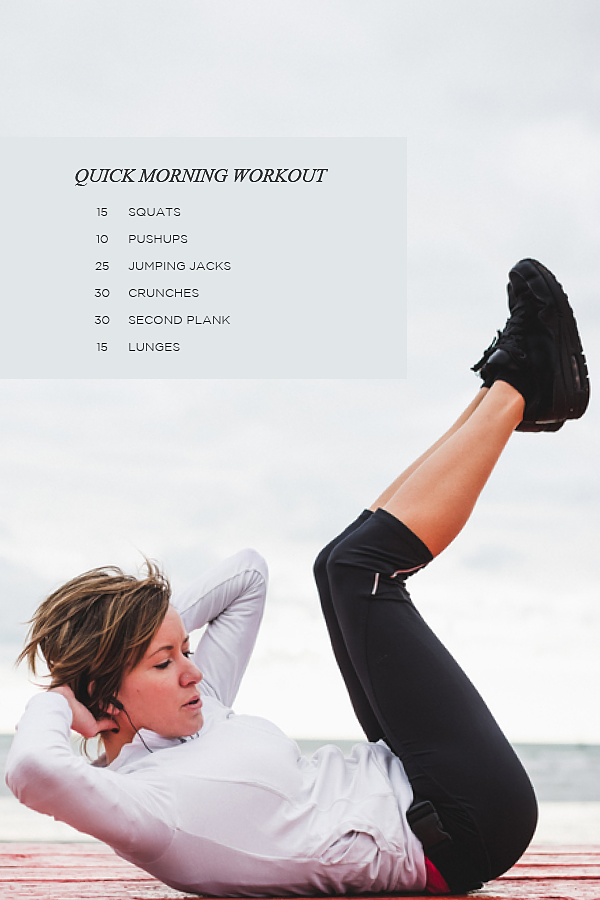 This photo is printed out and laying on my nightstand, and it's also the screen saver on my phone. Hopefully, this morning workout will evolve into something more, but for now, it will do just fine. If I feel like repeating it a couple of times…well that's even better. But let's not get too ambitious. The goal is to move my body 3-4 times a week starting with these 6 exercises.
Ever since we bought the new house, I lost my favorite gym, trainer, and spin class. My waistline has suffered, and I refuse to buy new jeans. Once this practice becomes a routine, I, in theory, will stick with it. The trick is to start small. Who knows, maybe someday I'll be motivated enough to add a kettlebell into those squats…but let's not get too crazy.
After dropping the kiddos off, shower…immediately…and do my hair. Brush it out or blow it dry. Makeup, ya no, not going to happen. Don't fool yourself Kyla. And yes, the reality is that I probably won't see anyone that day, but that doesn't mean that if I get a last-minute call for an estate sale adventure that it should take me an additional hour to look presentable unless I wanna roll dirty.
Check email and social media while finishing coffee and water. It's inevitable that I will pick up my phone, but I really should designate a time for social. There's no reason to get lost in Instagram until noon eatin' bon-bons on the couch.
Morning Routine – Prioritize a To-Do List
This is something I did every morning at the advertising agency. Even though I never before considered blogging a job, it is now. And because I have my hands in so many pots, I need to have a running list of: Do I need to reply to emails? What vintage pieces should go up for sale in the Chairish shop? Is there anything that should be marked down? Do I have any upcoming sponsored posts? What do I want to write about next week? Do I need to bill anyone? Search and apply for 1 job on LinkedIn. Do I owe anyone deliverables? Even though I work well under pressure, feeling overwhelmed is stress-inducing and completely unnecessary.
And that's it! Nothing here is to elaborate, right? There is no handwriting 12 daily affirmations. No vegan smoothies to chopping and blend. No meditating before 7 AM. No journaling about what I'm grateful for. Not preparing a marinated kale salad for my lunch. Just a very simple new morning routine. Wake up, get out of bed, move my body, don't roll dirty, drink water, and write down a to-do list. Does your morning routine include kale? I'd love to know what you think?
More Self Care Musings
AM Skincare Routine for Women Over 40
Best Home Gym Equipment and Workout Gear