My Interior Define Sofa
Last Updated on January 13, 2022
Yep, I've been hearing that a lot lately…lots of folks asking me about the sofa I chose for the DesignOff. Today I'm going to break it down and talk a bit about the Chicago-based furniture company Interior Define, and why I chose the Caitlin sofa.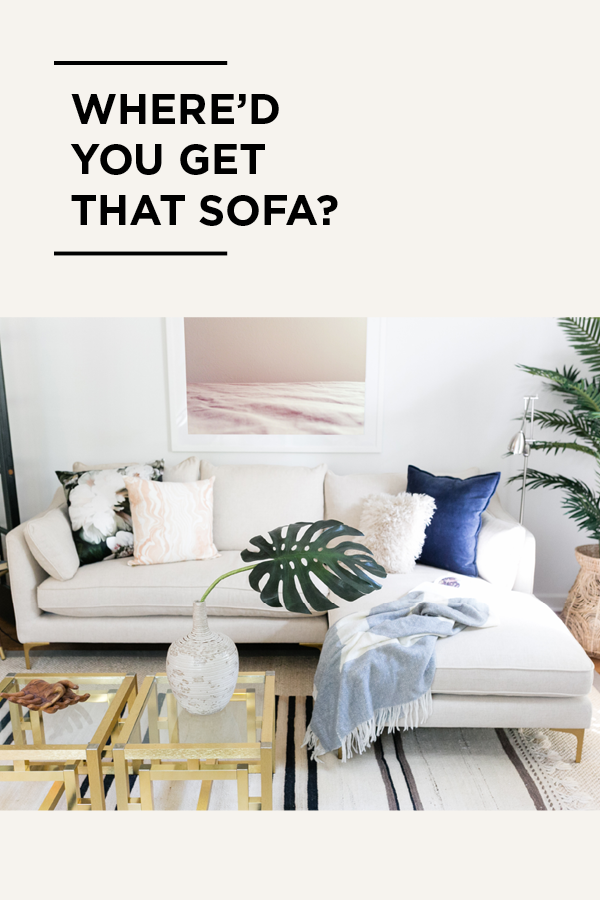 Photo by Emilia Jane Photography
I first heard about Interior Define a couple of years ago thru The Everygirl Blog. The girls teamed up to design a sofa they named, "Rose". A gorgeous English-roll arm sofa on wood casters. If you haven't seen it, it's amazing…in fact, the whole idea is amazing. The thought of a blogger one day becoming credible enough to design her (or his) own sofa for a home decor company…well, a girl can dream, right?
When we moved from an open concept to an older more traditional home, I knew our oversized sofa had to be changed out. Couchzilla was overtaking the space. Since I had lusted over the furniture at Interior Define for a while, I knew the Design Off makeover was my chance to get The Boy to sign off. When chatting with Ashley, my designer, I asked that the Caitlin sofa be used one of the mood boards. Boy did she deliver. Check it out.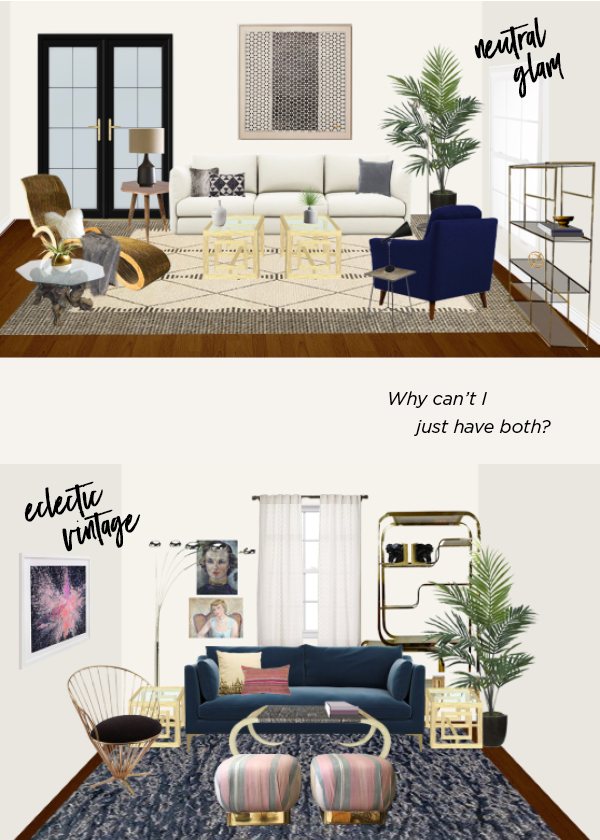 She chose Harper (no longer available) for Neutral Glam and Caitlin for Eclectic Vintage. The navy velvet was love at first sight…a knockout beauty with heart eyes all around. But alas, this room design was based on the reader's choice, and Neutral Glam was chosen. Hmmm, although Harper was awesome, Caitlin's sexy brass legs spoke to me. I had to make her mine.
Wanting the best of both worlds, we swapped it out and ordered it up…although not in the luscious velvet navy that I had yearned for…I was okay with that. Instead, we chose a beautiful ivory. That's one of the really cool things about Interior Define. You can customize just about anything without altering the price, and everything is made to order…no, you don't get your sofa delivered Amazon Prime. It does take a couple of months for delivery just like most custom furniture, but hey, it takes time to manufacture a well-crafted customized piece. On the plus side, it doesn't cost an arm and a leg.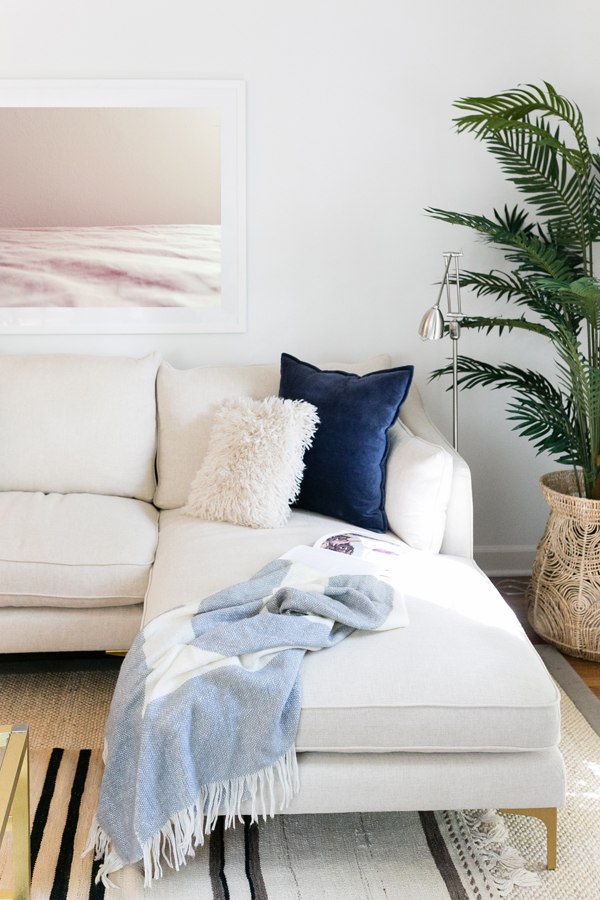 Photo by Emilia Jane Photography
Once this beauty was on the delivery truck making her way cross country to the house, I could hardly contain myself. This gem was the icing on the cake. I might have hugged the delivery guys…yes, I was that excited. Once they put her together, we all just stared. Louis said, "Dang that's a hot couch!" I didn't even bother to correct him…I will now though…hey Louis…we call it a sofa here at House Of Hipsters. Sorry, past life furniture worker right here. (I worked in the marketing department at a furniture store and it's now ingrained in my head that it's not a couch…I can't help it.) But at that time, he could've gone totally old school and called it a davenport for all I cared. Caitlin had arrived and I was ready to curl up in her arms and take a nap.