I'm Sorry We Can't Keep You
Last Updated on December 1, 2022
I write this post not to ask for pity or hugs or sympathy, but rather to be authentic. For some weird reason, I like to make the good, bad, and ugly days of my life public. Social media is a fickle beast. More often than not we scroll through Facebook only to see our "friends" on vacation in Maui or how amazing their kids are. Everything in their world is hunky-dory, right? Last week I hit a bump in the road of life. I'll be okay. My family will be okay. In fact, I think this might be the push I've be waiting for. But what I've learned in the past few days is everyone processes life changes in their own way. Be conscious of feelings. Be kind. It's not always about you. Also, I was slightly riled up when I wrote this. It's uncensored.   
"I'm sorry, we can't keep you", those were the words my boss told me last Monday. Oooooph. I mean, I can't say I was surprised…the writing was on the wall. Over the course of the last 6 years, we lost a lot of clients and never fully replaced that revenue. On top of that, our biggest client of 20 plus years pulled back tremendously becoming a big fat nut in the books this year. I'm a creative. I design new strategic pieces. But when you're suddenly only doing type changes and pick up jobs, well, you become an unneeded business expense.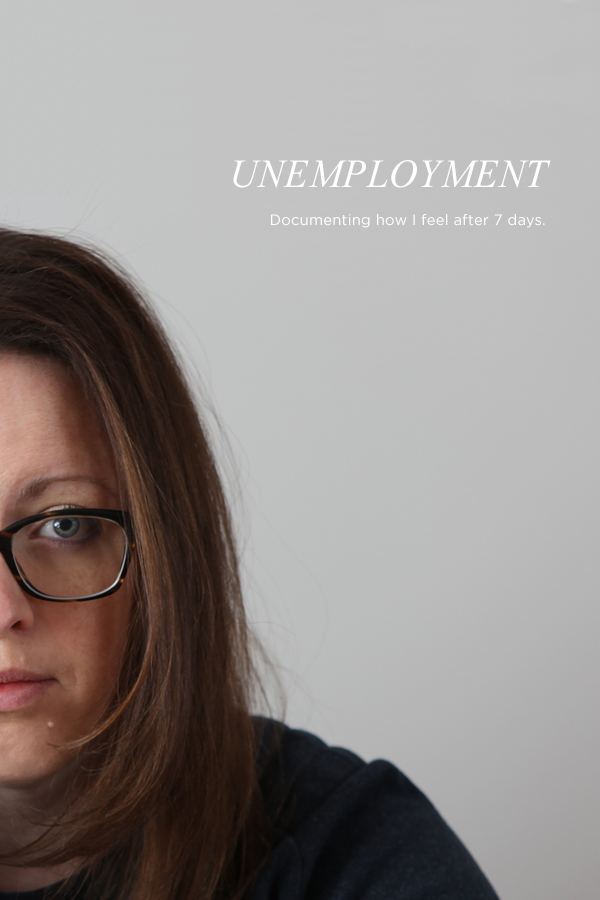 Last Monday afternoon, my boss walked into my office. I had just got off the phone with the insurance adjuster who gave me the oh so not wonderful news that my car had indeed been totaled in the flooded parking lot at my train station the week prior. Palm to forehead.
My boss: "Kyla, as you know, things aren't financially sound here. We've lost a lot of business."
Me: "You're laying me off aren't you."
My boss: "Yes. I'm so sorry Kyla, I can't afford to keep you right now."
Me: "I know Mark. It's a business decision. Don't feel bad. It's going to be okay."
My boss: "We have a couple of irons in the fire. If they come through, hopefully, we can reinstate you come September."
Well shit, right? I mean, I was prepared for this…it's not like came as a surprise. However, as I replayed that conversation over and over in my head, I felt surprisingly calm and somewhat excited. That probably sounds strange, but I was free. Like really free to do whatever I wanted to do in my life. My boss former boss had just given me an incredible opportunity to be as creative as I wanted to be. Granted, at age 42, a mom of two, brand new house, and newly purchased car…the timing was not ideal, but I am bound and determined to make lemonade outta these rotten lemons. Rather than see this as a setback, Imma be upbeat and positive. Power of the laws of attraction.
The Boy has dealt with this change quite differently. He is scared about not knowing what the future holds, and I completely get it. He's angry. He's irritable. He's grouchy. He's downright mean. This was unplanned, and suddenly he is the sole provider. He didn't ask for this, and that's a lot of stress to throw on someone. I've been trying to be patient.
However, today I finally snapped. We had a huge blowout fight in the garage with all the neighbors hearing me drop f-bombs right and left. After some 30 minutes of separation, we finally sat down and talked about the sich. Shared uncensored feelings. I was angry because he was micro-managing me within 24 hours of unemployment. Trying to control the situation by riding my ass on the blog (I honestly don't think he has confidence in it. He sees it as more la, la, la than a business), expenses, time management, my resume, vintage purchases, my happy ass attitude.
Last week while he was in Atlanta, he said in the most condescending way,  "You really need to pay attention to things around the house now, like when Roomba needs to be cleaned out. She's had a dirty bin for the last day and you didn't fix her. I've been watching her status on my app. You need to pay better attention." Ummm, really? I'm sorry asshole. I DID clean her out. I even took the handheld vacuum to her underside, but she's effing pissed and not wanting to work right now. I figured rather than bothering you on a business trip about a robotic vacuum, I'd wait for you to return."
He's scared about what might happen in 2 months when my severance runs out…and let's just talk about that for one second. 10 years of service. 10 friggin' years of my life. I needed to bold that for emphasis. When I should have been planning my wedding 9 years ago, I was working round the clock on Mercedes Benz and Virgin Atlantics' ad campaigns. Catching a 12:30 AM train out of the city, going to bed at 2 AM, and waking up at 5:30 AM to return to work. The Boy planned our wedding. The venue. The food. Everything. My staff came into my office at midnight with a candle to sing happy birthday to me. Looking back on it now, how crazy was I? I was so dedicated to my job I didn't even plan my own wedding! Not once missed a deadline. Always gave 110%. And in return, when things went to shit, I got 2 months severance. Monday afternoon I packed up my office belongings in a white bankers box and sat feeling ever so humble on the 3:45 PM train home.
That's a lot to process. I mean, talk about being angry! I told The Boy, "I'm angry! I'm really effing angry! But, what good is it going to do to stomp around the house and be mean to everyone I love? How is that going to improve upon a super shitty situation? No one died. No one has cancer. No one is losing their home. No one is starving so their kids can eat. We have a lot to be thankful for. Screw you for being mad at me and my happy attitude."
So what's the plan? For starters, Imma put on my big girl panties and make some shit happen. Can I get a hell ya? I mean, why not see the positive in this? Sure, I could sit here moping about wallowing in my own sorrow, but that's not going to do anyone any good. I think I've rewritten my resume 738 times. I now have a social media resume, an art director resume, a freelance resume, and a creative director resume. And yes, for reference, you should have more than one. I've updated my LinkedIn and announced my unemployment on Facebook, Instagram, and now my blog. Side note, there are so many people that hide the fact they lost their job. Some even hide it from their spouse. It happens. People get laid off every damn day. Don't be embarrassed. Network. You never know who might be hiring out there. Who's watching from afar thinking, man, that person is super talented! I wish I could hire her.
Since my announcement, I now have a side job styling vignettes at a local antique shop. I've had phone calls from friends who are local business owners asking for social media help. Website help. Design help. I've had strangers who follow me send the most uplifting emails and notes. Sweet, helpful messages saying, keep your chin up. You've got this. You're so incredibly talented, something will come along.
My introverted self even cold emailed an ad agency in the city. I sent them my resume with a quick note of hey, hire me because I'm awesome. Guess what? Even though they have nothing presently available, they want to sit down and chat with me next week. I'm not writing this to brag. I'm writing this as a confidence builder to all my fellow readers who are in the same unemployment boat. Yes, it sucks, but believe in yourself. Not everything is sunshine and roses. It's tough, but be brave. Be bold. Be confident. Know you can do anything you put your mind to if you play your cards right. Believe in the laws of attraction. But most importantly, be patient with the ones you love. Be uncensored. Be honest. Be kind.
More Personal Musings By Kyla
My honest review of the application for membership process at the Biltmore Country Club, Barrington, IL. Spoiler alert, I was rejected.
I've been helping to organize the Jackson Chance Ping Pong Ball to help NICU babies at Lurie's Children's Hospital. See how you can help too!
If you could only pick 5 words to describe yourself, what would they be?
My life 1 year ago today. How it looks one year after lockdown.