Holiday Gift Guide – Bougie AF
Last Updated on September 27, 2023
There are treasures I find on the interwebs and fall head over heels in love…but suddenly, my soul is crushed when I find out these pretties cost a small fortune. So I thought for sh*ts and giggles, I'd put together an over-the-top holiday gift guide for the person (yes, although I don't look it, I can be bougie AF sometimes) with champagne taste. A futile wishlist of luxury goodness. I mean, who knows…maybe you're BFFs with a Kardashian. But if it's reasonably priced gift ideas you're looking for, be sure to check out the best Holiday Gift Guide for Her, the Holiday Gift Guide for Him, the Holiday Guide for the Self Care Lover, the Holiday Gift Guide for the Fitness Guru, and the list of my Favorite Interior Design Books.
Luxury Holiday Gift Guide For The Bougie AF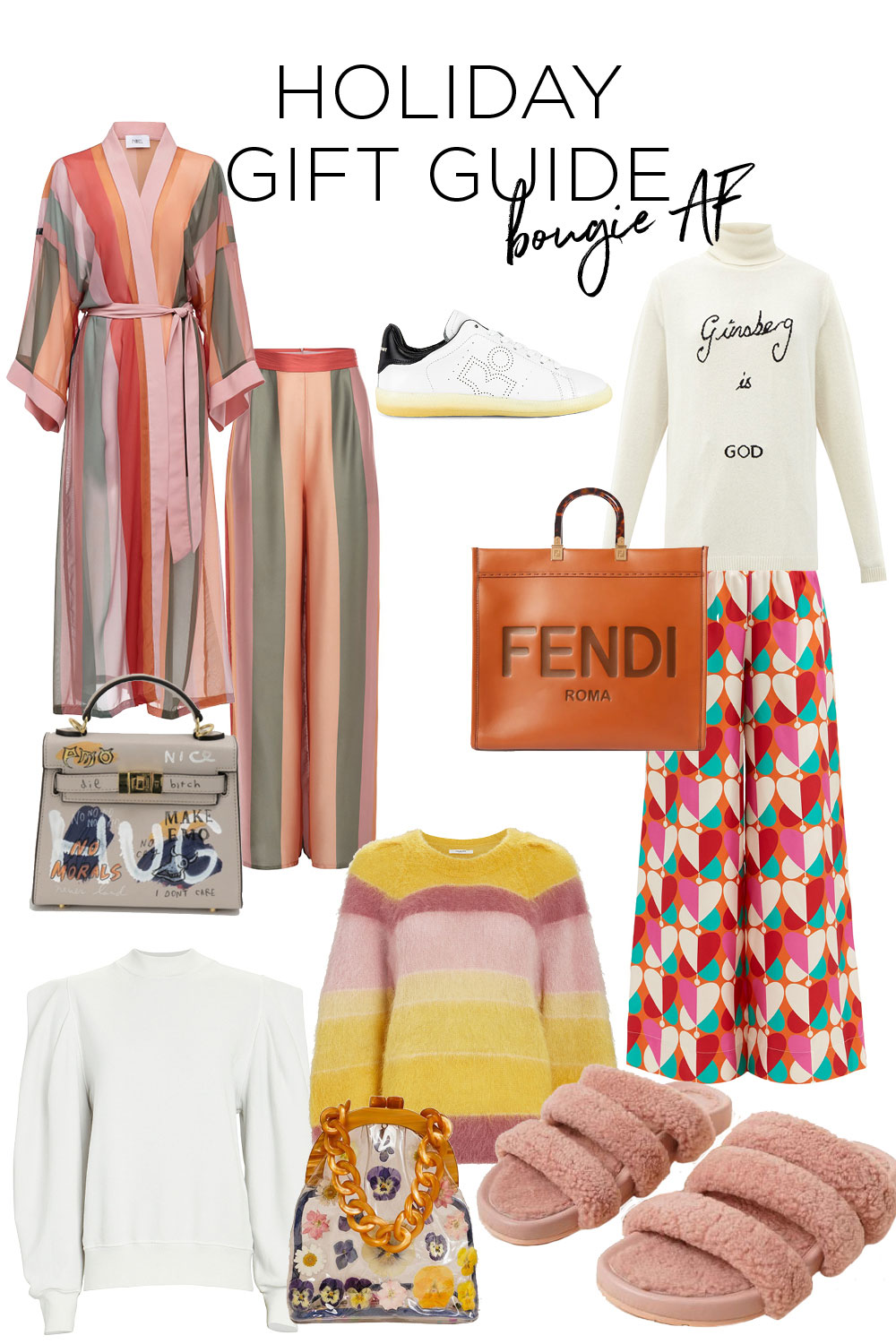 Striped Robe – Yes, this robe is meant to be rocked in public. Wear this out to dinner or sip a few fruity cocktails on the patio.
Matching Striped Pants – These are hawt and could be worn with the robe above for a matchy-match sitch or with a cute white tee.
Isabel Marant Sneakers (sold out) – I personally like low-key bourgeoisie. One would never know they cost a monthly car payment.
Fendi Tote (sold out) – But then again, I wouldn't mind this sucka hanging off my arm either. I've been crushing hard on this bag for months now…maybe I'll be playing the lottery this weekend.
Ginsberg Is God – No, this sweater does not reference RBG – instead, it's Allen Ginsberg. The designer, Bella Freud, wrote more about the creative process here, but in short, she dreamed this little ditty up while working on a short film with John Malkovich in 2003. Fast forward to 2014, Kate Moss rocked this same jumper but in black. It's a classic and is actually on sale right now.
Wide Leg Heart Pants – I'm obsessed with all things Double J. There's another dress by them below that's giving me all the feels.
Hand-Painted Bag By Shinichiro Inui – Looks like a graffiti'd up Kelly bag and pretty much sums up my love-hate relationship with fashion and being slightly bougie.
Puffy Sleeve Sweatershirt (sold out) – The 80s are back and brought the puffy sleeve along for the ride. I'm here for it.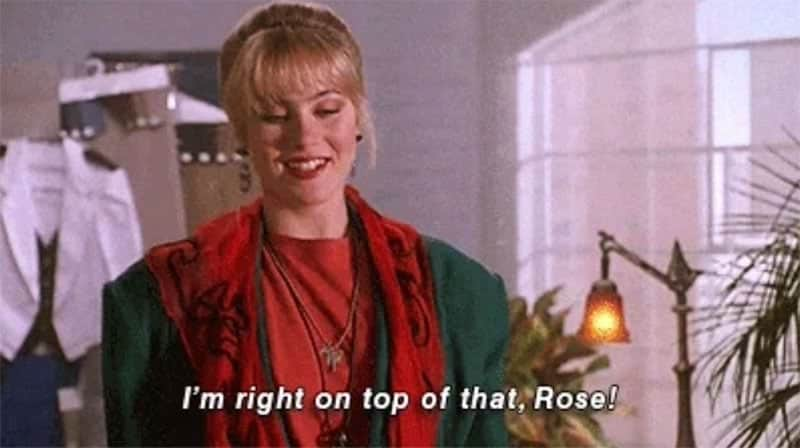 Pink and Yellow Striped Sweater (sold out) – You know #ihavethisthingwithpink. Enough said.
Transparent Flower Bag – This transparent handbag, designed by Olivia Cheng, is filled with a mix of pressed garden and wildflowers, and the base is filled with vintage sequins from Olivia's personal collection. Ya, only the bougie AF collect vintage sequins. Each bag is unique and uses real flowers. And if you like this, check out the handpainted pink leather trench coat (no longer available).
Snuggliest Shearling Slides – While putting this little gift guide together, these might have fallen into my cart. Sorry credit card. Don't tell The Boy.
Are you still with me? Good cuz we have another million to blow on home decor. Let's get it Veruca.

Luxury Holiday Home Decor Gift Guide For The Bougie AF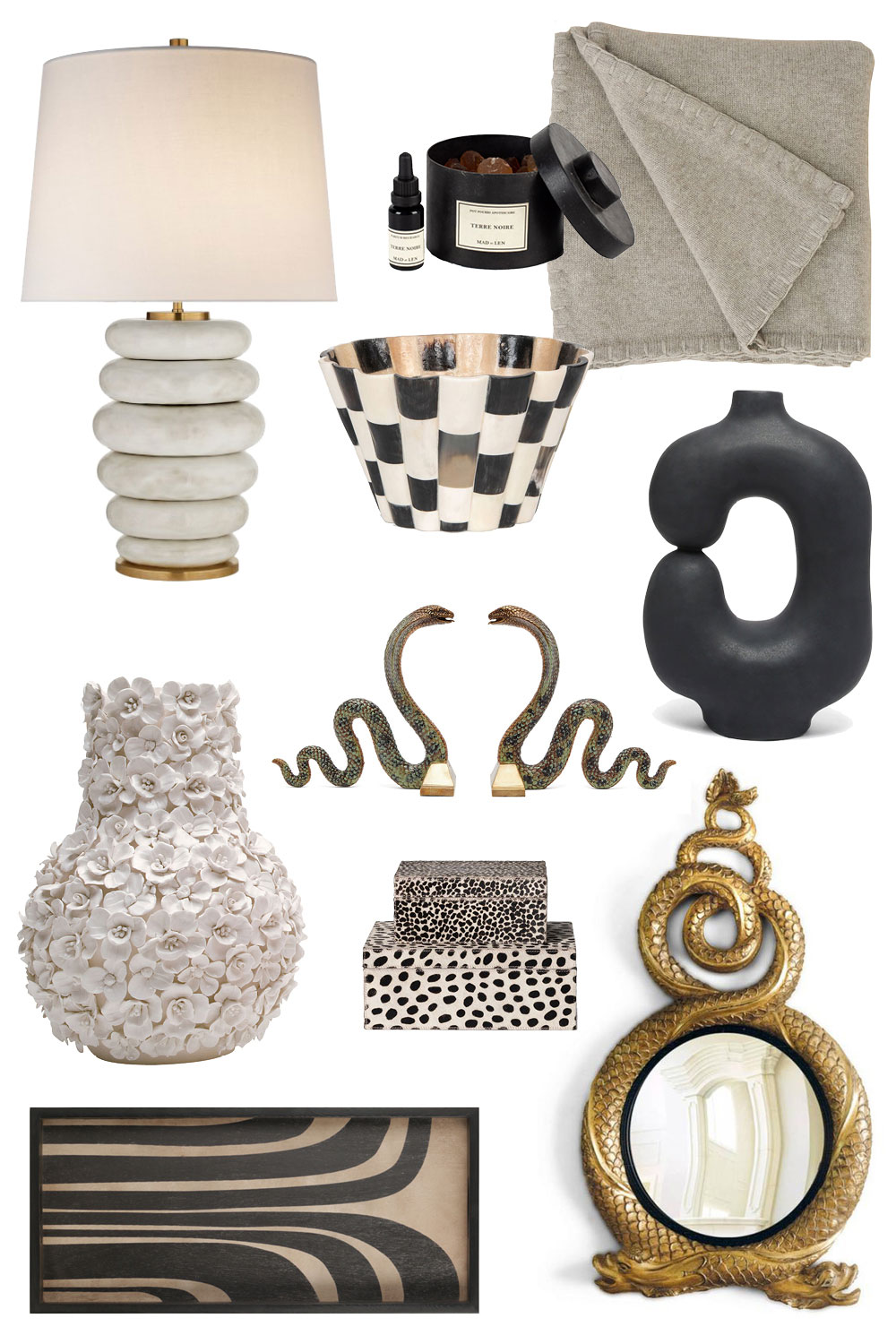 RELATED: Check out all the unique gift guides on the blog!
The Lamp Everyone Wants – I'm not sure what type of sorcery this lamp possesses, but every time I post it, people go nuts. Yes, I own it. While attending a conference, I popped my business card in a fishbowl and won it…total pinch-me moment.
Bougie Potpourri – Yes it's a thing. While visiting Atlanta right before the world shut down last March, I smelled every single Mad et Len scent in the shop. Terre Noire legit transported me to Paris and made me swoon.

Cashmere Throw – Ummmm, ya. Cuz who wouldn't love a soft cuddly throw? While you're over there, add yourself to the wishlist on this duster.
Bone And Horn Bowl (no longer available) – Be still my heart and clutch the pearls.
Black Abstract Vessel – Simone Bodmer-Turner's black Stav vessel references a pair of antique vases found at a French flea market and is designed to perfectly complement its sister vase, which is rendered in warm white. Ya, I totally stole that copy from the product description cuz it srsly…could it sound any more bougie. End scene.
Blooming vase (no longer available) – This vase is jaw-dropping. Period. It costs a fortune though so I can only look at it online. Maybe I can print out some copies and fashion a DIY. Nobody's gonna know.
Snake Bookends – They're snakes. They're expensive AF. What's not to love…except for the fact I'll never own them.
Animal Print Box Set (no longer available) – Yes and yes, get in my house.
Graphic Wooden Tray (sold out) – Maybe it's the graphic designer in me, I don't know, but I love a bold graphic tray.
Entwined Dolphin Mirror – You may or may not have seen this mythical-looking mirror in my home. Yes, I do own it and no, I did not pay $2000. I could never ever justify that purchase. So how did I obtain one? I saw this pretty little snake mirror at an estate sale and put a bid in on it. My bid was accepted at $300. Still pricy, yes, I know, but I'd do it again in a heartbeat.
Ready to really max out that credit card? Let's keep it moving.

Luxury Holiday Gift Guide For The Bougie Fashionista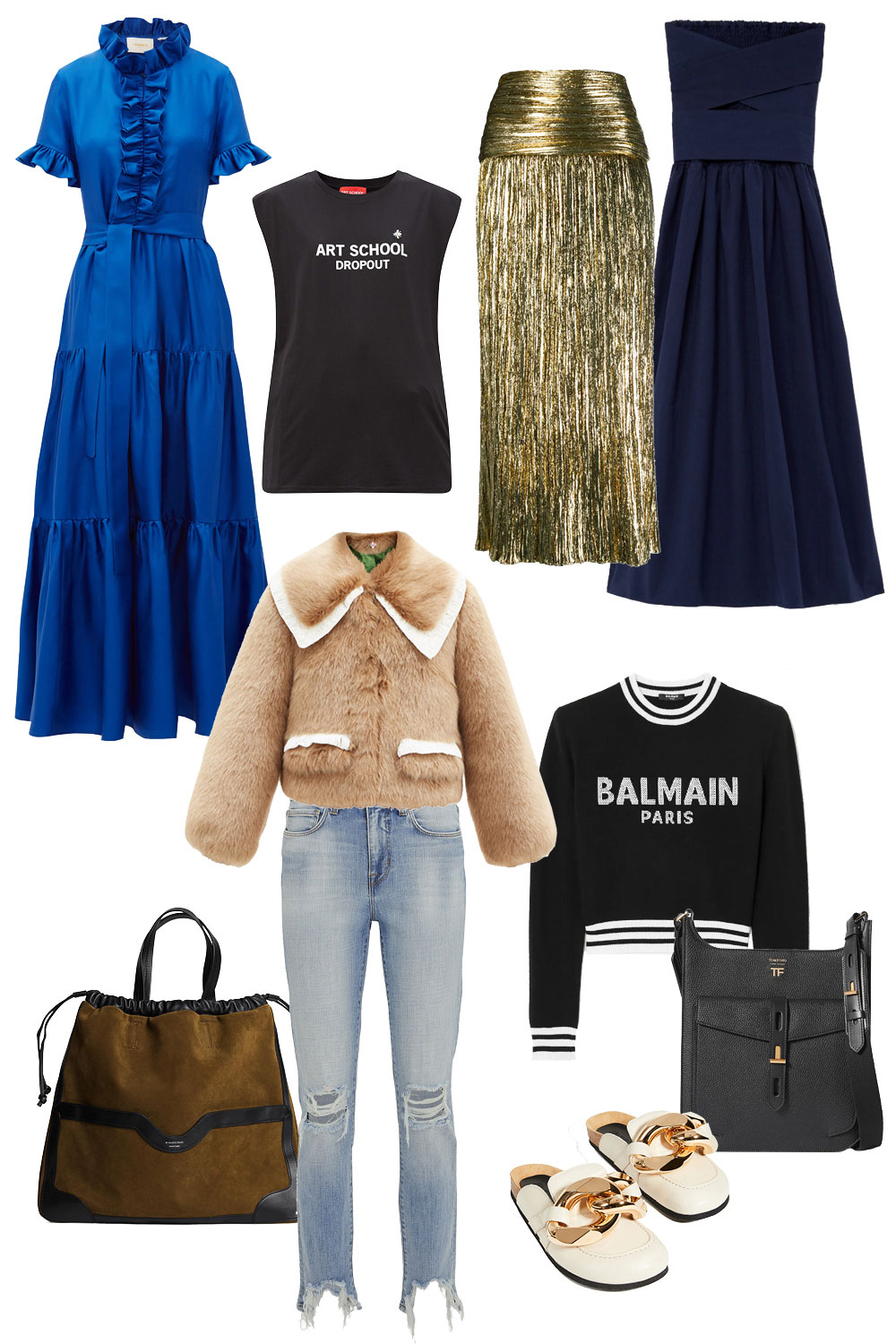 Blue Ruffle Dress – I first found Double J while visiting a GOOP store in Noho…how pretentious did that sound? Anyhoo, I was all set to buy this gorgeous dress until I looked at the price tag. Sweet baby Jesus put that sucka back on the rack where it belongs. Don't even breathe on it. Oh, and this one is giving me all the Mrs. Roper feels. All it needs is a gold medallion necklace.
Art School Dropout (sold out) – Well, this tee pretty much sums up my college life. So there's that. Also, it reminds me of one of my all-time favorite songs. I might actually have to break down and buy it.
YSL Gold Pleated Skirt (sold out) – YSL enough said. Oddly, this glam skirt is on sale for 50% off. Weird.
Strapless Cotton Dress – This little ditty screams pop me on your private jet and take me somewhere tropical. Don't miss the secret detail – it has two long ties you can crisscross, wrap, twist, or knot in different variations. So technically it's like 4 dresses in 1.
Faux Fur Coat – I love the little white lace trim on the collar. Champagne taste is all about the details baby.
Brown Suede Tote – If you don't know who Malene Birger is, let me enlighten you. Her home is absolutely stunning as is her art. She can do no wrong in my book. But this jack of all trades also dabbles in fashion, and I've been obsessed with this tote since it was released (although I'm more obsessed with the Fendi bag above). It's not entirely unreasonable cost-wise considering the material and size (I just checked…it's on sale.)
Distressed Denim – What I like about bougie distressed denim is the quality of the distressing itself. Look closely at the knees, and you'll notice that the holes have been patched. Why is this a big deal? Well, as a lover of all things ripped and distressed (although my son claims I look like I'm trying too hard), I can't tell you how many times I've stepped my foot into my pants leg, caught the hole with said foot, and ripped them to smithereens. Or squatted down to look at something and the knees just give out.
Balmain Sweater – I've longed for a Balmain tee for the longest time. Paired with a blazer…and distressed jeans and bougie sneakers. Some day maybe. Gotta save my pennies.
Tom Ford Shoulder Bag – Tom Ford makes dreamy bags, but my affinity for his designs dates back to a trip to Munich. My friend Fernanda and I walked over to his boutique and the sales clerk told us that this Tom Ford was the only Tom Ford boutique on the planet. Now, maybe it was the German to English translation? Maybe it was getting high off the intoxicating perfume? But the Munchin location is NOT the only Tom Ford. I found one while wandering Oak Street (Chicago) on my lunch break. Fernanda sent me a photo of her standing in front of one in Paris. Anyhoo, we were, at the time, truly convinced that this was the only Tom Ford and questioned when would we ever have a chance to return? Best stock up! The Boys thought they were off the hook when we met them for a glass of champs afterward…we had no bags. But that was because we had them delivered to the hotel. I love shopping with Fernanda. BTDubs, that's not a normal occurrence.
Chain Loafers – These shoes are dope AF, and I think I must buy them. Although the ivory is making me think twice. The look is fantastic, but I'd scuff them up. They do however come in black. Might have to watch for these to go on sale.
This marks the end of my Kimye holiday gifting ideas. I don't often shop for luxury items, so it was fun to pretend and throw all cares of money out the window. Hope you had a few chuckles as well.



Be Sure To Peek At These Unique Gift Guides
I've got all your gift-buying needs covered with the Ultimate Holiday Gift Guide for him, her, and everyone in between.
If he's difficult to buy for, shop the Holiday Gift Guide For Him for unique gift giving ideas for him.
If that special someone is hard to buy for, check out these unique Valentine's Day gift ideas for her.
If you're looking for Favorite Things gift ideas, I've got a full round-up of goodies under $25.
A carefully curated gift guide full of unique gifts for her! You don't want to miss it.
A new fashion line is shaking up Chicago. Check out the latest collection of bags by Neon Fringey.
If skinny jeans are out, what jeans are trending? Here is the latest in denim.
I found the best pajamas that are comfy, colorful, and come in bold patterns.
Here is some carefully curated summer to fall outfits that are definitely for the trendy mom style without breaking the bank.
Shop the Holiday Gift Guide for Her
Holiday Gift Guide For The Pink Lover
The Prettiest Scarf On The Planet
Holiday Decorating Ideas For Your Home