Surprise, It's Your Birthday!
Last Updated on September 24, 2023
Well, not really. My birthday is actually a couple of weeks away, but last weekend The Boy pulled one over on me. Which I have to be honest with you…is not an easy task. I can sense anything unusual happening in the house like a hipster without his beard and beanie. I knew something was up because I asked him if I could go to the Kinfolk Weekend Retreat at Camp Wandawega. Oh sure, of course, have fun…wait, what weekend are we talkin' about here? October 17-18. Suddenly, a look of panic crossed his face, and he said, "That's opening weekend for duck hunting." Ummm, ok…hunt Sunday rather than Saturday. Problem solved. I pushed a tiny bit more…I really wanted to go! He finally said, "Don't ask questions and DO NOT get upset. You can go any other day except October 18." Well darn! And quite mysterious.
What I Did for my 40th Birthday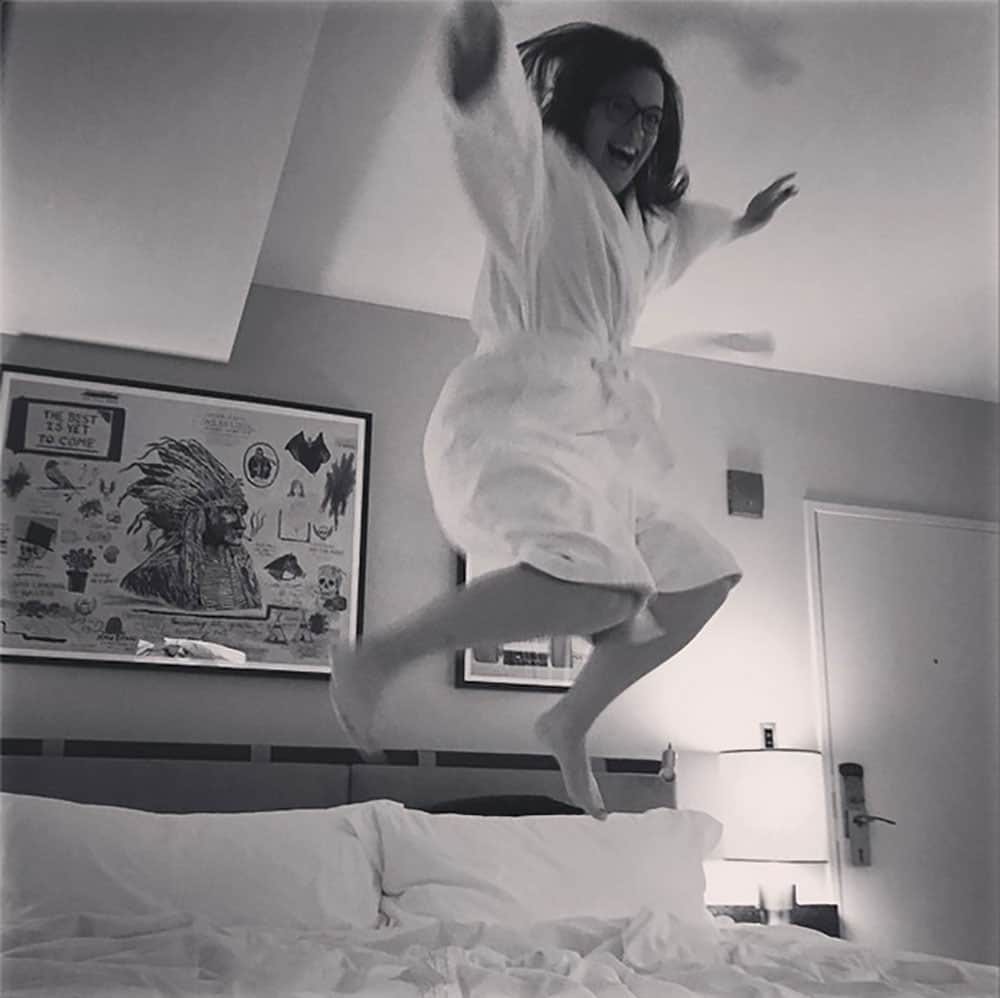 Friday, he tells me to pack an overnight bag for Saturday night. Are we going to Paris? Are we? Are we? Are we? Ya, NO! But, we ARE going out. Ummm, ok. What about our children??? You do remember we have children, right? Covered. Apparently, Grandma and Grandpa were coming down. SWEET! Where are we going? I can't tell ya that. Well darn!
Saturday morning I was told to be ready at 1 PM, and we promptly left at 2:15 PM sharp…it's how I roll. I also asked how I should dress. Normally I'm a t-shirt and jeans kinda gal, but if we go out on the town, I need to play the part. I'm instructed skirt over jeans. Right on, something cute is in order.
Traffic into the city was horrendous, but we finally reached Destination #1—the Thompson Hotel Chicago. We had stayed here a couple of months prior for a wedding. Let me tell you, this place rocks. Super swank and funky as all get out. The staff, oh so sweet. And they pipe in the most amazing smell to the lobby. Seriously, I want my entire house and body to smell like this. It's like the best candle and perfume wrapped in a bow. If someone at The Thompson is reading this, please, I'm begging you…please tell me the scent. I must have it.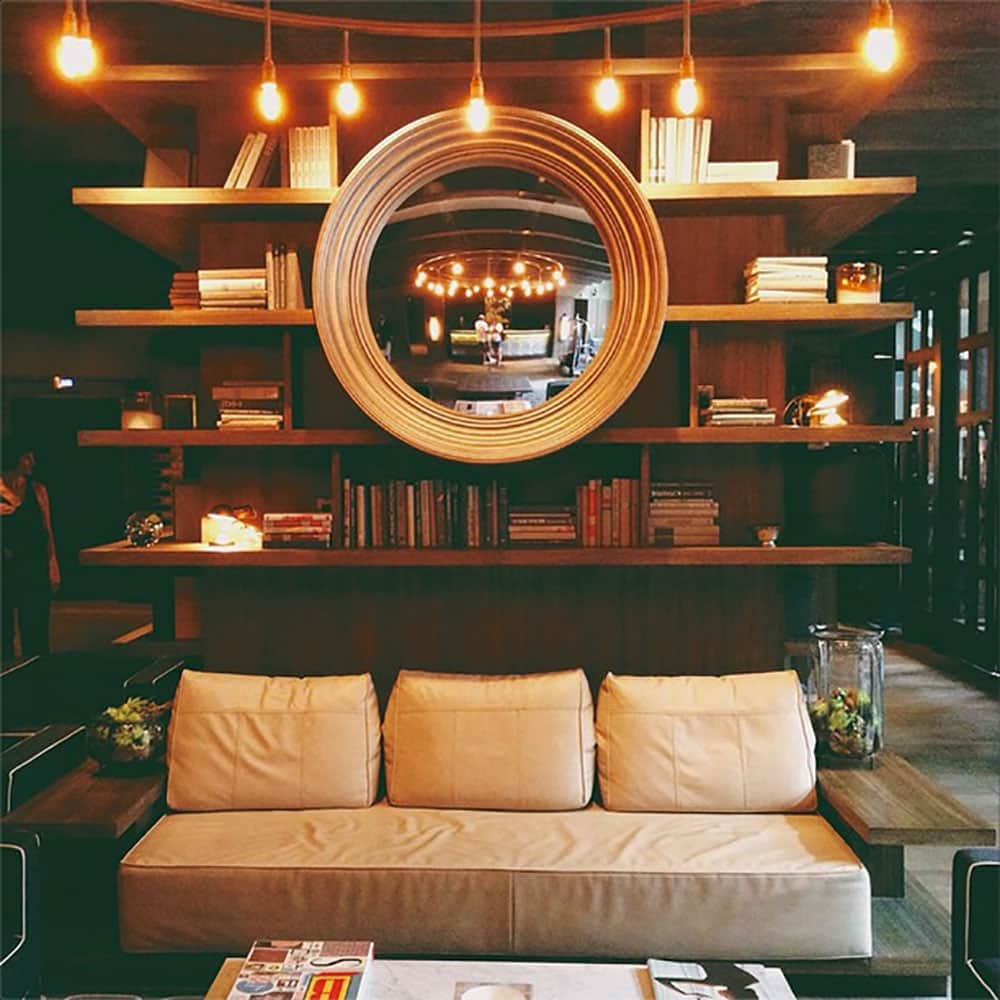 So while checking in, The Boy is handed keys to the Penthouse Suite. Seriously, I'm about ready to pee, you guys. I think I might have squealed just a tiny bit. I know because the manager looked at me funny. Apparently, that is not the normal reaction to PH keys? Let's take a pause here. Girls, go get your boys…have them start taking notes now. The Boy knows what he's doing.
We get inside the room, and it's two stories of awesome. The first floor has a bath, living area, dining area, and bar with a view to die for. There's a spiral staircase leading to the master bedroom and the coolest hotel bathroom I've ever seen! And, of course, there's another balcony.

Once we get settled in, we run downstairs to Nico to grab a drink…I, of course, had champagne. See, I'm not the biggest fan of wine or beer, so if I'm going to drink, I'm going to have the tastiest cocktail known to man! I like a mixed drink, but if this is going to become an epic night of celebration, let's break open the sparkly. I'm now told I have to be ready for dinner at 7 p.m. Hmmm, wonder where we are going? My guesses were The Publican, Bavette's, or Girl and The Goat.

The cab driver is told West Fulton Market…Destination #2 is The Publican. YIPPEE!!! Now I'm a foodie. I loves me a funky, fancy restaurant, and I had been dying to dine at Publican for the longest time. I clapped my hands and bounced around in the backseat. This was so much fun!!!

Dinner was fantastic. I was a bit skeptical of the communal tables, but once the girl sitting next to me (like touching my shoulder next to me) who couldn't stop staring at us left the building, I felt much better. Seriously, she just turned and stared for like 20 minutes. Who does that? One thing I noted was that every server had fabulous hair. It must be a requirement. Our server looked like Vinnie from Entourage. We ordered the Suckling Pig and Farm Chicken and Fries. We added a Shaved Brussel Sprout Salad (which BTDubs, I could have bathed in) and another salad called The Little Gem, which came covered in thinly sliced Pig's Ear. Don't you dare crinkle your nose at me. IT WAS AWESOME!!!!!!
After dinner came a lot of text messages. I kept asking The Boy if everything was okay. Yep! Just fine. Stop asking questions…Okay then! Can we go? Nope, not quite. Well darn!
The Boy nursed his coffee and made two more bathroom stops before our departure. FIIIIIINNNAAALLY we went outside and grabbed a cab. North and Milwaukee…SHUT THE FRONT DOOR RIGHT NOW! That HAS to be The Violet Hour. My most favorite bar in the city. The bar I haven't been to since three birthdays ago! YES! YES! YES! Happy dance in the cab! And that driver drove like a wild demon! So much for stalling. Feverish texting ensued.
We get out, and I'm told, ok, Bucktown is your favorite neighborhood in the city. What would you like to do?
Huh? No, no. That is not how this works.
I'm told to slow down. I'm told we have to stop at Walgreens to get Advil. I'm told we need to stop at the ATM. I'm told, no, don't cross the street with 12 seconds left, you'll fall in those shoes and hurt yourself. WHAT???
We finally start to make our way toward The Violet Hour, and the line is in full force and is starting to wrap around the block. For those of you unfamiliar with The Violet Hour, it's kinda like a speakeasy. If you call, no one answers. There's only a recording. The entrance is a wall completely graffitied. There's no sign. There's really no door. It's hidden in the mural. Unless the line has formed, you will walk right past it.
They only allow so many people in at one time. The Violet Hour is never crowded. Just full. Everyone is given a seat. You are not bumped into or spilled on. It feels quite private. There's no artwork hung on the walls. There are huge floor-to-ceiling curtains. The chairs are very tall and sort of wing-backed…very enclosed. They also have a few house rules.

The Boy walks up to the front of the line, passing quite a few irritated, shivering, cold future patrons. I'm asked to hang outside…there are a lot of darting eyes and evil stares happening right about now. Awkward. I'm motioned inside and hear a tiny sad little voice behind me say, "I wanna be invited to that party." Dude! Me too! I make my way through what seems like an endless supply of velvet drapes and walk ALL the way to the back. SURPRISE!!!!!!!!!!!
OMG! The Boy has rented out the entire back room of The Violet Hour and just made me the happiest girl on the planet. All our friends made it into the city. Laura from Avery Street Design and her hubby Ryan were there. My train girls, former co-workers I love with all my heart, the huntsmen and their wives. Seriously, BEST PARTY EVER! BEST!


Yes Melissa, I stole the last 2 photos from your IG feed =)
Drinks were flowing, and delicious food was served. I had my favorite sparkly shoes on. The Boy even set up a champagne toast. The room was filled with love and a bit of drunken tomfoolery. At one point I just sat there and looked at each and every guest. So thankful for their friendship. So thankful to have them all in my life. I looked at The Boy…how did I ever get so lucky? And how on earth did he ever pull this off? A mystery I will never know.



Discover More Eclectic Modern Home Decor Ideas
Here's my brutally honest review of the Biltmore Country Club Barrington. You'll never believe what happened.
If you're looking for an Anthropologie mirror dupe, this is the round-up for you. I have 15 of my vintage-inspired gold mirror favorites for you.
Get some ceiling medallion ideas with this epic guide.
Rounding up the best faux olive trees that look real. I also have a full post dedicated to faux fiddle leaf fig trees and more faux plants that will fool just about anyone!
Gearing up to renovate the 80s brick fireplace in our living room.
The best tutorial on how to record a TikTok.
If you're on a budget and looking for some cheap curtains, here's a guide to my favorites. I also have a round-up of affordable velvet curtains that are perfect for fall.
How to calculate a rug size for a living room like a pro and never return a rug again!
Check out these 7 easy ways to make your home look expensive without spending much money.
I attended High Point Furniture Market to check out all the new furniture that would be debuting. Here are the interior design trends to look for this year.
Add a bit of sparkle to your room with this disco ball decor.
Looking to update your closet with the best denim skirt? I've got a whole round-up that fits every budget.
If you're looking to replace your ceiling lights, here are a few boob light alternatives.
Bobby Berk told me he has always invested in quality bedding. Here's the ultimate guide to the best sheets and bedding.
It's a wrap! The closet remodel final reveal is live!
When installing a ceiling light, there's a right way and a wrong way. Here's how not to get zapped.
Wrangle the everyday clutter with these modern decorative boxes.
Zhush up your bookshelf with a modern vase or two.
If your fireplace has you confused, here's some mantel decor inspiration.
Lilac is trending, so here is a full round-up of purple home decor. And if you love shopping by color, don't miss green decor.
Obsessed with this Bunny Williams shopping bag waste bin.
Check out this post for comfy outdoor patio furniture.