Best Cocktail With Sake
Fridays are for __________. My answer? Cocktail time! I know, I know, it's been such a long time since I shared a fun cocktail recipe, but I'm going to make it up to you by hitting you with a doozy – the best cocktail with sake – well, sparkling sake that is. I thought the champagne smash cocktail would be the cocktail of choice the other night, but I was surprised. Everyone kept saying, "Hey, Kyla! Can you make me another one of those orange sake cocktails?"
This sparkling sake cocktail drink was first introduced to me at a favorite local haunt. A tiny restaurant — Tokio Pub. On Sundays, they offer bottomless noodle bowls. I've become an expert at slurping up ramen, and of course, I pair it with at least one two of the best sake cocktails I've ever sipped. A citrus delight with sparking sake, vodka, lillet, and orange juice. Not a bad way to wrap up the weekend, if I say so myself.
I will give you fair warning, it has one fancy ingredient that can prove to be a bit difficult to locate if you don't live near a wine shop. Sparkling Sake. But not to fret, you can make it without, if you must. My two suggestions are Banzai Bunny Sparkling Sake (Every once in a blue moon, I find the peach flavor, and my heart goes pitter-patter. Scoop it up if you can find it). Go to any wine shop or large liquor store that carries a variety of wines. I'm pretty much going to guarantee that you will not find this sparkling surprise at the local supermarket, but if you think you're feeling lucky, try in the rice wine section.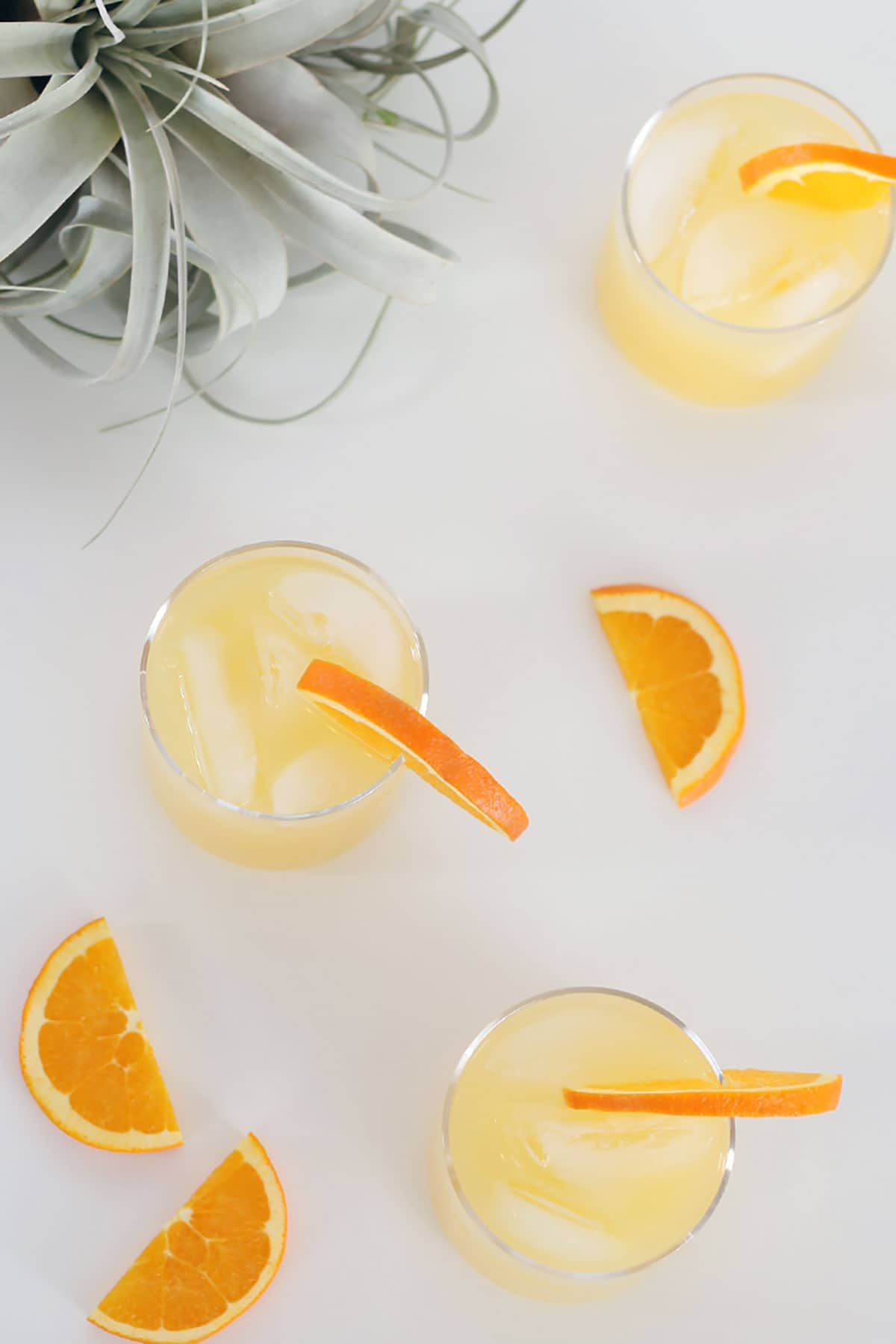 Ingredients For The Best Sake Cocktail
Ingredients & Directions
Double Jigger Orange Vodka (I prefer Grey Goose L'Orange)
Double Jigger Lillet Blanc
A Good Splash of Simple Syrup*
1/2 oz Lemon Juice
Orange Juice to taste…some like it heavy on the orange juice, some like it weak. Serve in a martini glass for light OJ.
Sparkling Sake – used as a float.
Mixing This Sparkling Sake Cocktail
Mix all the ingredients minus the sparkling sake in a cocktail shaker and add ice. Shake well and strain into a glass with fresh ice. Leave enough room in your glass to add a float of Sparkling Sake to the top of the drink. Enjoy!
*To make the simple syrup, you will need 1 cup white sugar and 1 cup water. In a medium saucepan, combine the sugar and water. Bring to a boil and stir until the sugar has dissolved. Cool and keep refrigerated in a glass jar for 1 month.

Read More From House Of Hipsters
Make Your Dining Room Table Holiday Ready
Vintage Barware For A Modern Bar Cart
How To Make A Brandy Old Fashioned
Last Updated on December 8, 2022 by Kyla Herbes