Beautiful Distractions No. 1
Last Updated on June 15, 2023
A new series coming at cha called Beautiful Distractions. What on earth does that mean you ask? Well, simply put, interesting and rad links, articles and home decor that has recently caught my attention. I'm an online shopping whore (Ya, I said it. Sad but true, and please pardon my french), so I'm constantly browsing the interwebs for the next best thing.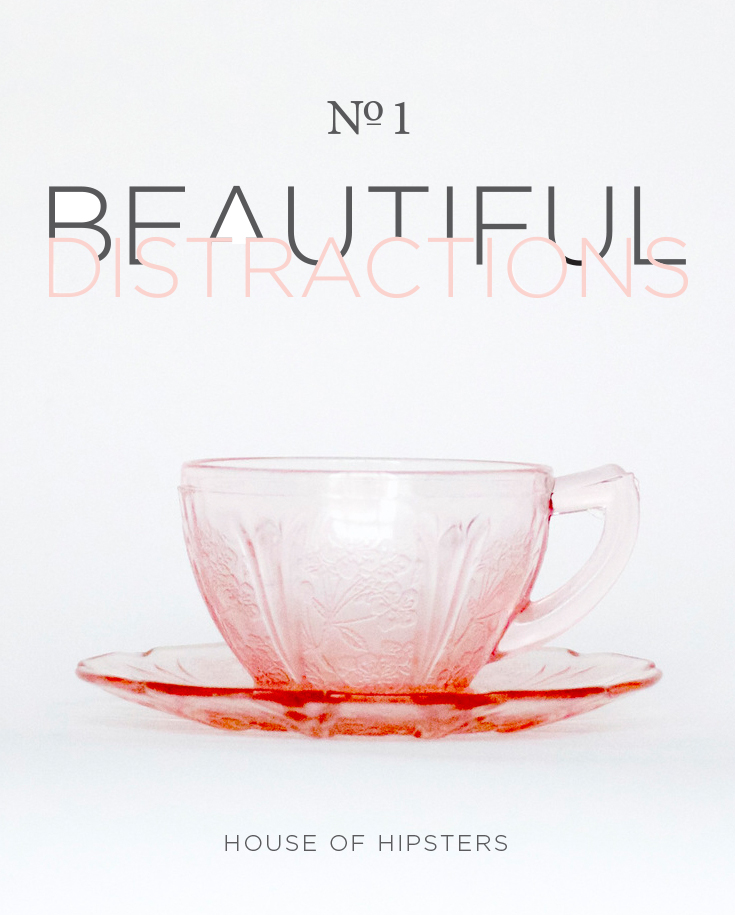 Be it music, glassware, a funky table cloth, a cute outfit, or a fun, hip post, I'm pretty confident you'll like at least one if not all. I also post these to the House Of Hipsters Facebook page, but I quickly realized, only a few of you might be seeing this eye candy. Sad face! So, we're going to shoot for posting this new series once a week, but it might be every other week. I'll do my best to keep you in the loop of cool. We don't really have a plan here at HOH, we just kinda wing it. That usually makes life more interesting. Plus, this is a way for me to quickly pop in a say hello and give you a virtual hug. So here are today's Beautiful Distractions for the week. Be ready to fall in love *sigh*.
These charming little teacups of pink depression glass make me squeal. (no longer available)
The best little Daft Punk vs. The Weeknd Mash Up. Listen to the MP3.
In case you missed it. This fancy sake and orange juice cocktail recipe. An orange party in my mouth!
This fun little DIY modern yarn tapestry wall hanging.
Rue Magazine featured a cute little ditty about one of my favorite bloggers, Emmadime. Be sure to scroll to the bottom to watch the video. She's adorable and an incredibly talented graphic designer.
Home decor that doesn't break the bank. This vase and this mid-century modern chair and this cozy throw blanket.
What's the bomb? These wide leg jeans of course! This denim style is trending and super hot right now. snap a pair up while you can.
Magical tassels and boho dreaming…must have this in my life. Sweet dreams. (no longer available)
Not only the prettiest, but the raddest new account on Instagram (okay, I might be partial because it's my new project). @ihavethisthingwithpink Follow along and hashtag #ihavethisthingwithpink to be featured!


Discover More On House of Hipsters
So you want to know how to record a TikTok huh? Pull up a chair and let's chat about it.
If you need some basic training before jumping right in, here is an easy TikTok tutorial.
Are you a brand looking for social media consultation? Well, you've come to the right spot. I was a "content creator" before content creators existed.
If you want to know more about me as a home decor influencer, click the link!