Passion Fruit Cocktail With Lillet Blanc
Last Updated on December 8, 2022
Yes, I know I'm long overdue for a Parsian recap. Je suis désolée. Summer and unemployment got the best of me. But, I promise to have a full Paris Flea post or two in the next month or so…where I went, what I bought, and what I wish I would have known. But until then, I hope this bordello inspired boozy beverage from Maison Souquet will tide you over. It's a delicious passion fruit cocktail with Lillet Blanc and a champagne float.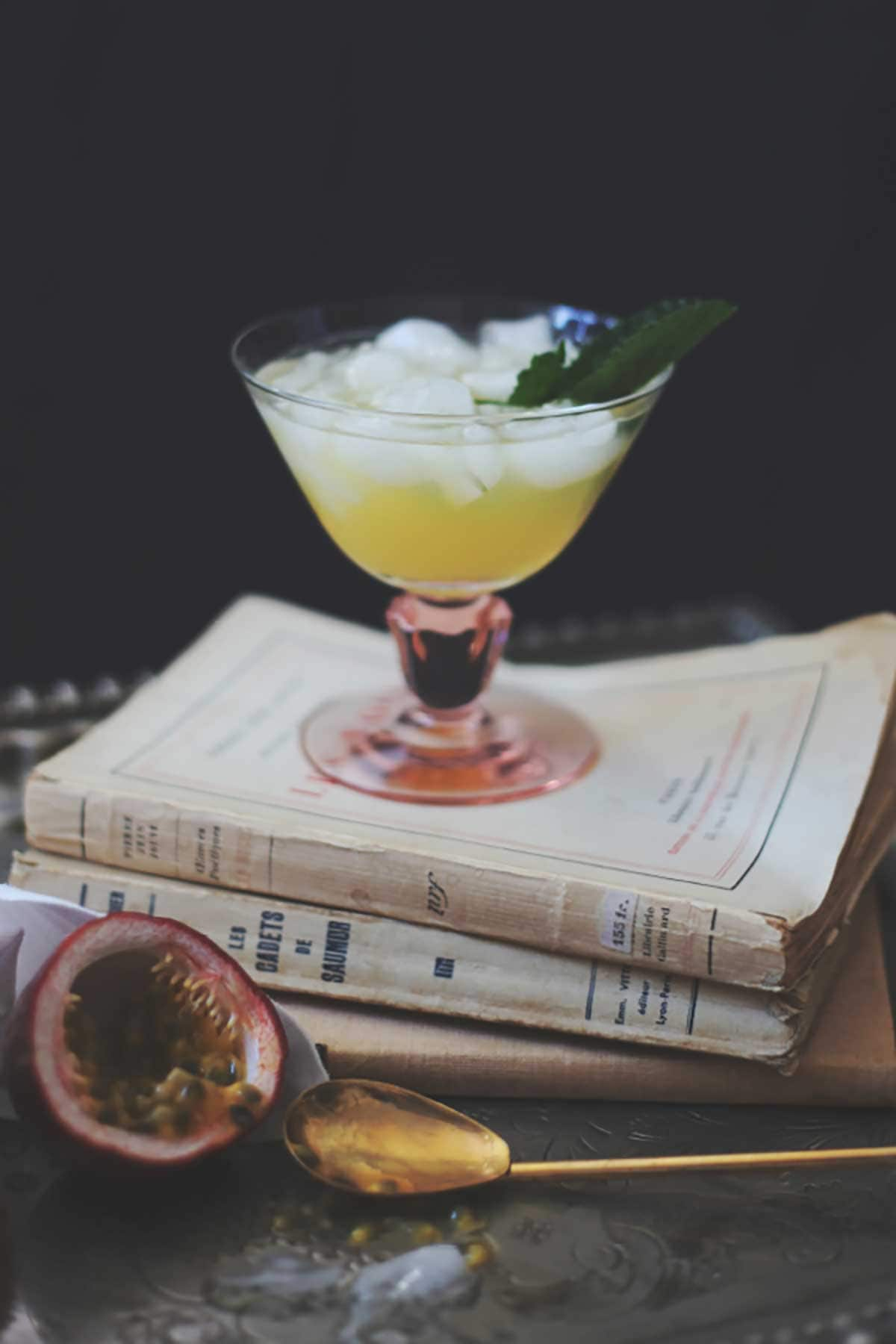 When I want to travel back in time to the Spring days I spent in Paris with The Boy…this is my cocktail of choice. I light my Maison Souquet candle with its exotic scent of tobacco, rose and lavender…listen to some musique francaise, amour fou.
While visiting Paris, we rested our heads at Maison Souquet — a boutique hotel with a hidden bar and colorful past. As a former brothel during the Belle Epoque, the atmosphere is over the top opulent. We arrived on a cold, rainy afternoon.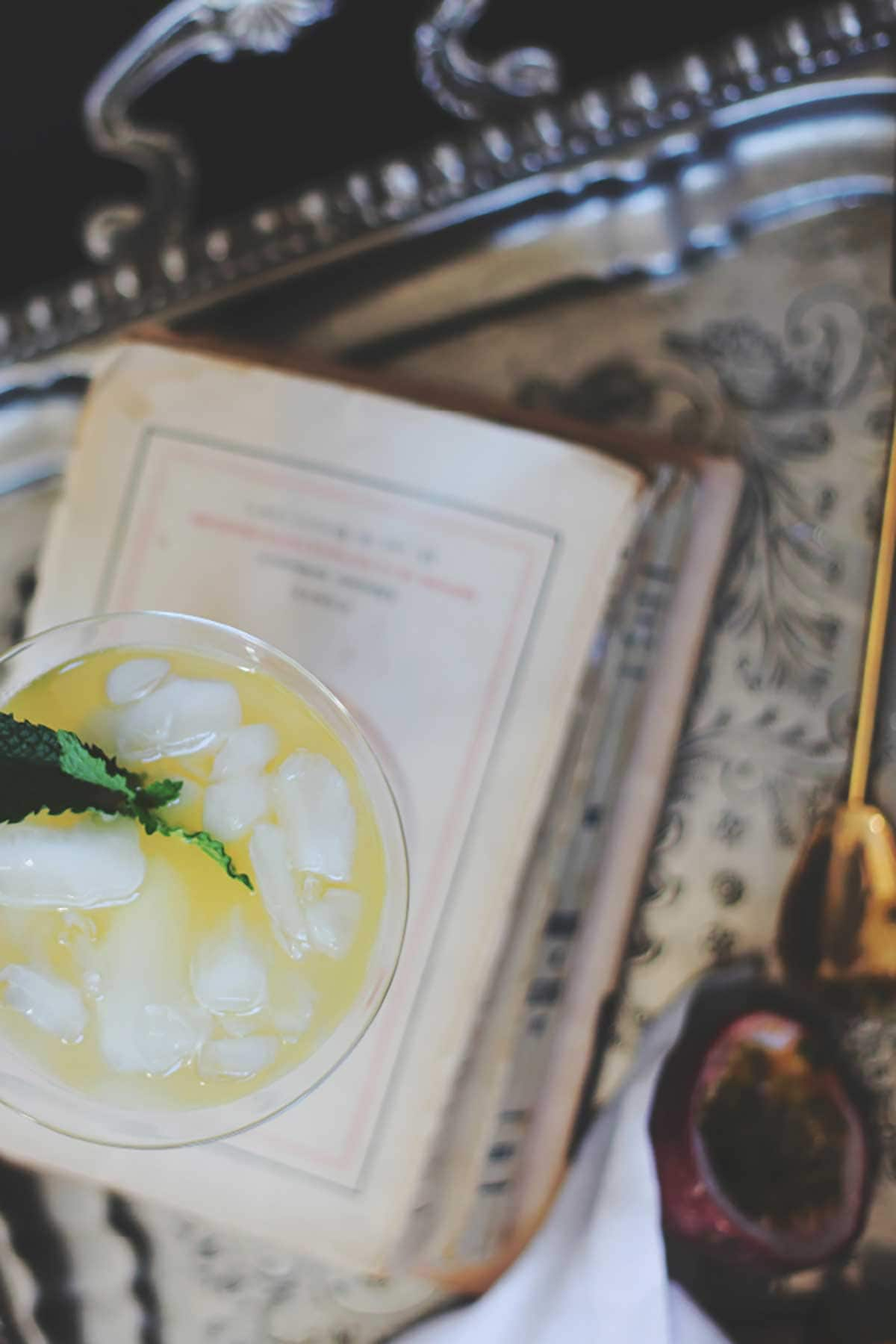 After unpacking, the Boy and I headed down to partake in an aperitif in the boudoir ambiance. With a "Bonjour Monsieur", I was handed a cocktail menu with a list of devilishly delicious sounding concoctions. The first two listed under Les Belles Horizontales caught my eye — because when champagne is involved…well, plus ça change. I settled on Elisa…a passion fruit cocktail with Lillet Blanc, vanilla vodka, and a champagne float.

What Is Lillet Blanc?
Before I go any further, I can't tell you how many times I have been asked, "What in the world is Lillet?" In short, it's an aromatized wine. This recipe calls for Lillet Blanc. If you've tried my Orange Blossom cocktail, then you might already have it on hand. And please don't confuse the Blanc with the Lillet Rosé from the Champagne Smash cocktail. There is an obvious difference in taste. Trust me.

Although my recipe is not quite Maison Souquet perfection, after some trial and error, it's pretty darn close. I hope you enjoy it as much as I do.

How To Make This Passion Fruit Cocktail
YIELDS 1 SERVING
INGREDIENTS
• Double jigger Passion Fruit Puree
• Double jigger Lillet Blanc
• Double jigger Vanilla Vodka
• Champagne
• Ice
• Mint or passion fruit to garnish
INSTRUCTIONS
• In a shaker, mix passion fruit puree, Lillet Blanc, and vanilla vodka over ice.
• Shake for 15-20 seconds or so to get it good and cold.
• Fill glass with a bit of crushed ice and strain shaker contents into a glass.
• Top with champagne (that's the float).
• Garnish with mint or passion fruit.
• Tchin! Tchin!

Shake Up More Delicious Cocktail Recipes
Brandy Old Fashioned Sweet – Wisconsin's Favorite Cocktail
A Botanical Twist On The Moscow Mule
Lime In The Coconut Drink Recipe – Perfect For Summer
Make Your Bar Cart Cocktail House Ready