Champagne Smash Cocktail Recipe
Last Updated on June 28, 2023
Hey, hey you guys! Have you missed me? I just wanted to pop in really quick from vacation to let you know about this amazing signature cocktail for New Year's Eve! Cocktail parties are super fun, but to make it a bit fancier, I like to have a little sumthin' sumthin' special up my sleeve. Something my guests will remember. With New Year's Eve being tomorrow, I decided to share one of my favorite boozy beverages with you — the Champagne Smash cocktail recipe.
If you've been here before, you know I like to indulge in a cocktail or two (okay, maybe three or four on occasion, who am I kidding). Yes, I will definitely be sipping on a Green Chartreuse cocktail tomorrow night on New Year's Eve, but that baby packs a punch, and it doesn't include champagne…which is kinda what I'm craving right now, and this sucka has bubbly perfection for a special occasion (eh-hem like midnight).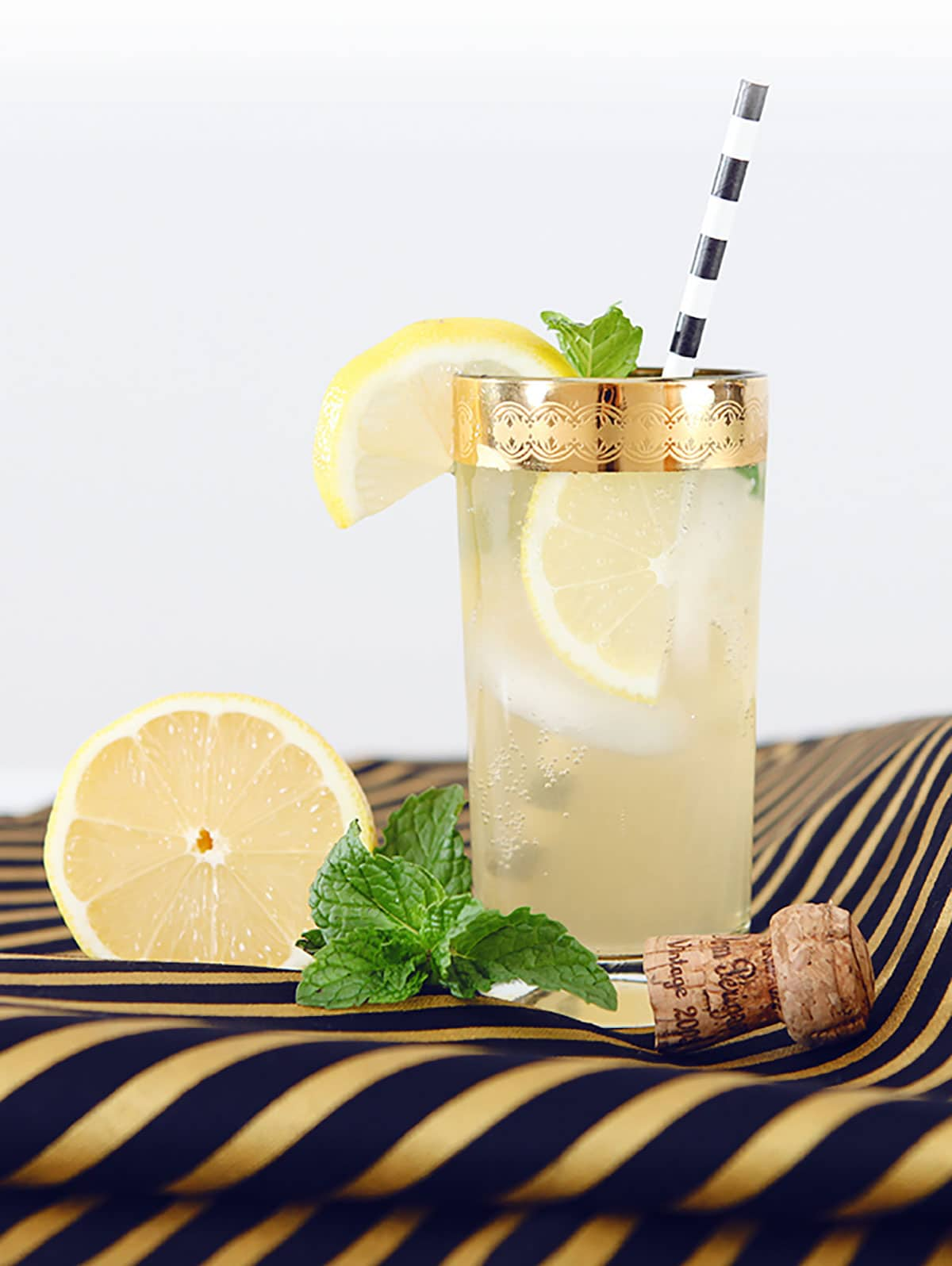 The Champagne Smash cocktail originates from this super swank restaurant, Bavette's Bar and Beouf, in Chicago. I painstakingly sat by the bar and watched intently, taking notes, and obviously HAD to order more than one of this boozy bliss to perfect it myself finally. What can I say, I sacrifice myself for you guys? But after you partake, you'll understand why and thank me for it.
Anyhoo, the first night I sipped this refreshment of delicious fanciness, The Boy had surprised me with dinner reservations at Bavette's…and let me tell you, this place is not easy to get into. So be patient. It's worth it. (And be sure to try the wedge salad. The bacon is out of this world.) If you're lucky enough to get in on a whim, be prepared for pure unadulterated awesomeness. It oozes vintage cozy elegance, right down to the antique tiffany style sofas.
I also think it must be necessary to grow a beard to be a server here. "Hipster Heaven" I believe is what we coined this venue. And man oh man do I have a hipster to hug for this recommendation. Their libation menu is stellar. After what seemed like hours, I had managed to narrow it down to 2. Bavette's Punch and The Champagne Smash. Our server bowed his sweet head and said, "Champagne Smash all the way". He didn't let me down.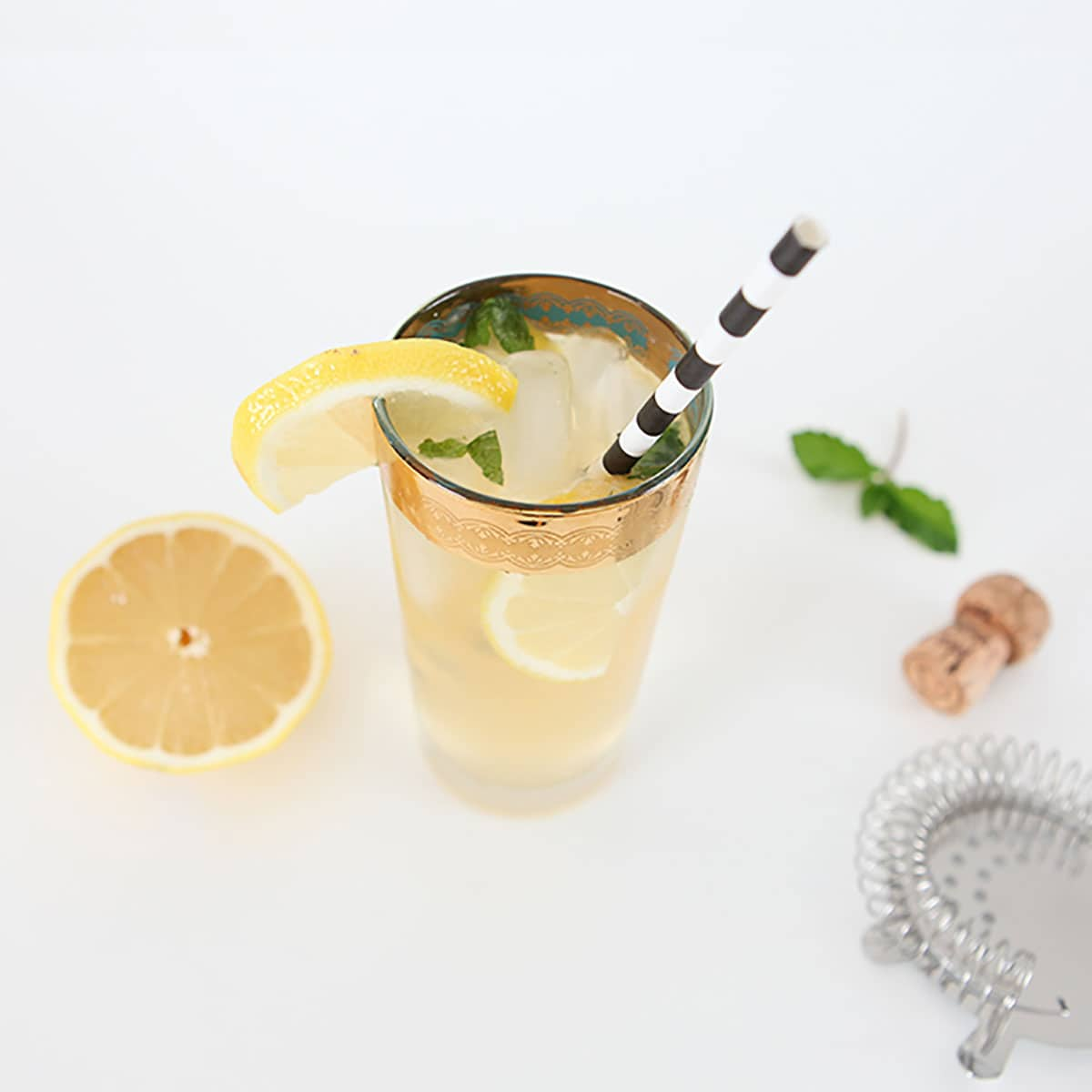 This snazzy drink is so easy to make. I'll admit, sometimes the retired bartender in me likes to get all intricate with my cocktails, but when it comes to hosting a dinner party with a signature cocktail, I like to make it easy. And easy it is! You can make this drink with your eyes closed, and your guests will think you're a rockstar. You just have to remember to muddle the mint well with the lemon, and you're golden.

The Champagne Smash Cocktail Recipe
YIELDS 1 SERVING
INGREDIENTS
• Double jigger St. George Gin (Bavette's uses Smalls Gin, I'm partial to St. George)
• Single jigger Lillet Rosé (maybe a splash more if you're feelin' fancy)
• Champagne (doesn't have to be anything fancy)
• Mint
• Lemon
• Ice
INSTRUCTIONS
• In a shaker, muddle a nice slice of lemon and a couple of sprigs of mint.
• Add ice, gin and Lillet Rosé
• Shake for 15 seconds or so to get it good and cold.
• Fill a highball glass with ice and strain shaker contents into a glass.
• Top with champagne.
• Garnish with mint and lemon.
• Enjoy!

Now did you see I mentioned something about the champagne in the recipe above not being anything super fancy expensive? I like to have the good stuff. Some special occasions may even require a bottle of Dom. I'm personally partial to Moet Chandon White Star. It's higher quality without complete sticker shock. However, with this drink $10 bottle of Barefoot Bubbly will work just fine. I like Barefoot Bubbly Brut because it's not as sweet and doesn't break the bank.

Before I leave you again for just a few more days of vacation, I also have to make mention of these fancy glasses. Can we all just take a moment here to take in the A-MAZING Mad Men appeal of this barware? *sigh* I might just be in love with them. Props to Etsy for selling me these stellar highball Mid-Century etched gold glasses.



Shake Up More Delicious and Unique Cocktail Recipes
Wisconsin's favorite cocktail is the Brandy Old Fashioned Sweet, and guess what? I'm a former Wisconsin bartender who can shake up a mean one.
While visiting Paris, we stayed at Maison Souquet, and their signature cocktail was my drink of choice. Make this delicious Passion Fruit and Lillet Blanc cocktail.
Another summertime favorite is the lime in the coconut cocktail. This recipe is from Fleetwoods in Maui.
If you want a unique boozy beverage, try this orange juice and sparkling sake cocktail.
My Lemon Cherry Bar Recipe is light, citrusy, and refreshing. Try it for your next party.
This Green Chartreuse and Pear Brandy cocktail has been my signature New Year's Eve party cocktail for years. Here's how to make it.
If you're looking for a botanical twist on the Moscow Mule definitely take a peek at this boozy beverage – The Wild Indie Mule.
My weakness is Vintage Barware and a Modern Bar Cart. Check out these top picks.
What? You got rejected by a country club? Ha! Yup! Read the drama that ensued with the Biltmore Country Club.