Free New Year's Party Invitations
Last Updated on November 29, 2021
Hello! It's Day 5! We promised more and today we have more! Free New Year's Eve party invitation you can download for your very own Wildwood Speakeasy New Year's Eve theme party! So what do you guys think of this shindig so far? Is one of my readers going to host this puppy? I better be getting one of these invites in the mail. I'll be there with bells on cuz I'm crushing on this bash hard. Seriously, everything is just too amazing! As each post goes by it just keeps getting better and better! Well, let's get to the goods here, shall we?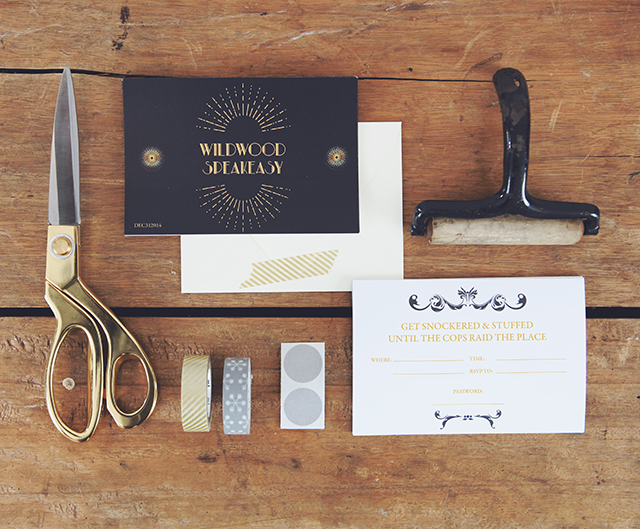 Custom invitations are never cheap. To have them designed especially for you and your theme REALLY isn't cheap, especially if you aren't using cousin Bob's neighbor's kid who made a cool PowerPoint presentation for his sister's boss. Did you follow that? Anyhoo, today my friends, we are giving you the gift of free design. Yep, that's right I'm a fancy designer by day and tonight I'm werkin' for you for free. Laura from Avery Street Design, and Grace, and I have given you this whole Wildwood Speakeasy New Year's party. So what kinda people would we be if we didn't give you the invitations too, am I right? We're no Grinch! So today, I'm whipping out some of my mad graphic design skillz to bring you this.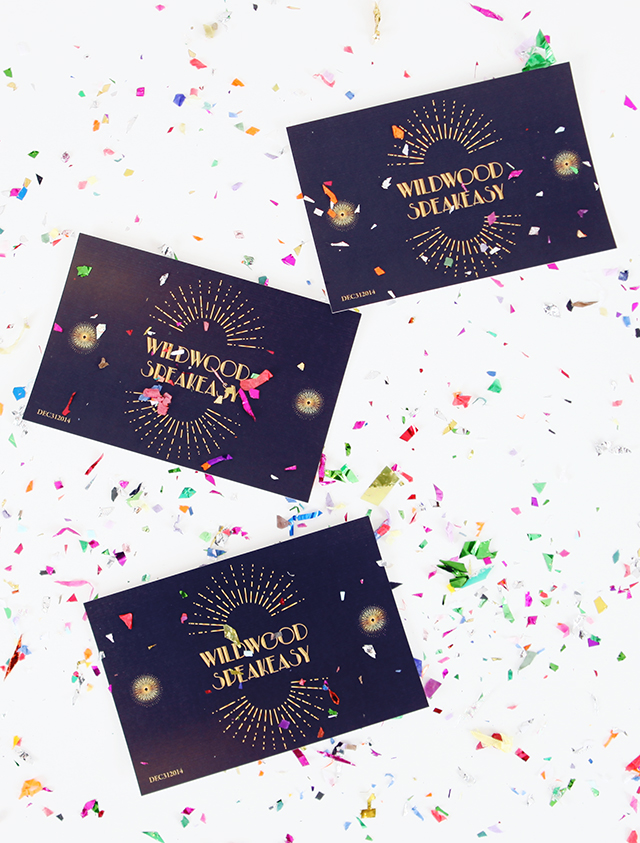 My inspiration was from some for realzies vintage speakeasy membership cards that I found for our Wildwood Speakeasy New Year's Eve theme party that we submitted to Alt Summit waaaaay back when. They are a smaller-sized invite, 4″ X 6″ to be exact. Very clean and secretive on the front with an Art Deco feel. Only "your membership number" is on the front lower-left corner which is actually the date of the party. DEC312014
I've made it super simple for you to print these.
1. Download the PDF. Right-click on the link and "Save As" if your download doesn't automatically start.
2. Copy the PDF to a jump drive or CD.
3. Take them to your favorite or nearby copy and print shop or store. FedEx Kinkos, Office Depot, Staples, etc… They also may have the option for you to upload the file. Check their website.
4. Ask them to print your file on an 8-1/2″ X 11″ sheet of paper (heavier card stock) true to size. And tell them you want them printed back-to-back.
5. Tell them your file is set up as a 4″ X 6″ document with registration marks and bleeds, and you'd like them to trim them down for you. That is unless you enjoy using an X-ACTO knife.
6. Pay for said prints.
7. Walk out the door a happy hipster camper and mail to your closest 37 friends.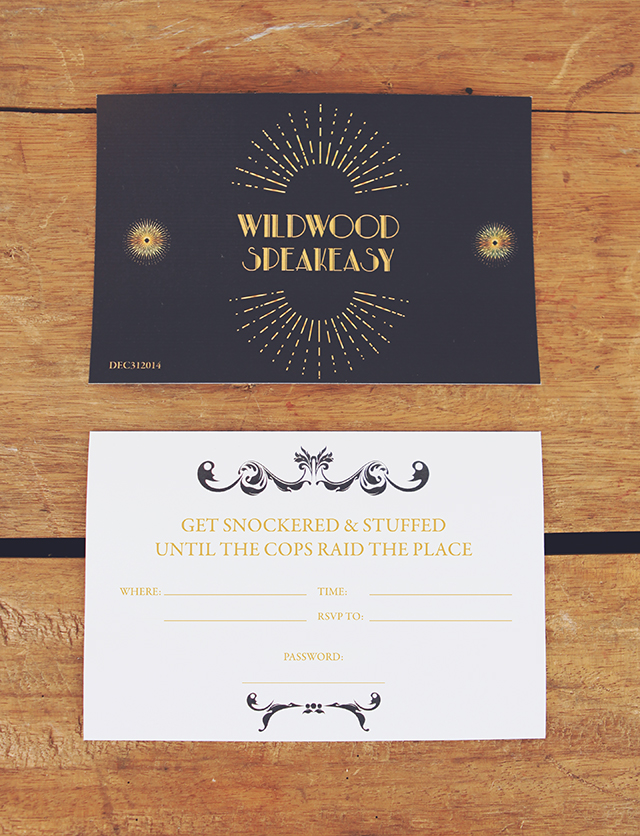 Monday   //   Vintage Inspired Floral Centerpiece
Wednesday   //   Mugshot Photobooth Backdrop with Free Printable Board
Friday   //   Speakeasy New Year's Eve Invites – Free Custom Design Download
Saturday   //   DIY Vintage Headpieces