DIY Holiday Gift Tags Printable
Last Updated on September 2, 2021
If you forgot to purchase gift tags for your holiday presents, do not fret! Here is a free printable for DIY holiday gift tags. Simply download and print! I had started designing these a while back but became too busy to finish, but still itching to complete. The nudge towards December was just the shove I needed to put on the final touches.
So I originally designed these puppies in a really fun, crazy color palette. But was that practical to most readers? Would that match your holiday wrapping paper? Hmmm. Bright red, mustard yellow, turquoise, and plum. Hmmm. After thinking about it more I decided black and white and gold would complement everyone's color scheme.
Since it's the holiday season, and holidays are meant for giving, AND I just LOVE to give gifts, my little gift to you are these fun custom-designed holiday gift tags. Just download the free printables here (right-click on the link if the download doesn't automatically start). Besides the actual printing cost, they are completely free. Now where else ya gonna get that kinda deal, huh? I'll take that bargain all day son!
How To Download These Free DIY Holiday Gift Tags Printable
Again, I've tried to make it super simple for you to print these bad boys.
1. Download the PDF. Right-click on the link and "Save As" if your download doesn't automatically start. BTDubs, the file itself is 19 MB so it may take a bit longer to download.
2. Copy the PDF to a jump drive or CD.
3. Take them to your favorite or nearby copy and print shop or store. FedEx Kinkos, Office Depot, Staples, etc… They also may have the option for you to upload the file. Check their website.
4. Ask them to print your file on an 8-1/2″ X 11″ sheet of paper (heavier card stock) and fit to page.
5. Pay for said prints and drive home a happy little clam.
6. Grab a ruler and X-ACTO knife and trim.
7. Use a 1/4″ hole punch. You will see I added a small go-by for placement.
HELPFUL TIP: You may want to use hole punch reinforcements to ensure your tags don't rip. I used clear.
8. Tie with baker's twine or jute twine and attach to gift.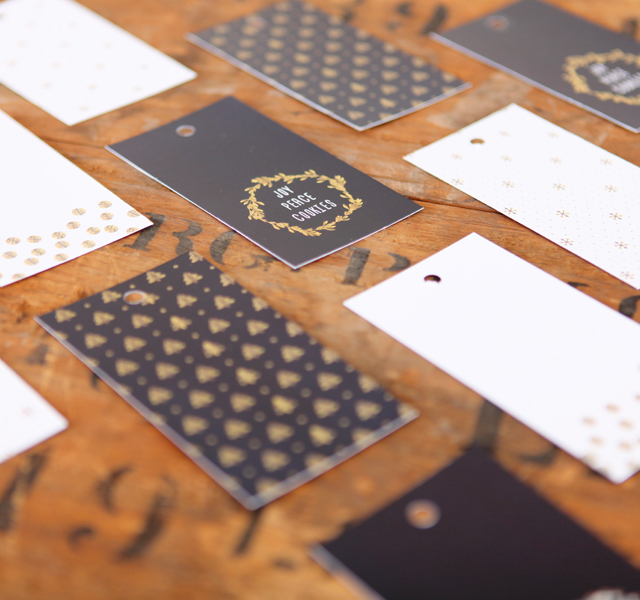 Now I have inserted crop marks for trimming but feel free to bend the rules. Think outside of that box. Use a small cookie cutter to make different shapes and sizes. Circles, stars, hexagons, clip the corners from either side to make a more traditional tag. Be creative with these little guys! If you can dream it, do it!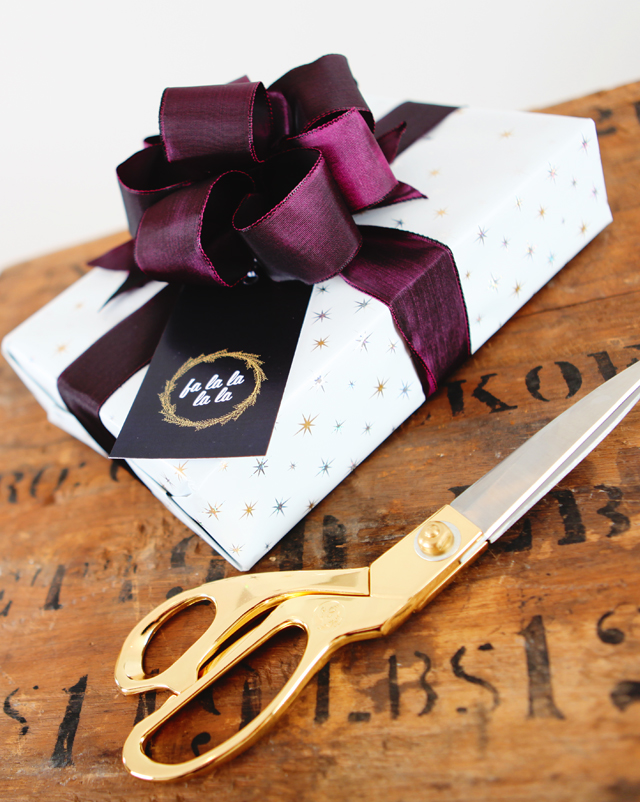 And see this bow? I've had a few readers email me since I posted the giveaway for Owen & Fred asking where they can buy the gold glitter pom pom bow. Well, I made it of course, and you can too. It's honestly SO incredibly easy and looks like a million bucks. I swear my mom saves and reuses them every year. Can you blame her? They are pretty flippin' fancy! Anyhoo, in my next post, I'll have step-by-step instructions on how you can wrap like a pro too. Fa-la-la-la-la! Until next time!
More Clever and Cheap Holiday DIY Ideas
Free Printable – Bring On The Weekend
Holiday Thrift Store Challenge