Free Printable — Bring On The Weekend
Last Updated on March 8, 2023
It's Fri-yay! Wahoo! I have a very special post for you guys. Today I've got a free printable. I was listening to my iPod on the way home from the gym, possibly channeling Christina Aguilera, belting it out lyrics like a contestant on The Voice with the windows down…yep, I was that girl. Anyhoo, I was jamming to "Bring On The Weekend" by Class Actress and thought, "Dude, these lyrics would make for a perfect free printable!"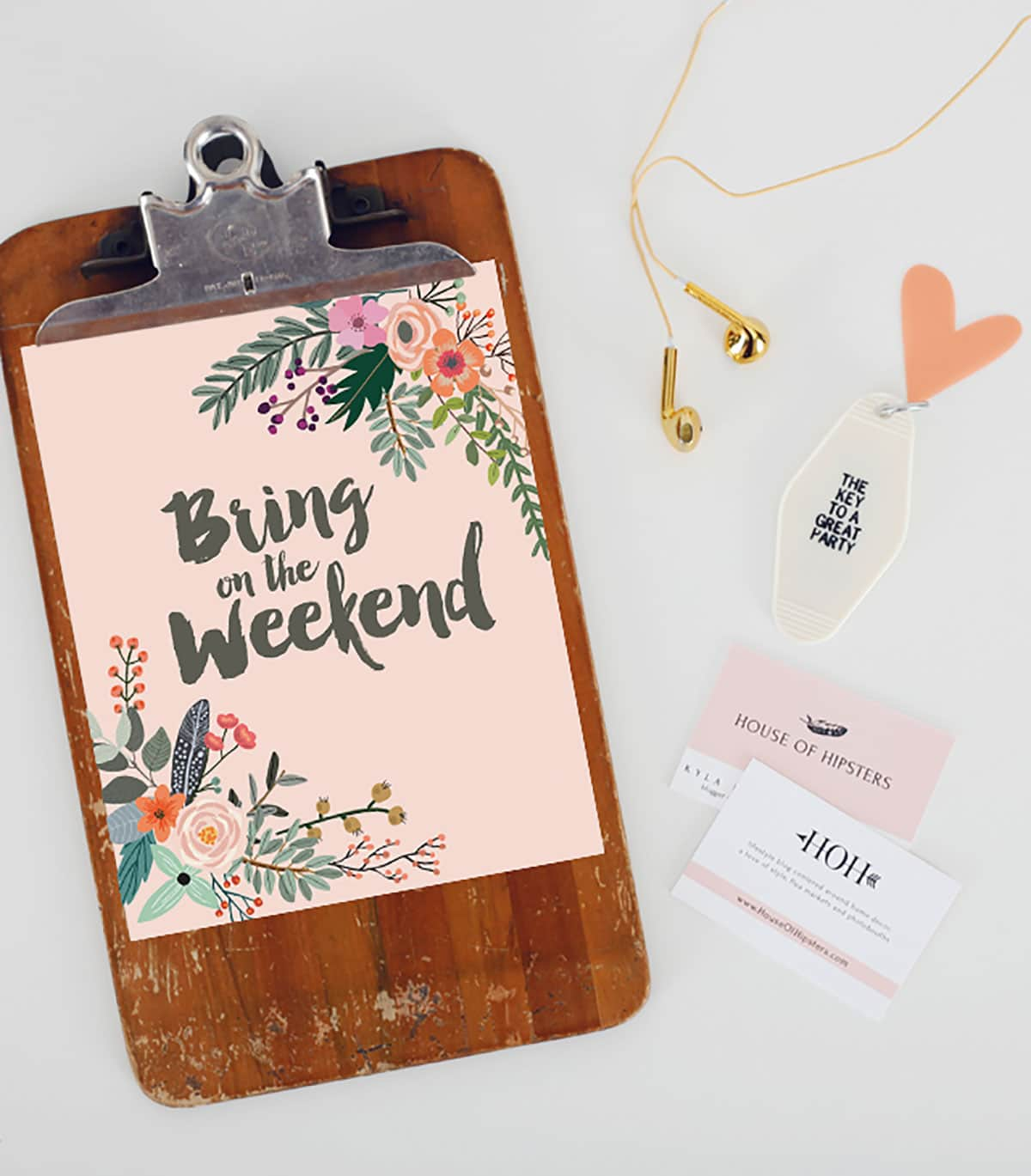 So where did I choose to hang mine? Well, I have to wait for The Boy to hang my sconces by the bed, but I'm thinking this would be really fun over my nightstand. Right now, I have it proudly hanging in my office by my deck.
RELATED: Find more of my music playlists and favorites.
I swear this might just be my favorite free printable to date. I mean, yes, they are like my babies, but this one, with its influences from Rifle Paper Co. Oy! I'm crushing on it hard. The florals!
Download This Free Printable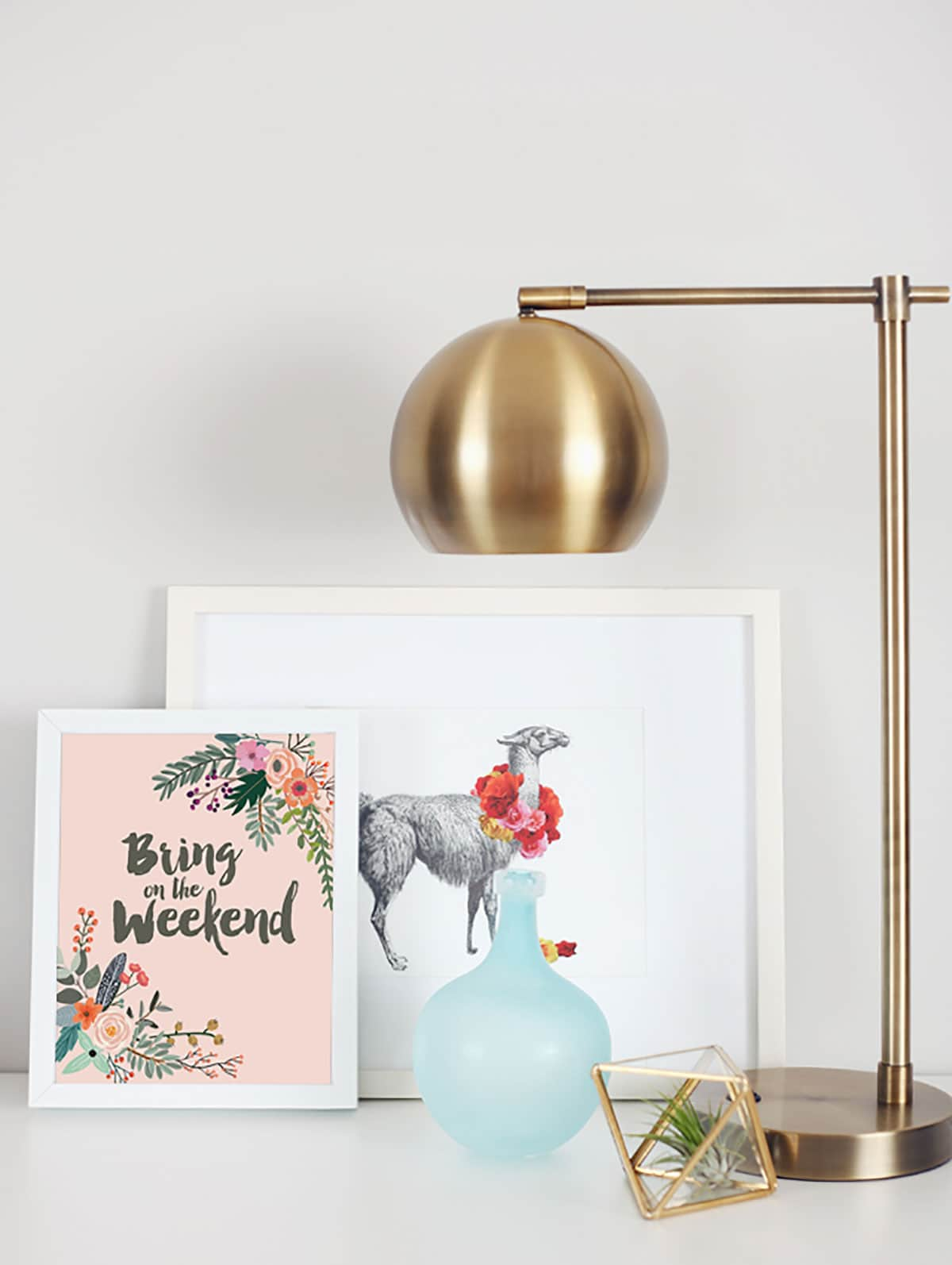 So download this crazy cute free printable, and give me a sneak peek. Style it pretty, Instagram that sucka, and tag it with #HOHinmyhome and #foundforaged. Find me on Instagram here, or just search @houseofhipstersblog.
If you like the Bring On The Weekend free printable, you might like my others.
Yup, There's More! Download My Other Free Printables
Have a candle with a not-so-pretty label? Grab the Candle Labels Free Printables.

Looking to inject Valentine's Day love into your decor? Grab the Double Hearts Free Printable

Discover More Eclectic Home Decor Ideas
Melted disco balls are all the rage. Check out the round-up of the best disco ball decor for your home and tips on decorating with them.
Affordable Modern Home Decor – if you're on a budget but want to refresh your space. Try these tips!
Decorating With Neutrals, it's a beautiful beige world. Discover my favorite black, white, tan, taupe, and brown home decor.
I recently gave my 80s brick fireplace a makeover, and now that we've finished the renovation, I've whipped up a few mantel decor ideas you can try.
Rounding up my favorite home decor books – if you're looking for gift idea inspiration for a home decor obsessed loved one, this post is for you!
Here are seven genius ways to hang a picture, including hanging art with two hooks, hanging a gallery wall with no tools, and hanging a picture without damaging wallpaper.
Looking to spruce up your backyard for summer? Check out these comfortable modern outdoor patio furniture top picks.
Rounding up 27 decorative boxes with lids to help elevate your coffee table decor.
Download the free home decluttering checklist and get my easy tips to declutter your home.
Rounding up the best faux olive trees that look real. I also have a full post dedicated to faux fiddle leaf fig trees and more faux plants that will fool just about anyone!
Discover the best outdoor rugs for your patio and deck that are also washable—looking for an indoor rug? Before you buy, get my tips on calculating the right rug size for a living room.
Learn how to make your home look expensive without spending much money.
Looking for something out of the ordinary? Check out these unique modern vases that add a touch of artistry and elegance to your home decor.
Find Some Beautiful Distractions