DIY Marble Dipped Mugs With Nail Polish
Last Updated on November 29, 2022
Pinterest made me do this easy DIY Marble Dipped Mugs with nail polish craft project. Below you'll find easy instructions for a simple marbling technique with mugs, but you can marble anything from plated to bowls to vases and more! This post has been featured, shared, and copied multiple times, but you've found the OG how-to create DIY Marble Dipped Mugs tutorial. Since this cheap DIY craft is an oldie but a goodie, over the years I've watched readers transform these beautiful watercolored mugs into the perfect handmade gift — think teacher appreciation day, Valentine's Day, and easy Christmas gifts. Just dip your mugs and fill them with your favorite treat!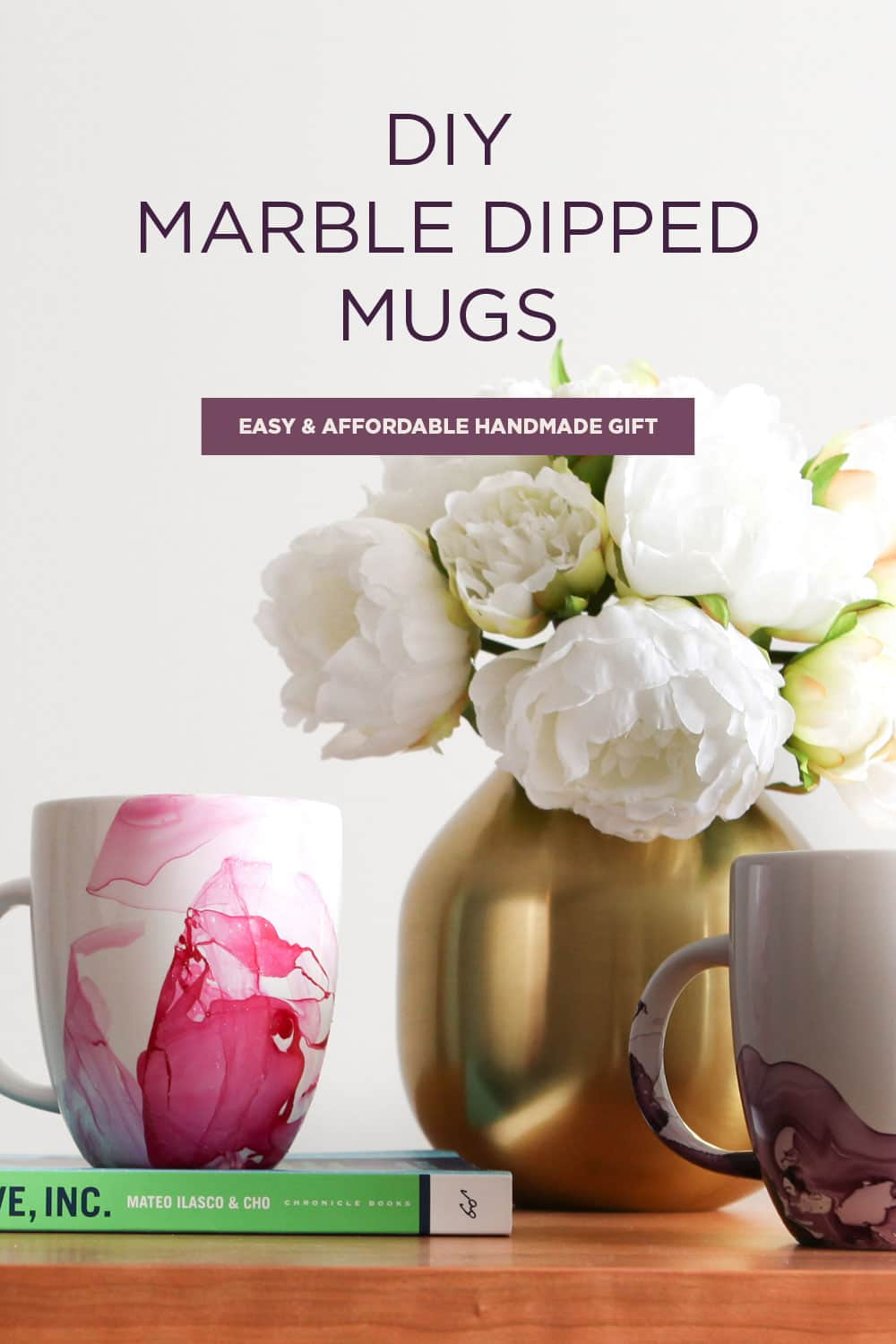 Supplies For DIY Marble Dipped Mugs
Plain white coffee mugs
Nail polish
Container or plastic bin (you don't mind ruining)
Bamboo skewer (toothpicks work as well)
Paper towel (or parchment paper)
Instructions — How To Marble Dipped Mugs
1. Fill a container with warm water…the warmer the better. Be sure it's one you don't mind ruining since the marbling mugs process can leave some nail polish residue behind. Also, when you fill the container, don't fill it up to the top. Take whatever piece you are going to dip and do a test run.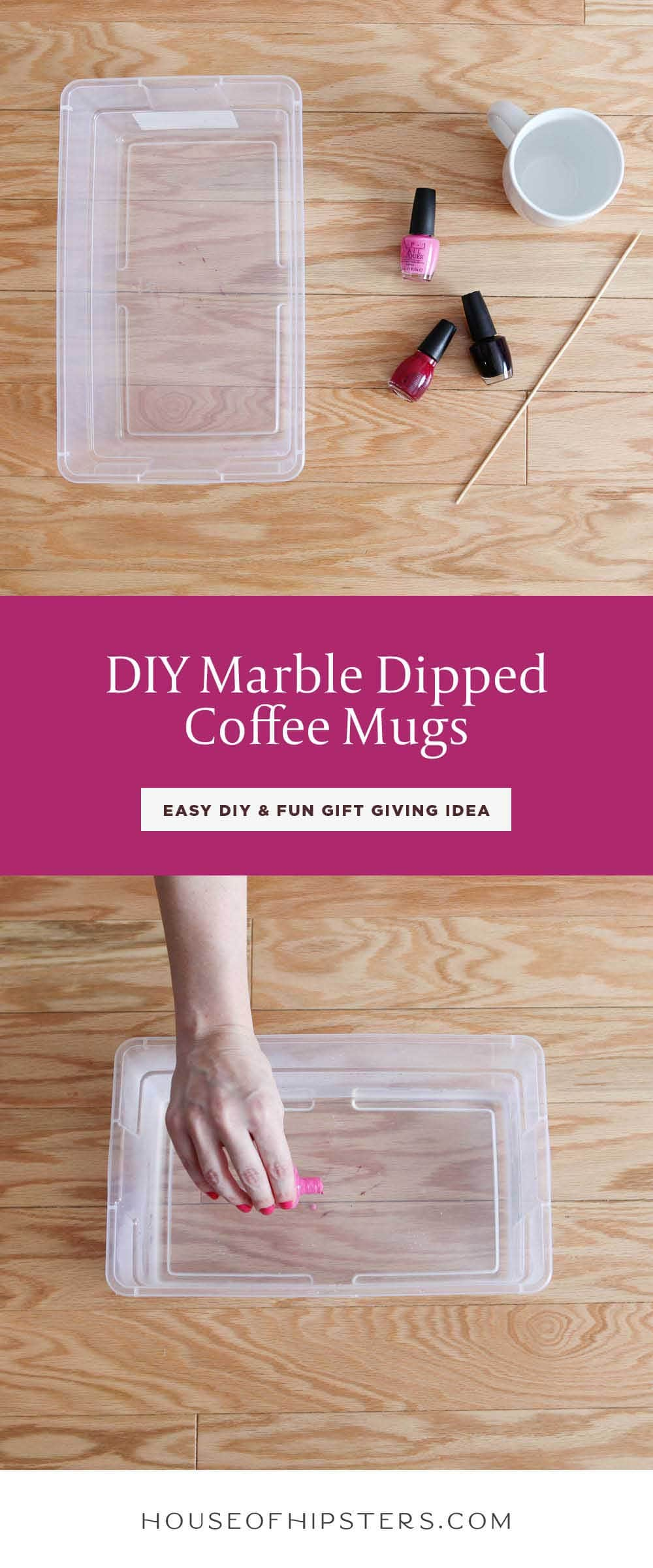 2. Grab some pretty nail polish from a cupboard in your bathroom. There's really no need to buy new because you only need a few drops to make a small swirl. Do not grab a quick dry polish. Time is of the essence here, and we don't need to shorten our time even more. Also, don't grab a color like Essie "Ballet Slippers". You want a color with a punch. Any polish that is bright or dark in color works well.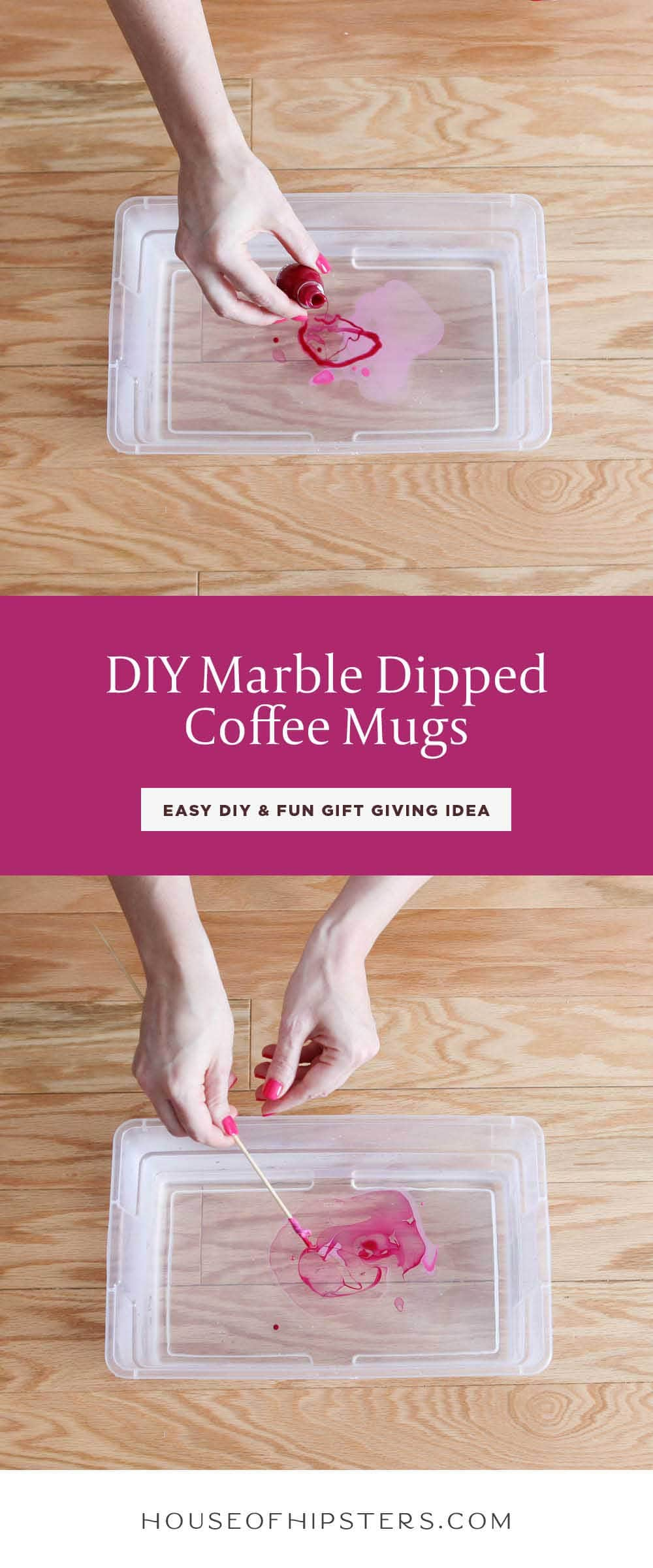 3. Pour a few drops of nail polish into the water, and swirl with a skewer if necessary. A film will quickly start to form (it is starting to dry already). Grab your mug because we're ready to create those awesome DIY Marble Dipped Mugs!
4. Dip the mug and twirl your wrist to pick up the paint. Place your mugs on a paper towel to dry. DO NOT TOUCH until the polish is completely dry.

That is all you've got to do! How cool huh? I think they look like someone painted with watercolors on these mugs. Don't you think?

FAQs On How To Marble Dipped Mugs With Nail Polish
Pour the polish close to the surface of the water. If dropped too high, it will sink to the bottom and not dissipate.
Trying to use a throwaway paper cup first to get the hang of it.
Use 2 colors to get a really fun marbling effect.
Don't use the brush to add the drops, pour the nail polish from the bottle.
Your marbled mug is no longer dishwasher safe nor is it microwave safe. And if possible, don't put the polish on an area where you would have food or place your lips. It's just not healthy.
Only dip your mug only once. If you feel like it needs more. Let it completely dry and dip the mug again until you get the desired effect.
This process moves very quickly so don't dilly dally when marble dipping mugs!
Imma say it again. Do not touch that marble dipped mug until the nail polish is dry.
When emptying out the used water, be sure to scoop out all the extra polish with a paper towel first or you will have a very colorful marble dipped sink.

Shazam! That is the easiest way to DIY Marble Dipped Mugs with nail polish! They make for a great inexpensive gift for Christmas, just fill them with chocolates or use them to hold a gift card for Teacher Appreciation Day!
Check Out These Other Inexpensive and Easy DIYs
How To Install A Ceiling Medallion