I Tried Emily's Styling Advice
Last Updated on August 25, 2023
Yep, it's that time again. Time to show you how the imperfect nooks of disaster in my home make Emily Henderson cry tears of sadness. Today I'm going to feature my guest bedroom dresser. You may remember seeing a picture of it on my to-do list post (and yes, I'm still hacking away at that sucka). This nook is still a work in progress as are most nooks in my home, but let's just have a gander, shall we?
Gasp. Oh sweet kitten, I would not be surprised if you just fell to the floor in sheer and utter disappointment. Quick, someone help Emily up before she wrinkles that adorable floral pullover! Plus, it might make Charlie cry to see her in such a state. And no one wants to make a baby cry.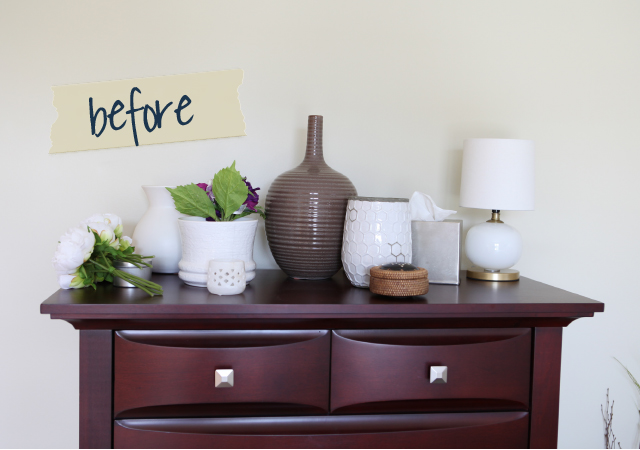 Basically, if you can't tell already, this spot was the catch-all for junk that has yet to find a home. And yes, my poor guests had to look at this nonsense on every sleepover. Shame, shame I know your name. Well my friends, that spot of nonsense has been moved to a box (or two or three) in the basement. Blerg, I SOOOOO need to have a yard sale! My storage room is starting to look like an episode of "Hoarders". I digress, I think the point I was going to make is that you can really snazz up the place when you shop your home. Everything I used in this vignette was random things lying around that didn't have a specific home.
So, what steps did I take to turn this nook around? Well, first I cleared the surface. Let's start from scratch. I knew I needed a lamp. I believe that every room should have at 3 sources of light. In the guest room, I have overhead pot lights on a dimmer and a small lamp on the nightstand, but I needed the third source.
I Took Emily Henderson's Styling Advice
If you remember from my first "I Make Emily Henderson Cry" post, I let you in on my sad master bedroom. I snagged one of the two lamps on the nightstands from that room. See, I told you, everything gets shuffled in my house…constantly. One of my readers suggested I add task lamps to my nightstands. She said, "You are taking up way too much room with those Ginger Jars." Coralee, you my dear are a genius! Thanks for the great advice! And just so you know, I LOVE ADVICE! That doesn't mean I'll always use it, but I always it into consideration…just sayin'!
Now, enter my girl Mandy who Instagrammed some lovely brass task lamps (from Target nonetheless!), but they were sold out. I went to 3 Targets in 1 day and came home empty lamp handed…I did however find a few vases and frames. So, back to my random side story, I was sitting at my desk all sad-faced when Mandy tagged me on Instagram. They were back online and this girl had just helped me track down two of the prettiest brass task lamps at 10:30 PM on a Tuesday! HOORAY! That frown was suddenly turned upside down! Thank you Mandy! I owe ya one!
Task lamps in the master complete…you'll be hearing more about this soon, I promise, but back to the guest bedroom dresser disaster. Because of the task lamps, I had two extra ginger jar lamps on hand. Hey! Let's put one in the guest room. Bingo! Now, I'm not completely sold on this lamp (there is a lot of white happening and I know, I know, I really need to add in some color), but I needed something a bit bulkier so why not repurpose, right? Boom.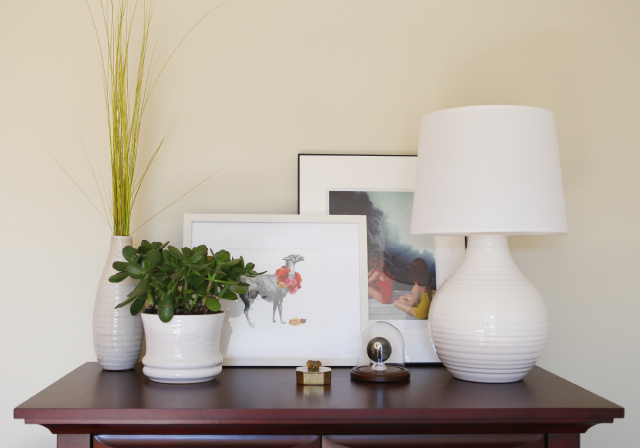 To balance out the height and bulk from the lamp, I placed a tall skinny vase on the opposite side and added some preserved Brazilian field grass. The height was there, but it was not hefty enough to stand alone so I added a vessel with a small plant…although I think I need an even smaller plant with a vessel that is any color but white. But this will have to be tackled on another date and besides, this was free. The point of this makeover was to make do with what I had in the house and stop Emily Henderson from hysterically crying. Poor thing. It'll be okay sweetheart.
I propped a couple of framed pieces of artwork against the wall to give it a more casual feel and layered one in front of the other and to ensure they don't come crashing down, I have them propped against the plant and lamp.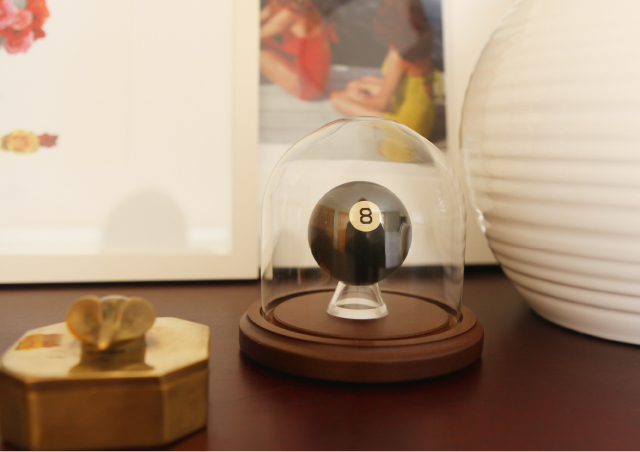 A few months ago, I managed to find a set of bakelite pool balls from Sugar Cookie Lady on Etsy. BTdubs, she is super sweet and since she lives close to me, she actually hand-delivered them to my home. She was a bit worried about them shipping and breaking. How sweet is that! And she threw in a sweet little surprise as well. I couldn't believe how awesome she was. If you are looking for something nifty, you should really check out her shop.
Anyhoo, I took the 8 ball and placed it under a small glass dome. Last but not least, I added a brass box that has a tiny figure of a mouse on it…for Maus.
So, whatcha thinkin' Emily? Is it lookin' a bit snazzier? A bit jazzier? I know, it's not perfect, but it was free. Well, I mean, I didn't have to buy anything new =) Here one more looksy at the before and after together.