While meandering around the Randolph Street Market a couple months ago, I visited one of my favorite vendors, Flower Child Vintage. Since it was the last outdoor market of the season, Flower Child outdid themselves with vintage treasures galore…but their Dorothy Draper dresser was what caught my eye. I'd been coveting one for years, but the price tag was always out of reach…that was until today. A bit higher than I'd normally spend, but this piece was worth it. A classic beauty. Sitting in Chicago traffic on the long car ride home, I thought about all the places I could put her. A Dorothy Draper dresser isn't a piece you want to hide. Quite the contrary, you want to see her on the daily…hmmmmm, I landed on the foyer. Now to style her up.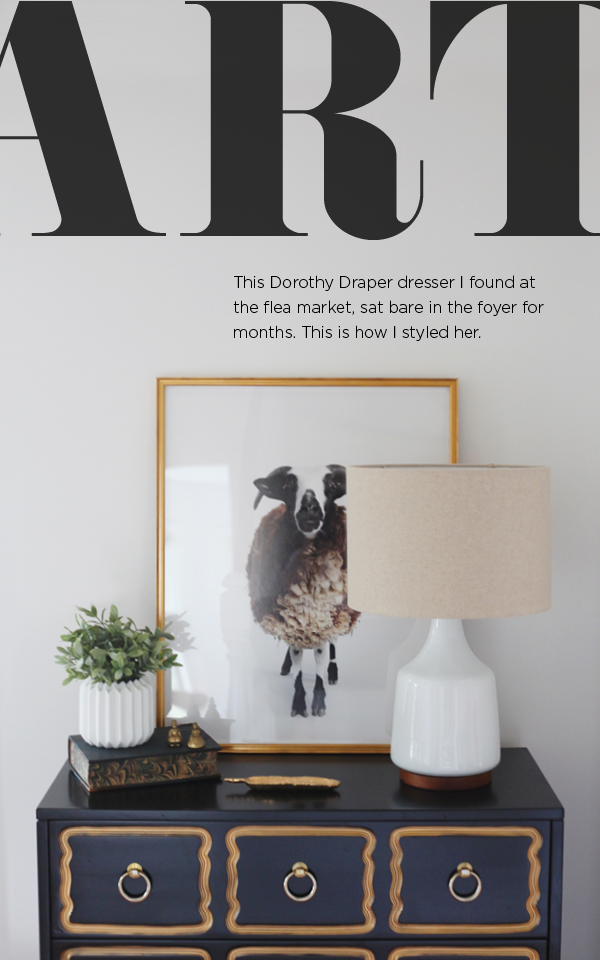 MORE AFTER THE JUMP…
My first thought was to hang a vintage gilded mirror above her, but it was glam overload. That is one thing I always need to be careful with when it comes to Hollywood Regency. Go too far and I feel like I'm living on the set of Italian Real Housewives with plastic on the davenport.
The Dorothy Draper dresser is feminine. She's the Marilyn Monroe of furniture. Curvy, bodacious, and makes a killer statement even without lipstick. My foyer on the other hand is teensy weensy. This was the only piece of furniture and Dorothy needed a masculine balance.
I searched high and low from abstract art, vintage portraits, to my own personal photography. Nothing seemed to be THAT piece until I stumbled upon Kingdom by Randal Ford. Yahtzee. It was this perfect quirky sense of balance I needed for the space. At first I was really drawn to the African Crane. His plume was fluffy, colorful, and he matched the One Room Challenge bathroom that is only steps away. He was perfect. I dropped him into my cart, but of course kept shopping.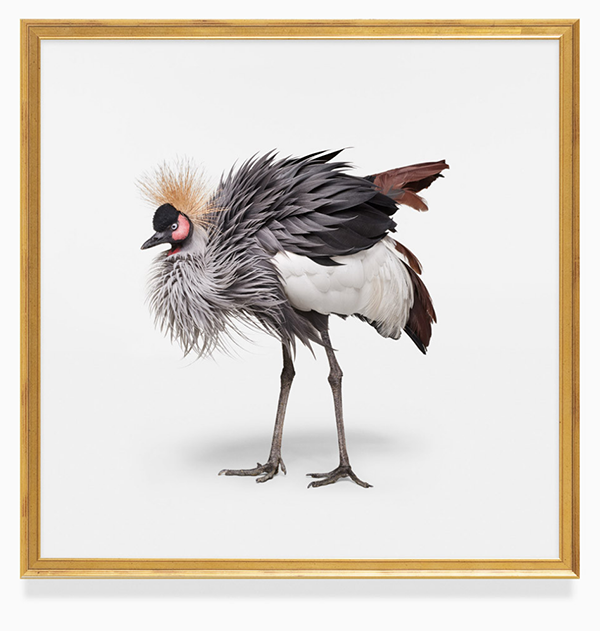 The flamingo was pretty killer too. As was the Highland Cow and the Pigeon and oh wow, the Porcupine too. Hmmmm, not really sure how I'm going to narrow this down to just one print. Better peruse the inspiration gallery. Ok, ya, not helping. It was making me want every single print.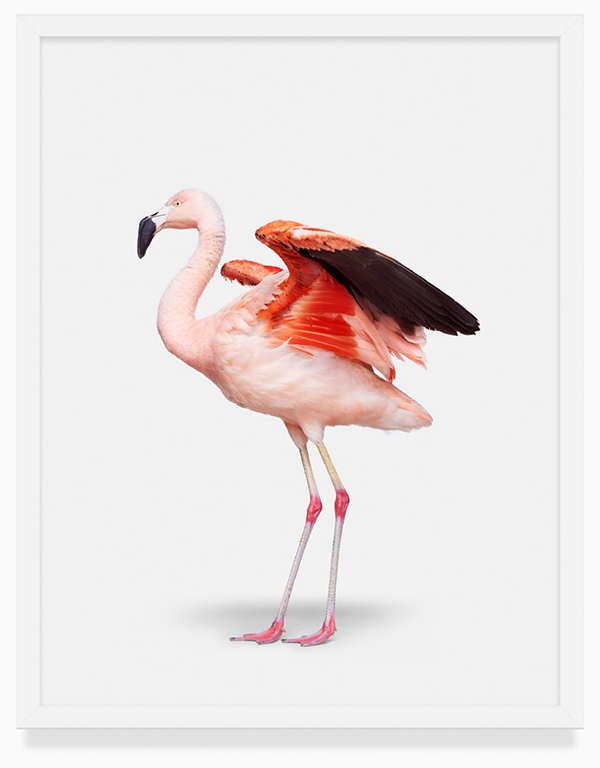 I decided to sleep on it for a few nights before making my final decision. Jacob Sheep No. 2 kept speaking to me, and then I read his photographers notes. The sheep had a name! Moses. Ha! He was photographed right before his annual sheering, and since it was hot, he quite enjoyed the air conditioned shoot and refreshing beverages in the studio. Sold. Moses, come to momma. I'm ordering you up in a thin gold frame.
Once he arrived at the house, I got right to work. Pulling out all my lamps, vases, trays, bowls and boxes.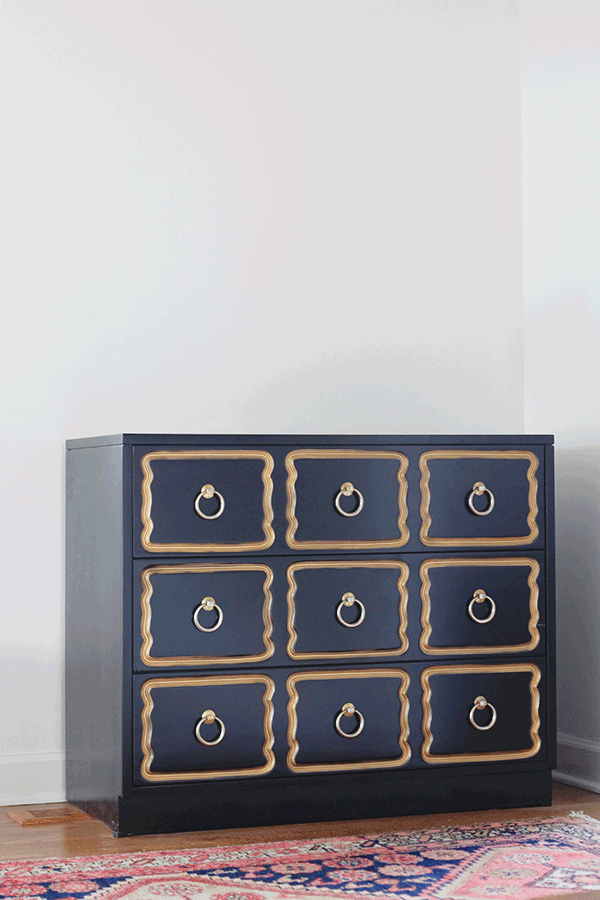 After picking a lamp, I placed a new to me vintage marbled navy book that I never thought would stay on the dresser, but instead thought it would be heavy enough to keep Moses in place until The Boy could hang him for me. Hmmm. That actually looked pretty good! I even loved him propped up against the wall. Love a happy accident.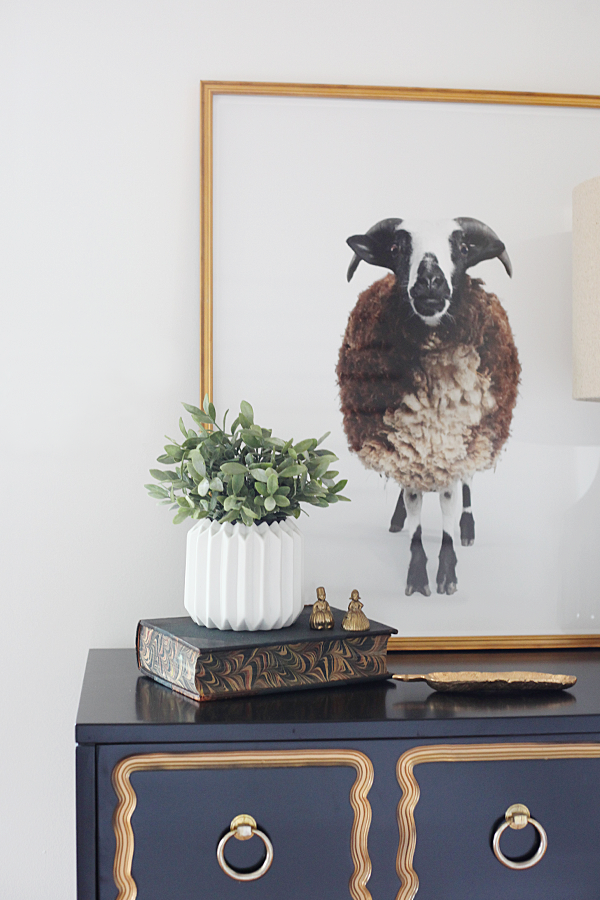 After moving around boxes, and trays and plants and vases until my fingers bled, I was happy with the mix of old and new, modern and glam, feminine and masculine. The Dorothy Draper dresser looked goooooooood and the styling was on point…or at least I thought so.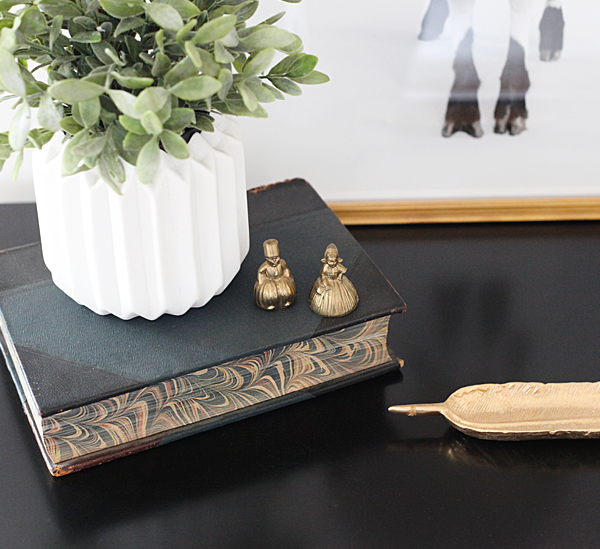 Shhhhhh, don't tell anyone, but that is a fake plant. EEEP! There's not a lot of natural light until late afternoon in the foyer, so something real here is a no go.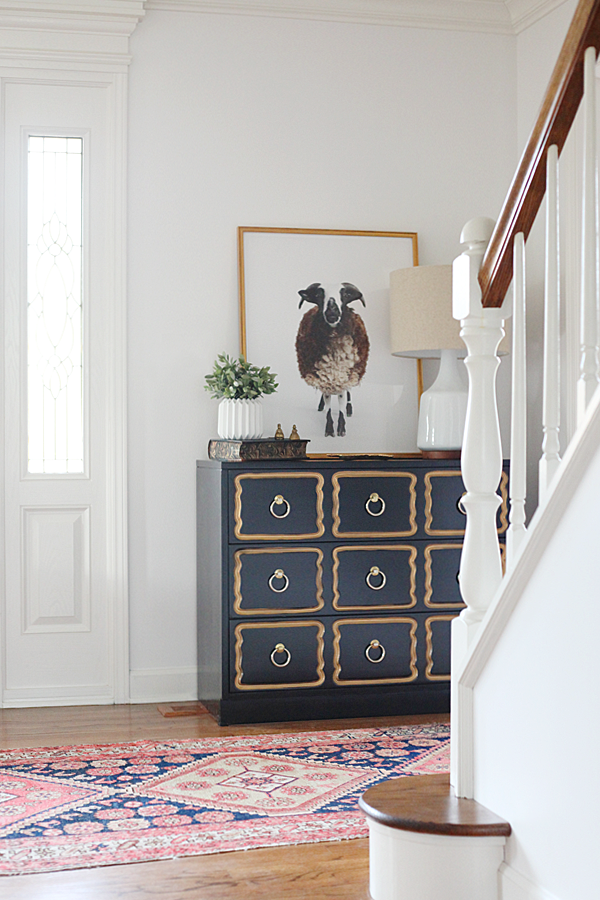 Well, what do you think? Do you like Moses as much as I do? Would you have picked a different animal? Every morning he greets me on the stairs, and I can't help but smile. Do you have a Dorothy Draper dresser? How is yours styled? I'd love to see it!