New Rug For The Living Room
Last Updated on September 27, 2023
The front living room was the first space in the house I completed after we moved in. Since then it's had a few updates here and there, but the layout and large pieces have remained the same. The itch for change became a scratch and something had to move. I started playing with a mood board and of course a budget. Here we go again, channeling the words skinny makeover, It's becoming a theme. I looked around the house. What could I swap out, and what could I borrow from the shop? Here are a few before shots of the living room.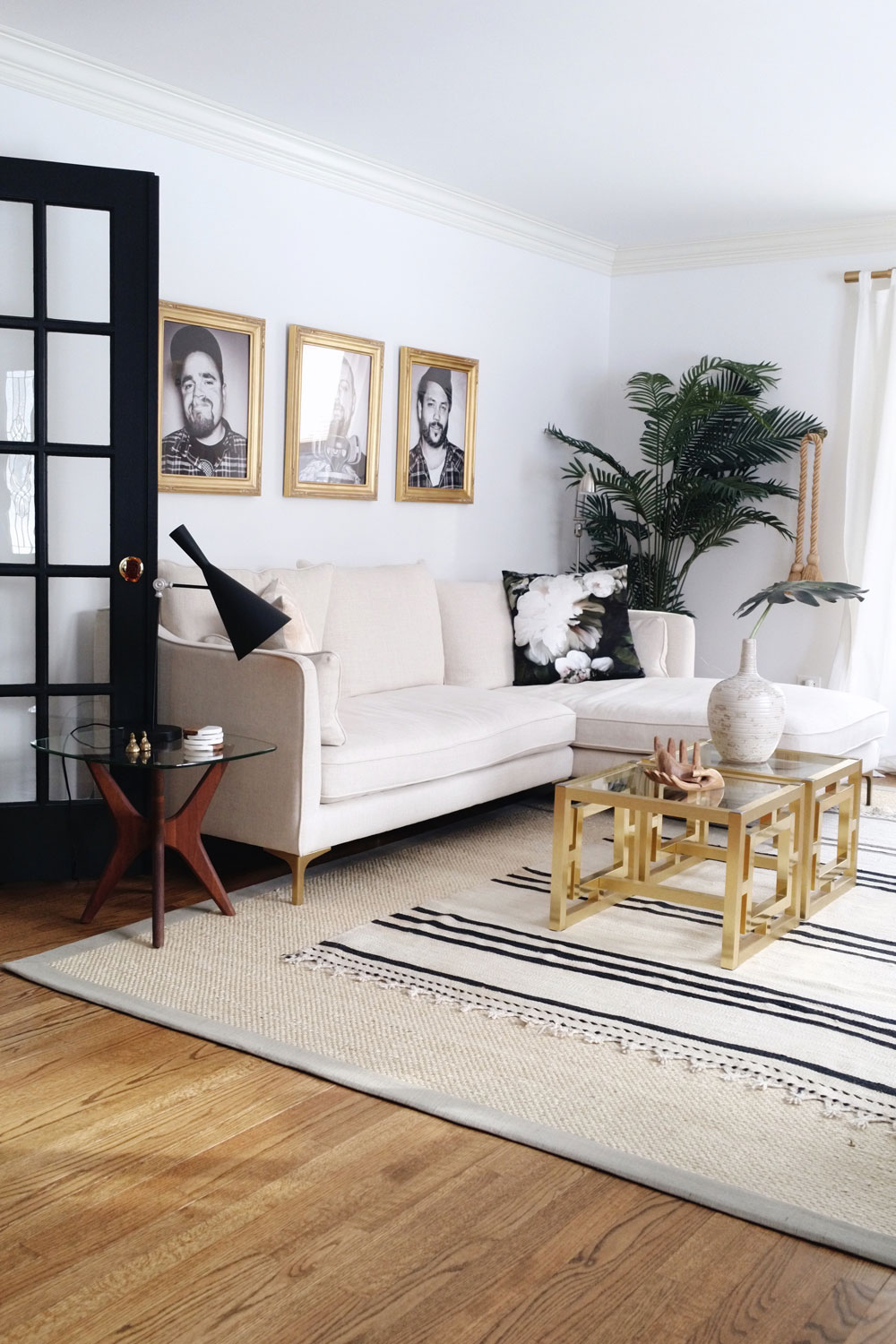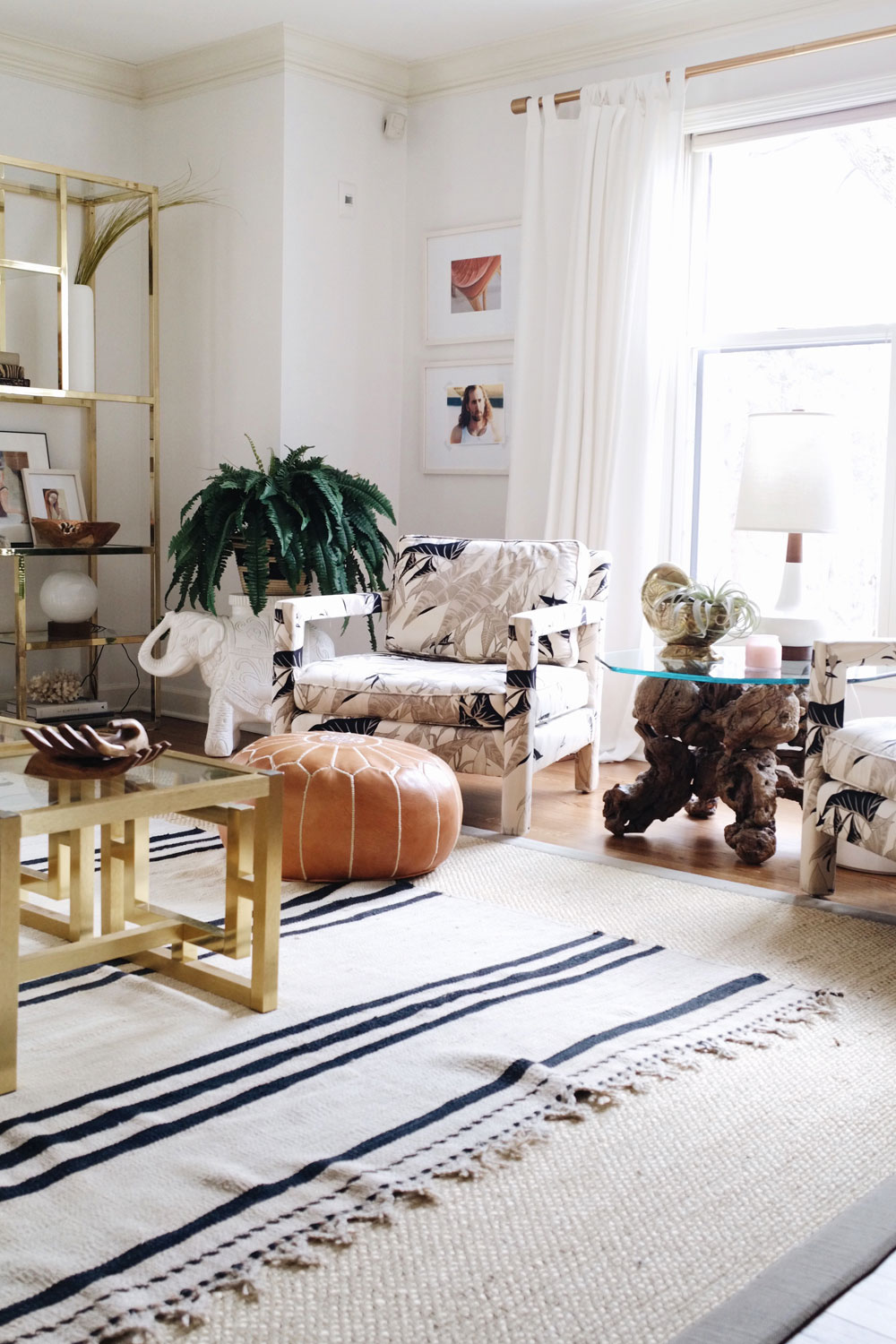 If you're looking for an area rug, read my guide on how to choose the best size rug for the living room.
The brass etagere, sofa, and small brass tables are all existing pieces that I love. They're unique, classic pieces with clean, modern lines. All keepers…for now. That Nicolas Cage photo courtesy of The Boy…ya he might have to disappear…although I know he'll just pop up again.
Last summer, I stashed a Marge Carson souflé ottoman with a brass base in the shop's backroom. I scooped it up from The Savoy Flea during our Tag Sale, and it's remained part of the hoard I don't want to sell. Do you have one of those secret stashes? It would work perfectly as extra seating in a pinch, and I've wanted to reupholster it…enter the perfect excuse.
Trent and Michael sold me a pair of vintage glass cylinder lamps with plaster grass. They need new shades and some rewiring work, but that's an easy DIY. I also spied the bobbin spindle chairs I picked up at an estate sale last summer and painted a glossy black…they've been living in the garage…unfinished. You may have caught me sharing the restoration process in my driveway on Instagram. They still need new upholstery but they could be perfect for the living room. Sweet! I had everything on hand minus the rug…which kinda spurred this whole makeover in the first place. I was over that vintage black and white kilim.
The mood board came together quite simply, but a rug…well that can be a huge design decision…it's the foundation of a room. Rugs can confuse me because they come in every shape, size, pattern, and color. That's a lot of decisions for this indecisive gal. While packing for High Point Market, I flashed back to a previous visit to the Exquisite Rugs showroom. Yup, it would be one of my first stops. Racks on racks on racks, stacks on stacks on stacks. Beautiful rugs as far as the eye could see. Here's what I was drawn to.
Choosing A New Rug For The Living Room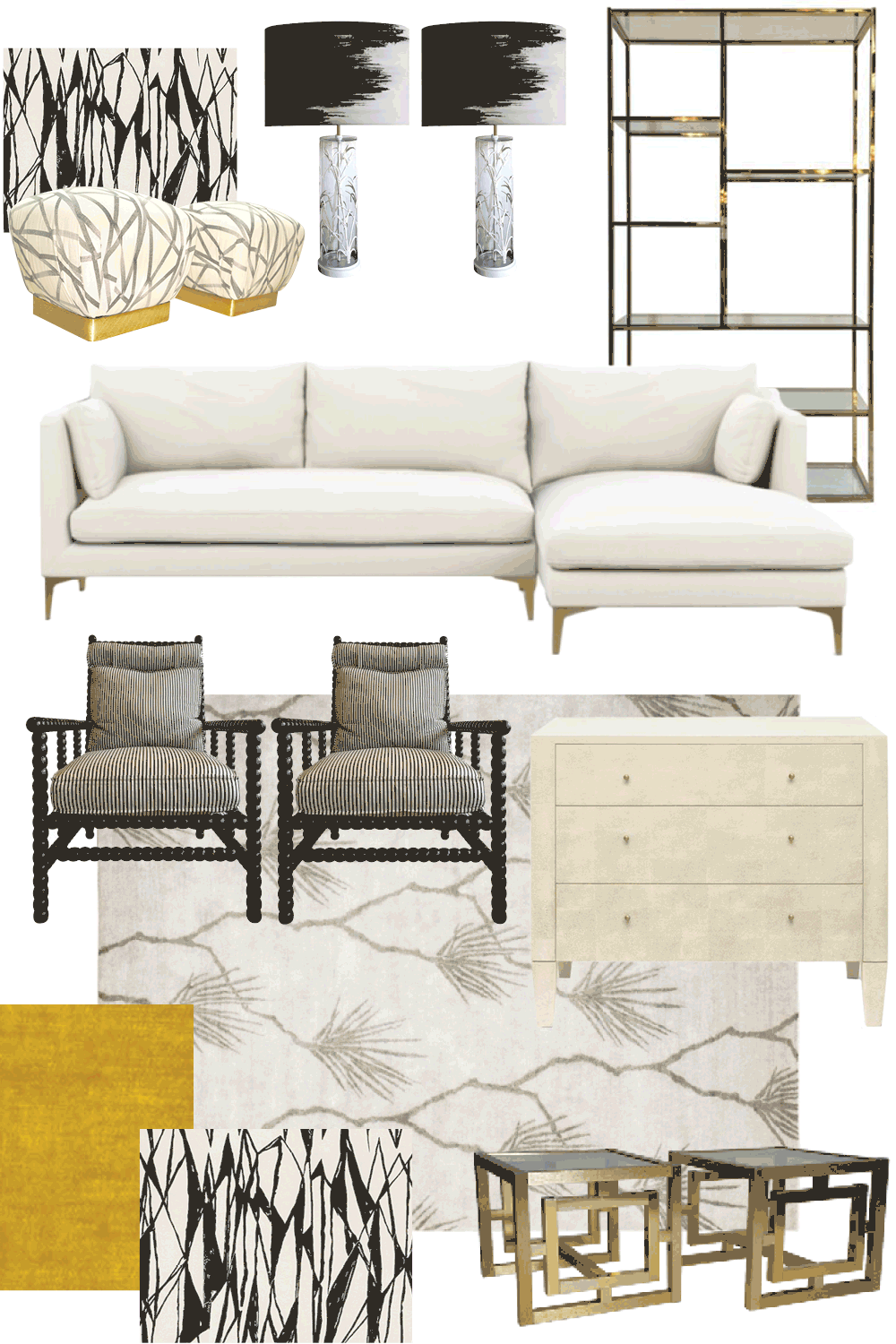 Florals, graphics, hides, traditional, modern…I looked at everything. Going forward, I'm trying to push out of my home decor comfort zone without completely making over my entire house. Just practice thinking outside the box. Over and over, I was drawn to Distressed Suede. Although it was very simple looking at first glance, it was lux as all get out and something I've never seen before. Yes, suede makes me a bit nervous, but I thought to myself, "Ya know Kyla, you have 2 white sofas…you live dangerously." besides, its textured surface was quite forgiving. I only had one question for the gentleman helping me in the showroom:
Q: Can I Roomba this rug?
A: He suggested sweeping it with a broom, but if the beaters were turned off, yes, it could be vacuumed. He did, however, caution me against using my Roomba.
We hang out in the front living room daily, but it's not a high-traffic area. We also do not wear shoes in the house. I took the plunge into soft, supple, hand-stiched suede. This is where I landed.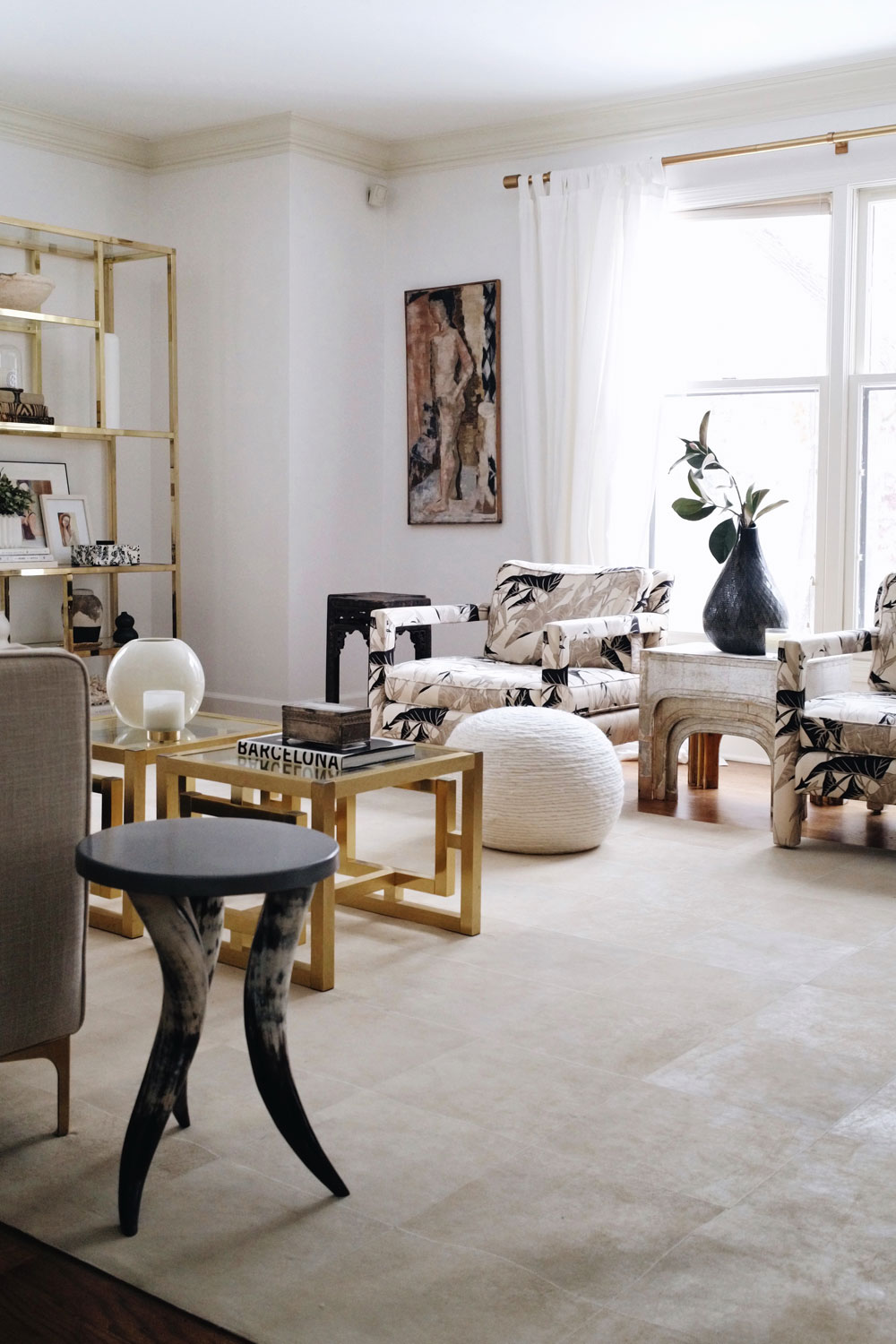 It looked so clean and chic compared to the before photos. And yes, when no one is looking, I pet it. Don't judge me. Once this beauty arrived, we laid it out. She's a pretty kitty, but you know I can't be satisfied first try. I decided to play with the layout of the space…and when I say I, I mean me and The Boy. We legit moved every single piece of furniture out of the room and then 360º around the room. He was super excited about the exercise in learning we had the perfect layout all along!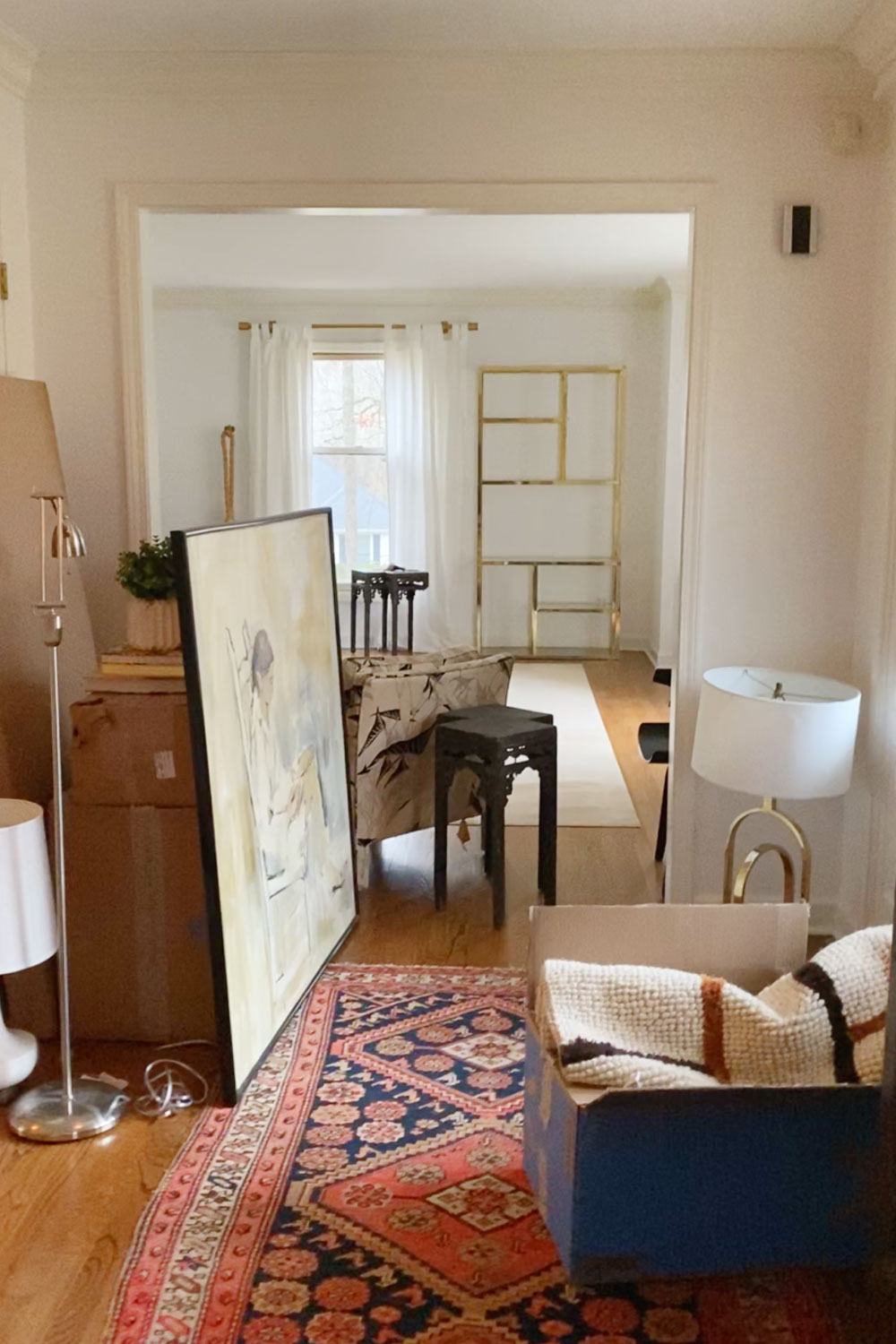 While The Boy was helping me move the furniture back to the original spots, he asked not to touch his nappin' chairs. Yup, my Milo Baughman parson chairs are apparently the perfect spot for a disco nap. Who knew? That meant the bobbin spindle chairs were staying out in the garage. To add a pop of color and as bribery to not touch said nappin' chairs, The Boy happily installed the same goldenrod curtains as the bedroom. Shazam!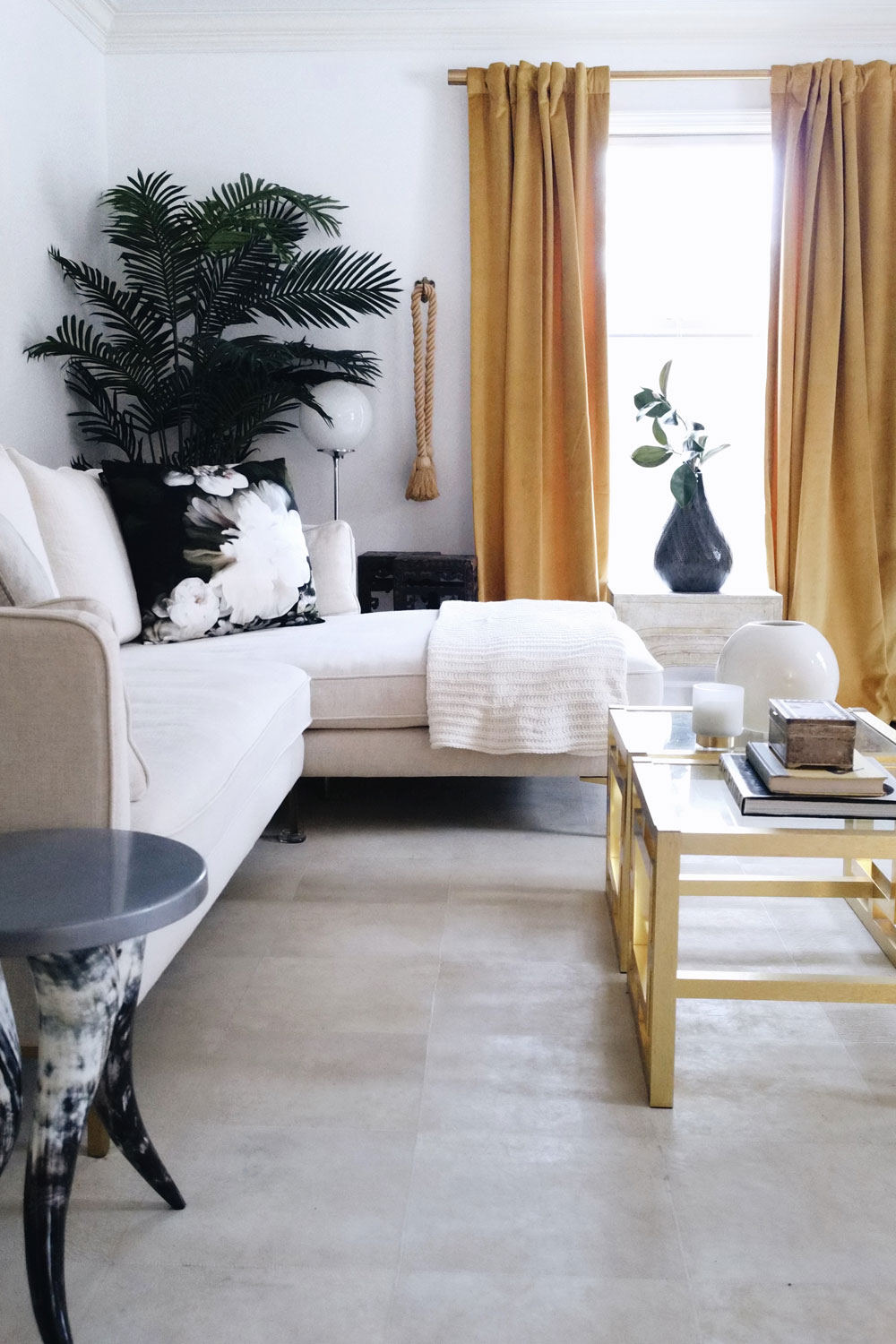 I'm particularly loving this view, and really, the only things that changed were the rug, curtains and a lamp…oh and some musical tables. I'm still trying to figure out if I should add in the Marge Carson ottoman because a large part of me is not loving that leather Moroccan number. And the glass cylinder lamps? Well, those will have to find a different home. I think they're off to the shop, but before they go, I promise a DIY rewiring tutorial!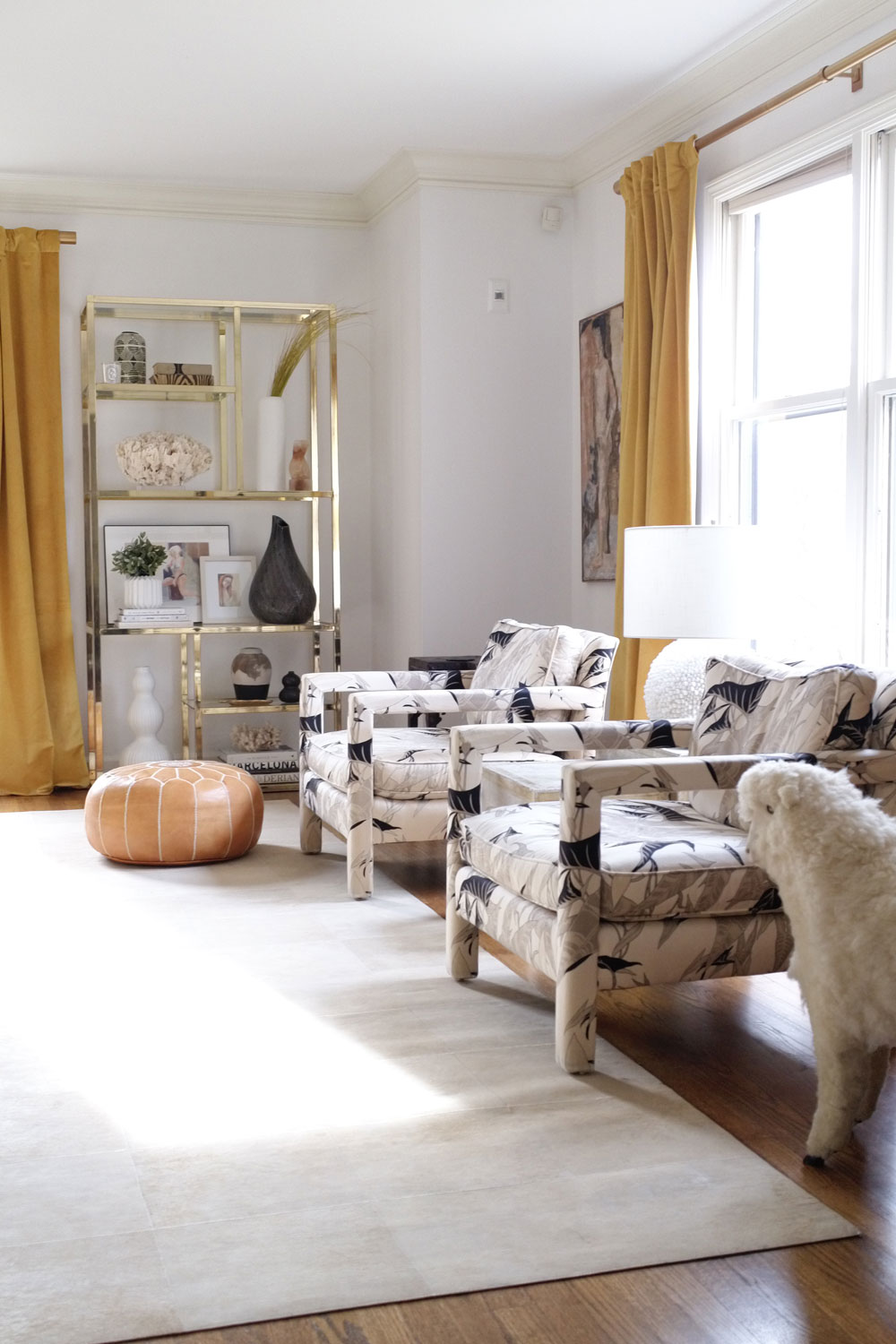 Distressed Suede Rug — Exquisite Rugs(email them regarding info on where to purchase)
Sheep Ottoman(similar)


Discover More Eclectic Home Decor Ideas
I'm at it again with a few modern living room decor ideas, but this time on a zero budget. Yup, that's right, I'm only using what I have in the house to refresh this space.
Playing pretend and creating some virtual designs for a living room makeover. Check out the dark, moody walls. Are you brave enough?
The Boy is doing a jig because we got a new brown leather couch with motion footrests!