Basement Design
Last Updated on June 28, 2023
Rewind four years ago, I was on a train for my morning commute into the city. The Boy was calling, and he was slightly panicky, "don't be mad." He had accidentally flooded the basement. Five weeks after we moved in, it was raining buckets of water from the ceiling. The existing carpet was ruined. Drywall was falling off the walls. Industrial fans everywhere. Gah, srsly, this project wasn't even on my radar. Thank gawd for insurance.
We fixed the initial damage to make the basement livable again, but besides the luxury vinyl flooring and bathroom renovation, not much else had been done. The basement has been just a mish-mosh of random home decor. That's all going to change though…yup, I'm finally finishing the basement design. Here's what I have been monkeying around with.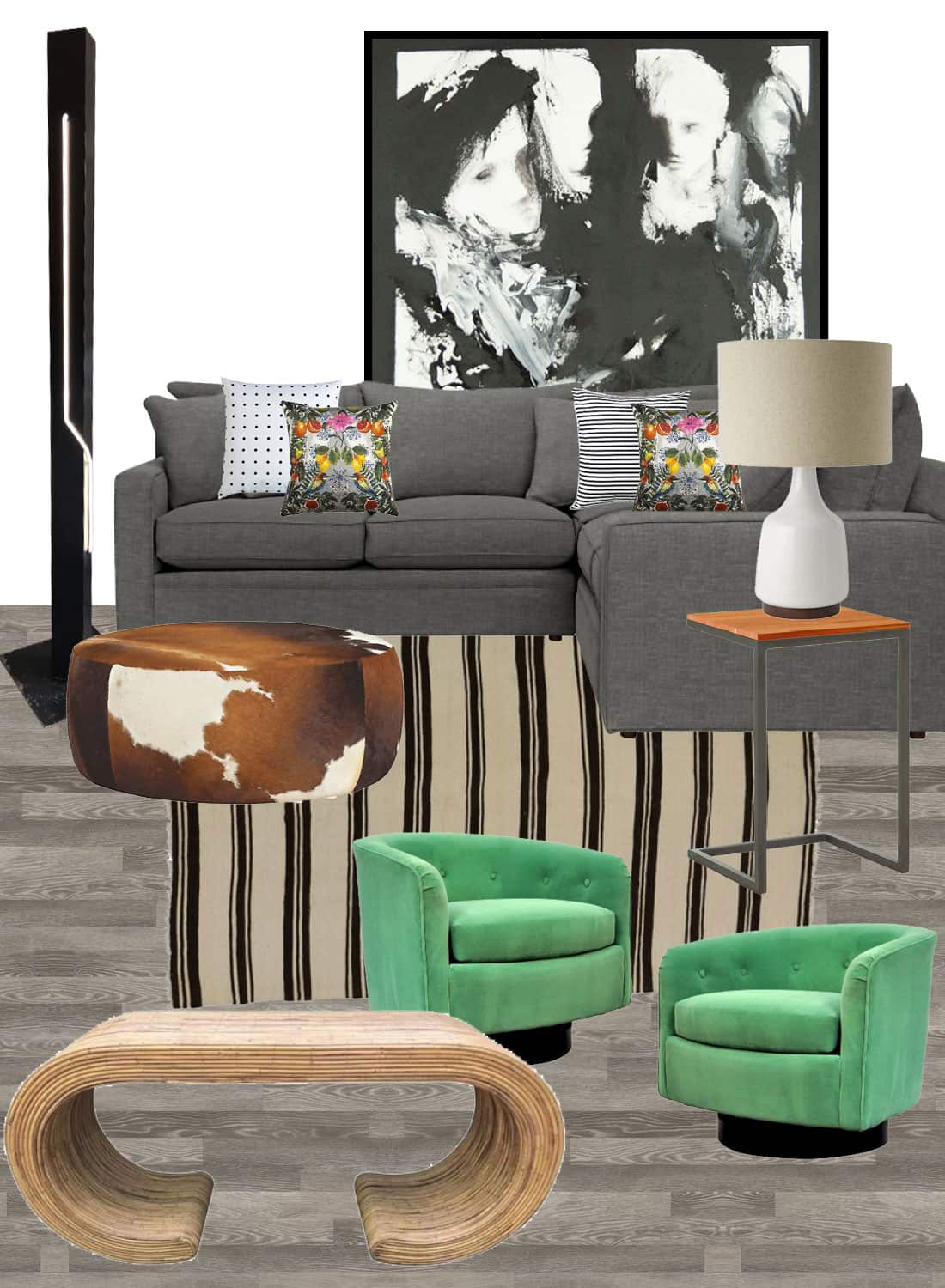 To keep the cost low, most of what I'm working with I already own. Some pieces were slated to go to the shop in Barrington, IL. The vintage black and white stripe kilim rug is from the front room. The sofa sectional was from our old home, as were the cowhide ottoman and accent tables. The black and white painting is a Gino Hollander similar to what I have stashed away in a corner. The pencil reed console had sat in my Chairish shop for the longest time, but no one purchased…srsly? Why no one bought this table is beyond me, but I'm thrilled I still have it. Shopping for home decor can be exciting! Speaking of, you can shop my home here.
The Ruti Stern neon light has been living in a corner of the shop for the longest time, but because of its high price tag, I doubt anyone will purchase it any time soon. Imma keep that too. The white lamp (now discontinued) I have in black as well…you can find it here. Not sure which one I'll use, but I'm digging the pop of bright white, especially because the basement gets very little natural light.
The green club chairs above aren't exactly what I have in the space, but it's as close as I could find for the mood board. I recently snagged a pair of vintage Directional chairs in emerald green and have been drooling over them. They're on casters, though, and I'm picturing my kids learning to chair surf on them. Must figure out how to secure them a bit. I'm such a joy killer.
There are 2 pillows that are outside my comfort zone…it's a bright, vibrant print with oranges and lemons. Totally digging the punch of color with it being so in your face. I toned them down by pairing them with some black and white pillows I already own.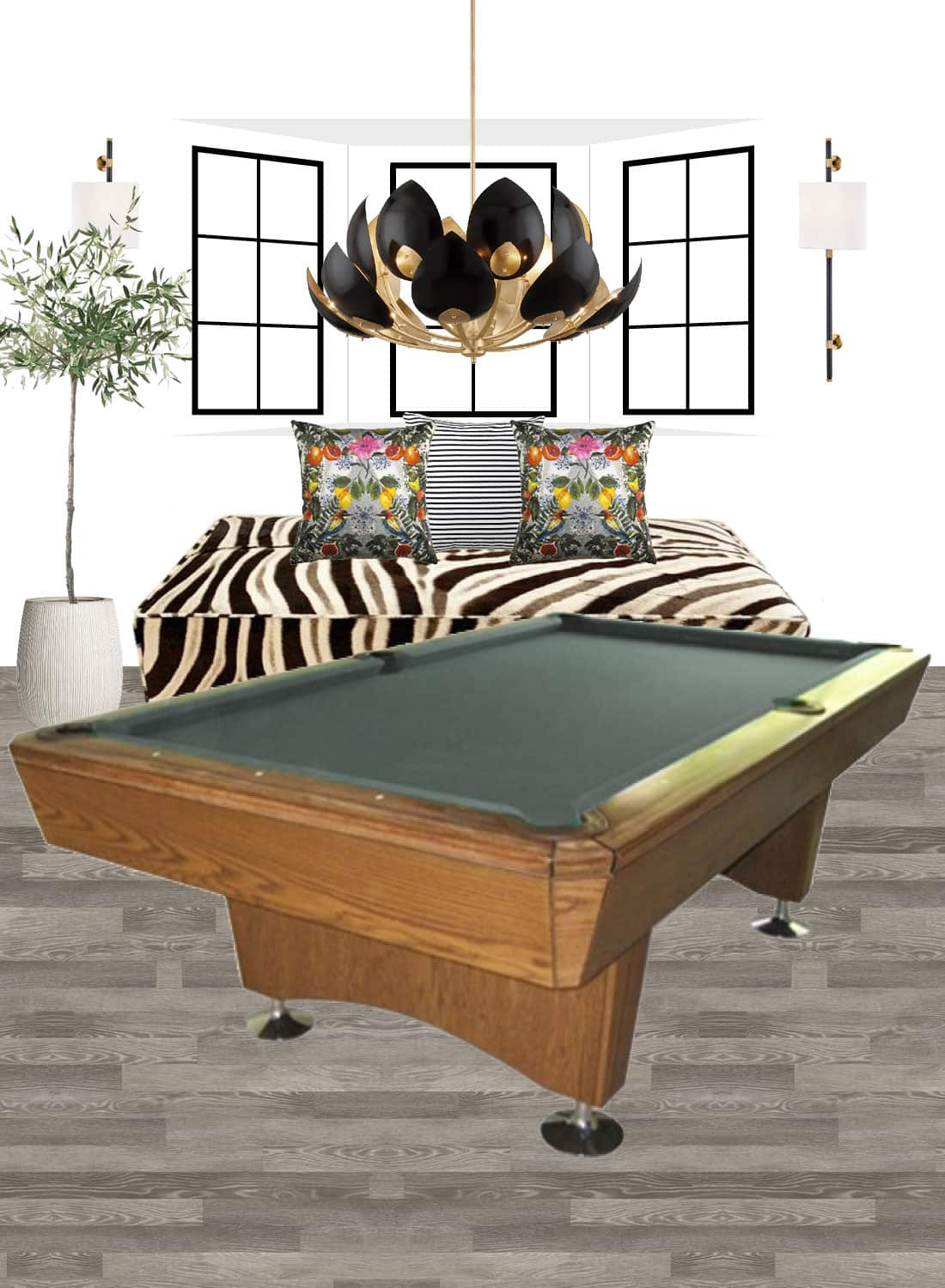 I told you I'd somehow, someway find a spot for that lighting! Hopefully, I can figure out how to make it work over the pool table. We have an English basement, so the bay window you see here is my main source of natural light. I'd like to paint the trim black and add a sconce to either side. To add a bit of greenery, a faux olive tree seems like a whimsical match for the pillows.
Below the bay window is a plain white built-in bench with storage. I'm using this zebra hide upholstered bench that I can in no way shape or form afford as inspiration. I'm sure I can find some sort of material close to this that I can cover the bench with. DIY to come!
And there ya have it! Laid back, chill, and repurposed. What do you think?
More Basement Design Inspiration