New Home Decor Book Releases Of 2023
Last Updated on November 9, 2023
Some amazing new home decor books have recently been released, and I wanted to round up my favorites for you. Before we jump into the new books, check out the best interior design books post filled with my all-time favorites and my complete round-up of the best coffee table books. The House Of Hipsters Amazon Storefront has an Interior Design Book section that I always update. Be sure to bookmark it.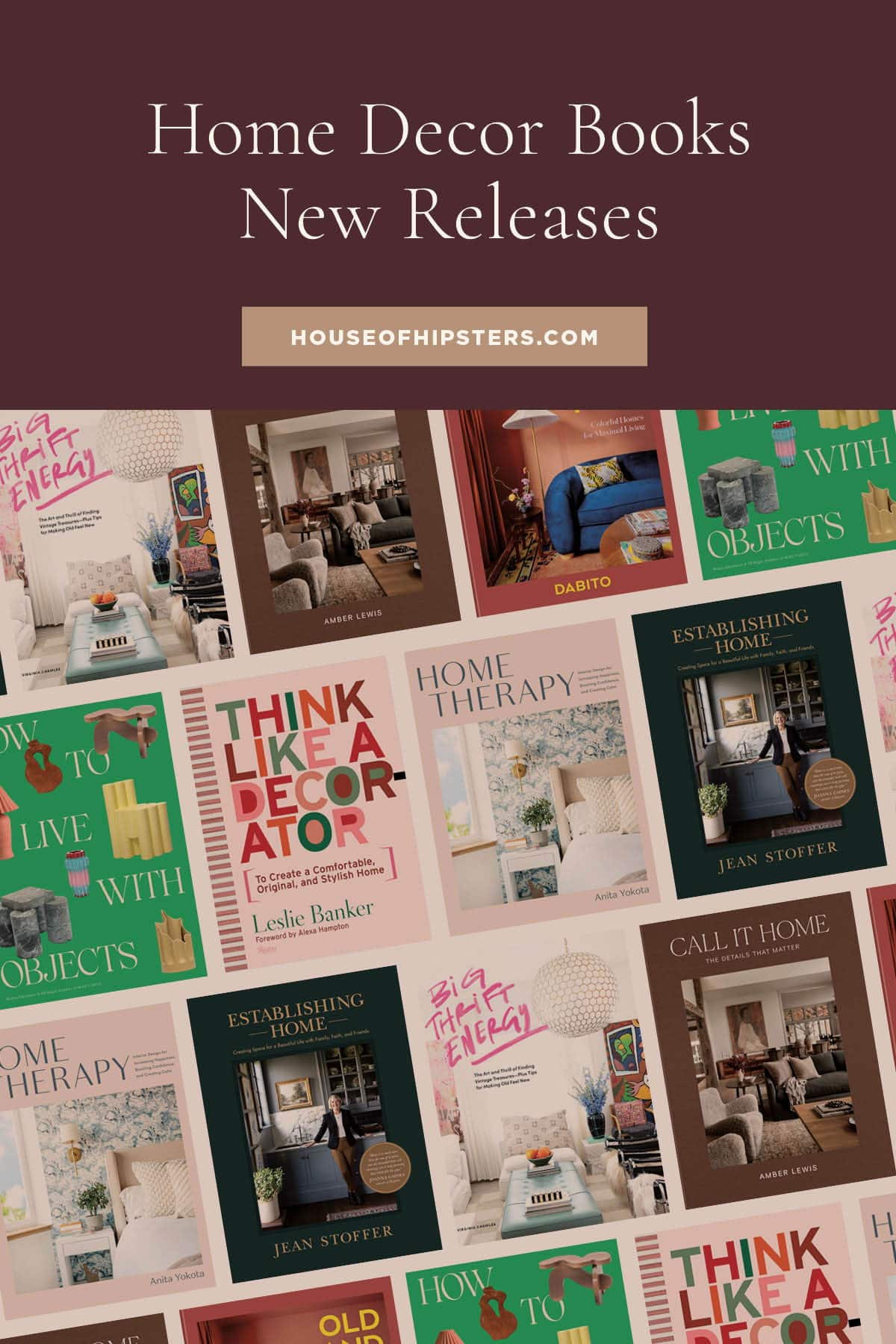 Top 7 New Home Decor Book Releases
Discover the top home decor books of 2023, featuring trend-setting designs, innovative ideas, and expert advice to elevate your living space in style.
Old Brand New: Colorful Homes for Maximal Living by Dabito
You may know Dabito as a blogger, interior designer, and photographer for Justina Blakeney, but did you know he wrote a book? Yup! It officially drops on August 29, 2023, but is available for pre-order now. I love his creative use of color, space, and maximalist design style, and he's also a vintage lover, so you know he's a favorite. August can't come soon enough. I can't wait to crack this one open.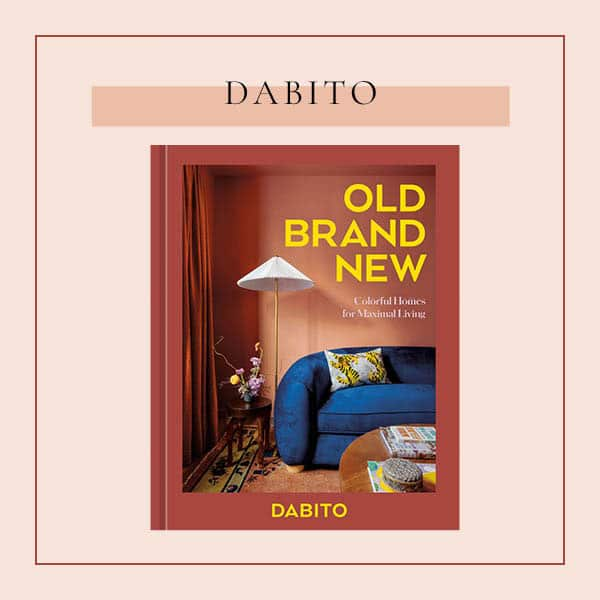 Home Therapy: Interior Design for Increasing Happiness, Boosting Confidence, and Creating Calm by Anita Yokota
Can I say how happy I am to say Anita is one of my friends and she is so incredibly talented? You may remember her as a participant in the No Makeup Home Tour 2018. Anita is a licensed therapist turned interior designer and understands that our surroundings are more than just a reflection of our personal style. Instead of basing decorating decisions on trends and fads, Anita takes a therapy-informed approach that focuses equally on mental health and design. In "Home Therapy," she presents the psychology behind making your home intentional.

How to Live with Objects: A Guide to More Meaningful Interiors Hardcover by Monica Khemsurov
This is the anti-decorators book with a new approach to interiors. In short, surround yourself with objects you love—girl, you're preaching to the choir! This is a design self-help book slash bible of modern home decor wrapped into one. Wisdom from interior designers that will help teach you to build your confidence in collecting personal, unique objects that you love.

RELATED: Be sure to check out the full round up of the best interior design books that I return to time and time again.
Think Like A Decorator: To Create a Comfortable, Original, and Stylish Home by Leslie Banker
This book will be out at the end of March and is available for pre-order. Leslie's mother (also an interior designer) said, "thinking like a decorator means focusing on developing the story of the space and its inhabitants." Sage words. She explains how to use your favorite color in a room design, how to style family heirlooms into your designs, how to solve the inevitable issues that will arise, and more.

Call It Home: The Details That Matter by Amber Lewis
You probably know Amber Lewis from Amber Interiors. Her California Cool design style rose to fame on Instagram, and she continues to be a powerhouse designer to this day. Funny side story, I was walking around the Loloi Rugs showroom in High Point, and suddenly there was this huge commotion right next to me. Literally, 2 feet away was Amber Lewis was a flock of fangirling interior designers swarming her. Anyhoo, this home decor book doesn't drop until October 2023, but I'm sure it'll be worth the wait.

Big Thrift Energy: The Art and Thrill of Finding Vintage Treasures-Plus Tips for Making Old Feel New by Virginia Chamlee
Okay, this book was released last July, technically not in 2023, but it's still a newly released home decor book. I can't not mention Big Thrift Energy by my Insta friend Virgina Chamlee. We are vintage decor soul sisters. She will teach you how to score pieces at a great price with tips so good I can't believe she's sharing these trade secrets. Most recently, Big Thift Energy was picked as a "Best New Book" by People Magazine. Bravo girl! I'm standing and cheering you on over here!

Establishing Home: Creating Space for a Beautiful Life with Family, Faith, and Friends by Jean Stoffer
I had the honor of speaking with Jean Stoffer at the Cambria Surfaces interior design meet-up a few years ago, and let me tell you, this lady is so incredibly talented, so when I heard she wrote a home decor book, I pre-ordered immediately. THIS IS NOT A DESIGN BOOK! Rather this is a memoir of Jean's career path and how she quit a stressful job to pursue a dream. Her inspiring words will give you the courage to discover your own dreams and remind you to slow down and enjoy your own journey.

RELATED: Don't miss the round up of the best coffee table books. Perfect for coffee table decor ideas.



Discover More Modern Eclectic Home Decor Ideas and Interior Design Tips
I've been playing around with some living room design concepts. Check out the latest mood board I came up with.
We adopted a dog about a year ago and have since found the glory of affordable washable rugs.
Love plants as decor but have a black thumb? No worries! I have a rounds ups of the best faux olive trees, my favorite faux fiddle leaf fig trees, and a huge round-up of faux plants that look real.
Want to add a little magic to your room? Try adding some disco ball decor with these sparkly ideas.
Love the Primrose mirror but hate the price tag? I got you! Here's a full round-up of affordable Anthropologie mirror dupes.
Do you have a rug that is too small or too big? Not sure? Here's how to choose the best size rug for a living room.
Cozy up your windows with these affordable velvet curtains – oh, and they're all available online.
If you love wallpaper, but have a fear of commitment, check out this round-up of best peel and stick wallpaper – it even includes a couple of wall murals.
Cane furniture is trending, and so is rattan and cane lighting. If cane isn't your jam but you want more lighting ideas, check out this round-up of boob lighting alternatives.
Looking for a new fiction book to read? Check out my round-up of the best fiction books of 2023.