Decorating with Vintage Home Decor
Last Updated on August 25, 2023
Decorating with vintage home decor really shows off your personality…not to mention it can be easy on the wallet. But there's a fine line between staying in the now and time-warping back to The Brady Bunch. So how do you find that trending boho slash mid-century modern look and not have Marsha screaming, "Oh! My nose!"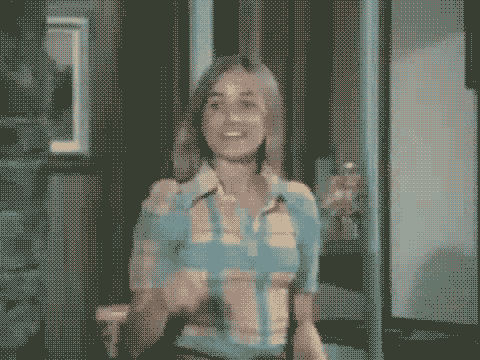 Easy, learn how to mix old and new…vintage decor with modern. There's no need to smash someone upside the head with vintage overload but to find a good balance; you must have patience, a good eye, and lots of trial and error. Not sure where to start? Don't fret little one. We're going to examine a few rooms in my home, and hopefully, I'll share some of my secret sauce and even share a few sources where you, too, can shop for the best vintage home decor. I'm all about making it easy. No dilly-dallying around! Let's get crackin'!
Look at that reupholstered vintage Alky chair! I can't even cope. Even though my decor aesthetic has changed from mid-century modern obsessed to grand millennial meets modern eclectic meets japandi, the thought process behind mixing old and new have stayed the same.
So what exactly is going on in here? Well, a whole lot of mixing vintage home decor with new pieces, but there's another trick hidden in here — there are a few high-end pieces sprinkled into the vignette, like that lamp and that incredibly affordable rug. Both are new decor items.
But I know, you're here for the vintage home decor: the Alky chair was a secondhand find from a vintage dealer friend that was reupholstered in a modern abstract pattern. This mix makes for a funky '70s vibe but the fabric makes the chair feel in the now.
The antique chest of drawers was a $50 estate sale purchase and gives off a nice juxtaposition with the vintage chair. Top it all off with this black-footed bowl, voila! Vintage home decor done right! BTDubs, that bowl is a new piece with a throwback look, and it's also one of the most hardworking decor pieces I own.

Let's play guess the vintage home decor in this photo, shall we? The faux olive tree is obviously new, as is the round brass mirror. Both have a very in-the-now vibe, but that glam mirrored console is…you guessed it…vintage. It was a pricier flea market find, and to this day, I've yet to see another like it. And that is the beauty of vintage decor — one-of-a-kind, unique pieces that really set your space apart and show off your personality.
And not only is it different, but it also comes with a story. I can tell you the flea I was at, the vendor I purchased it from, and how I jenga'd my car to fit this sucka in the backseat, almost throwing my back out. The pink marble lamps are also an estate sale find, but the lampshades (my favorites to use, I love the box pleat) are new. The lamps and console are both very different styles, yet when mixed with new modern decor, this vignette stands out.
Decorating With Vintage In The Dining Room

When it comes to antiques in the dining room, think beyond tabletop decor and hutch by using unexpected furniture and decor. The Pierre Cardin dining room chairs might be the most popular vintage item in my home. They were originally pink, but recently I had them reupholstered in this forest green. Again, that is the beauty of vintage, if you hate it, change it up! Paint it, change the fabric, and repurpose it into something else. Just think outside the box.
RELATED: If you love my vintage decor but can't find what you're looking for, be sure to keep and eye on my shop on Chairish. You never know when I'll decide to part with a treasure.
That 1940s marble pastry table was a Facebook Marketplace. Just like the wooden chest of drawers and Alky chair combo in the first image, the glam Pierre Cardin cantilever chairs (linking similar here) paired with the neoclassical table give this dining room an incredibly funky look and feel.
HOT TIP: When decorating with vintage, I like to insert something weird into the mix. In this case, it's the champagne bottle. Think outside the box and decorate with only the pieces that you love. Does it belong in a dining room or serve any value? Nope, but it sure is fun!
The oversized gilt mirror was one of those unicorn finds at auction, but if you want something similar, check out this round-up of Anthropologie mirror dupes.



Find More Eclectic Decor Ideas and Vintage Decorating Tips
This is how we How To turned an antique dresser into a vanity, and I scored it at an estate sale for under $100.
Sharing my secret squirrel list of favorite home decor shops in Chicago.
Sharing my favorite vintage decor finds with Chloe from Boxwood Avenue and Sarah from Room For Tuesday.
If you love decorating with antiques, don't miss my 7 Tips For Buying Vintage Decor.
Best Affordable Washable Rugs that are a must-buy if you have kids or pets!
If you're visiting the Chicagoland area, be sure to check out my guide to vintage shopping in Chicago.
It's reveal time! Check out this Modern Boho Living Room Makeover.
Decorating With Rattan adds beautiful texture and depth to a room.
Check out these picks – Vintage Barware For A Modern Bar Cart
If you're just getting into vintage, check out these 7 Tips For Buying Vintage Home Decor