Valentine's Day Gift Guide
Last Updated on October 4, 2023
I don't know about you, but my boy is stumped when it comes to buying me gifts. And I'll be the first to admit, I'm an extremely difficult person to buy for. When I see something I like, I just buy it…it's a problem. Years ago, I used to share my gift ideas with him on my Pinterest boards, but those have become a bit out of hand.
This year, I thought I'd make it easy on him and share a few gift-giving ideas that I might like…hint, hint, nudge, nudge. Please read…I'll really, really, really dig these gifts! Then I thought I'd share it with you, too! Mainly because I was like man, these are some really amazing Valentine gift ideas!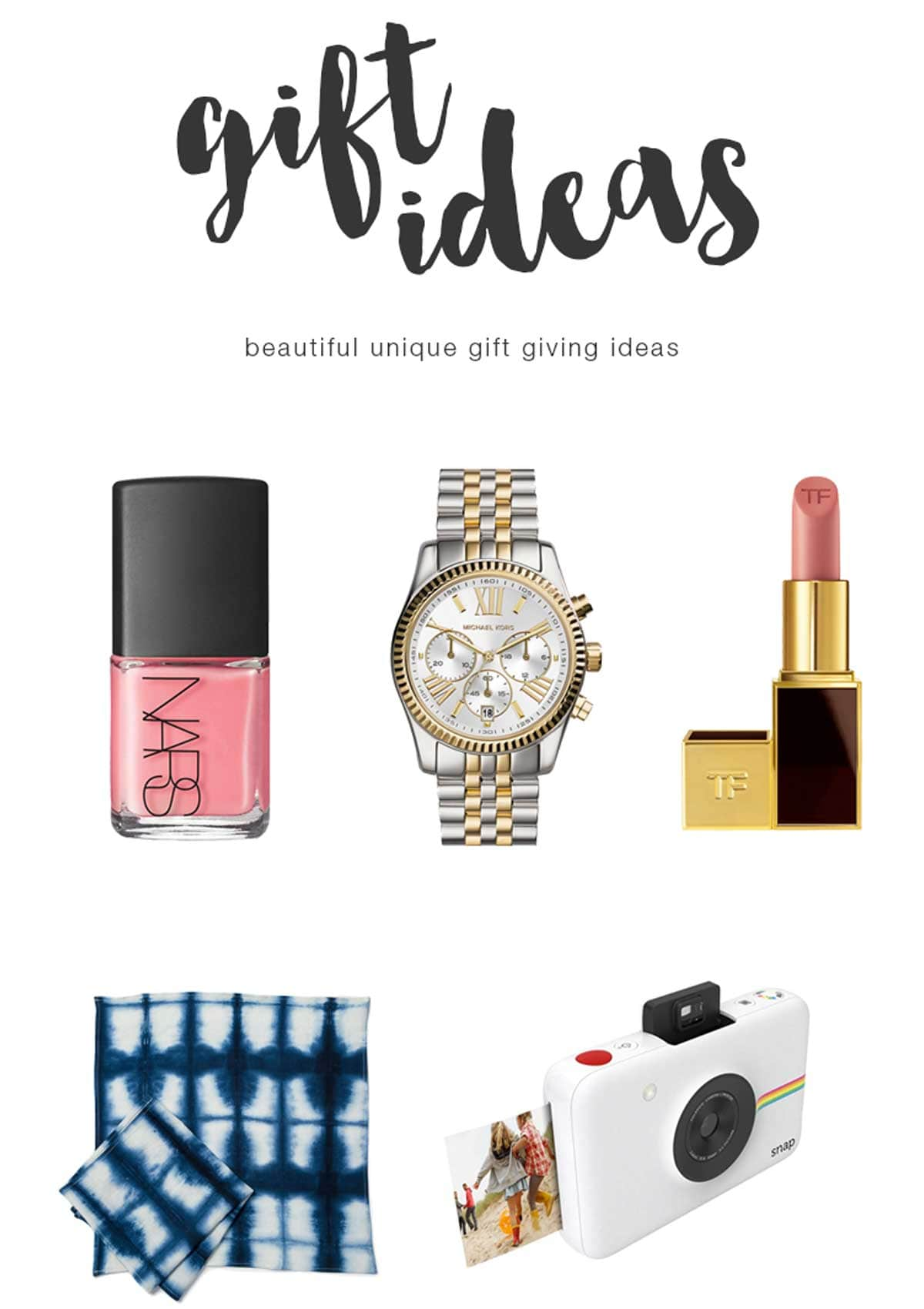 NAIL POLISH: This might seem silly, but I love a good nail polish. I stand in front of the polish bar at my manicurist, and I could pick every single color! A nice pink or red for you Valentine BFF is a simple and inexpensive way to say hey, you're pretty cool.
WATCH: Yes, sort of unoriginal, but still a good go-to…especially for someone like me who never seems to be on time these days.
TOM FORD LIPSTICK: This is my go-to lipstick. A bit more expensive than your average drug store purchase, but Tom Ford doesn't seem to dry or crack. It always looks fantastic!
LINENS no longer available: Not super romantic, but these are my go-to when it comes to giving that sumthang sumthang special to a good friend. These napkins make a great hostess gift as well!
POLAROID CAMERA: These little click, point, share cameras are a blast! My kids especially love them! Just be sure to buy extra film because you and you're boy will be snapping pics all day long.
RELATED: For more gift giving ideas, check out all the gift guides.
Unique Gift-Giving Ideas For Valentine's Day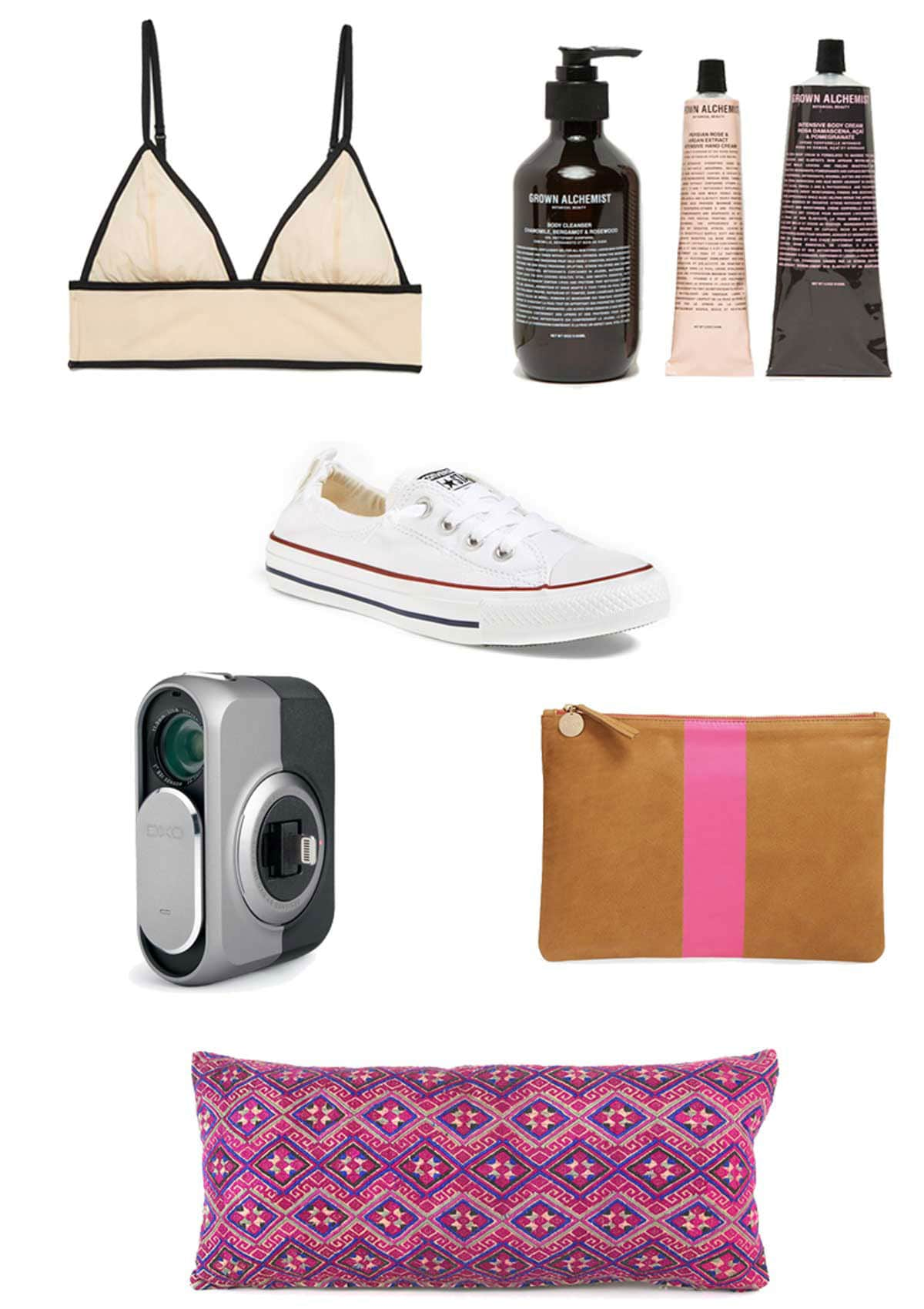 The last thing I want to do is buy for someone just to buy a gift. I want it to be meaningful. I want this person to smile and say, "Wow! Thank you! I never would have bought this for myself!" I want it to be unique, fun, and useful.
CUTESY BRA no longer available: Now, this isn't a present for him. This is a pretty little thing that will make you feel good about you. And come on, that's really what it's all about, am I right?
FANCY LOTIONS: Lotion? YES! LOTION! These are fancy, fancy lotions…not your average grocery store potion. Oh and this scent…let's just say you'll be wearing it on the daily.
CHUCKS: I'm all about Chucks. You'll find me in these or Adidas All Stars pretty much all day, erry-day.
TECH: Is your loved one all about the newest latest greatest tech? Jackpot! This camera is the BOMB! I use mine EVERY SINGLE DAY! You simply plug it into your phone and voila, you basically have a 20 megapixel camera with DLSR capabilities connected to your phone! I know, awesome, right? No more lugging around a heavy camera bags and multiple lenses on vacation.
CLUTCH: I'm a sucker for a good clutch. I have about 4 of them in my daily wear purse, filled with everything from makeup to keys to my train pass. It keeps me way more organized.
FANCY HOME DECOR: I'm all about a fancy pillow…and a pink one? Come on! Get on my sofa!

CANDLE: A more expensive candle is a great Valentine's Day gift idea. Something your loved one probably doesn't buy for herself. This one especially has a great scent and staying power. A favorite here at House Of Hipsters.
CARRY ALL no longer available: A big cloth tote is super practical and this one is cute as all get out! I take mine to the flea market and estate sales every weekend.
FANCY KICKS no longer available: I only wear heels every once in a while… as I said above, you'll find me most days wearing sneaks, but when I do have to get gussied up, these suckas are right up my alley. A chunkier heel makes them a bit comfier and the peep toe is super cute!
THIS LAMP! I've been lusting after this lamp for years. One day I will owe it. If this showed up on my doorstep, I'd be jumping up and down like a crazy person. Oh, and this one, it's on sale.
SCARF no longer available: One of my friends from Australia calls this look being rugged up, and I love it. A good blanket scarf can be hard to find. I like this one because you can dress it up or down. Personally, I'd throw on a black leather moto jacket and call it a day.
GO ALL OUT: Really want to show some love, buy her some YSL. You can't go wrong and, when your girl opens this bad boy up…boom, mic drop.
So whether it's for Valentine's Day, a birthday, or just showing that someone special in your life that you care about, make it unique, make it fun, make it personal. I hope this little gift-giving guide has helped!



Discover More Unique Gift Giving and Home Decor Ideas
Holiday Gift Guide For The Pink Lover – if you love pink like I do, here are some of my favorite gift-giving ideas.
The Prettiest Scarf On The Planet – there's nothing more classic than tying a pretty silk scarf on the handle of your bag.
Holiday Decorating Ideas a blogger home tour of my home decorated for the holidays.
Get inspired by this Holiday Dining Room Table with affordable home decor from Walmart.
Holiday Gift Guide For The Hard To Buy For is the perfect source for gift ideas.
I've got all your gift-buying needs covered with the Ultimate Holiday Gift Guide for him, her, and everyone in between.
Are you shopping for someone bougie AF? Check out the Luxury Gift Guide if you're looking to spend some dough on a really special someone.
If he's difficult to buy for, shop the Holiday Gift Guide For Him for unique gift giving ideas for him.
If that special someone is hard to buy for, check out these unique Valentine's Day gift ideas for her.
If you're looking for Favorite Things gift ideas, I've got a full round-up of goodies under $25.
A carefully curated gift guide full of unique gifts for her! You don't want to miss it.
A new fashion line is shaking up Chicago. Check out the latest collection of bags by Neon Fringey.
If skinny jeans are out, what jeans are trending? Here is the latest in denim.
I found the best pajamas that are comfy, colorful, and come in bold patterns.
Here is some carefully curated summer to fall outfits that are definitely for the trendy mom style without breaking the bank.