Holiday Gift Guide For The Home Decor Lover
Welcome to the ultimate holiday gift guide for the home decor lover!!!! Are you friends with a home decor lover and have no clue what to buy? Did you pull the home decor lover's name for Secret Santa? Or maybe you just love home decor like me and want to treat yourself. It's okay, I do that too. I've rounded up my hands down ultimate favorites and every vase, blanket, candle, coaster, and bowl in this holiday gift guide is on my wish list too.
GO HERE FOR THE MOST UP TO DATE 
Holiday Gift Guide For Home Decor Lovers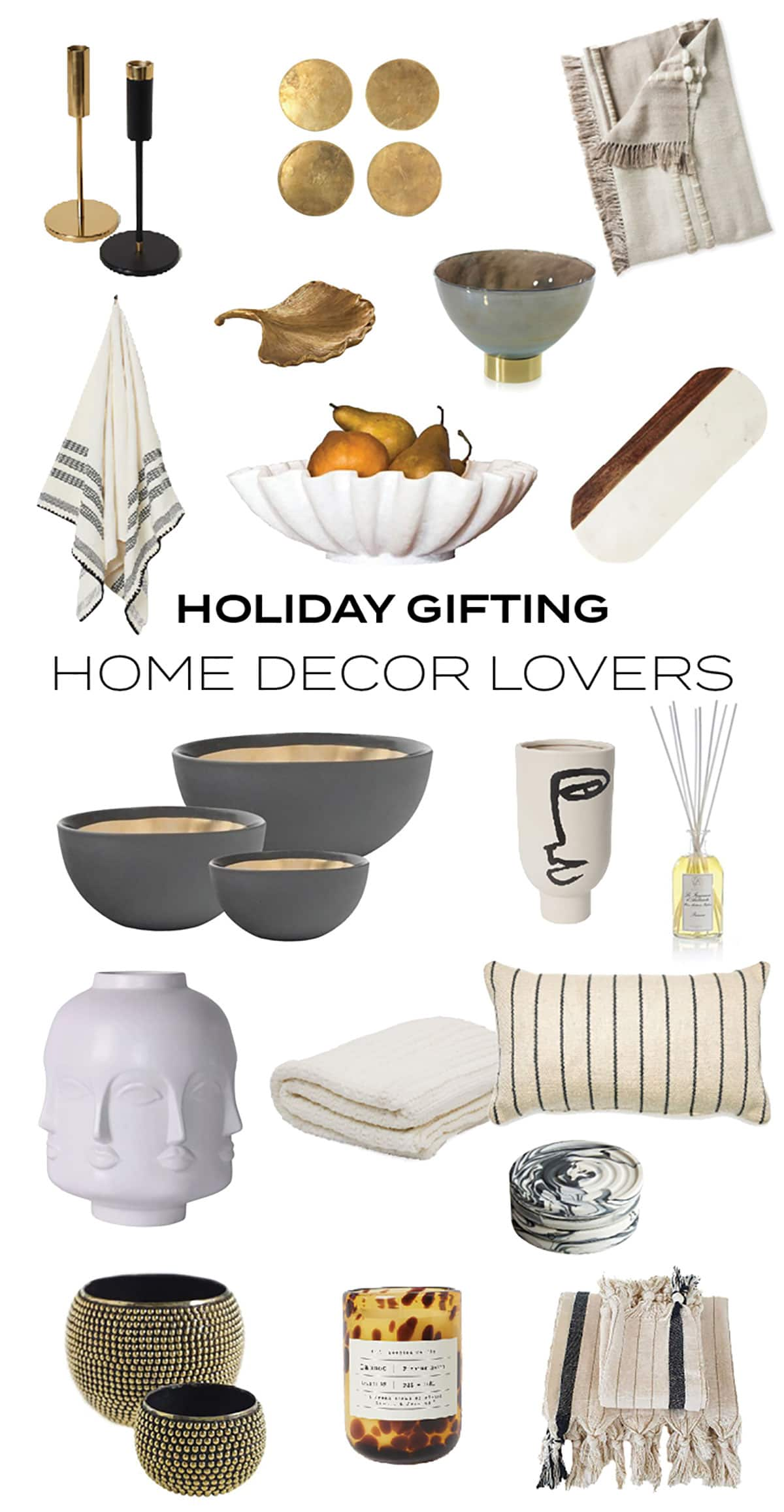 Narrowing down my favorite home decor for a gift guide was not an easy task, but I really tried to cover all budgets. Prices here range from $10 and go up to $450. The majority is all under $50.
And be sure to check out my Holiday Gift Guide for Him. More shopping ideas to come, so check back again soon!
Candle Sticks in Black and Brass or Brass
Brass Ginko Leaf Catchall – no longer available
Glass Bowl with Brass Base – no longer available
Bath Towel with Crocheted Trim
Marble Hankerchief Bowl – no longer available
Marble and Wood Serving Tray – no longer available
Gold and Charcoal Bowl – no longer available
Prosecco Diffuser – no longer available
Matte White Face Vase – no longer available
Cream Knit Throw – no longer available
Cream and Gray Stripe Pillow – no longer available
Black with Gold Textured Bowl – no longer available
Set of 4 Swirl Coasters – no longer available
Set of 2 Turkish Bath Towels – similar
Discover More Gift Giving and Home Decor Ideas
Holiday Gift Guide For The Pink Lover
The Prettiest Scarf On The Planet
Holiday Decorating Ideas For Your Home
Make Your Dining Room Table Holiday Ready