Holiday Home Tour Blog Hop
Last Updated on June 28, 2023
Today is a special day! Stephanie from Casa Watkins Living asked a bunch and me of amazing home decor bloggers to join in a holiday home tour blog hop. All week long, these talented people will be opening their doors to share how they deck the halls for the holidays. So put on some up some holiday music and settle in because we have a real treat for you this week. The full list is linked below, so be sure to stop back and check out each and every home on that particular day. BTDubs, if you're looking for more decorating ideas, check out my post on Christmas mantel decor.
Holiday Decor In The Living Room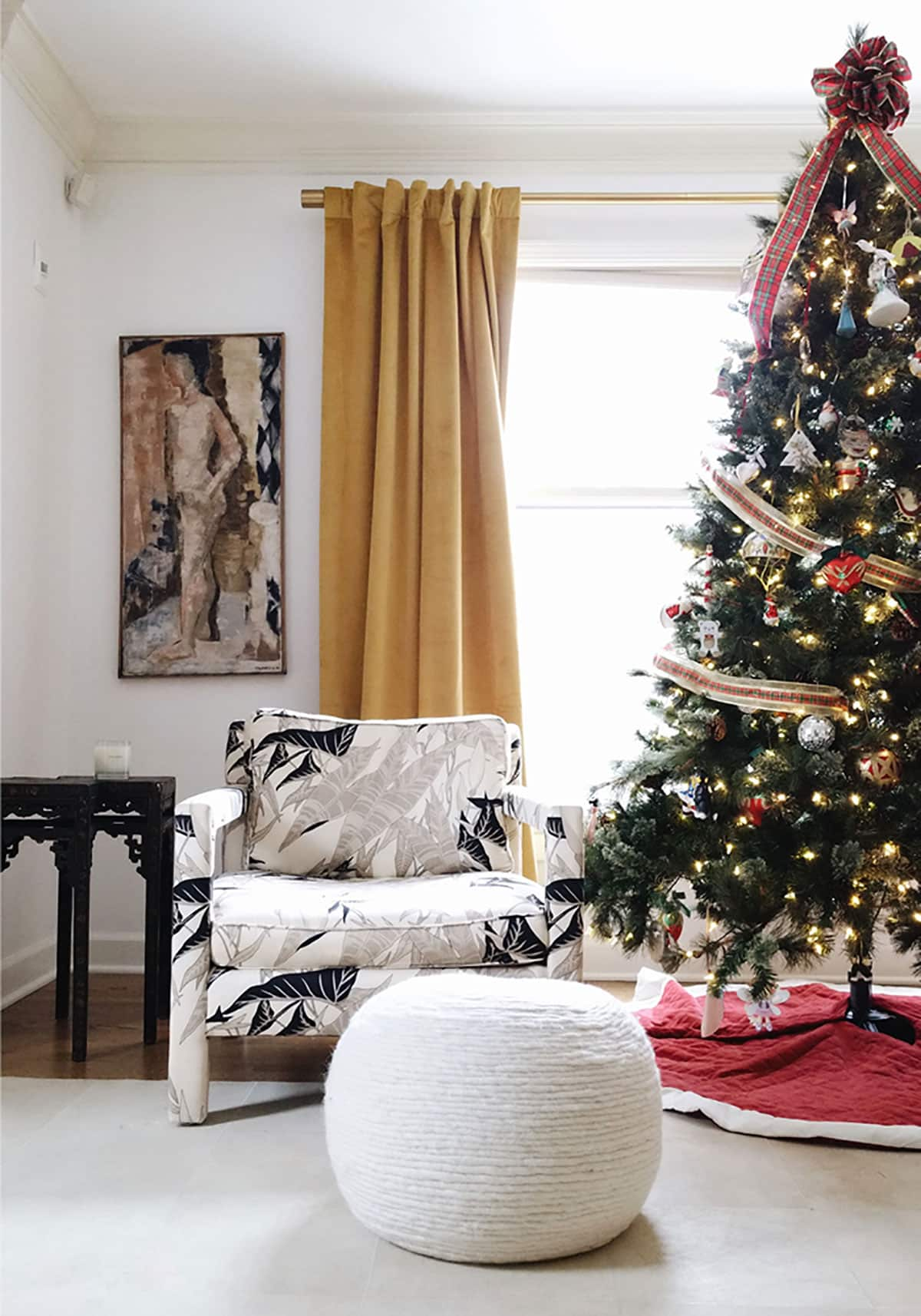 I zhushed my home for the holidays early this year and then was promptly blamed for the early snowfall here in Chicago. That snow sure did set the mood while we decorated the tree though. So pretty. I loved every minute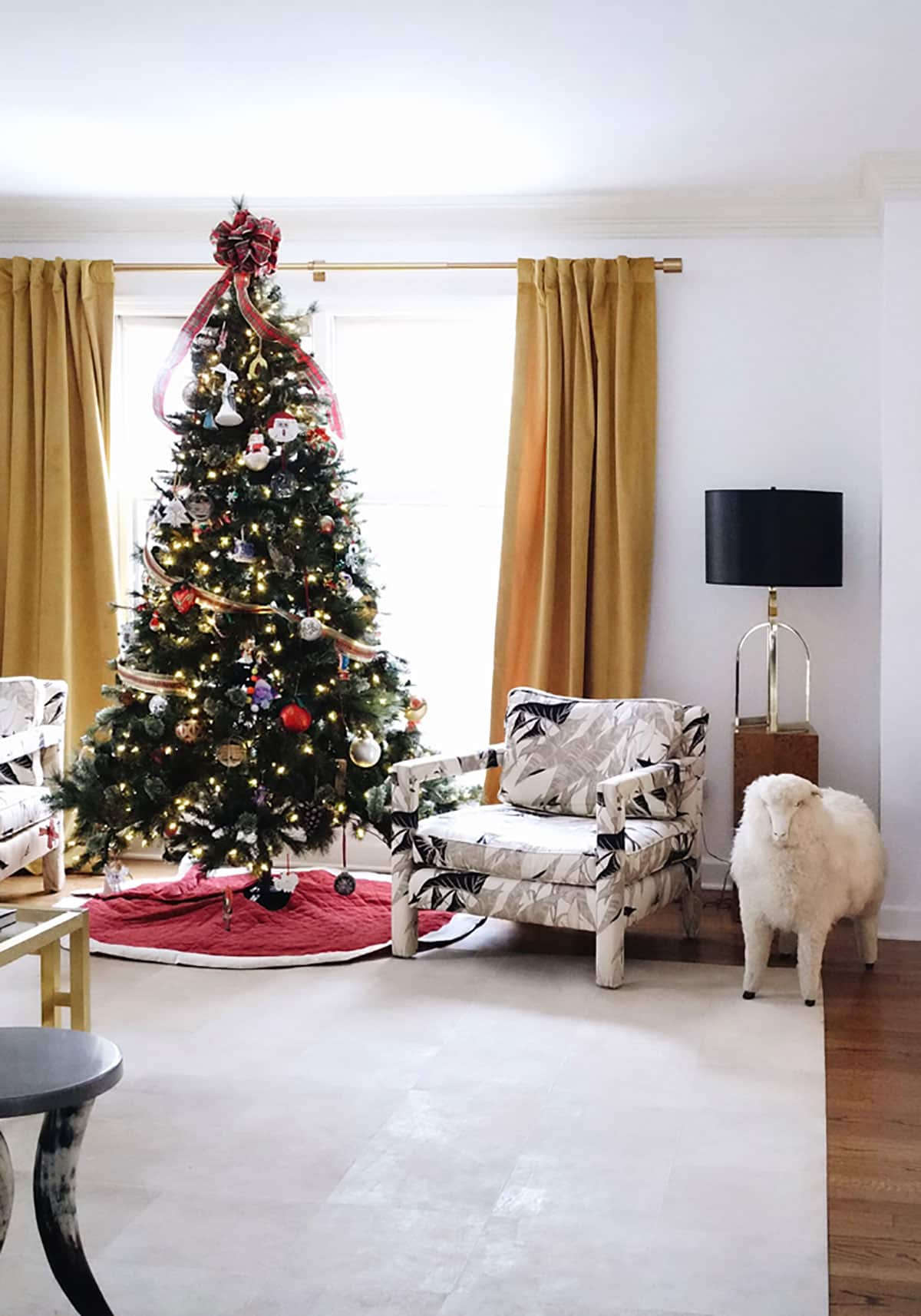 Going all out for the holidays is not really my thing, but I love the look of a traditional Christmas tree. As a kid, my family had a real tree, but due to allergies, we only have faux in our house. But that removes the worry of will the needles all fall off. The tree needs to be watered and my least favorite sap…have I sold you on the ways of an artificial tree yet?

There's a small part of me that yearns for the all-white tree that's perfectly decorated and posh, but I'm partial to history and have all of my ornaments dating back to when I was a baby. From the shrinky dink teddy bear given to me by Jeff Blum in 1979 to the stamp of my hand from nursery school to the brass ornament with my name engraved on it from my junior high bestie Missy Nelson…my childhood lives on our tree.

Keep looking and you'll find milestones like a bride and groom given to us as a wedding gift and the kids have ornaments they have made or received as gifts. Pretty much every ornament has some sort of meaning or backstory. If you peek into the dining room, you'll see that I'm setting up for a holiday dining shoot. The centerpiece is a paper maché bowl full of more vintage ornaments from my childhood tree. My sister and I would fight take turns putting on the icicles and pretty pink balls. These were our absolute favorites.
The Dining Room Holiday Decor


The kitchen makeover has been going through a renovation, so I have not decorated it this year. The Cambria quartz was installed last week, and Mitch and Cesar hung the lighting. They return later this week to reframe the pantry door and install the pulls. Here's a sneaky peek at the progress we've made.


If you see some killer artwork for this wall here, please email me immediately. I need something bonkers good, and I've been searching for forever. I never decorate for the holidays upstairs, but here's a looksy at the primary bedroom makeover. You'll notice I hung the same affordable curtains here as I did in the front room. I just fell in love with this goldenrod color and had to bring a few more pops of it into the house.

And that brings us back downstairs to the living room, where the stockings were hung by the chimney with care. These are the same stockings I had when I was a kid…sound familiar? My mom crocheted these by hand for me, The Boy…can you read his name…Cooper and Zoe. One day we shall change out this dated brick fireplace.

And here's a look at what things really look like around here. See the blanket covering the white sofa? Ya, the little monsters started to make the edges look grungy with their dirty little piggy feet, so this is my temporary fix.

Last but not least is Potty Paradise. It's the tiniest room in the house that packs a punch. It's also the most difficult room to photograph.

No holiday decor here, but man, it's a fun space. Even after 3 years, I have not gotten tired of this bathroom.
Here's the rest of the holiday home tour crew! Be sure to check them out.
Monday
Casa Watkins Living // Up To Date Interiors // Delineate Your Dwelling // Thou Swell // House Of Hipsters // French & French Interiors // Haneen's Haven
Tuesday
Two Twenty One // Jeweled Interiors // Dimples and Tangles // PMQ For Two // Kaleidoscope Living // Reality Daydream // Heathered Nest
Wednesday
Setting For Four // Monica Want's It // Domicile 37 // The Happy Housie // Lovely Indeed // Lemon Thistle // Amber Oliver
Thursday
Taryn Whiteaker Designs // Cherished Bliss // Lovely Etc. // The Honeycomb Home // My Sweet Savannah // Cuckoo For Design // Kate Decorates
Friday
Our Fifth House // Kelly Elko // Daly Digs // Tag & Tibby // House Homemade // Lolly Jane // The DIY Mommy



Discover More Eclectic Home Decor Ideas
This simple Christmas mantel decor was styled perfectly on the new custom stone fireplace.
See this year's Christmas decor and discover holiday decorating ideas that are meaningful.
Get your home ready for Christmas with these holiday entertaining tips that will help make life easier this December.
80s modern decor in a contemporary home. Check out this Kelly Wearstler-inspired home tour.
If you're decorating on a budget, get my top tips to save money yet still make your home look expensive.
One thing I do spend money on is bedding. Here are the best sheets that will help give you a better night's sleep.
The Primrose mirror is still trending hard, but the price tag crushes my soul. If you're looking for an Anthropologie mirror dupe that doesn't break the break. This one is for you.
Sharing my ride or die best cleaning products that I can't live without.