A Kitchen Makeover – Let's Play Pretend
Confession, ever since I visited Cambria, I've been dreaming of a kitchen makeover. Not that there's really anything wrong with mine, but…Pinterest, am I right? Some gals want diamonds, others tropical beach vacations…me…I long for a beautiful stone waterfall kitchen island, new countertops, a killer backsplash, and cabinetry that's to die for. Damn you Pinterest!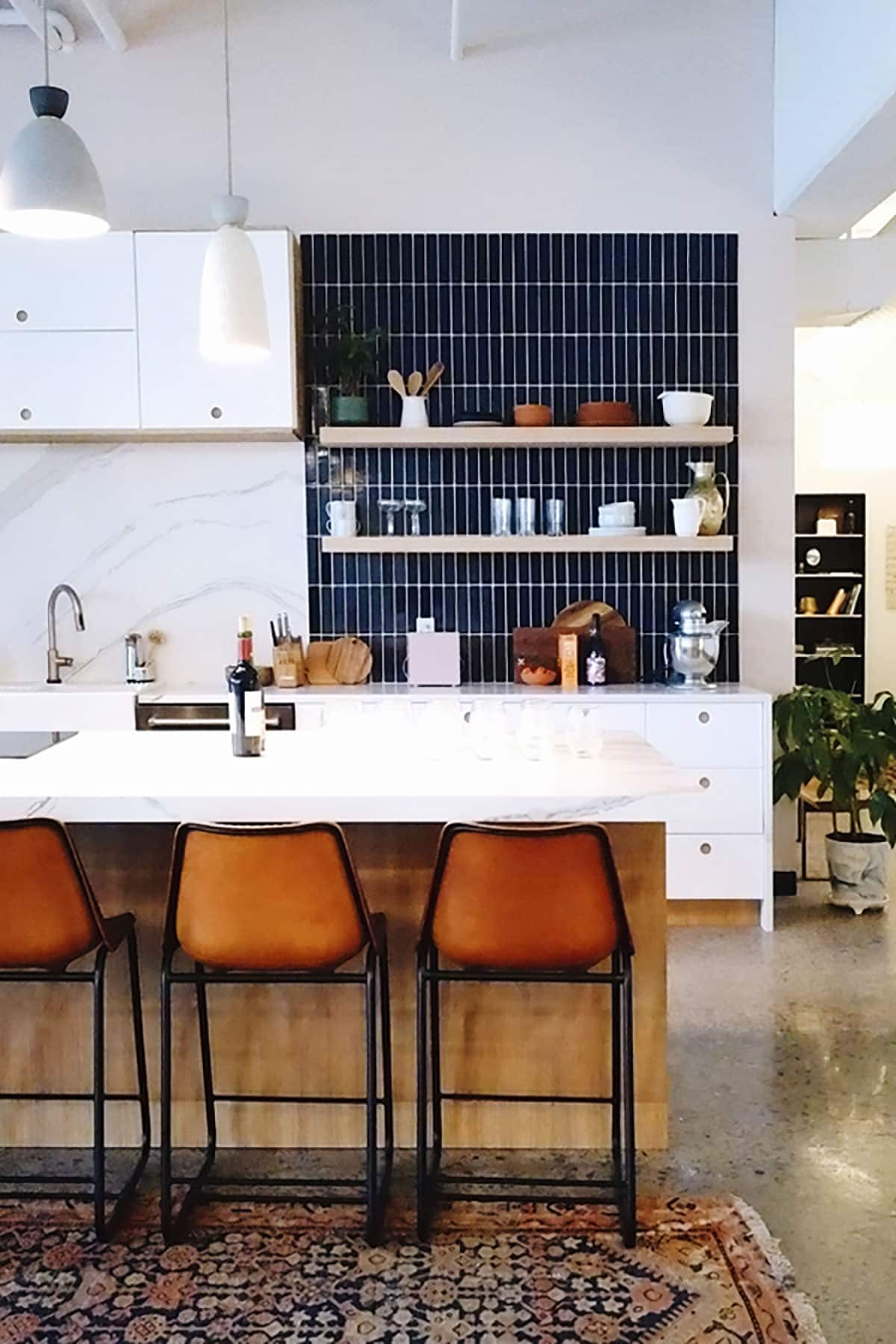 It became increasingly clear after I snapped this photo of Wit & Delight's Studio 125, that my life just would not be completely fulfilled until a new kitchen was in the works. So I've been ever so carefully dropping hints around the house. The Boy's biggest issue is the elephant in the room…budget. Blah, blah, blah, he can be such a buzzkill. The other…it's our kitchen…gutted…unusable…2 kids. You get the picture.
As with all renovations, they usually take longer than expected and cost twice as much. However, my contractor Gerry really rocked out my bathroom renovation and basement renovation, so I'm feeling somewhat confident on timing. Cost…well…just a small detail, right?
All that being said, before I just jump in swinging a sledgehammer, I'm taking a step back and really planning out all the dream details. A kitchen makeover is not to be taken lightly. It's not like you can just change your mind and be like oh hey, I want this sink in this corner, or let's move the stover over here. A gas line is not a chair. Once the floor plan is set, it's a done deal.
Ya, a kitchen is slightly intimidating. let's discuss.
In last Fall's No Makeup Home Tour, I explained how the former owners flipped our kitchen. Let's face it when you're selling a home, there's no way on god's green earth you wanna invest $100k into the kitchen of your dreams. They appealed to the masses and polished the turd they were living with. White cabinets. Brushed nickel pulls. Added a backsplash some salesperson said was modern and hip. And to top it off, added $30 ho-hum pendant lighting. Very vanilla but smart all the same for a flipper.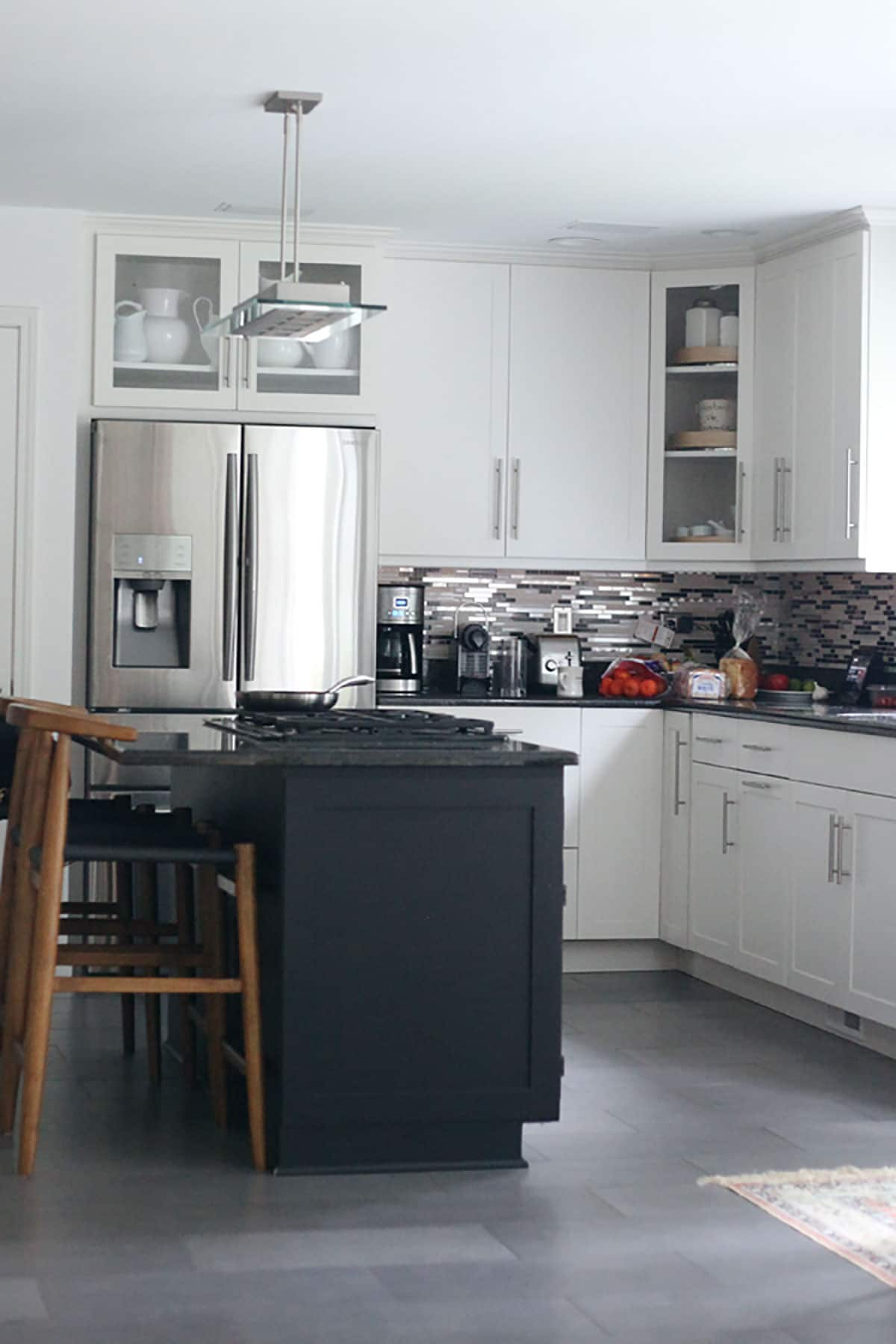 If this kitchen makeover happens, which it will…someday (laws of attraction, remember)…the plan is to stay on budget and keep the cost as low as possible. The layout remains the same. Gas lines, water lines, pipes, appliances, sinks…it's like a game of freeze dance. It's not movin'…think facelift. As I said, there's nothing wrong with my kitchen, so the goal is not to reinvent the wheel and salvage what we can. (Thumbs up emoji to build confidence.)
Kitchen Makeover And Wet Bar Renovation Design Ideas
Included in this dream plan is a facelift of the wet bar that resides in the living room. After entertaining in the house for almost 2 years now, I'm not sure how I lived without this nook. It works hard for my guests. But laminate countertops and 1980s cabinetry masked in black paint have got to go. You can't hide from me.
One pin I keep coming back to for inspo is this space designed by Handelsmann + Khaw. A swoon-worthy wet bar designed for the Hunters Hills House. You can check out the rest of this dreamy interiors project here. Believe me, it's to die for.

Interior by: Handelsmann + Khaw Photography by: Felix Forest
When I look at a space like this, my initial thought is, "woah, real people actually live here." My second thought is, "hmmm, I could actually do something like this in my own home!" (Thinking emoji, raise your hand emoji) This is why The Boy hates his life from time to time.
Just image it here. I mean, it's possible! Look at the photo below and then check out the Cambria Brittanica Gold Marble Collection. The full slab is here. BTDubs, I'm fairly certain this is the design they were perfecting when I visited last October. Pair it with some natural wood accents and possibly navy cabinets…EMERGERD…that would be pretty spectacular.

Who knew this sad little corner was full of possibilities? Now, if you'll excuse me, I have a few more hints to drop. Wish me luck and if you know The Boy, tell him to buckle down the chin strap on his helmet. I'm coming for him. And if you're curious, follow my Kitchen Inspo board to see what I'm pinning.
Last Updated on November 16, 2022 by Kyla Herbes