Josh Young Design House – Kyla Portrait
Last Updated on January 18, 2023
Instagram. I swear it's the land of serendipity. Late last year I stumbled upon the Josh Young Design House gallery. Little did I know I was about to fall into one of the most wonderful collaborations I've worked on to date. Josh emailed me shortly after I pressed follow on his Insta account. Ummm, hello amazing artist who's been featured in Vogue, GQ, Domino AND Apartment Therapy! Why on earth are you emailing little old me? My heart pretty much skipped like 57 beats. Please be something awesome! Please be something awesome! Please be something awesome!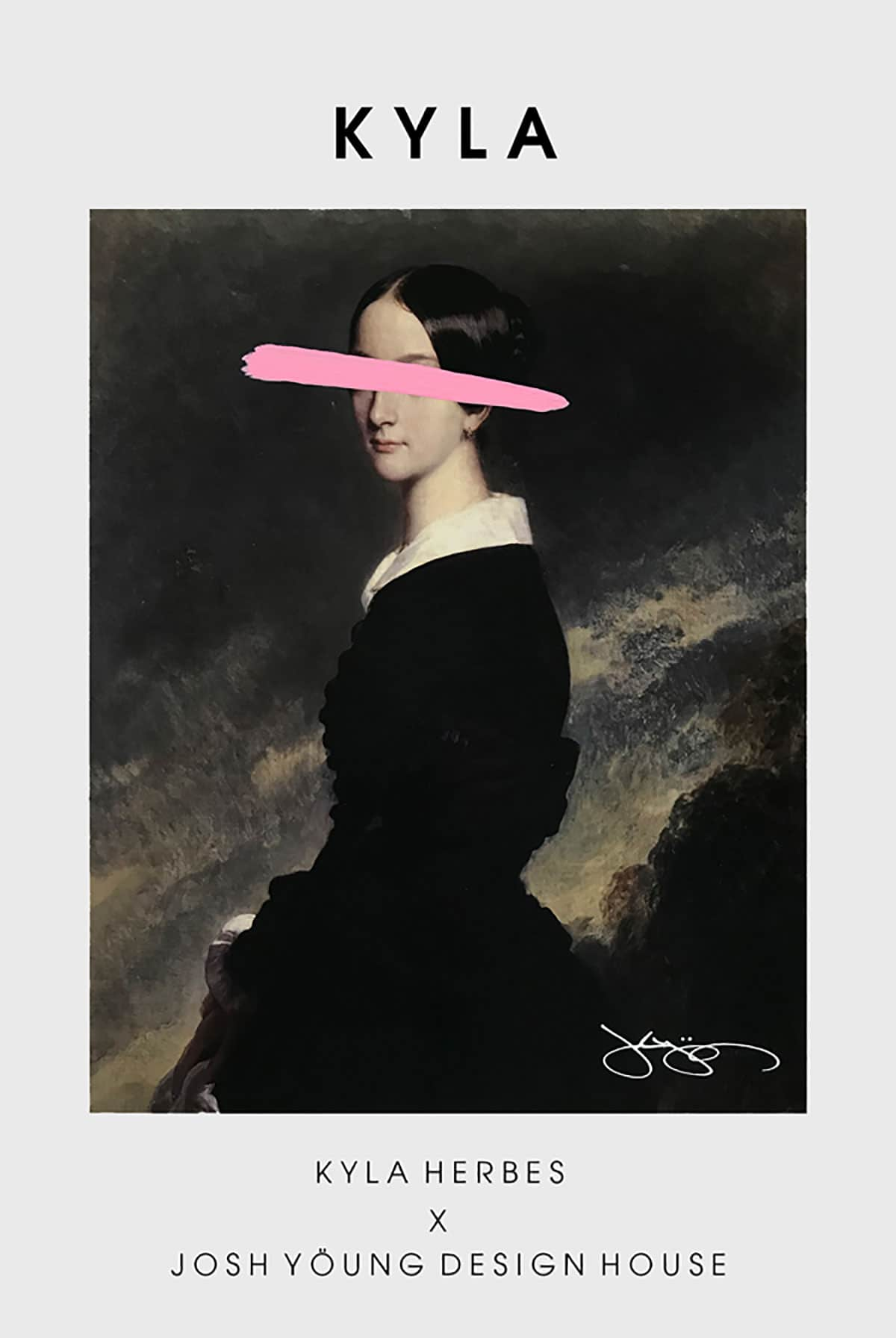 Josh spent 6 years studying in Milan where his love for beautiful portraits flourished, and his collection grew. He's taken his art into the digital world and adds a hand-painted swash across the face. As you know, mixing vintage with modern is my jam, so you can imagine the clutch the pearls moment I had upon discovering his work. Josh explained his collab process, and I was in, hook, line, and sinker.
BTDubs, besides the Kyla portrait, there is so much more art in his shop. A few I'm eyeing are Emma and Willow. I also love every piece in the Bibliotheque collection.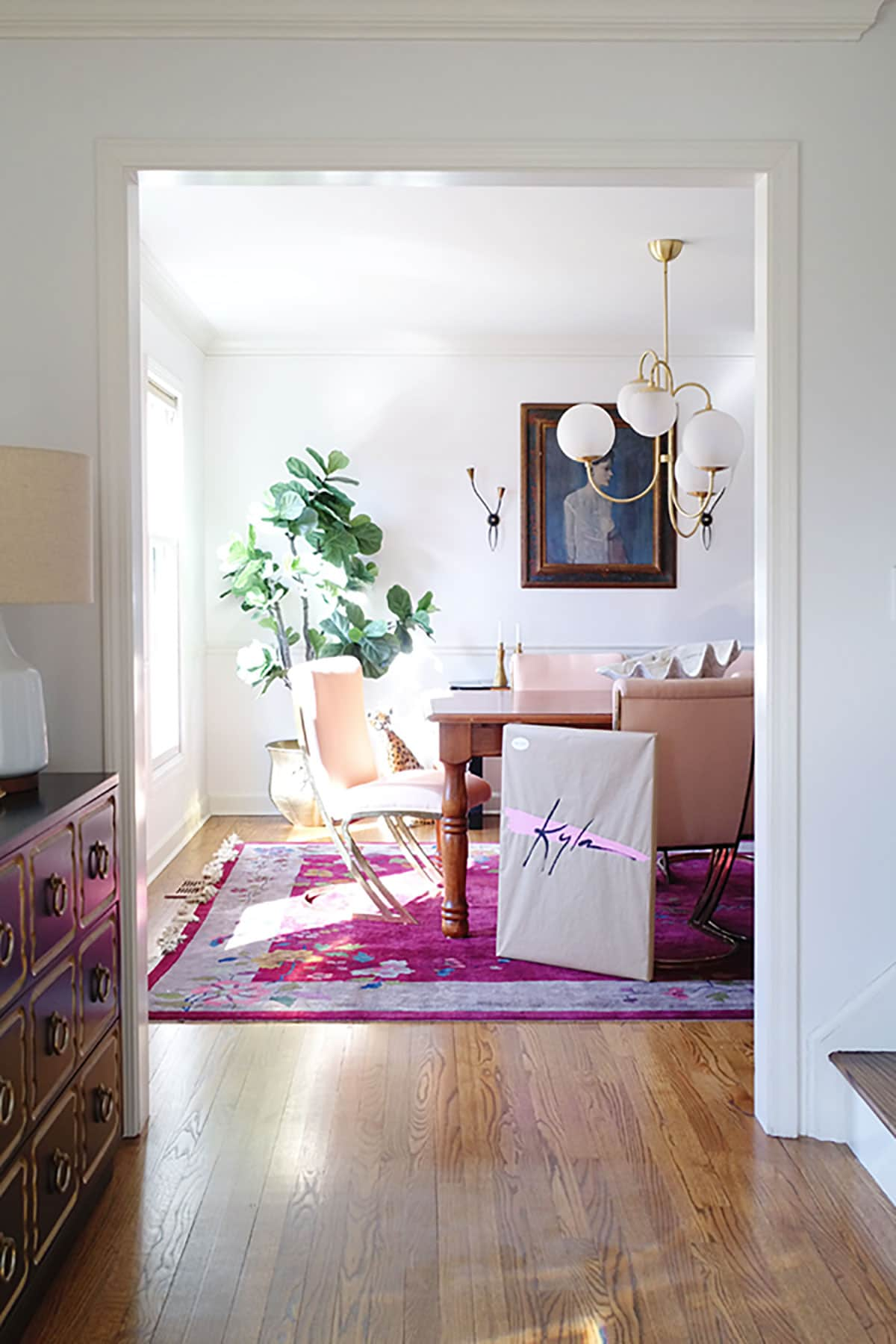 To start off the collab process, I was given 30-some portraits from his archives to choose from. Each one was beautiful in and of itself, but one, in particular, jumped out at me. Funny how that happens. There were others that were quite spectacular, but there was just something about this sweet gal.
Cooper (my son) walked into my office and was super curious as to what I was up to. I explained, and he asked if he could help. Cooper preferred a couple of other ladies over the one that stole my heart (the dresses on the others reminded him of a queen), but in the end, I won. I love this woman's more demure look and neutral tones. She's simple, not overly ornate…yet sophisticated and elegant.

Because I was unsure where exactly she'd live in the house (and your home too for that matter), the portrait I choose needed a color palette that would be perfect for any room.
The next step was rendering swashes and colors. You probably already know, but, I Have This Thing With Pink…yes, the Instagram account, but I also really do have this thing with pink. Little splashes here and there can be found about the house. Josh agreed that pink would be stand out with her neutral tones in an elegant, nonintrusive way. Shortly thereafter different slashes and shades of pink arrived in my inbox. Decisions. Decisions. Cooper again helped, and this time we unanimously agreed.

It was final proof time, and she was perfect. Josh, if you're reading this right now, thank you! From the bottom of my heart, thank you so much for this wonderful, creative journey you took me on. To be a part of your art has been an absolute dream.

Josh and his husband Ignacio asked to deliver the portrait in person, and I slightly freaked out. My house looks fancy on the internets, but in person, it's a hawt mess. Also meeting people face-to-face is NOT my strong suit. I'm awkward, weird, and self-conscious. But remember serendipity…the occurrence of events by chance? Well, when you find something good without looking for it, you must be open to what lays ahead.
Have you ever met someone and just felt like you've known them forever? That's what it's like when you meet Josh and Ignacio. Two people, shining brightly with good hearts. Srsly, I had no idea the amazing adventure and new friendship that would evolve from this collab. For that, I'm forever grateful.

More Affordable Home Decor And Budget-Friendly Ideas
Love the Primrose mirror but hate the price tag? I got you! Here's a full round-up of affordable Anthropologie mirror dupes.
Here is the final reveal of the Modern Kitchen Makeover On A Budget that I created with Cambria!
Shop these Amazon Prime Day deals you must have.
Have you seen those artificial flower arrangements in resin – you know, the clear vase that looks like water, but it's not? This easy tutorial teaches you exactly how to make your own for a fraction of the price.
Check out this affordable summer table decor – you won't believe where I got it!
If you're headed into a home renovation, you definitely need my Free Budget Checklist Download
I've rounded up my favorite Amazon home decor deals and Smart Gadget Must-Haves.
If you're looking for Home Decor On A Budget, shop these Affordable Decorating Ideas
My best Thrift Store Shopping Tips for newbies and pros!
Looking for modern decor that won't break the bank? Check out this round-up of Home Decor Under $100
If you're looking for organizing tips, check out this round-up of the best storage bins and Organization Ideas and then be sure to hop over and download this declutter your home checklist.
Discover More Modern Decor Ideas
If you wanna know how to make your home look expensive but decorate on a budget, check out both of those posts! There's some seriously good advice in both.
I've been playing around with some living room design concepts. Check out the latest mood board I came up with.
Sharing my 5 Ways To Cut The Cost Of Wallpaper with these clever ideas!
Nothing elevates a ceiling light like a ceiling medallion. Check out that round-up to shop for the best of the best, and be sure to check out my how to install a ceiling medallion tutorial for some secret tips!
Storage bins and other organization ideas to keep your home clutter-free. From the pantry to the kitchen to the bathroom to drawers, I've got you covered! And check out the decorative boxes post if you're looking for ways to corral your remotes on your coffee table.
Add some texture to your room with this rattan and cane lighting round-up.
Wait, skinny jeans are out of style? Yup, and here are the trending jeans I would wear instead.
Pairing pendant lighting for the kitchen can be a tough design decision. Here are my favorites.
Do you have a rug that is too small or too big? Not sure? Here's how to choose the best size rug for a living room.
Have you noticed that mushroom decor is trending? Here's what I'm eyeing.
Wait, skinny jeans are out of style? Yup, and here are the trending jeans I would wear instead.
Cane furniture is trending, and so is rattan and cane lighting. If cane isn't your jam but you want more lighting ideas, check out this round-up of boob lighting alternatives.
Want to add a little magic to your room? Try adding some disco ball decor with these sparkly ideas.
Spruce up your backyard with this outdoor patio furniture and decor round-up.
12 cute, stylish backpacks that fit a laptop and are perfect for work, travel, and back to school!
My brutally honest review on applying for membership at the Biltmore Country Club in Barrington, IL