Holiday Home Tour — BSHT Christmas 2016
Last Updated on August 25, 2023
It's the most wonderful time of the year, but how the hell are the holidays here already? Knowing full well I'm a procrastinator, and when it comes to holiday decor, well I kinda fail; I signed up for White Buffalo Styling Co.'s BSHT 2016 Christmas Home Tour last August. Plenty of time to prepare and plan…and plan I did…in my head.
Last weekend The Boy and I talked about putting up the tree and my brain flashed back to the conversation with Lindsay. Hmmmm, wonder what week those posts go live. Think. Think. Think. Pull up Google spreadsheet…OMG, next Wednesday. Scheisse! When it comes to Christmas, I mean well, but it always sneaks up on me…I turn around and suddenly Jack Frost is nipping at my nose. If you hopped over here from Makerista, welcome. Click around a bit before you leave, and don't forget to hop on over to The Curated House. She's up next in this online parade of homes. (I also list out the schedule down below cuz I like to make it easy on ya.) Let's get to it!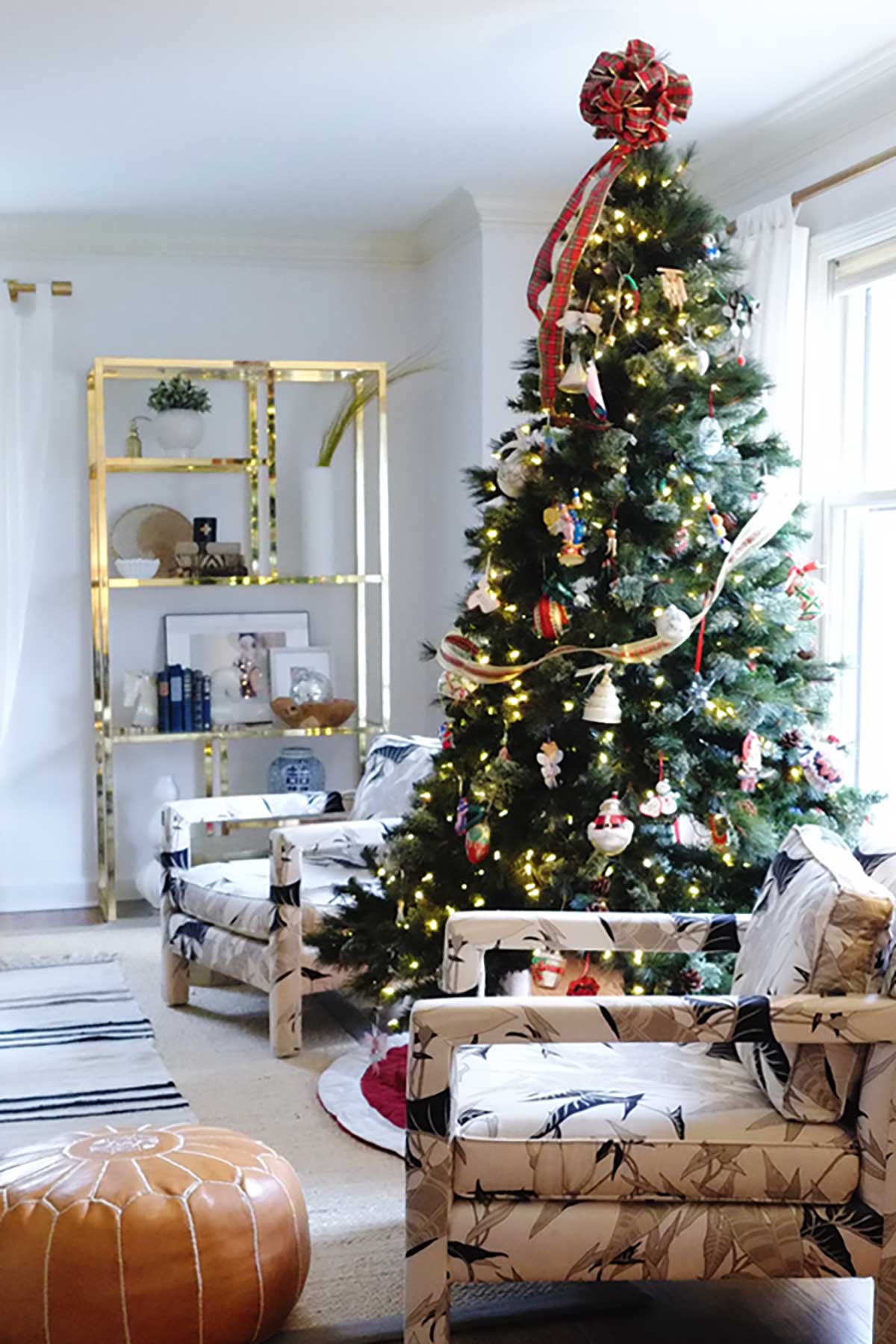 For the last week, I've been a busy little elf, scampering about the house. Moving this here. Moving that there. Digging through boxes that the movers just shoved anywhere convenient in the basement under construction. We had never decorated this new house for the holidays, but I do my best work under pressure. First things first, I definitely needed some garland for the banister.
It was Cyber Monday and the sales were on. Time to overnight some holiday decor. Since moving in, I've wanted to go way more traditional with this house. If you compare this tour to the home tour of the old home, you'll clearly see that change throughout the space. Mid-Century Modern is still present, but I've thrown in some Hollywood Regency and really mixed everything up. Traditionally eclectic? Is that a thing?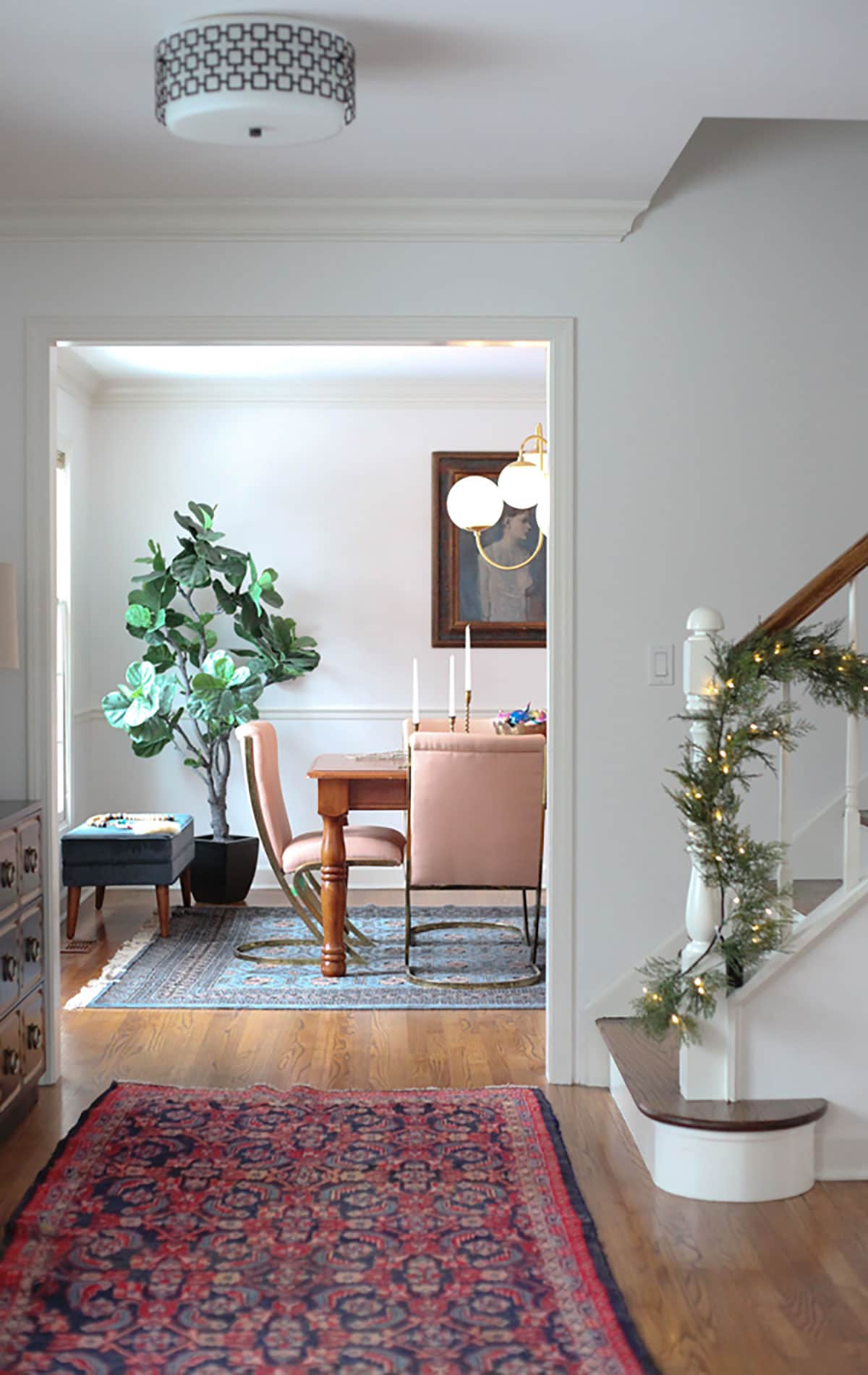 If you compare these latest captures to Instagram, you may notice some differences. The vintage brass globe pendant lighting gifted to me from my friend Raf was moved to the upstairs hallway, and the pink kilim was swapped out for this Persian beauty.
Do you want to see the stockings hung by the chimney with care, or would you rather jump right into that formal dining room? Ha! Ha! Ya, me too! The dining room is one of my favorites and the first space I started working on when we moved in.

Besides the pink Pierre Cardin brass cantilever chairs, my two favorite pieces in here are from my vintage besties. The vintage bokhara rug is from South Loop Loft (I managed to find a similar one here…just not vintage.) Right now it says there's only one left. Eeep, sorry! And the Blue Lady painting is from The Savoy Flea. I love her so. I brought her over on the closing day and promptly hung her here. She was the first thing in, and the only thing never moved.
If you've seen this space before, you're probably giving me a standing ovation for finally buying tapers. Although now that they're in the space, I think they need to be cream…no time for love Dr. Jones. We gotta photograph this space pronto for Lindsay!
Knowing my love for all things vintage, my mom gifted me all of her old ornaments. I went through the boxes and pulled the ones I loved to hang on the tree as a kid and popped them in a vintage brass bowl.


My brass bar cart had been living awkwardly in the corner by the fiddle leaf fig tree, and I had a brass etagere on the opposite side of the room. A little voice in the back of my head has been whispering, "There's too much brass in here." Blasphemy little voice! Besides, moving that shelfie would mean a whole lotta work I wasn't prepared to do. But the voice was strong and looking through the camera lens, now seemed like the perfect time to swap it out for my grandmother's hutch.

Suddenly the bar cart had a real home…as did Grandma Jean's hutch. BTDubs, that is TOTALLY a faux plant.

Marianne from The Savoy Flea texted me as I was putting this all together, and I was frustrated with styling the top shelf of the bar cart. White vase after white vase after white vase…nothing worked. It just floated away into nothingness. Marianne suggested a black vase. Hmmm, no black vase…but I did have a bust of David in my car from last weekend's estate sale excursion…that's normal to have a random head in your vehicle, right?


One day I will find the time to sand and wax that dining room table. But until then, I'll try to be content. Speaking of sanding, there was a tiny part of me that wanted to paint that hutch, but I'm thinking I adore the wood as is after staring at it for the last couple of days. It's pretty beat-up, but that's what gives it character.

Be on the lookout for a cocktail recipe coming soon to the blog in those glam glasses. I got something amazing and nostalgic up my sleeve that you do not want to miss. Old school fun coming your way.


Have you been wondering what's on that blue velvet bench in the back corner?

Oh, it's just a giant horse hair tassel looking for a home.
Speaking of looking…the day I chose to shoot the house, was the first real snow of the season. It couldn't have been more perfect! Little Zozo was patiently waiting to go sledding. Look at that intensity. The struggle is real folks. When your momma writes a blog, bloggery sometimes comes before sledding.

This breakfast nook is a perfect example of mixing old and new. The rug is new (and on sale). The tulip table is also new, but the chairs are vintage. One of these days I'll reupholster them so they match a bit better. Probably on the same day that I sand and wax that table…and on that day I'll get out of my wheelchair and do a little dance.
Let's head into the family room, shall we?

The stockings were crocheted my mom…oh, and for those of you always wondering, look carefully and you'll finally know The Boy's real name. My Cyber Monday holiday decor extravaganza wreath will be looking fly over the mantel once I figure out how to raise the height. BTDubs, if you're looking for more decorating ideas, check out my post on best Christmas mantel decor. There was an existing nail, so I just used that. Let's put our heads together and imagine a world where the wreath is 4″ higher, shall we?
The greyhound fireplace fender was one of those unicorn flea market finds. Straight up dumb luck. I bought it on the spot and asked to leave it at the booth. When I went back to the vendor's booth to pick it up, this fancy dealer lady was trying to hustle the pups out from under me. Seriously, dealers can be cutthroat. Beth (South Loop Loft) had my back and we were ready to throw down…not that we would really do that…I mean, we're a classy bunch. Although we were quite hangry at the time. Anyhoo, as I walked away with my dogs, the hustler told me what a nice piece I had, I looked over my shoulder, winked, and said, "I know." Snark, snark, snark.

The built-ins and I have battled since we moved in. I'll go a few rounds with them and rest for a couple of weeks, then decide to tangle with them again. Each time they look a little better. Those bottom shelves are still my nemesis though. Maybe our little Elf on the Shelf keeps playing with my knick-knacks at night? If you look for him, you'll see him in a couple of pictures. Little stinker is like Where's Waldo.

I loves me a good candle, but I hate the price tag on the ones with fancy, pretty labels. Vain, yes, totally. I can't help it, I'm a sucker for a good candle label. It's the graphic designer in me. If you take a close look below, you'll notice one candle says House of Hipsters. It was .99¢ and had a hideous label but smelled amazing. If you're in the same predicament, I have an easy solution.
Did you know there's a little DIY that shows you how to make these HOH labels yourself? Yup! A free printable with tons of different designer labels you can pick from. So next time you're in Walgreens and find a good-smelling candle for $1.99 that has the ugliest label, BUY IT! Just download, print, and stick. Boom.

This vintage wooden wedding dowry from Afghanistan is one of my newest acquisitions. It's hand-carved, and all the slats of wood fit together like a puzzle…not a single nail. Apparently, it is from the 1920s. I don't know much about this piece except that I adore it, and I snagged it for a steal. If you know more about it, would you share the knowledge in the comment section below?

The living room hosts our Christmas tree…you might know this space as the living room makeover. We had to move a couple of pieces out to make room for holiday cheer, but for the most part, it hasn't changed.

Since the final reveal, this is hands down one of my most favorite places to hang out, chat, have a cup of coffee, and just relax. And that sofa from Interior Define is one of my favorite nooks.

Our tree is decorated very traditionally…and a major shoutout to The Boy…he put the tree up all on his own plus all the outdoor lights. Which soon became the bane of his existence. See, he went to Home Depot on Black Friday to pick up icicle lights for the patio. I was like dude, you're completely insane, it's Black Friday. But it was going to be one of the last warm days here, so it was either face the crowd or freeze your face off.
He found the last three packs of icicle lights on the shelves and beelined his way outta there. Once he got them home, he noticed the packaging had already been opened. Probably returned by someone. Meh, whatevs, right? Upon closer examination, they looked banged up and old and OMG, all the plugs had all been cut off! Murderous rage. Wow, that man can curse a lot. Picture Ralphie's dad in "A Christmas Story". He cursed his way to Target (again on Black Friday) to finish the job. He's was not about to admit defeat.
Before I show you his outdoor lights show, here's a few more peeks at the house and a closer look at the ornaments. Call me sentimental, but I keep all the projects my kiddos make. My mom did the same. can you guess who created this styrofoam beauty? If you guessed me, you're genius-level smart.


If you look closely, you'll again see our elf Wunzy. Cooper named him when he was almost 2 years old. To this day, none of us know why he's named Wunzy, he just is. Today he is playing dress-up in a Barbie gown. Yesterday he was a soldier.

I adore this art by Sketch 42 (Nicole Cohen). You can see more of her photography in the living room makeover reveal. Have that certain someone who's got one of everything? Looking for holiday gift ideas? Her captures are stunning. And in case anyone out there is wanting to know what I want…ummm, ya, anything by Nicole. Just throwin' that out there.

Besides the One Room Challenge bathroom, you'll notice we've come full circle on the main floor. You also get another looksy at that rug I swapped out. What do you think? Yay? Nay? Meh? It doesn't lay flat, and I'm worried one of us is going to break their neck on it. I might put the other one back. Does anyone have any solutions for a janky laying rug? Hopefully, you don't mind me asking all these questions.
If you missed Styling the Dorothy Draper Dresser, then you missed Moses. He's part of the Kingdom by Randal Ford collection. If your family picks names out of a hat, and you drew the animal lover in the family, Randal's got your back. There's something for everyone over there.
In case you missed the bathroom makeover reveal, here it is in all its glory. You're going to either love it or hate it. Wanna see more? Your eyes can't take it? Keep scrolling. There's only one picture. LOL.

Ready for the grand finale? The Boy is so proud of his outdoor setup…that and everything was covered in this perfect layer of fluffy white snow, I couldn't help but capture it.

When he told me he bought a giant snowman for the front of the house, I was like oh dear. Lord help us all. But now that he's up, I really dig him. Sleighbells ring, are you listenin'?

Of course, the German flag is always proudly hung.

Remember, sweet Zozo? Don't worry, we didn't leave her sitting by herself staring longingly out the window all day. Once enough snow covered the ground, both kids finally got to go sledding.

Find More Holiday Home Inspiration
Holiday Decorating Ideas For Your Home
Clever Holiday DIY With Ugly Sweaters