Spritz Cookies
Last Updated on July 19, 2023
When Sarah from Room For Tuesday asked me to participate in her Holiday Cookie Swap Blog Hop, I knew I had to make my Great Aunt Idella's Spritz Cookies. It's a classic butter cookie recipe that blows all others away. So put on some stretchy pants, put on some holiday music, and let's get into it. Don't forget, this is a blog hop, so be sure to check out all the recipes linked at the bottom of this post. Also, be sure to try Chocolate Peppermint Cripsies and Lemon Cherry Holiday Bars.
Holiday Spritz Cookies Recipe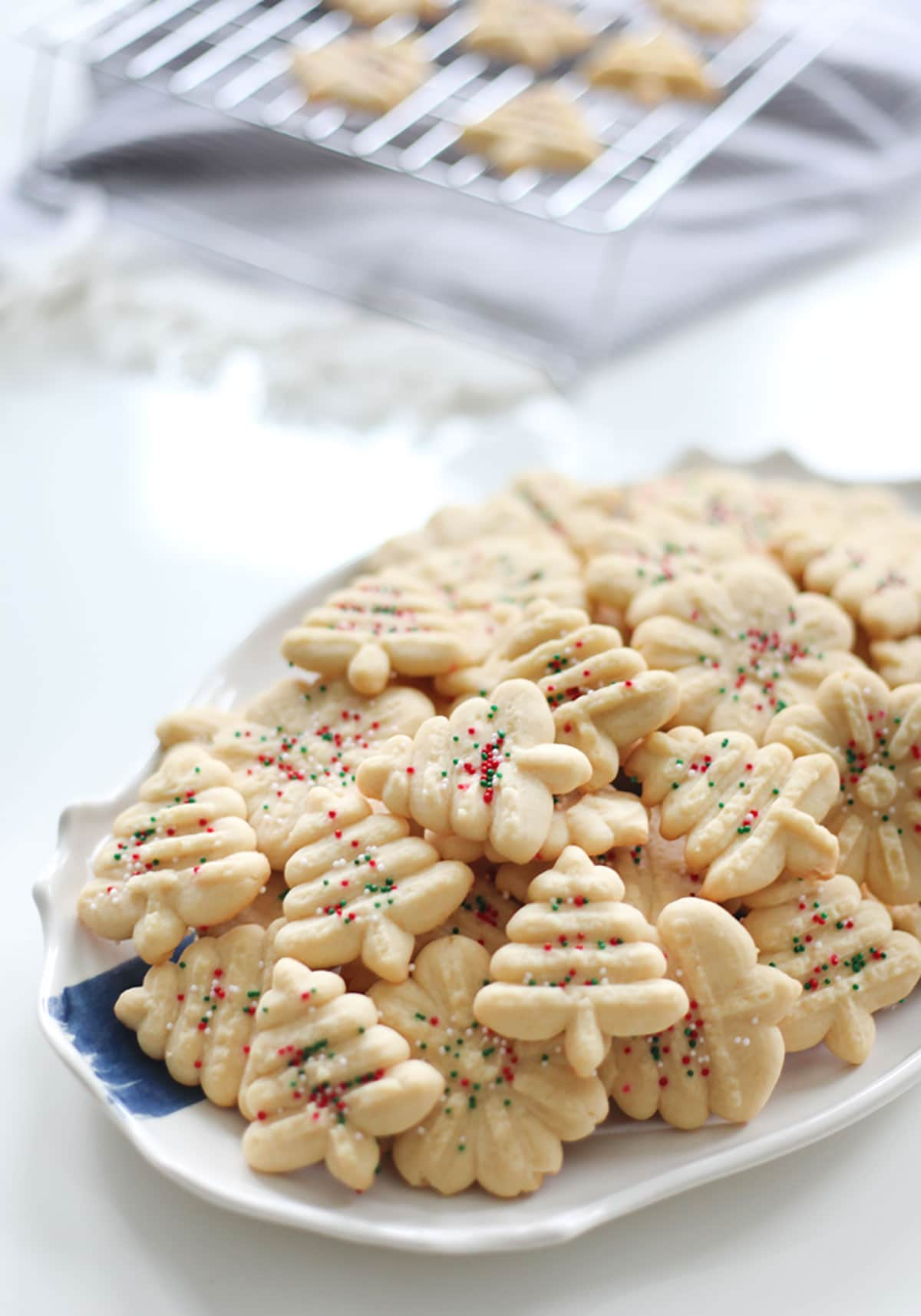 These spritz cookies are a holiday tradition in my family. A classic, melt-in-your-mouth butter cookie. As a kid, I'd leave a plate for Santa in hopes he'd return twice. Every Christmas my mom made these, and I remember standing on my little wooden stool, helping her mix and press…incidentally she also broke her toe on that little stool. I learned a lot of curse words that day. That stool now sits in my son's room, and I chuckle every time I see it. Believe me when I say I watch my toes around it.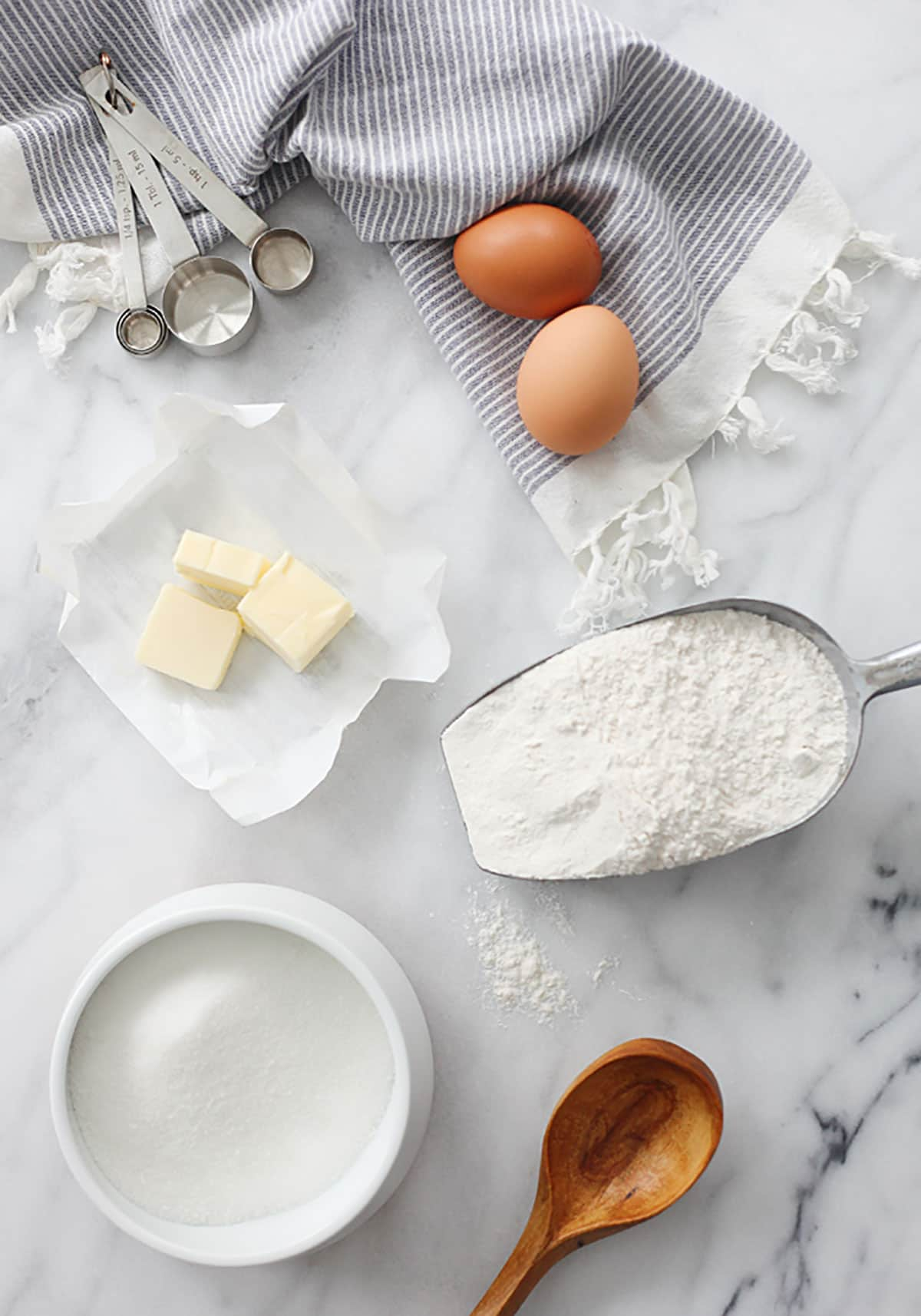 But back to the spritz cookies. If you mix the dough with an electric mixer, the manual cookie press isn't too bad. However, if you mix by hand, you can eat the spritz cookies without guilt and skip the gym. Just sayin'.

You want to make sure you have a good spritz cookie press. I've looked into purchasing an electric cookie press, but they just don't have the torque you need for the thick dough. And believe me, with 4 cups of flour, this dough is thick. The best manual cookie presses I've found are here and here.
Spritz Cookies — Ingredients & Recipe Instructions
2 cups of softened butter (yes, 4 sticks)
1 cup of sugar
2 egg yolks
1 tsp of vanilla (I like to add an extra splash)
4 cups of flour
Holiday sprinkles
Spritz Cookies Instructions
In a large mixing bowl, mix the butter, sugar, egg yolks, and vanilla.
Slowly mix in the flour to stiffen.
Pick your design, and load up your cookie press with dough.
Press cookies onto a Silpat or greased cookie sheet.
Add the holiday sprinkles of your choice.
Bake at 370º for 8-10 minutes.

A couple of things I've learned over the years — only use the egg yolks and not the whites. I've made that mistake and believe me, they just don't taste the same. Add the sprinkles before popping them into the oven. Unless you're frosting, the sprinkles don't stick.
Once they're out of the oven, cool and enjoy. I also like to make multiple batches since they freeze well too, but these are so melt in your mouth good that I rarely have leftovers.

Be sure to visit all the other talented bloggers listed below. I'm so excited to check out all the yummy recipes myself. There's a vanilla bean espresso cookie that sounds amazing. You don't want to miss it.



Now if you'll excuse me, I have to finish my holiday decorating around the house. I'm throwing my annual neighborhood mom party in a couple of weeks, and I'm scurrying about. So many things to prep for. I've got wreaths that need to be hung, new garland for the mantle, and I've just loaded up the clam on the dining room table with vintage ornaments.