Beautiful Distractions No. 11
Last Updated on June 15, 2023
The weather has turned unseasonably cold in Chicago (a foot of snow last Sunday night), so I've been staying warm by the fireplace…perusing Pinterest, and flipping through magazines. My two favorite pastimes that don't happen as often as I'd like. Today I'm sharing some of my Beautiful Distractions, and I'm especially going gaga over my friend Josh Young's holiday home tour over on Domino. His space is jaw-dropping, and his ornament collection is off the hook.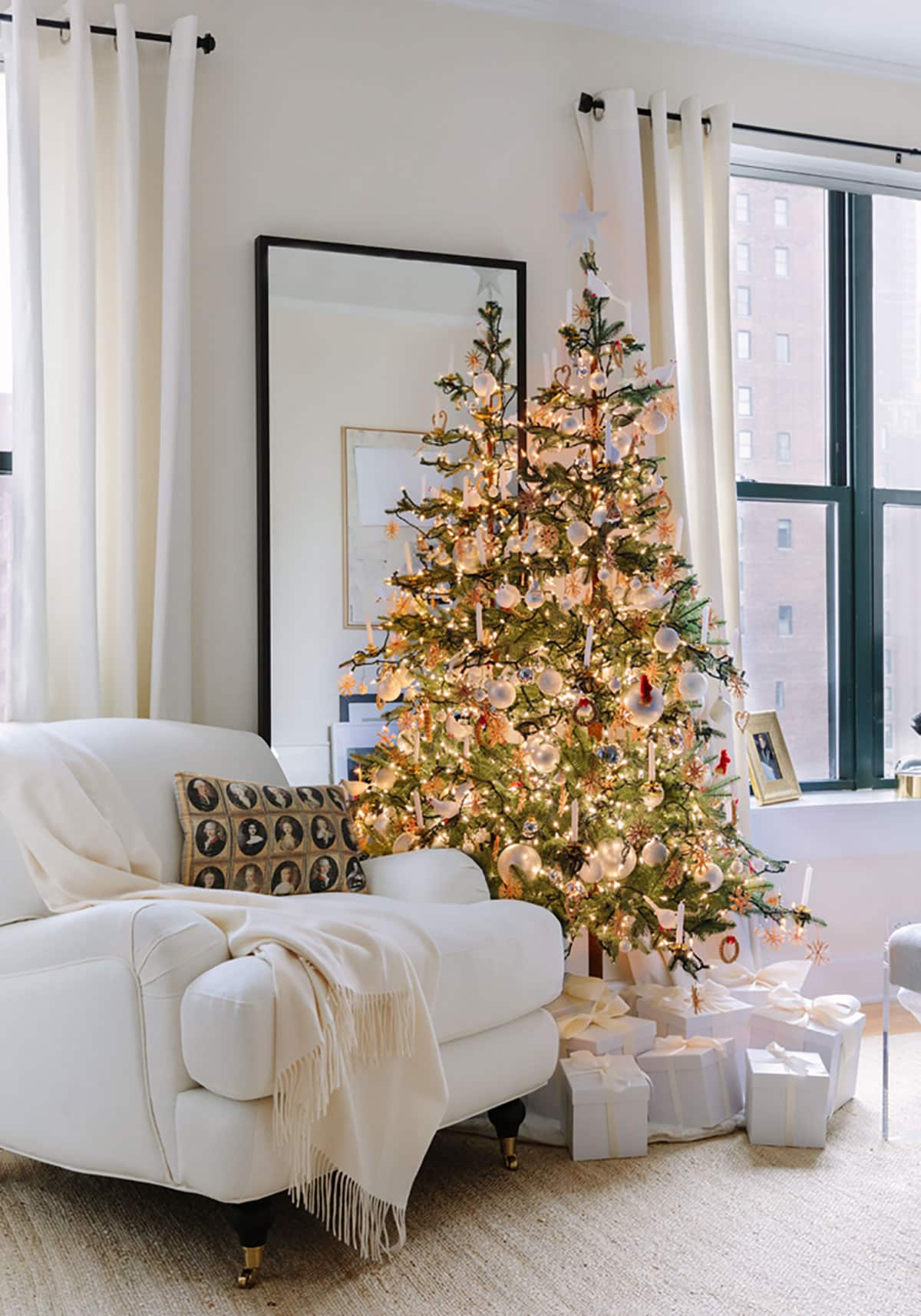 Josh Young Design House /// Photographed by Aimée Mazzenga
Here are a few more things that caught my wandering eye this week.
Want to add a little ambiance to your next holiday party? Anthropologie has a free streaming video just for your TV. A holiday yule log complete with a crackling fire.
Looking to up your table centerpiece game for the holidays? Try this gorgeous brass candelabra (sold out) it doesn't break the bank! Pair it with these black chinoiserie dinner plates (SOLD OUT) and this fresh magnolia garland (no longer available). Voila.
On my last trip to New York, I picked up a few books. You (yes, that is the name of the book) the creep factor is high, but it's not a super scary thriller. I rolled right into A Simple Favor, which I'm 3/4 of the way through. It's a bit predictable; however, the main character is a blogger, so that's holding my interest. Next up is Shoe Dog, a memoir by the CEO of Nike. I was told it's inspirational AF to any creative mind, so I'm giving it a whirl and will keep you posted.
Faux magnolia wreaths that are affordable and look beautiful are a unicorn find. I'm picking up 2 of these (SOLD OUT) for my black French doors in the living room.
If you caught my Instagram Stories, you already know I wallpapered my closet last weekend. It's bonkers good, and I can't wait to share the process, but before that post, I want to find some new doorknobs. I found these contemporary flat black doorknobs, and I'm crushing hard. If you're gonna put the effort in, cover all the details.
I'm presently watching an e-course video on Creative Live. It's called Workflow, Time Management, and Productivity for Creatives. Even though I'm regularly using a planner (yeah me), organizational skills are still not my strong suit. Lisa Congdon (I saw her speak at Alt Summit a few years ago, and she blew my mind.) teaches this course, and I've had a few eye-opening, oh duh, that's so smart moments. If you're scatterbrained like me, this is a must-watch.


More Home Decorating and Interior Design Ideas
I collaborated with Josh Young Design House, and we created the Kyla portrait!
I'm diggin' this mixtape art by Floyd P. Stanley — see what else I'm obsessed with over on Beautiful Distractions No. 10
This ugly sweater ornament DIY and easy and easy Christmas craft!
To celebrate the holidays I'm giving you a free DIY Holiday Gift Tags Printable. Download it now.
Fall Home Tour see how I cozy up my home!