One Room Challenge – Week 1
Last Updated on November 29, 2022
Oh One Room Challenge…you are the mistress I love to hate. Your pull is strong my dear. When I don't participate, I feel left out…but when I do, I question my own sanity. For those unfamiliar with the One Room Challenge…or The ORC as my fellow bloggers refer to it as…it's a challenge to makeover a room in only 6 weeks and document the process. Start to finish. Some succeed, others fail. It only happens twice a year. Motivating? Yes. Challenging? Yes? Complete and utter crazy ensues? You betch'yor bottom dollar. It's time to slap on the helmet, buckle down the chin strap, and hold on tight. One Room Challenge Fall 2016 is underway!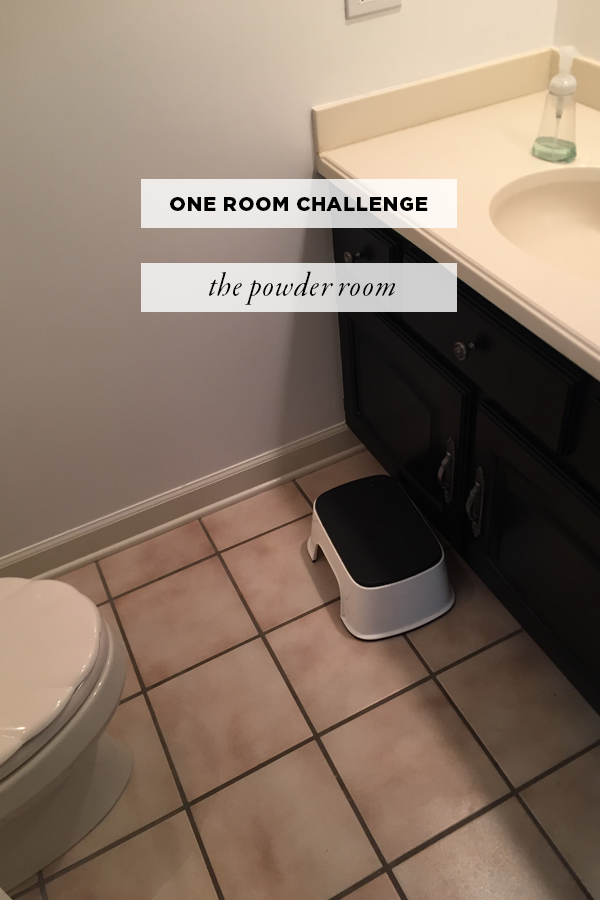 Last Fall, I participated in my first ORC and gave my office a little makeover. The room was a complete and utter embarrassment. A maze to walk through, and if you fell down, you might not be found. On November 11, I wrapped..barely…I finished the final post only moments before the deadline. I was happy with how the space transformed, but that was in the old house. Yup, my pretty little office is gone like the wind. I thought about an office redo for this year's ORC, but if you thought my last office before was bad, you ain't seen nothin' yet. This one is a mic drop like Beyoncé at the VMAs. No way, no how. Besides, I just wrapped the DesignOff living room makeover yesterday. I needed to keep this baby small. Low budget. I needed to pick a tiny room.
I've been looking around the new house for the past couple of weeks playing eeny meeny meiny moe. Being that it was built 30 years ago, there was a lot of eenies to choose from. I landed on the main floor powder room. I mean, it's a powder room, right? How difficult can a 30 sq. foot room be?
An easy out would have been to use the flooded basement, oh ya, did ya hear? The Boy flooded the basement. I came home one night after work and my house looked like this…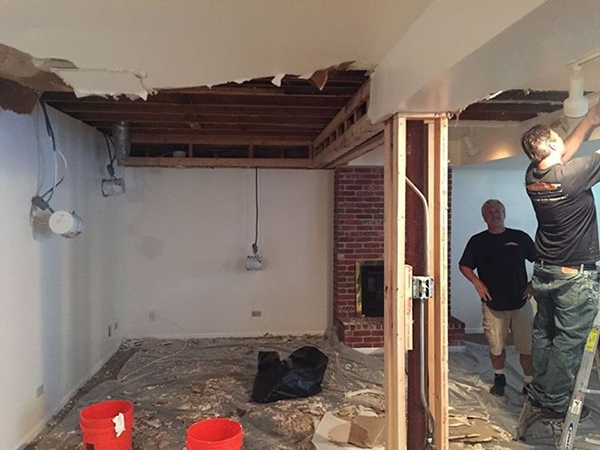 Yep, my finished basement…albeit a bit dated looking…in my brand new house was ruined. Carpet…gone. Drywall…gone. Lighting…toasted. Although that ugly fireplace remained unscathed. I drank a lot of wine that night and got to watch any TV show my pretty little heart desired. Marathon of Sex in the City? Sure honey, that's my favorite. Can I rub your feet? Get you a hot towel for your neck? Refill on the wine? Let's top you off.
Anyhoo, gutting and renovating the entire basement plus furnishings for The ORC was not in the cards or the budget folks…especially not after buying a house. BUT since I had a contractor here for repairs, I decided to take on yet ANOTHER reno for the One Room Challenge (I like to keep it spicy around these parts) and that is the tiny powder room on the main floor. The bathroom that my children use on a daily basis…really the one everyone uses. I mean cuz, why not, right?
Our painter referred us to Gerry Reinhardt Renovations, and that pretty much brings us to today. Gerry has agreed to not only take on the bathroom makeover but he's also agreed to deal with me. See, I'm not the average bear. I don't waltz into a project wanting your standard vanity from your local big box store. No sir-ee bob. I like to make things a wee bit more difficult.
See, I bought this little antique cabinet from an estate sale a few months back, and I've been trying to find a home for it. If you want to get technical, this is exactly where I was hoping it would wind up, but I didn't think making over this room would be so easy to swing. And it wasn't..it took a flooded basement to get here, BUT it's H-A-P-P-E-N-I-N-G people! It's happening!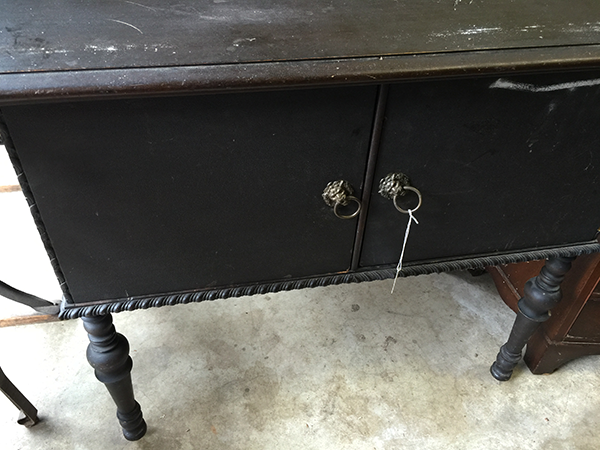 The cabinet is in pretty rough shape, but I think with a little TLC we can make it work. And check out those brass lion heads! I about died when I saw them. A coat of black paint, and I'm sure they make some sort of waterproofing stuff to slather on it…right? BTDubs, if you have any advice on this, I'm all ears.
The Boy is letting me splurge a bit, so I've partnered up with Clé Tile to give this room the extra oomph it needs. I want something truly unique for flooring. Like I want someone to open the door to this bathroom and forget they need to pee. I want my guests to want to hang out in this little jewelry box of ERMERGERD! I explored many avenues, but Clé Tile gave me that wow factor I was searching for. Now if I can just decide on a pattern. Here's my narrowed-down list.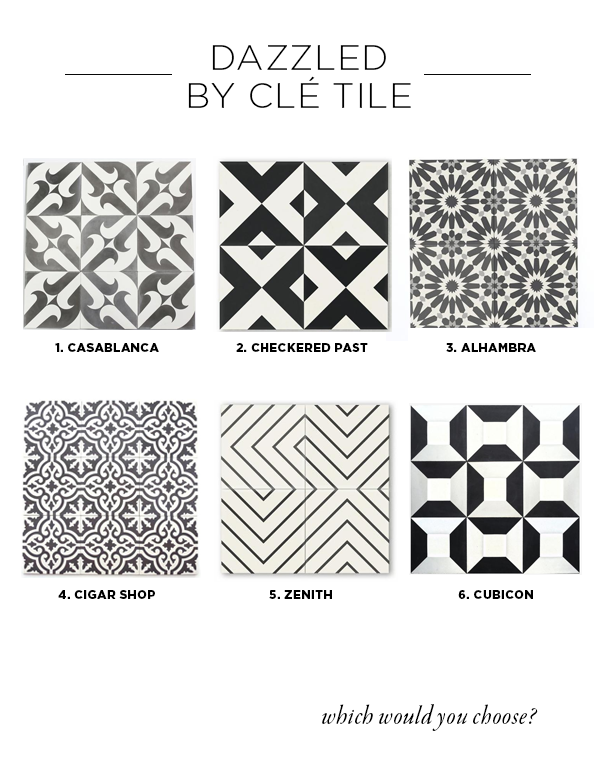 So what do you think? Can Gerry handle me and my crazy? Will everything arrive on time? Will we run into issues with the tiny space? Only time will tell. Check back next week for an ORC update. Hopefully, I'll have my mood board ready, hard hat on, and sledgehammer swingin'! Wish us luck…well, wish Gerry luck!