Foyer Rug
So I need your help — like I really need help. My foyer is finally no longer a merry-go-round of random tables, chairs, trunks, and shelving. Yeah me! That in itself is winning. This has been a long 3-year process to finally get it where I feel satisfied with the look and feel. I really liked the idea of shelving in this space, but with small children, my precious knick-knacks seemed to wander off or [sad face] break into a million pieces — no open shelving in the foreseeable future for this gal. However, the lightbulb shone brightly above my head when I found this barrister cabinet at the Randolph Flea Market in Chicago, and I thought the height would fit nicely under the stairs.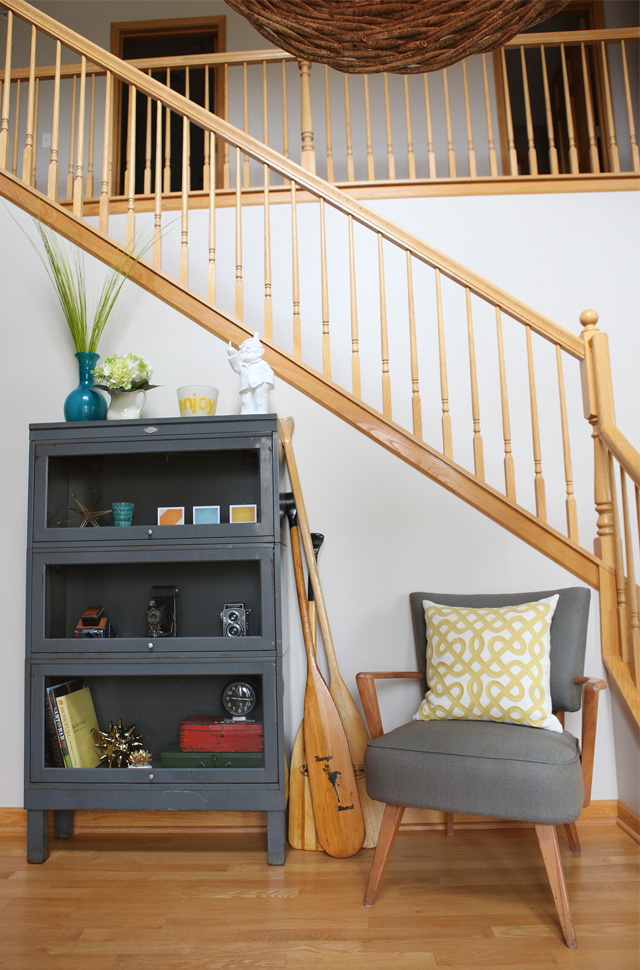 The glass doors protect my precious vintage SX-70 polaroid camera and deter sticky little fingers. The vintage paddles were found in my hometown of  Baraboo, WI, and the chair is a reupholstered vintage Haywood Wakefield that I found on craigslist. Total and complete score!
Anyhoo, here is my dilemma. I know I need to add color and love bold splashes in other homes but shy away from it when it comes to my own. Color is a commitment, but I'm forcing myself into color with an affordable rug (and possibly some wallpaper — baby steps here.) Let's stay focused on the rug. I need help. I don't think I've ever purchased a real rug. Oh sure, I have a jute rug by the front door, but I'm talkin' about a fancy rug. One with color and pattern. One that I'm going to be committed to. I thought I found the perfect rug at Lulu & Georgia, but it was out of stock. I would have cried in my soup had I been eating soup.
I've picked out a few below. but let's refresh, this rug will live in the foyer, I will have people with dirty shoes coming thru the front door, so nothing can be too light or white (although I have picked one light rug in a light orchid color…it's gawjus!). I've looked at Persian rugs, Turkish rugs, vintage kilim rugs, trellis rugs, chevron rugs. My mind is spinning with rugs. I know I need a rug, but decisions, decisions. What do you think?  Let's go shopping together, shall we? Sources are listed below…also, the Randolph Flea is coming up on July 26 and 27 of this month. Seriously, it is one of my favorite fleas to attend. The finds there are so unique plus they have music and great food — you can't go wrong. Come meet me there!
1   ///   2   ///   3   ///   4   ///   5   ///   6   ///   7   ///   8   ///   9   ///   10   ///   11
NO LONGER IN STOCK