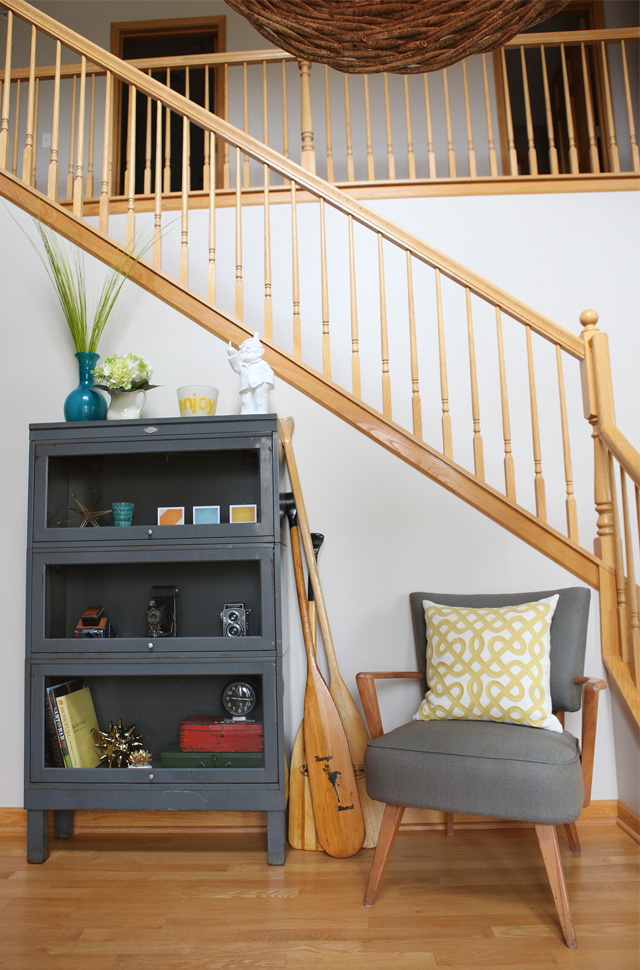 hey guys! so i need your help…like i really need help…my foyer is finally no longer a merry-go-round of random tables, chairs, trunks and shelving…so yeah me! that in itself is winning. this has been a long 3 year process to finally get it where i feel satisfied with the look and feel. i really liked the idea of shelving in this space, but with small children, my precious knick-knacks seemed to wander off or [sad face] break into a million pieces…so no open shelving for this gal in this hipster home. however, the lightbulb shone brightly above my head when i found this barrister cabinet at the randolph flea market in chicago, il, and i thought the height would fit nicely under the stairs. (i will have to say it was a very squeaky ride home with this large metal cabinet and its hinges in the back of the SUV.) the glass doors protect my precious vintage SX-70 polaroid camera and deter sticky little fingers. the vintage paddles were found at oak street antiques and yarn in baraboo, wi…and the chair is a reupholstered vintage haywood wakefield that i found on craigslist…total and complete score!
so here is my dilemma…i know i need to add color…i love bold splashes of color when i see it in other homes but shy away from it when it comes to my own. color is a commitment…but i'm forcing myself to add a bit of commitment with a rug (and possibly some wallpaper…but let's take baby step here…besides, that's material for another post…coming soon!) let's stay focused on the rug here. i need help. i don't think i've ever purchased a real rug…oh sure, i have a jute rug by the front the door, but i'm talkin' about a fancy rug…one with color, one with a pattern…one that i'm going to be committed to. i thought i found the perfect rug at lulu & georgia, only to find out it was out of stock. i would have cried in my soup had i been eating soup.
i've picked out a few below. but let's refresh, this rug will live in the foyer, i will have people with dirty shoes coming thru the front door…so nothing can be too light or white (although i have picked one light rug with orchid…it's gawjus!). i've looked at persian rugs, turkish rugs, vintage kilm rugs, trellis rugs, chevron rugs…my mind is spinning…i know i need a rug, but decisions, decisions…what do you think?  let's go shopping, shall we? sources are listed below…also, the randolph flea is coming up july 26 + 27 of this month…seriously, it is one of my favorite fleas to attend…the finds there are so unique plus they have music and great food…you can't go wrong. and who knows, maybe i can score an amazing rug find.
1   ///   2   ///   3   ///   4   ///   5   ///   6   ///   7   ///   8   ///   9   ///   10   ///   11