Wrinkles, Chemical Peels, And Botox Oh My
Last Updated on January 13, 2022
When people find out I'm in my early 40s, I'm always asked what I use on my skin. Well, I've been getting facials since my late 20s, and moisturize, moisturize, moisturize. Yes, I've always been pretty much skin obsessed, but since I started a
daily skincare routine
and regular appointments with a dermatologist, my skin hasn't looked better. Today I thought I'd share with you a few services I've had done, what I thought about them and if I'd do them again.
First, let me start off by saying, I wish I would have taken better care of my skin. Yes, it's been sunburned. Yes, it's been in a tanning bed more times than I care to admit. Yes, I used to smoke (which ages your skin faster than almost anything else—don't do it). No, I don't wash the makeup off my face every day. But, I have done my face a few favors.
Almost every day I wash my face with a Clairsonic. If I'm in a hurry, I'll skip it, but I can definitely feel and see a difference. It feels rougher, and it's dull. I don't take it with me on vacation and always regret that decision. I even convinced The Boy to use it, and now it's in his morning routine as well. But let's not tell him we know that…cool?
As far as a facial cleanser, for the longest time, I used Cetaphil. Then Sephora gave me a sample of Bliss Fabulous Foaming Face Wash, (which apparently they no longer sell) and used it until I randomly started breaking out. That's when I made the switch to Clinique's Acne Solution. All were great cleansers, but then I scheduled a visit to the dermatologist for a skin check.
After my full body scan, I was like, um, seriously, I'm 40 years old and breaking out like I'm 14. What gives. She prescribed Clindamycin Phosphate — a topical gel that cleared every single blemish in 2.5 seconds. However, it came with a stipulation: use in combination with benzoyl peroxide. Apparently, the two work together to remove excess oils, open pores, and decrease the number of bacteria that cause acne. My dermatologist recommended PanOxyl face cleanser. Works like a charm, costs $10, and I don't plan on ever changing unless this regime stops working its magic.
Let's be honest, when you're in your 40s and at the dermatologist, you ask about wrinkles. The amount of options out there is pretty much amazing. This was my first toe-dip into unknown waters, and it felt like a slippery slope (I say this because once you start, it's hard to stop). My main question was, "how do I fix all this?" I asked while making a circular motion around my face.
She laughed. We talked about microdermabrasion versus chemical peel. We talked about IPL (intense pulse light or as I like to refer to it as the intense pain light). Botox, fillers, and laser hair removal. See, told you it was a slippery slope.
Because I don't have scarring or a lot of brown spots on my face, microdermabrasion was not my solution. She explained, if I wanted a healthy glow, I should look at a chemical peel. Now in my mind, I immediately envisioned Samantha's beat orange face.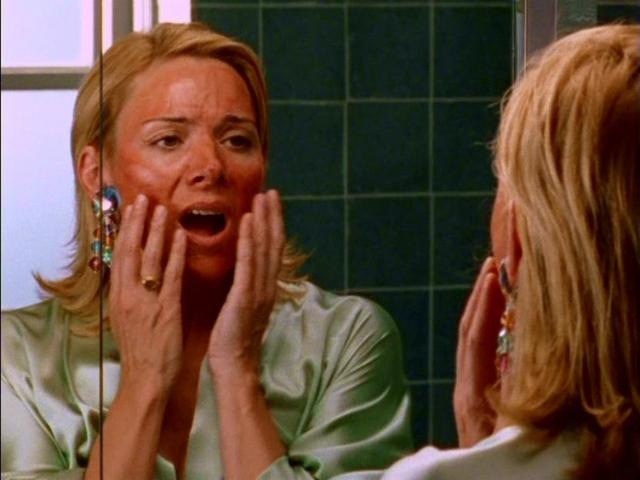 Ya, no thank you. But she reassured me I'd be able to go out in public immediately, so I took a giant leap and started monthly Sensi peels. A milder peel that would brighten and strengthen my skin and stimulate natural collagen. I just sounded really smart.
After a few days, my skin started to peel, and could definitely see a big difference. (Side note, after a peel, don't use a Clarisonic. You've already removed the dead skin.) Mild peels are amazing for my skin, and hell to the ya I do another one any day of the week. The biggest question I'm asked about a chemical peel is, does it hurt? No, not really. That is if you're doing a mild peel. (A deep peel is a totally different ballgame which I don't intend to try any time soon.) There is a bit of a burning sensation, but nothing that's intolerable. I think the worse part is the toner that is wiped on your face to remove whatever the soap missed before the peel is applied. It stunk like nail polish remover which made it difficult to breathe. I quickly learned to hold my breath during future peels.
What on earth is this intense pain light Kyla…in a nutshell, it's a laser that sends strong pulses of light into the skin to repair different types of damage. Be it "sun spots", "age spots", fine lines, rosacea, broken capillaries, or acne. I have a boatload of freckles. As a kid they were adorable, but as a woman with 40-year-old skin, well, they just look splotchy. Basically, they zap your face with this evil machine and a few days later, you notice the brown spots become darker, and then they just disappear like magic.
I did this procedure in conjunction with laser hair removal and the Sensi peel, but not all at the same time. We scheduled a monthly routine where I'd go in for my laser hair removal and every other visit was either a peel or IPL. You'll really hurt your skin if you do laser treatment and peel at the same time.
During the IPL treatment, I was laying down with goggles on to protect my eyes. My aesthetician gave me cool air to blow on the area being zapped (I also used the blower for the laser hair removal). Both procedures are uncomfortable, but the cool air helps numb the area being zapped. Does it hurt? Imagine pulling a thick rubber band back and snapping it as hard as you can on your face. That is the feeling of IPL. It's not horrible, but it's not awesome either. BTDubs, hair removal doesn't hurt as much. After the procedure, you cannot go out in the sun. (This goes for chemical peels as well, so plan accordingly if going on vacation.)
Now let's talk about injectables — mainly Botox. Tiny amounts of highly purified botulinum toxin protein are injected into your skin. Kinda scary. I have lines on my forehead. Not bad lines, but lines all the same. With the amount of money already invested into facial treatments, I figured this was a sure thing. Botox is not permanent and lasts for about 3-4 months.
That's better than waiting out a bad haircut, so why not try it. Another detail shared with me, Botox actually is anti-aging. How so? Well, the muscles won't contract. Because you're reducing muscle activity, those lines are not becoming increasingly more and more visible over time. Since becoming unemployed, I'm on a Botox break (sadzies because I do miss it), but I have noticed the lines and crows feet are not as visible as they once were. Just sayin'.
Does it hurt? Ummmm, not too bad. My picture was taken from a few different angles with this crazy contraption, and the dermatologist then rubbed a topical numbing solution over the area to be injected. It did help (although it's somewhat stubborn to remove). She asked me to frown, smile, raise my eyebrows, and squint — all the while she marked dots on the lines where the injections were to go. The first time around, I chose to only do my forehead (baby steps). The second time around, I was all in — forehead and crows feet. I closed my eyes as she pinched the skin in between her thumb and forefinger. In went the needle. IPL hurts WAAAAAAAAY more. This was like getting a flu shot. It's a tiny needle. But there was a minor stinging sensation.
 There were two things I didn't expect. The first was don't lay down or spend the day bent over. Gravity will take its toll and you will not like the results. Also, don't monkey around where the Botox was injected. Basically, just leave it alone and don't take a nap. There were a few red marks from the needles, but I could still go out in public.
Second, Botox is not instantaneous. It takes about 3 days to see the results, but when you do, you'll feel and see a difference. The first month, I wasn't so sure of my eyebrows. When I raised them, only the very outside (closest to my ears) moved. I felt like I looked different. However, after Botox was when I really started getting compliments on my skin.
Well, that's everything I've tried. It is worth it? Meh, that's entirely up to you and where your priorities stand. For me personally, having nice skin is just something that's important to me. It makes me feel good about myself. I don't need new shoes or new lipstick. Just inject me with Botox, and I'm a happy gal.