Beautiful Distractions No. 6
Last Updated on February 9, 2023
The Boy has been traveling his toosh off, and I'm so behind. However, I did manage to pull some distractions together for you. These are just a few things I've been eyeing or reading while he's been gone. To all you single parents out there, I bow to you. Not sure how you do this day in and day out and stay sane.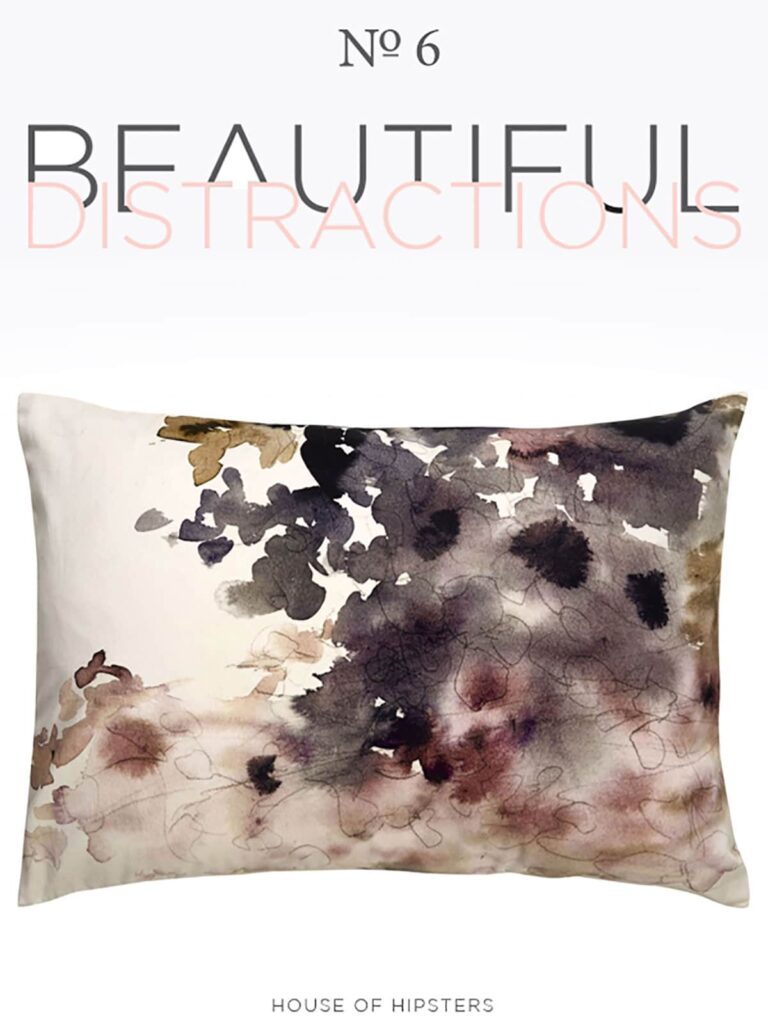 Someone asked me the other day what my favorite childhood movie was. Wow, what a fun questions, but I couldn't narrow it down to just one. I had a Top 7 plus in no particular order: anything John Hughes touched (cuz you can't just pick Pretty In Pink ya know?), 4 Rooms, Goonies, Bring It On, Amelie, Cherish, and The Sweetest Thing. What are you favorites?
Want a raunchy, make you giggle advertisement for a new line of ratty disgusting porch sofas? Search no further, I've got you covered.
This house kinda makes me what to pick up and move to Baltimore.
If you do not know how to pronounce Chinoiserie, then you should read this interior design glossary complete with a pronunciation guide.
I read Emily Henderson's Not Having a Plan post the other day and really taking a look at what is happening in the house. Might be rethinking a few spaces.
I've been sitting out on the deck wrapped in this beauty (no longer available) on a nightly basis with a glass of wine. It's been heavenly.
The colors in my office have transitioned from black, ivory, and green to ivory, grey, yellow, and blush. I'm digging this new color palette and think this floral watercolor pillow would look amazing in the space. So far, my office has only been seen on Instagram…haven't seen it? Take a looksy.
Now that the house has been repainted, we are looking for a new mailbox. Ours is ready to keel over. I've been eyeing this one. (no longer available)
I've always been obsessed with skincare and cosmetics, and one of my favorite brands is Glossier. I want to try this blush and never walk out of the house without Boy Brow.
Art obsessed, one might call me. Old, new, abstract, portraits, landscapes, you name it. If it's beautiful, I'm like a moth to the flame. Right now, I'm obsessed with Frances Berry, and her Instagram skate sessions make her that much cooler. When I grow up, I want to be Frances.
The Boy is slightly color blind, and I've always wondered how the world looks if I couldn't see color properly. Bored Panda tested different images to see how different colors look through different Color Vision Deficiency (CVD) lenses. Click here to check it out for yourself.


More Eclectic Home Decor Ideas and Interior Design Tips
Wanna make your home look expensive when you don't have the luxury of a high budget? Try this!
Spruce up your fireplace styling with these mantel decor ideas.
Bobby Berk told me he has always invested in quality bedding. Here's the ultimate guide to the best sheets and bedding.
Love plants as decor but have a black thumb? No worries! I have a rounds ups of the best faux olive trees and my favorite faux fiddle leaf fig trees.
Find affordable velvet curtains to cozy up your space and soften your windows.
Looking to decorate on a budget? Check out these clever ideas.
If you want to spruce your backyard, check out this round-up of the best outdoor patio furniture.
Ever second guess yourself on what rug size to buy for a living room? Here lie the answers you desire.
The Primrose mirror is still trending hard, but the price tag crushes my soul. If you're looking for an Anthropologie mirror dupe that doesn't break the break. This one is for you.
If you're looking to replace your ceiling lights, here are a few boob light alternatives.
If you want to make your home a bit smarter, check out the best smart home devices I've tested and my post about smart lighting for your home.
Here are seven genius ways to hang a picture, including hanging art with two hooks, hanging a gallery wall with no tools, and hanging a picture without damaging wallpaper.
Love shopping for vintage decor? Get my 9 expert tips on how to shop a flea market like a pro.