20 Fashion and Beauty Fall Essentials
Last Updated on February 20, 2023
Hello, darlings! Do you ever find the perfect jeans or lipstick and just want to tell the world about it? Or did you ever buy a shirt and think, "well, that was disappointing," and two days later, your co-worker was like, "oh, I so could have told you that shirt sucked." Well, I've tried it out, so you don't have to! Kinda like a personal virtual shopper! For today's post, I've decided to share with you my tried and true purchases that I just can't live without—my go-to fall essentials.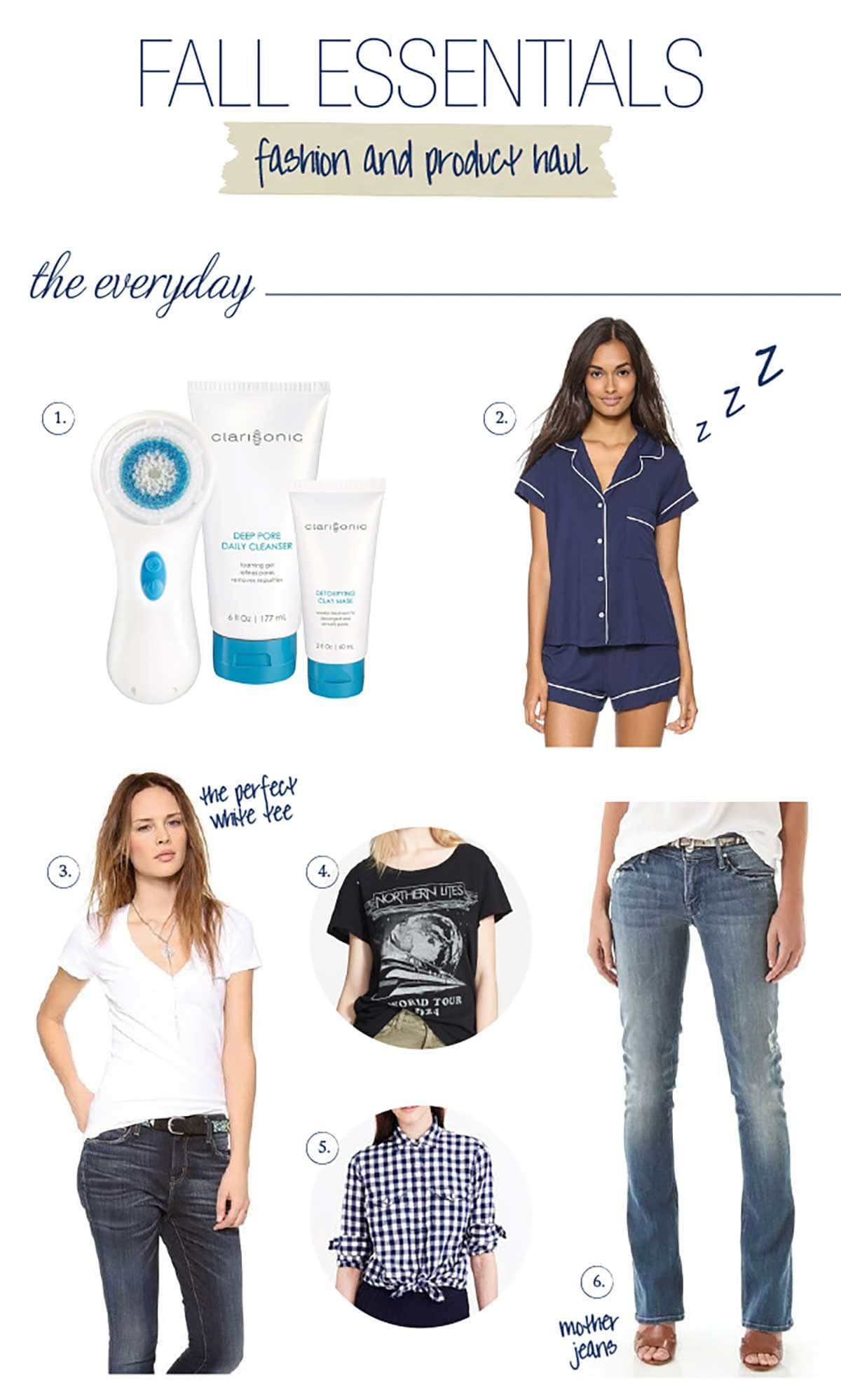 1. CLARISONIC: My skin has not looked better since I started using the Clarisonic. Even the boy uses it daily. It gives you this awesome glow, and I feel like my wrinkles aren't a deep as they use to be. They are a bit spendy, but the juice is worth the squeeze ($10 if you can tell me what movie that is from). It manages to get all the yuck off that a washcloth alone can't.
2. EBERJEY PJs: Otherwise known as the best PJs on the planet. Seriously, so soft to the touch, a classic look and a 'lil bit of sexy is thrown into the mix here ladies…and they look amazing on to boot. Do yourself (and your significant other) a favor and go buy these pajamas now. You deserve to sleep in something other than that old crappy t-shirt from college.
3. PERFECT WHITE T-SHIRT: Daftbird makes the perfect white tee. So many t-shirts out there have this boxy look, and I don't know about you, but that look does nothing for me. This one has a great figure-hugging silhouette. I like to pair mine with denim jeans and a long gold chain necklace…a classic, simple look for any season.
4. CURRENT ELLIOT BROKEN-IN T-SHIRT: I wore this t-shirt to the PHOX concert last Saturday night and paired it with camo cutoffs from Madewell and navy Vans from Imogene and Willie. My girlfriends had on these cute maxi dresses, but comfy and casual was the name of the game for me that evening. This tee also has fun detailing that looks like moth holes, giving it that super worn-in look. LOVE! (I also wore a neon pink bra under…the holes helped it peek-a-boo through…super cute.)
5: THE PERFECT BUTTON DOWN: A lightweight gingham button-down is a necessity for any closet. I like to pair mine untucked (or just one side tucked) and peeking out from under a navy lightweight sweater (speaking of which, I lost mine, and I'm hoping J.Crew will bring back the Tippi sweater or I will be screwed this fall), layered under a mustard cardigan and belted at the waist with that braided lovely below. A seriously striking outfit with a distressed skinny or a dark wash wide leg. This is one of my favorite outfits. It's kinda prepster slash hipster.
6: MOTHER JEANS: Anyone I've ever spoken to who wears MOTHER denim jeans has screamed in my face with glee, "OMG!!!! BEST JEANS EVER!!!!", and they're right. The Runway skinny jeans combine every aspect of what you love in skinny jeans and flares…hence the name…who knew they could do that! These have soft whiskering and heavy distressing. MOTHERs are my go to jeans; they fit well and keep their shape.
Fall Wardrobe Basics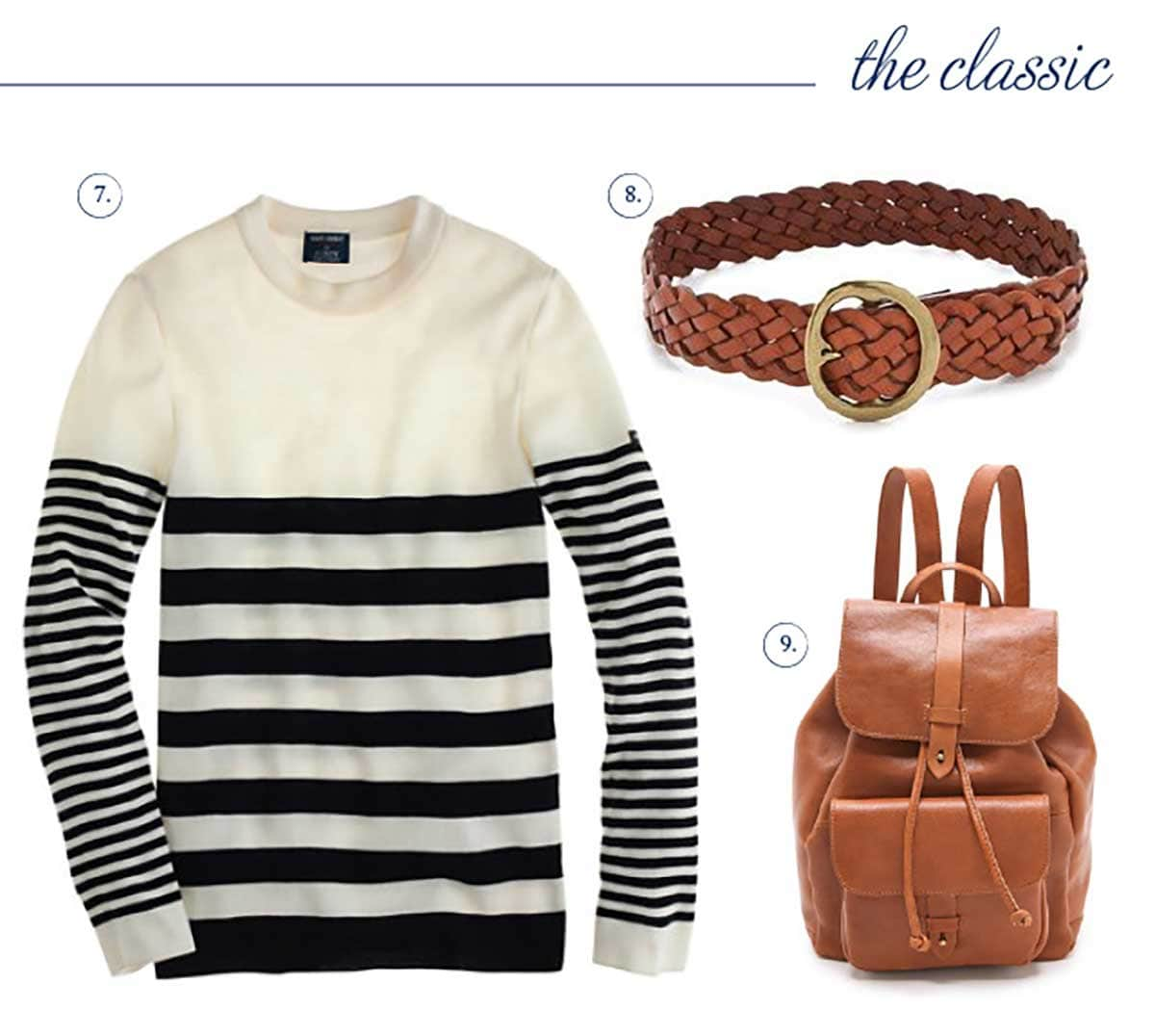 7. NAVY AND WHITE STRIPED SWEATER: I'm a sucker for navy and white stripes. I can't walk past a store window displaying something navy and white stripes without stopping to try it on and probably purchasing. This new arrival for fall by Saint James for J.Crew is a winner in my book. Top it off with a few layered gold necklaces and short red nails; ya, I'm out the door.
8. THE ONLY BELT YOU NEED: I like this belt by B-Low because it handles my weight fluctuations. The braid allows you to loosen or tighten as much as you want and not be committed to a hole. It helps that the color is also the perfect shade of brown.
9. THE PERFECT BACKPACK: Did you read my cute backpack round up? If not and you're searching for one, please go read it STAT. If you read it, you've probably been dying to know which bag I chose…because THAT is important…the Madewell Transport Rucksack! This last month it's been takin' quite the beating to and from the train. No complaints here and a ton-o-compliments!
Perfect Skirt For Fall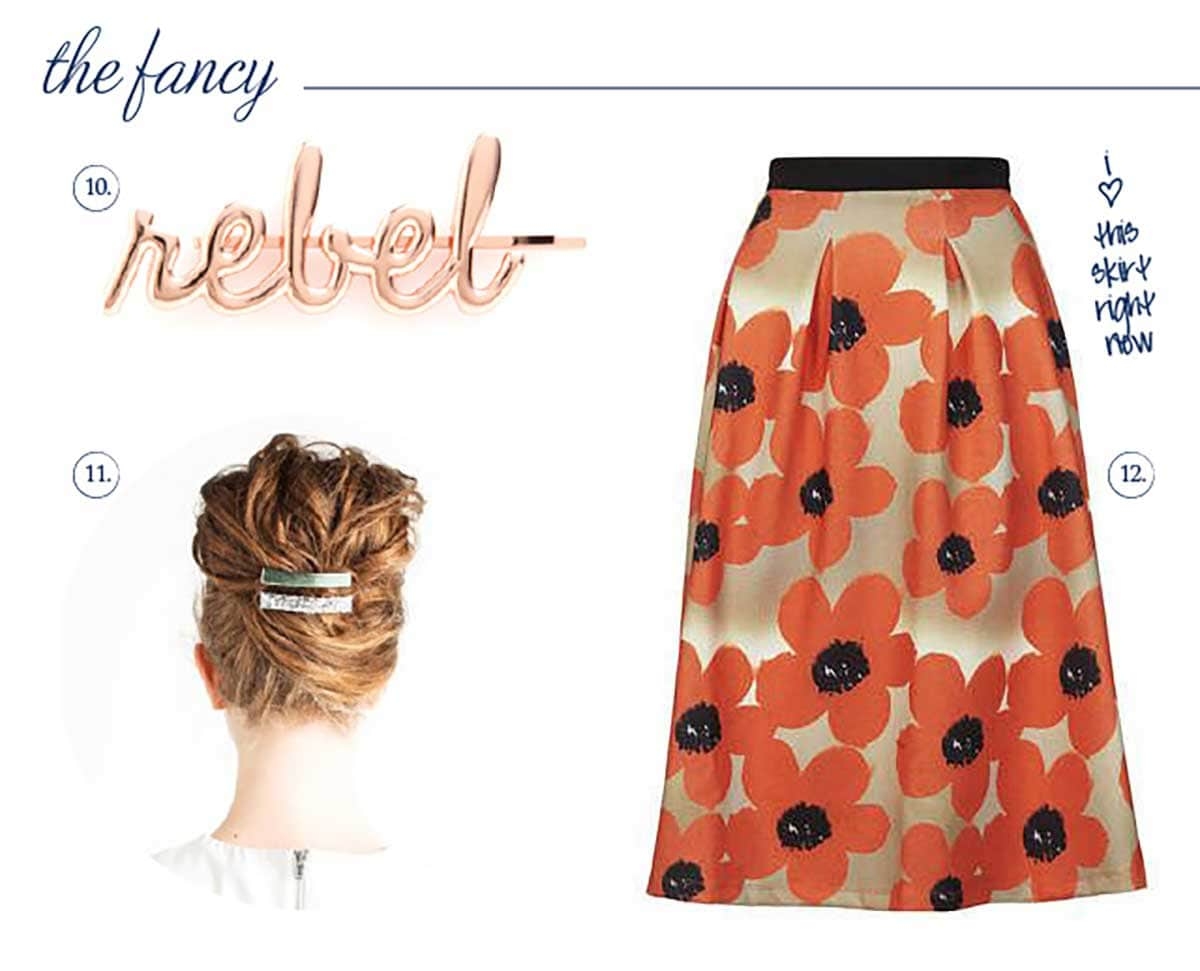 1o. & 11. FUN HAIR ACCESSORIES: Ban.do's hair accessories really pack one heck of a colorful punch to the face. And how could they not? The entire company is all about disco balls, confetti cannons, patterns, and lots of sparkles. Every single time I step out in Ban.do, I get like a zillion compliments. Be prepared to hear, "OMG! Where is that from?" It will happen.
12. THE PERFECT SKIRT: Clutch the pearls I love this unexpected (for me) piece, and being that I have an upcoming wedding to attend, this skirt is gonna look just fabby! When it comes to florals, I like to keep them simple. This skirt will be paired with a cropped white sleeveless top from Alice and Olivia, and I think a simple pair of patent black pumps (the heels have black and white stripes…a-mazing). However, this can also be toned down for work by tying a denim shirt at the waist and popping on a pair of black sandals…maybe even Birkenstocks? If my sister-in-law is reading this, she just crinkled up her nose at me and is shaking her head no.
Fall Beauty Product Essentials

I'm going to start off the product section by admitting this: Hello, my name is Kyla, and I am a product whore." I can't help myself…if a brand tells me it's going to hold, plump, thicken, smooth, lengthen, condition…you get the picture…well, it got me hooked. These are a few of my favorite must-haves.
13. THE PERFECT MASCARA: I love it when Sephora sends me those little samplers of mascara when I order from them. It makes it so much easier to test them out…because how gross would it be to use one of the testers at the store? Hello! Pink eye! At the moment this one by Benefits Cosmetics seems to be a favorite. It gives my lashes a really thick, bold, bushy look minus the yucky clumping. The brush has plastic bristles that grab onto even the babiest of lashes. I don't leave the house without putting on my face. Another that I'm quite fond of is TARTE's Lights, Camera, Lashes 4-in-1. Both of these also lengthen and condition lashes.
14. PERFECT RED POLISH: Short red nails are one of my favorites year-round but especially for fall. Butter Come to Bed Red is one of my favorite shades. I first tried it at the Ritz Carlton during my spa day in Maui. It reflects a mood somewhere between quirky and seductive. Yes, I'm also partial to the dark purples and navy blues that are oh so on-trend these days, but I just have to be in a mood for them…and unless I recently spray-tanned, it makes me sometimes feel too gothy.
15. SUPER SOFT LIPS: This lip scrub is the bomb diggety. Apply with a q-tip to lessen the mess and gently rub it into your lips as needed. It smells (and tastes…I know, kinda gross, but it has real sugar in it!) so good. Wipe off with a tissue to leave your lips kissably soft.
16. FLAWLESS SKIN: This foundation was suggested to me by a Sephora consultant. Normally I don't ask, I just try, but this lucky chance was a winner-winner chicken dinner. I always apply my foundation with a makeup brush so it needs to be lightweight. (BTdubs, by using a brush, it gives you a more airbrushed look. I use this one.) This liquid foundation doesn't melt or make my face feel super oily over the course of the day.
17. BAD HAIR DAY FIX: I'm the queen of dry shampoos. I think I've tried them all…sprays and powders. This one takes the cake and only beats out Salon Grafix because of the smell…apparently, their fragrance is developed in the same labs as Tom Ford *le sigh*…it smells divine! Oribe also trumps all others by not leaving that white residue that I loathe. I don't just use this on my no-wash hair day though…no sir! I have super fine, thin, limp hair even after a blowout. Tease the roots, spray them and let dry for added volume and staying power. It holds your style all day long.
Fall Footwear Essentials

18. THE PERFECT BOOT: The slouch on this boot is awesome, but beware…the slouch really can be more floppy than what it looks like in the photo. If you want it like the photo, be prepared to futz with the straps all day long. The suede is very soft which doesn't give the cuff or straps a lot of support. Now, if you are okay with the rumpled look, then these are the boots for you. They are not quite grey, not quite brown sorta heather look which goes with anything…added benefit.
19. TRANSITIONAL SANDAL: So have you been seeing sandals with socks as I have? These Swedish Hasbeens look great barefoot or paired with a cute ankle sock (I think my sister-in-law just crinkled her nose again). I'm searching for a pair with ruffles…they WILL look fabby! Also, these are on sale at Shopbop for 40% off…what are you waiting for?
20. CLASSIC SNEAKERS: You can't go wrong with Vans. There's a reason why every skater boy in the '80s and '90s wore them. I like mine without socks, but socks are necessary for cold Chicago winters unless you like cold piggers. Add a pair of fun socks to show a bit more personality with your footwear.



Discover More Eclectic Home Decor Ideas
This is how we How To turned an antique dresser into a vanity, and I scored it at an estate sale for under $100.
Sharing my secret squirrel list of favorite home decor shops in Chicago.
Sharing my favorite vintage decor finds with Chloe from Boxwood Avenue and Sarah from Room For Tuesday.
If you love decorating with antiques, don't miss my 7 Tips For Buying Vintage Decor.
Best Affordable Washable Rugs are a must-buy if you have kids or pets! Check out this round-up of favorites.
Visiting Chicago and love antiques? Check out the ultimate guide to vintage shopping in Chicago.
After the mass shooting in Highland Park, I word-vomited my feelings.
Sharing what caught my eye this week on Beautiful Distractions, and I'm obsessed with these perfumes.
Back in the day, I tried my best to define hipster style. It so interesting to reread my style thoughts from 10 years ago.
The cold of winter is fading, and it's time to zhush your home for the new season. Check out my favorite spring home decor ideas.
Thinking about joining a country club? Before doing so, read my review of the Biltmore Country Club. You may rethink that decision.
Check out my AM skincare routine for women over 40.