Beautiful Distractions No. 42
Last Updated on February 18, 2023
Last week I went to a Tiffany's blue and sparkles-themed birthday party. Since my entire wardrobe is black, white, tan, or navy with zero sparkles…take that back; there is one black sequin tank top. Goth sparkles? There was shopping to be had. Here's what caught my eye.
This sequin skirt is now on sale – SHOP IT HERE or SHOP IT HERE TOO (not on sale)
The sequin skirt is super fun and fits the theme, plus I'll wear it again to the Jackson Chance Annual Ping Pong Ball in November. You should totally go, I'd love to see you there!
Last week was the Amazon Prime Early Access Sale, and there were a few items in particular that you loved. This rug and this table were the most clicked on.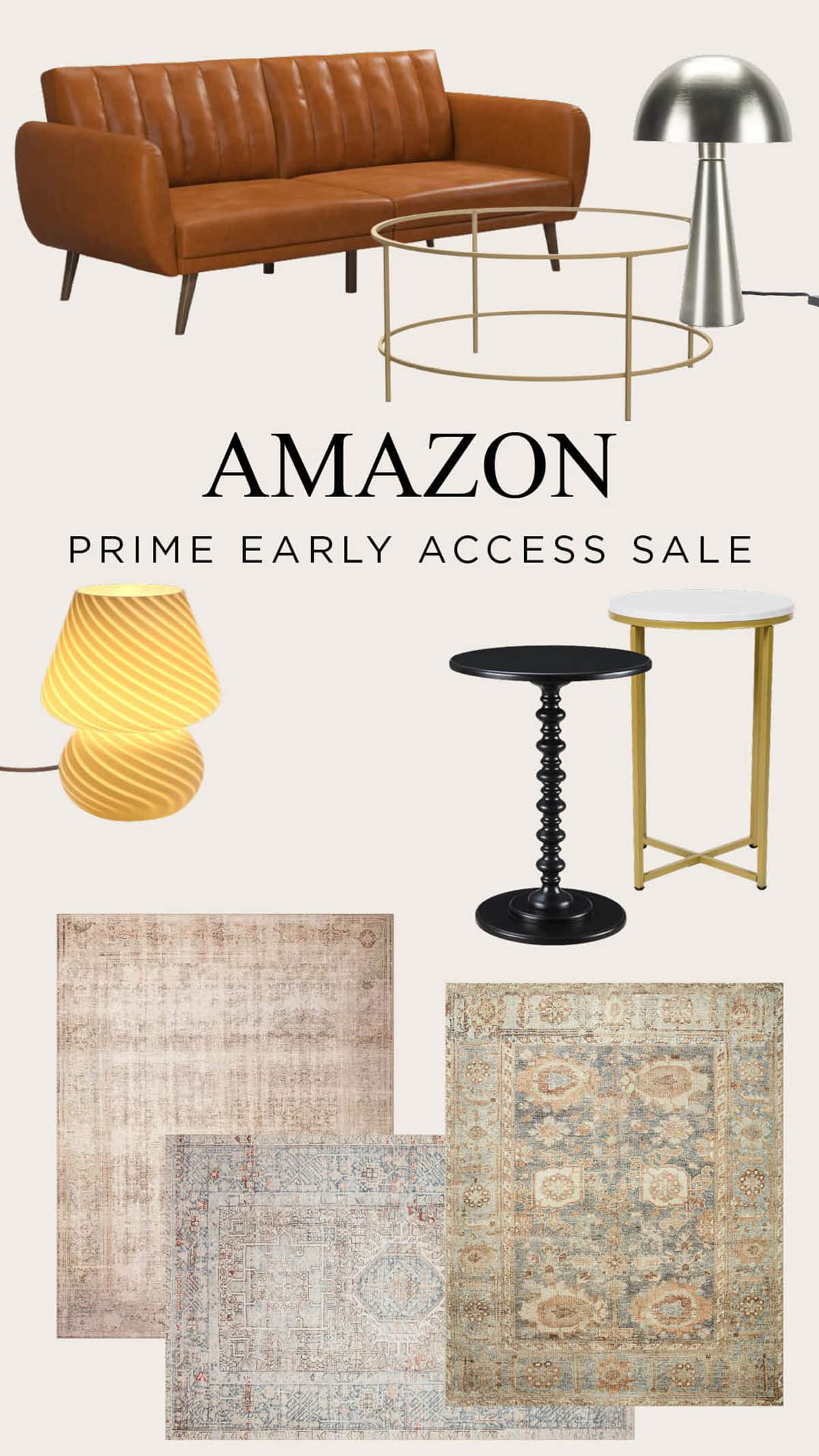 I was in NYC for the Better Homes and Gardens Style Maker event a couple of weeks ago and found this necklace at New York Vintage – it's the fanciest of fancy when it comes to luxury vintage couture. You're gonna find 150 years of really special, archival fashion. Pieces that have been worn by Madonna, Lenny Kravitz, Selena Gomez, Rhianna, and more.

If you're in NYC and love vintage couture, you'll not be disappointed. That is unless you leave a pair of earrings behind that you can't stop thinking about like I did. Side note, if you want to see more of my trip, I'll be posting a video tonight on IG and TikTok!
SKKN by Kim Home Decor Dupe – Get The Look For Less
Kim K released her new line of home accessories, and boy oh boy, do I have an opinion. Kim says in her Architectural Digest interview, "the concrete material and monochromatic design are important for my mental wellness" and that she's excited to "take the calming aesthetic and monochromatic interior design elements from [her] home and bring it to others." I'm going to call it "Prisoncore." I said what I said. Kimmy, I'm not going to buy your $129 trash can. Nope.
Or should I say SKKN by Kim duped Bed Bath and Beyond?

Giant Clam Shell Decorative Object
Speaking of dupes, I'm asked, "Kyla, where did you get that clam shell?", and every time my response is I'm sorry, it's from a vintage shop. That is until now! Yup, I found a giant clam shell similar to what I have in my home office.

New To Watch
If you like super creepy shows, Netflix has a new series called The Watcher, inspired by a true story…yup, this really happened and just in time for Halloween. Oh, and more of the details can be found here.
Want a movie with fewer jump scares, The Estate is coming to a theater near you on November 4. A movie about greedy family members trying to win over their wealthy, terminally-ill aunt.



Discover More Eclectic Home Decor Ideas On HOH
I've scoured the internet for the best rattan lighting and have returned to share the most beautiful lights ever.
Speaking for roundups, I have the best peel and stick wallpaper on the market here, so if you're not quite on board with something permanent, try these removable options.
Looking for something out of the ordinary? Check out these unique modern vases that add a touch of artistry and elegance to your home decor.
If you want to make your home a bit smarter, check out the best smart home devices I've tested and my post about smart lighting for your home.
Here are seven genius ways to hang a picture, including hanging art with two hooks, hanging a gallery wall with no tools, and hanging a picture without damaging wallpaper.
If you want to spruce your backyard, check out this round-up of the best outdoor patio furniture.
Ever second guess yourself on what rug size to buy for a living room? Here lie the answers you desire.
Rounding up the best home decorating books – if you're looking for gift idea inspiration for a home decor obsessed loved one, this post is for you!
Melted disco balls are all the rage. Check out the round-up of the best disco ball decor for your home and tips on decorating with them.
I recently gave my 80s brick fireplace a makeover, and now that we've finished the renovation, I've whipped up a few mantel decor ideas you can try.
Download the free declutter your home checklist, and don't miss the 7 easy decluttering tips. Let's clean the house together!