Home Tour — A Denver Dwelling
Last Updated on September 19, 2023
When Marianne Brown emailed me out of the blue and said, "Hey, my home is unique, cool, and eclectic, would you like to feature it on your blog?" I said, "Heck ya I would! Home tours are hella fun."
Why do I like featuring homes that don't belong to me? If you guessed, "Kyla, you're that total weirdo that looks into homes on evening walks…not in a creepster way…but in an I want to see your pillows kinda way," you're completely right. Gotta home tour you think I should feature? What are you waiting for??? Sharing is caring, so email it over for review, and be sure to visit Ashley Redmond's Tiny Treehouse home tour.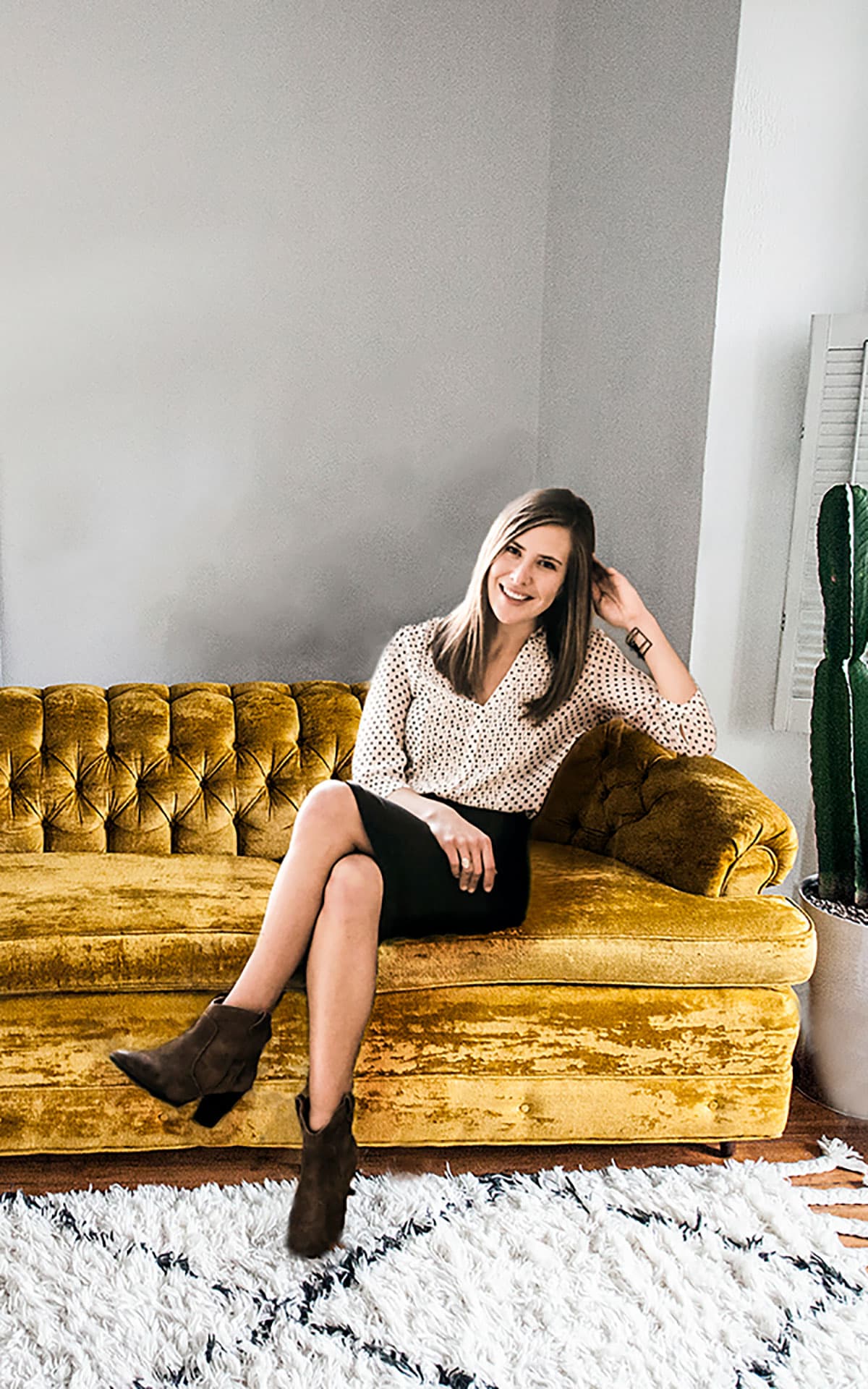 Today we're touring Marianne Brown's home in Denver, CO. She's an incredible photographer and claims thrift stores are her sanctuary…my kinda gal. As most of you know, I'm a chair hoarder. Well, Marianne one-upped that sich. She's a sofa hoarder. Don't believe me? Check out her Etsy shop chucked full of vintage furniture and decor.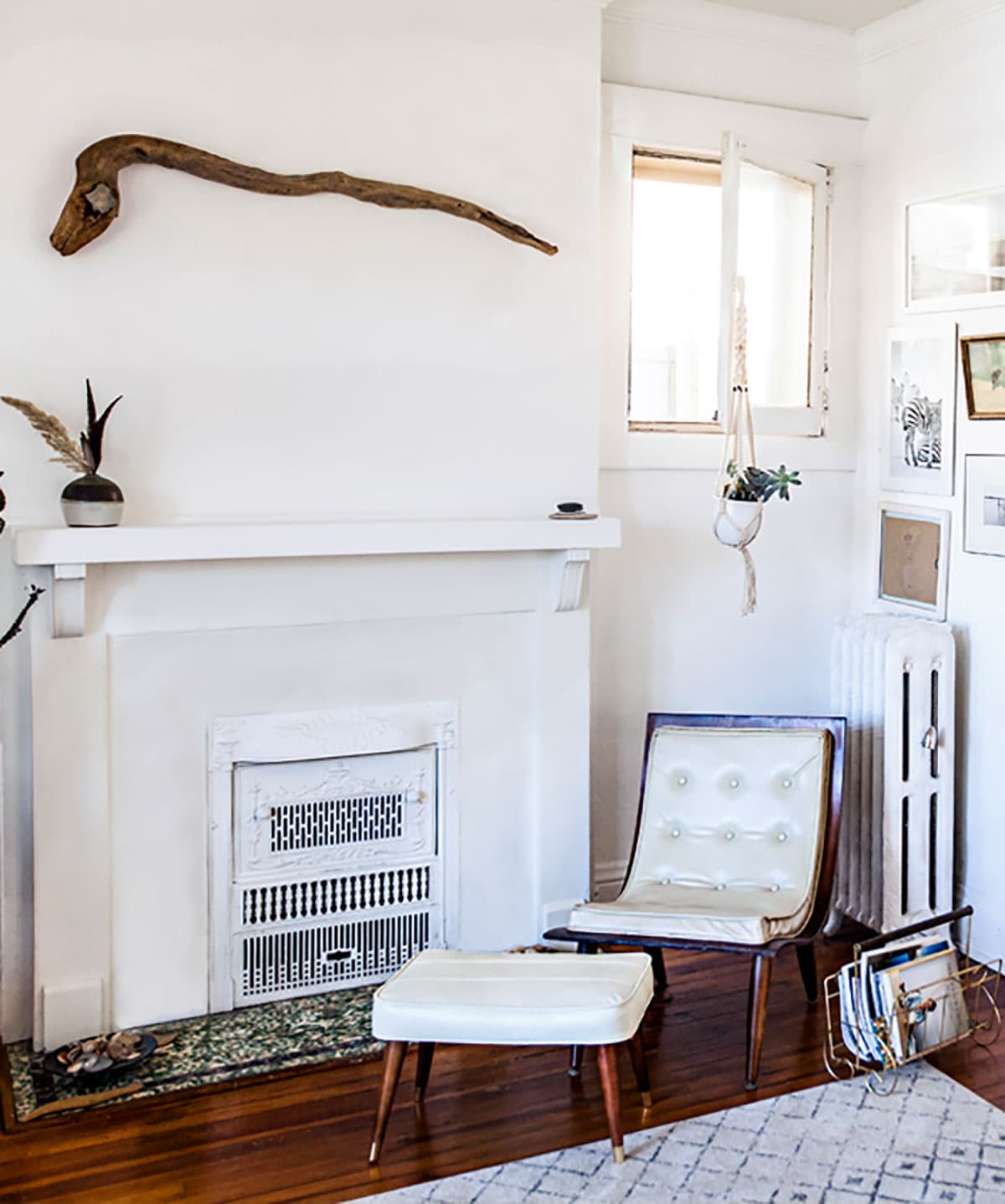 WHO: Marianne Brown
WHERE: Denver, CO
WHAT: 600 sq ft apartment
Who lives with you? Boy? Girl? Cat? Dog? Llama? 
Dog. Cali (Cal Pall) is a 90 lb. black Russian terrier who is also a unicorn.

Tell me a bit about your home and what inspired you for your minimal decor.
My apartment is a small one-bedroom in downtown Denver. Not among the tall buildings of downtown, but just on the edge, in the neighborhood setting of Denver. A whopping 600 square feet. I've lived here for a year, after moving several times over the past few years. Each time moving into a smaller space, and each time cleaning out and purging myself of more and more 'stuff.' Each move, I also migrated toward a palette of less and less color.

I moved into this small apartment with minimalist ideals and plans to travel and get outside more. I have the tendency to be somewhat of a homebody at times. White walls and minimal furniture makes my home and life, in general, seem more simplified.

What would consider your style to be?
Mid-Century Minimal

What made you start crushing on the vintage vibe?
Growing up, the women in my family were big antiquers. Every summer, I would take a trip with my grandparents and aunt up the east coast, and these trips were centered around antiquing. So, I have always had an appreciation for objects that are well-made and unique.

I didn't realize the obsession had been passed on to me until later in life, and really, until I moved to Denver. There is just so much stuff in the city! My vintage hunts began around the many yard sales, estate sales, and vintage shops. At first, I was looking for props to use for my photography business, and then I kept finding more and more unique pieces.

Do you have vintage treasures you regret parting with?
All the time! Sometimes, I have to pop my own hand. Living in a small space forces me to part with some of my favorite cushion finds. The only downside to living tiny is that there is usually only room for one sofa at the time.

What is it that reflects your personality in your space?
I am always trying to simplify my space and life so that I have more time for the things that are important to me: friends, family, walks with my dog, cooking, outdoor time, bike rides, travel. I think my space and the items I collect and then choose to display reflect the way I like to live my life.
What is your most favorite piece of furniture in your home?
My sofa 😉

Ummm, ok, that might be mine too! That yellow is crazy beautiful, plus it's tufted and velvet to boot. 

Where do you find yourself spending the most time?
In the kitchen.

Your kitchen, although super simple, is incredibly gorgeous! I love how you embraced it and found beauty in the old. That vintage sink is to die for! And the chandelier??? WOW!

Before I wrap up interviews, I like to throw out a few rapid-fire silly questions. They're cheesy and fun. Care to partake?
Favorite food:
Cheese. And Vegetables. Cheesy vegetables.
Awe girl, you're speaking my language. I'm a Wisconsin girl. Cheese is my jam.
Favorite color:
Purple
Favorite band:
Right now, the Cave Singers
First car you ever owned:
A silver Pontiac.
One item and human you'd take with you to a deserted island:
Beer and JTT.
Jonathan Taylor Thomas? Of Home Improvement? Oh goodness, now I love ya even more.



Discover More Modern Home Decor Inspiration
Have you ever been to a favorite things party? I'm gearing up to host one, so I put together my favorite things party gift ideas all under $25!
Find the best Anthropologie mirror dupe in this round-up of gold filagree mirrors that won't break the bank.
If you're looking for the best gift idea for the home decor lover in your life, look no further! This epic round-up of the best interior design books is filled with gems!
Don't miss this guide to styling like a pro! Check out everything you need to know about styling a fireplace and mantel decor ideas.
Faux trees are trending in the interior design world, so I've rounded-up the best faux olive trees to fill any empty corner in your living room. Also, pop into the round-up of faux fiddle leaf fig trees. They are so much easier to care for.