11 Bargain Buys Under $100
Last Updated on September 24, 2023
Hey you guys! Happy Tuesday, and thanks for stopping! I don't know what you have planned for the day, but mine is full of work, work, and more work. Boo, right? Well, I'm preparing to turn that frown upside down with this fun post! So, I have to be truthful with ya. Remember that post of 10 Bargain Buys Under $100 here? I had to pare it down because it was outta control! There was too much goodness for just one post, so this is technically part 2 of the budget-friendly goodness.
Are you ready for a shopping extravaganza because today's list has an extra special yummy item? That tea towel WAAAAAY at the bottom. My friend Laura found it while we were shopping over at the Renegade Fair in Chicago a couple of weeks ago. She reluctantly walked away from it since she was only living room shopping (girl's got willpower for days), but boy do I keep thinking about that little pretty. Hey Laura, maybe you should have Ryan read this post. Hey Ryan, that tea towel down below, go buy it for your girl! She lurves it!
And BTDubs, there's only 79 days 'til Christmas!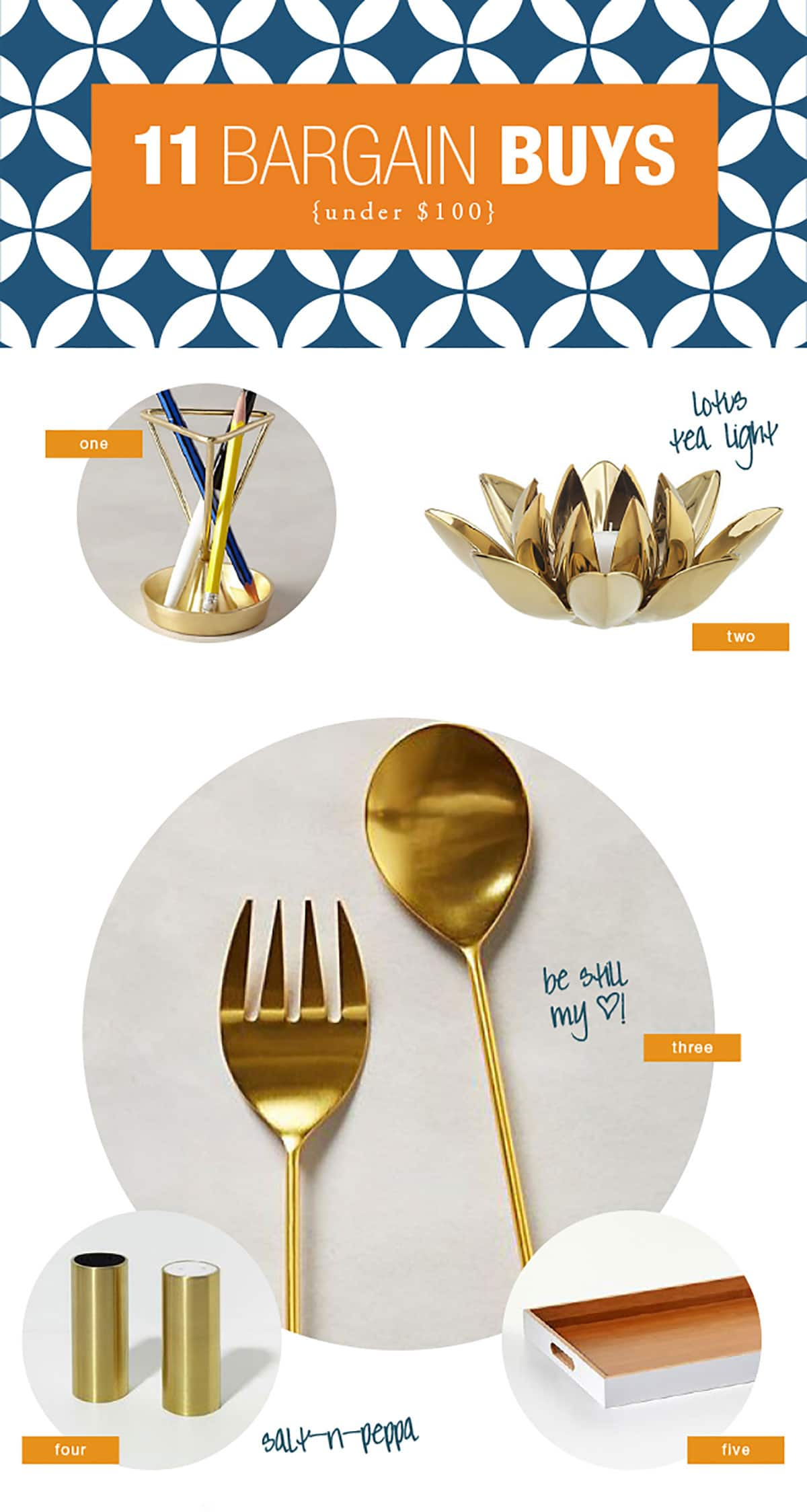 Discover More Modern Home Decor Ideas On House Of Hipsters Interior Design Blog
Love the Primrose mirror but hate the price tag? I got you! Here's a full round-up of affordable Anthropologie mirror dupes.
Do you have a rug that is too small or too big? Not sure? Here's how to choose the best size rug for a living room.
Cane furniture is trending, and so is rattan and cane lighting. If cane isn't your jam, but you want more lighting ideas, check out this round-up of boob lighting alternatives.
Storage bins and other organization ideas to keep your home clutter-free. From the pantry to the kitchen to the bathroom to drawers, I've got you covered! And check out the decorative boxes post if you're looking for ways to corral your remotes on your coffee table.
Have you seen those artificial flower arrangements in resin – you know, the clear vase that looks like water, but it's not? This easy tutorial teaches you exactly how to make your own for a fraction of the price.
Wait, skinny jeans are out of style? Told the Millenials and GenXers this and they came for me in the comments. But it's true, and here are the trending jeans I would wear instead.
Sharing my top interior design tips for how to make your home look expensive without spending a lot of money. Trust me, anyone can decorate on a budget with these secret shopping sources and a bit of creativity.
Nothing elevates a ceiling light like a ceiling medallion. Check out that round-up to shop for the best of the best, and be sure to check out my how to install a ceiling medallion tutorial for some secret tips!
Spruce up your backyard with this outdoor patio furniture and decor round-up.