Bedroom Makeover Blues errrrr…I Mean Navy
Last Updated on September 27, 2023
Do you guys ever get all gung-ho about a home decor project, get frustrated, have a freak-out session, and then procrastinate? Erm, please say yes. Please tell me I'm not the only one with my head in the sand. See, a long time ago, I posted a picture of the state of my bedroom. It was one of those before shots that I said may never have an after. I was keepin' it real. That particular post was actually the start of the "I Make Emily Henderson Cry" series. A couple of weeks ago, I received an email regarding that post, and I was asked to see an after. Very exciting, so let me tell you, this project (and the pressure) is on. It has to be perfect. Utter and complete perfection.
I found some base pieces that I'm absolutely loving, and I've asked my girl Jennifer Harrison AKA @FleaMarketFAB for some design advice. I mean, let me tell you, thank god for Instagram. That's how we met — we were both featured in this Domaine Home Instagram Challenge post, and the rest is history. We've been IG besties ever since. If you don't follow her fantastic feed, you must. Stop what you're doing right now and go check her out, but come back because I need some advice.
Still with me? Cool. Anyhoo, back to this bedroom makeover madness. I have a few base pieces, but when chatting with Jen, she said they might be a bit too masculine. After feeling a tiny bit crushed, I will have to agree with her wholeheartedly. I think it's a one-way road to Testosterone City, and Colin Farrell is mayor. Not that that is a bad thing, but no wonder The Boy likes it so much. What's up bro. Fist bump but in a classy kinda way.
Bedroom Makeover Mood Board
Ever since that conversation, I've been perusing Pinterest for some inspiration, and I think that caused even more confusion in my noggin. Everything is just soooooooo pretty! ERMERGERD! Can't I just have 17 bedrooms? I mean seriously, does one really need a kitchen? I'll take one with pretty pops of color. One with neutrals and grays. One with soft pastel pinks and add in some black and white. One with layers of amazing textiles. Once in clean white with accents of black and maybe a splash of neon pink…oh, you get the picture. Seriously Pinterest, you are a beast that I love to hate.
Jen warned me my palette would change ten million times before we finished the space, but I'm trying not to let that happen, so I need some help. The pieces I'd really like to keep are the Kent Coffey dresser (because, seriously, I'm in love with it) and the navy velvet tufted headboard…mainly because I just bought the bed. However, I think the velvet curtains are too heavy, and I need something lighter to girlie the space up a bit. Jen mentioned accenting with coral, and that sounds pretty amazing.
Bedroom Makeover Inspiration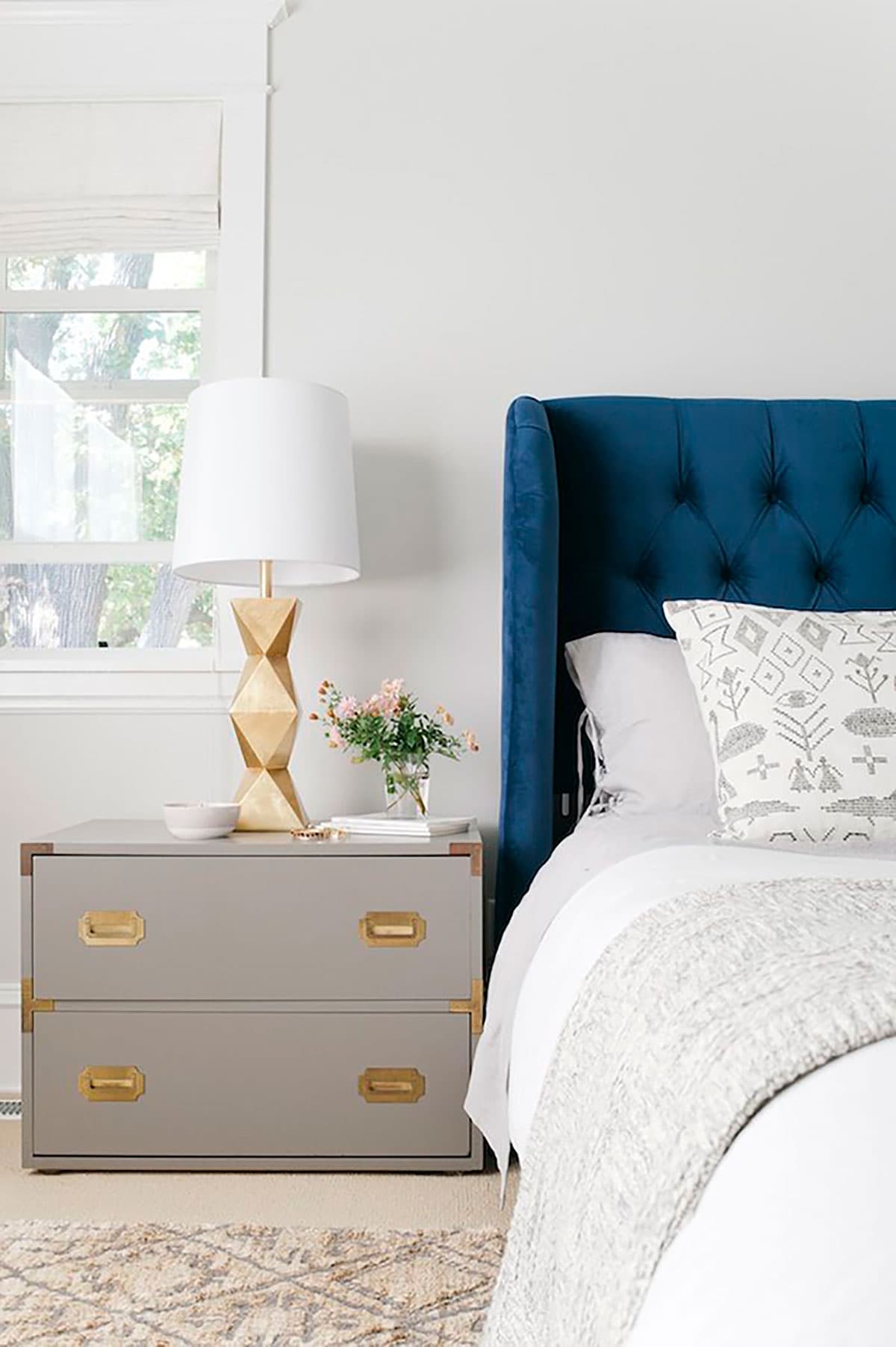 Jen also asked me if I was into trends. My answer was absolutely not. I am not the biggest fan of walking into a store and buying a room set with all the fixins. I just don't like knowing that my neighbor and my neighbor's neighbor and everyone else and their mother and their cousin Larry have the same exact space as me. Maybe it's because I used to work in the marketing department for a furniture store that sold complete sets. Maybe I like my space to be my own…something memorable. And this, folks, is why home decor, for me, can be a daunting task. She asked me, do you like moroccan rugs? Kilim? Brass? YES! YES, I DO JEN! OMG! Sadzies! I just came to the realization I like trends. Am I an unhipster hipster? I swear, I liked it before it was cool. So what now? I mean, every apartment in Logan Square probably has a Persian rug in its bathroom. Ugh!

Well, this was my solution. I've resorted to buying many random things that don't match in search of inspiration. Otherwise known as the dumbest idea known to man, and I'll probably end up opening an Etsy store by the time this is all said and done. But I'm searching for that one piece to design a room around. Finding my muse. My home office is beginning to look like a hobo lives in it. A pair of lucite lamps and vintage green serape from the latest Chairish Instasale (both beautiful BTDubs). A vintage thermos and other lodge gear from Brimfield. A beautiful Hmong appliqué textile from Thailand. It's like I'm in the choose-your-own adventure of home decor bedroom makeovers. There are so many options, but I can only choose one. I love them all and am unsure of which way to go. If I choose them all, well, let's just say it will be a hot mess.

Here are some of the questions I've been asking myself. You already know I have the Kent Coffey dresser, which is staying. My master bedroom is quite large, 22′ X 16′, so I will need yet another dresser. Probably a lowboy??? Do I try to track down the 9-drawer dresser to match my set, or do I mix it up? If I mix it up, do I try to find something similar or totally different? What about the color? See, this is the biggest problem with loving mid-century modern furniture. They don't make it anymore, and you basically have to get lucky on eBay or hope the estate sale gods show some mercy. To boot, I've put myself under a timeline, which means time's a tickin'.

Then I tell myself, ok, lady, you need to mix it up because the only matching lowboys you've found were in California, New York, and Florida…shipping would be a pain in the arse, not to mention expensive. So, if I mix it up, what about the nightstands? Do they match? Do I stick with wood? Are they both different? Are they painted? Are they nontraditional? Are they super funky? Are they campaign-style? I mean, they still have to function for us. I guess that's my biggest qualm. I want one drawer. The Boy has only the essentials on his side… a large landline phone (blerg, I know, so ugly), digital alarm clock, task lamp, and really ugly plastic purple cup of water from my college days. My side is matching the brass task lamp, a little vase with a feather, a cubby chucked full of random magazines, books, and iPad, and a drawer full of random hand lotions, spare change, a tennis ball (for my foot), and a bunch of other random things that I either have been too lazy to throw away or don't have a good place to store. Don't judge; you all have one of those drawers in your home. And yes, I might have three.

So what do you think? Does anybody have opinions? Favorite color schemes? What do we think about the navy? I'd love to hear what you're thinking.
Find More Home Decor Inspiration
80's Modern Home Decor – take a tour of this modern home with some insanely cool 80's post-modern vintage decor
Bedroom Makeover With Universal Furniture – I teamed up with Universal Furniture to give my bedroom a zhush with their new modern 3-panel bed frame
Mid-Century Modern Bedroom Makeover wanna see how this room turned out? Here's the final reveal!
If you're visiting the Chicagoland area and are looking to go antiquing, check out the Ultimate Guide To Vintage Shopping In Chicago
Home Decor Instagram Accounts You Should Be Following this is a round-up of all the interior design grammers you've never heard of.
If you're looking to embrace Animal Prints in your home decor, check out that post.
Sharing my top 7 Thrift Store Shopping Tips that I never tell anyone!