House Of Hipsters Mixtape #2
Last Updated on February 14, 2022
My ears get bored very quickly, so I've been on the hunt for new music as of late. It also probably doesn't help my cause when I find a song I like, it goes into heavy rotation for a month or two of commuting…over and over and over again. It's the one major issue I have with iPod playlists. Convenient yes, but one can only listen to a certain song so many times don't cha know. So I've begun to play a little game in the mornings to keep things interesting. iPod roulette. It's been fun, weird, nostalgic, and a whole lot of, "I have never heard this song before, but apparently, I own it".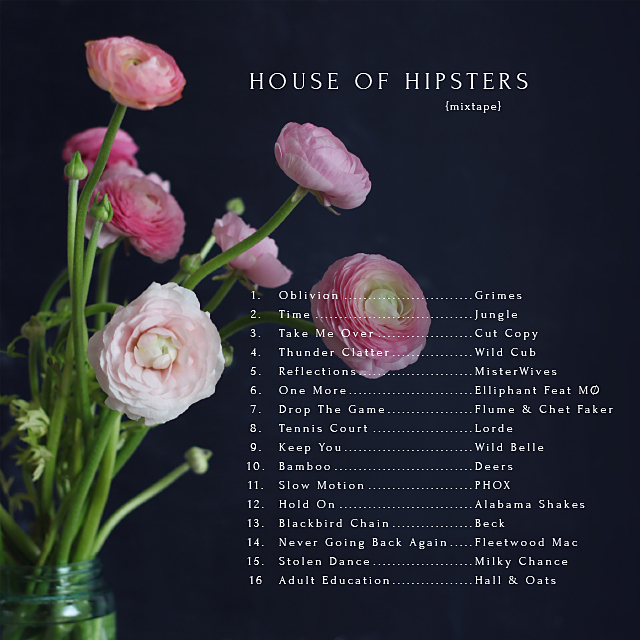 But rather than giving you a completely random playlist of iPod roulette that makes absolutely no sense, I decided to do just a couple of spins of the wheel for a bit of pizazz. Just mix it up a tiny bit and keep you on your toes. I suddenly feel like John Cusack in High Fidelity.
Yes, I might have giggled a bit when Hall & Oats came up, but a deal's a deal. Besides, it's a pretty good song!
I also included some PHOX. If you missed my last mixtape, I explained how PHOX is from my hometown of Baraboo, WI, and one of my new favorite bands. The entire town is so proud of them. They were just recently seen on Conan and The Today Show. My friend Sabrina Smelko reminded me of my love for Alabama Shakes last week. If you don't know her, you should. And I'm also sharing with you a band I can never get enough — Jungle. I saw them at Lollapalooza last year, and they were just amazing. The one thing I didn't do this time which I did last time, was watching for f-bombs. There might be one or two. You have been warned…track 6 in particular (pretty sure there's one in the beginning). Be cautious with little ears.
H I T   P L A Y   T O   L I S T E N
[sc_embed_player fileurl="https://houseofhipsters.com/music/Rad-Music.mp3″]
Before I sign off, wanna play iPod roulette with me? Take whatever music player you have, hit shuffle, and play. Whatcha got? Are you gonna share the randomness with me? I promise not to laugh, here, I'll even go first.
I got Rag & Bone – The White Stripes, White Sky – Vampire Weekend, Thinking About You – Calvin Harris, Inna Dem Face – Sizzla, Is It Really So Strange -The Smiths and Tender Love – Force MD (blast from the past!), Fall To Pieces – Velvet Revolver. I swear, it can be such a fun game! On second thought, maybe I should have made a playlist like this.
Discover More On House Of Hipsters
Pink and Green Modern Living Room Design
High Point Market – Let's Play Pretend