Hostess Gift Ideas
Last Updated on October 24, 2022
When I hosted my first New Year's Eve party, I was just past the age of keg stands in a basement. At the time, I was dating a guy a bit older than me, and his friends were invited. Friends who had read the etiquette guide to hostess gifts. One by one, they walked through the door, handing me pretty packages containing cheese boards, wine, scented candles, fancy soaps, and champagne! I'm sorry what!?!?! No one had told me about hostess gifts. The only gift I had been bringing to parties was a beer bong. This gift-giving thing had made all the cooking and cleaning and running around nonsense a whole lot more tolerable. Bring. It. On.
GO HERE FOR THE MOST UP TO DATE 
Holiday Gift Guide For Home Decor Lovers
Hostess Gift Ideas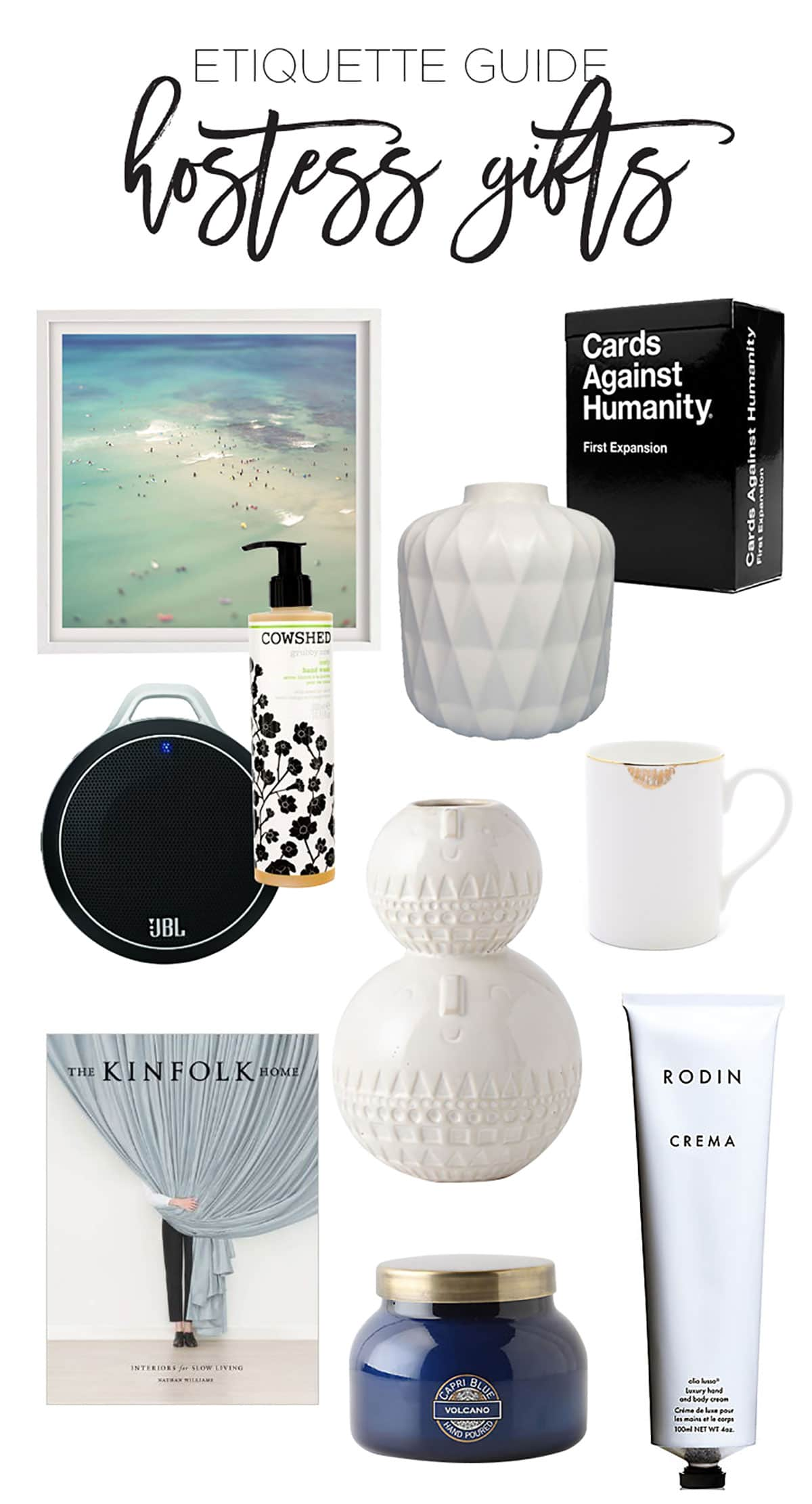 Not all hostess gifts come equal. Yes, you can hop on over to World Market and pick up a pretty serving platter, but what if you want to splurge a bit? Well, that's where I come in! I'm your New Year's Eve etiquette guide to hostess gifts! Step to the left and be sure everyone can see. Those who are the tallest, please step to the back.
The first question to ask yourself is, how much will your hostess be spending on you? Will there be a kegger in the tub and a veggie tray or will you be noshing on beef wellington, gluten-free flourless cake, and sipping champagne? If it's the latter, there is no need to open a line of credit, but opt for something a bit more personal than a bottle of Boone's Farm Strawberry Wine…unless your hostess partakes, then, by all means, Boone's Farm that place up! Personalization and thoughtfulness are going to trump any sort of price tag.
Does your host love music? Try a portable speaker for his MP3 player. Does she always smell good? Cowshed makes some fantastic smelling soaps and lotions. Want a fancier hand cream? Rodin will make you a guest to be remembered. Making an effort goes a long way. Skip the gift card and purchase something significant, even if it's something small.
Be sure to keep your budget in line. If you spend way too much money, not only will your wallet be hurting, but your hostess may feel a bit awkward accepting your gift. Find any of the gifts above interesting. Here are the sources (some are no longer available).
Framed Photograph   ///   White Vase   ///   Cards Against Humanity
Portable Speaker   ///   Cowshed Soap   ///   Atelier Stella Vase
The Kinfolk Home   ///   Candle   ///    Mug   ///   Hand Cream
Discover More Holiday Gift Guides Here