It was shocking to learn how many of my vintage besties have never attended an estate sale. Yes, walking into a complete stranger's home can be quite intimidating, but estate sales are where I find the best stuff with the best prices. So, because not everyone is versed in this art of thrifting, I decided to write a complete how to guide for estate sales.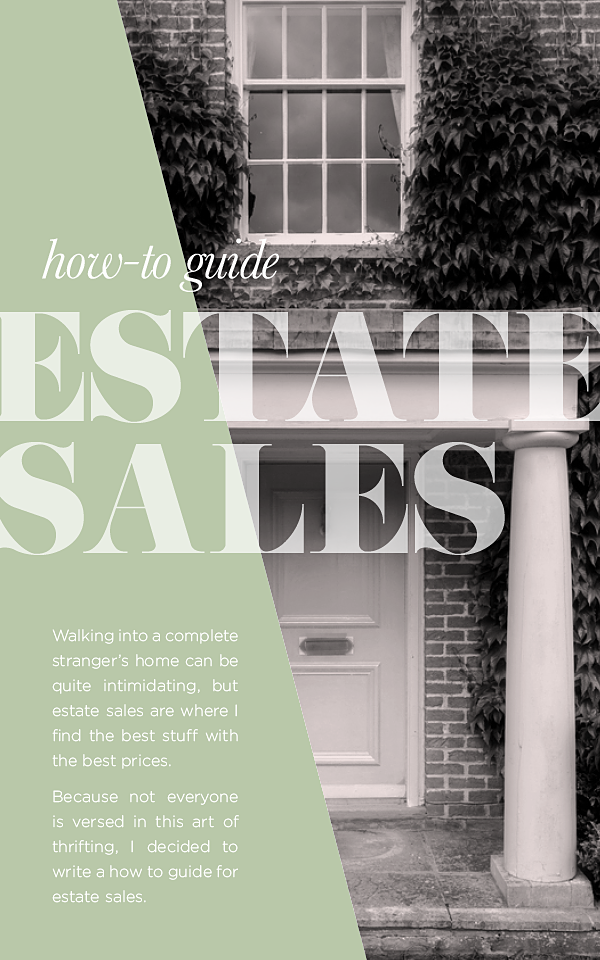 MORE AFTER THE JUMP…
First off, let's talk about how to find an estate sale. Sometimes they are listed on Craigslists, your local paper, or street signs the day of, but most of the time I search on EstateSales.net. It's super easy, just enter your zip code and this handy dandy site spits out all the estate sales currently scheduled in your area. Now, I realize I'm lucky. In the Chicagoland area, there's usually 50 plus listings every weekend. If you're living in a more rural area, you may only get a couple hits. Click on the listing that sounds interesting to get a sneak peek of what's for sale, the address, and hours.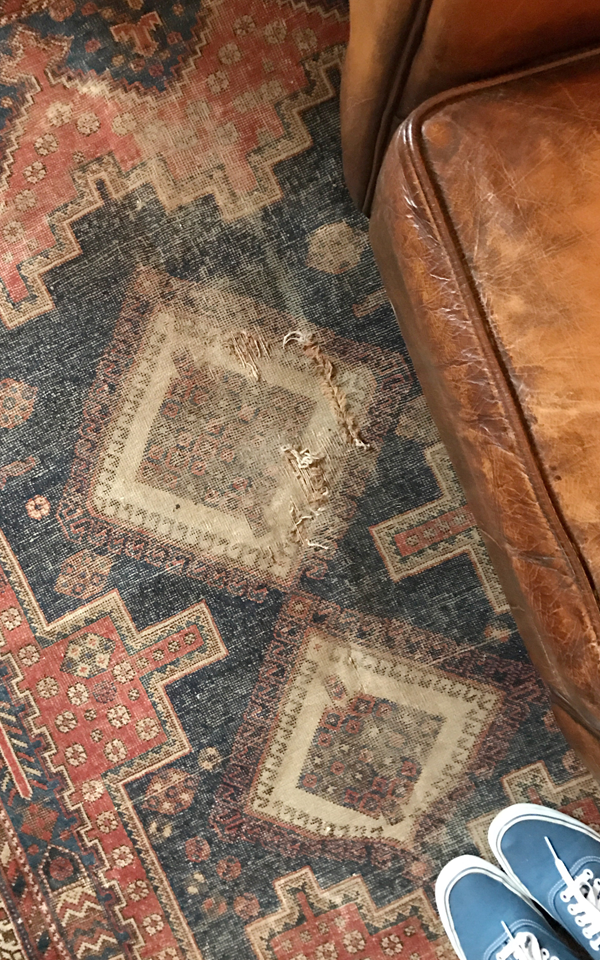 After reviewing the sneak peek images, if the sale REALLY looks amazing, get there early…I'm not talking 15 minutes early, I'm talking hours. I can't tell you how many dealers I spy with my little eye when standing in line. If you wanna compete with the big boys, you gotta get there at the crack of dawn. If you arrive early, check to see if there are numbers to pull at the front door or if a list was started.
Numbers? What chu talkin' bout Willis? Basically whoever gets there first will either sit outside the front door or in their car, and they are considered the list master. You give them your name, they give you a number. If you brought a group with you, put everyone's name on that list. THIS IS VERY IMPORTANT. If you don't, your friends will not enter. Just sayin'. Estate sale-ing can be vicious. I had an old man with a cane yell at me once, so it's good to know the rules.
Once your number is called, or if there's no line during opening hours, you walk right through the front door. Don't knock. Don't ring the doorbell. Just take a deep breath if you're nervous, turn the knob, and go in. Some sales require you to wear booties, fancy homes may request you to remove your shoes…if you don't see any signs in the foyer, just dig in. And don't be surprised if no one greets you upon arrival…that's completely normal.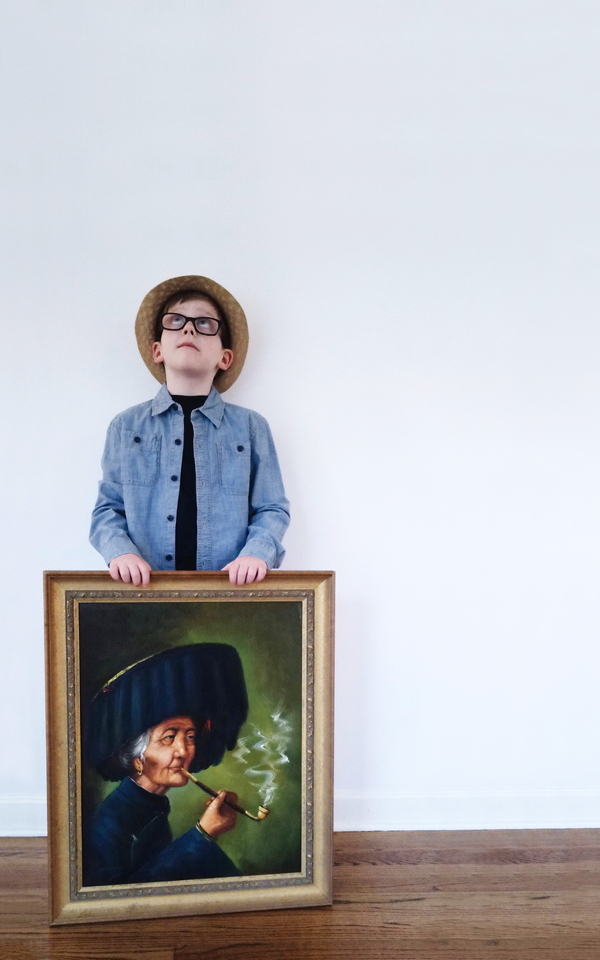 Where to go first? Kitchen? Bedroom? Basement? Living room? Well, that depends. I usually choose which estate sale to attend based off the images in the listing online. If there's something special, I may take a screen grab to show an employee. They can usually direct me to where an object is…they may also know if it's already been sold. Sadzies.
I usually scope out the main floor first, basement second, then upstairs. For the most part, upstairs will be bedroom home decor, clothing and bathroom accoutrements. Unless I'm searching for a headboard or art, upstairs is not my jam. Basements are hit or miss. They can be filled with mold, mildew, and cleaning products…but if you're lucky, the homeowners never purged. This is where you find vintage gold. Also, don't forget the garage and back patio.
I have a few essentials I always take with me. Most often used are Post-It notes and a black Sharpie, measuring tape, cloth tote bag, flashlight, umbrella, and lots of cash. Oh, and I should also mention, there are things I do not bring. Jewelry…don't wear fancy diamonds if you want a deal. Leave the Louis Vuitton bag at home. Don't wear heels. Don't wear skinny jeans you can't bend in. Don't wear a poncho (I learned this one the hard way). And just as an aside, ponchos are extremely difficult to go pee in as well.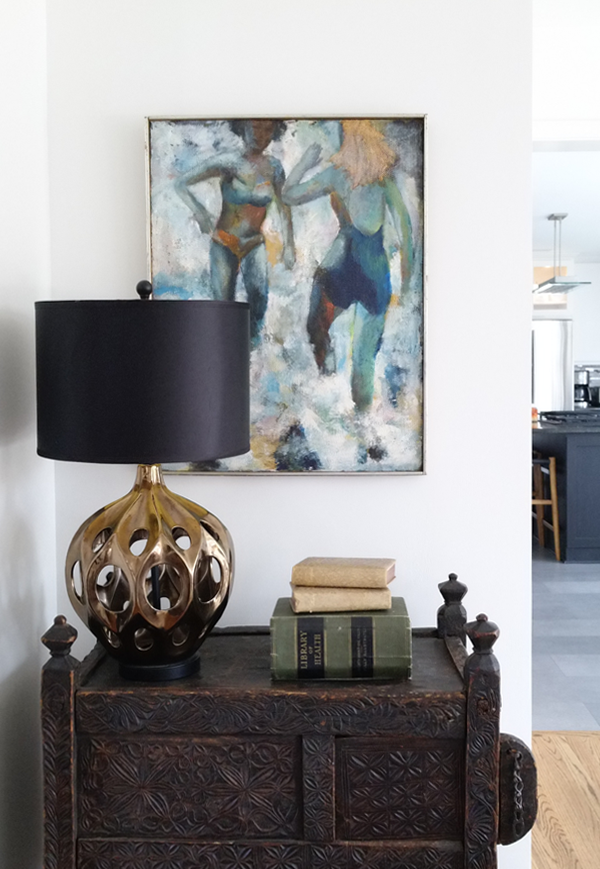 Why on earth do you need Post-It notes and a Sharpie? Easy. You find a chair…what are you going to do? Sit in it? Haul it up to the front desk? Nope, nope, and nope. You're going to remove the price tag (give it to an employee working the sale and say, ""hey, this bad boy is mine", stick a Post-It on that sucka, and move on. If it's an estate sale where I know I'm buying furniture, I'll even pre-write, "SOLD KYLA" on a stack of them. That way I'm not wasting time digging around for the marker and flailing about in my purse. Now go get that lamp and mirror and slap sold signs on those too!
Measuring tape is probably a no brainer, but sometimes what I think will fit into my car is a no can do. If I'm questioning it, I'm prepared. Say you find the most perfect bench, but it can't be wider than 42″ to fit in that alcove in your hallway? Measuring tape just saved the day.
Some estate sales will have shopping baskets available, others will have nothing. If you have an armful, they usually let you chuck your treasures under the cashiers table, but that's not always the case. No one wants to end up lugging 78 lbs of marble and books around a sale. A cloth shopping bag or two will be really useful in these occasions.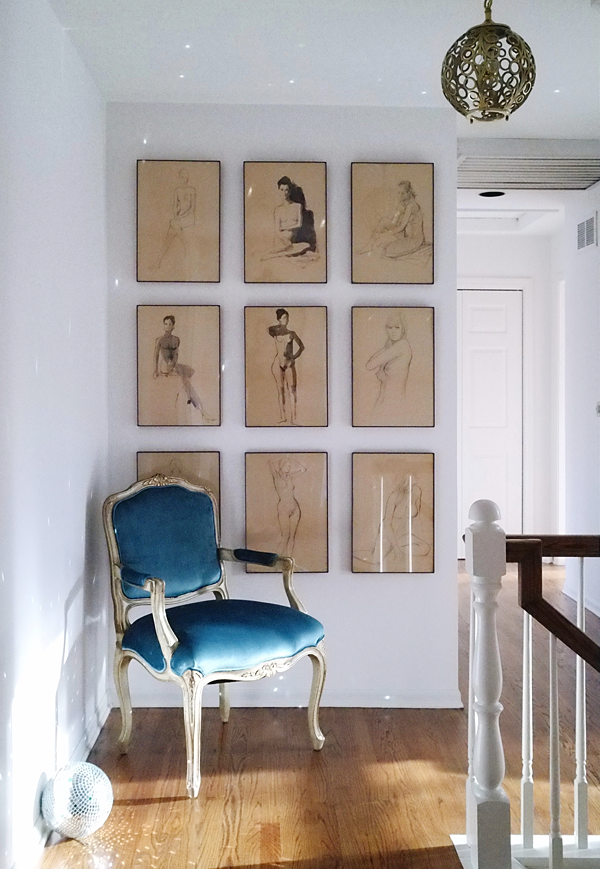 Why on earth do you bring a flashlight? Easy. How many times have you walked into a dimly lit basement, closet or den? Wanna check way in the back of a cabinet? See behind all those books? The flashlight is your friend.
Always leave an umbrella in the car for estate sales. If it's raining and there's a line, you will be standing outside, getting wet. They will not take pity on you. Same thing goes for winter weather. If it's cold, always dress appropriately. You can thank me for this later.
Cash is king at an estate sale. Many will say in the listing what payment is accepted, but a credit card will hit them with a 3% processing fee. No beuno. If I'm looking at a large piece, I may start negotiating right then and there, but if I have a ton of smalls, I'll try to bundle everything together and ask on certain pieces if they can come down. Many times if you're paying with cash, you'll wind up with a better bargain.
If you attend the estate sale on the first day, they may not discount, but the second day of the sale after 12pm, you can usually start to wheel and deal. Third or final day of the sale, everything is usually 20-50% off. If you feel something is too high, no matter what the day, make a reasonable offer or ask what's their best price…even if you don't have cash. What do you have to lose? More often than not, the prices are not firm…and really, what's the worst they can say? No?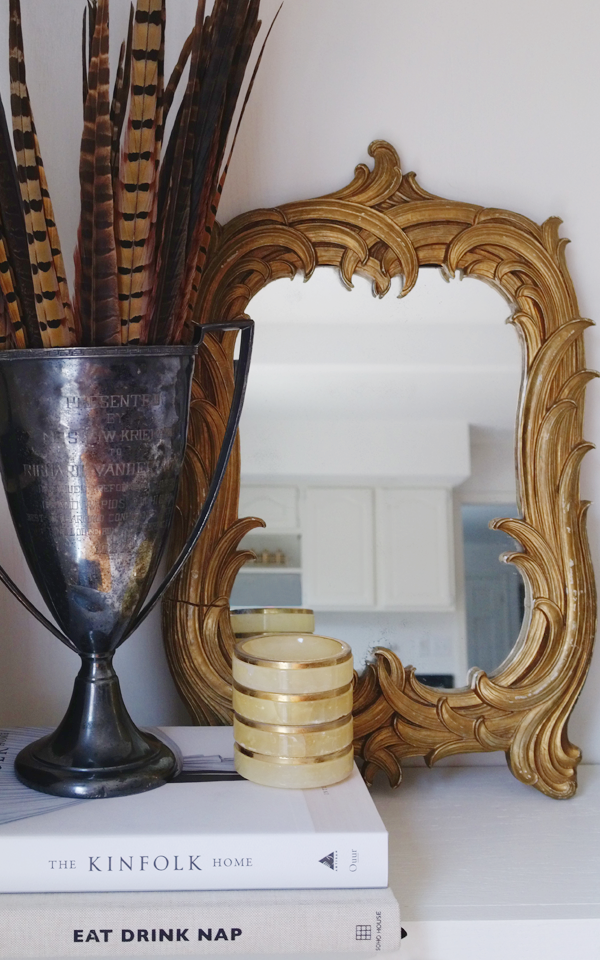 If you are attending the mother of all estate sales on the first day and find something you like that's not negotiable, go back the last day. See if it's still there. Remind them that you already purchased something the day before. Their job is to empty that house. If you give them a reasonable offer, you'll probably make the sale.
There is a bit of etiquette to follow at an estate sale besides respecting the list or numbers. Be polite. You're in someone's home. Someone who more often then not has passed. Many times family members are within ear shot. If something is junk, keep it to yourself and move on. There's no need to make a scene.
If someone starts to tell you the story of a piece…even if it's not interesting, be gracious and listen…even if you're planning on selling the piece. These items hold memories and have meaning to their lives. Be kind.
Most of the time, it's a company running the estate sale and more often then not, they host one, sometimes two sales a weekend. Ask if you can be added to their email list. These companies tend to to stay within their decor genre. This way you'll never miss a sale. You'll also become a familiar face which may help your next round of negotiations.
Do you have any additional tips and tricks for estate sales? If so, I'd love for you to leave them in the comments below!