Hello! Hello! You guys it's Thursday! Which means you have LESS then ONE week before Christmas, and those boxes aren't wrapping themselves. Don't you fret little ones, I've got you covered. Today I'm going to teach you how to gift wrap like a professional with this easy step-by-step tutorial on how to make a Pom Pom Bow.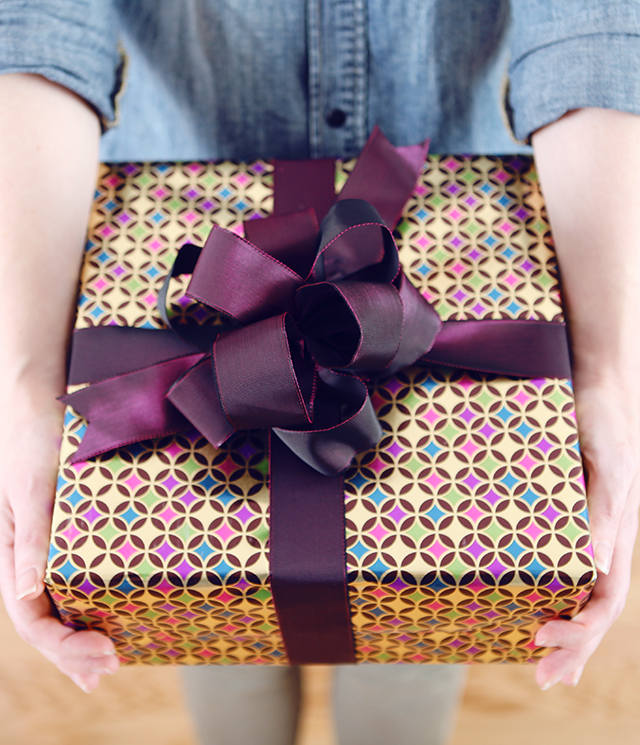 MORE AFTER THE JUMP
A fancy bow always adds that extra bit of polish to any package or wreath. Ever wonder how they're made? You're probably thinking so pretty, so gorgeous, so Pinterest perfect, it would take me hours just to make one. Nope, not at all. The fine people at The Container Store gave me a quick tutorial a few years back and ever since, my gifts look pretty and shwanky and can be completed in under 10 minutes. You just need the right tools. My secret weapon is wired ribbon. Today I'm going to pass this gift wrapping knowledge on to you without the possibility of wrapping yourself like a mummy and coming out of the battle one finger short. Are you ready to give your boxes the gift of glam.
I T E M S Y O U N E E D
Gift Wrap — do yourself a favor and spend the extra couple bucks on paper with a heavier stock. The flimsy cheap stuff rips if you crinkle your nose and look at it wrong. Also, I don't like working with wrapping paper covered in glitter. Even though it's beautiful to look at, the sparkle bomb gets all over everything and is a complete mess. When it comes down to it, you'll be swiffering glitter into July, and no one needs that.
Double-Sided Tape
Scissors
Clear Metallic Wire Ribbon (available at The Container Store)
Ribbon – Like I said above, I personally like wired ribbon. It's easier to mold and twist. Although it is not necessary. Any ribbon will work.
I N S T R U C T I O N S
Grab your box and wrapping paper. Eyeball how much you'll need and trim. Do not use an oversized piece.
1. It's wasteful.
2. It's hard to wrap with all the extra paper.
I'm going to assume here that you know how to wrap a gift, but just a helpful hit, for a cleaner edge, use double-sided tape.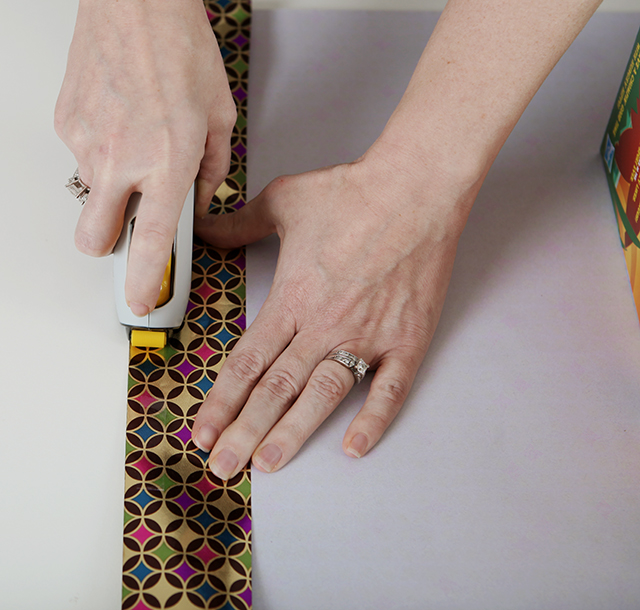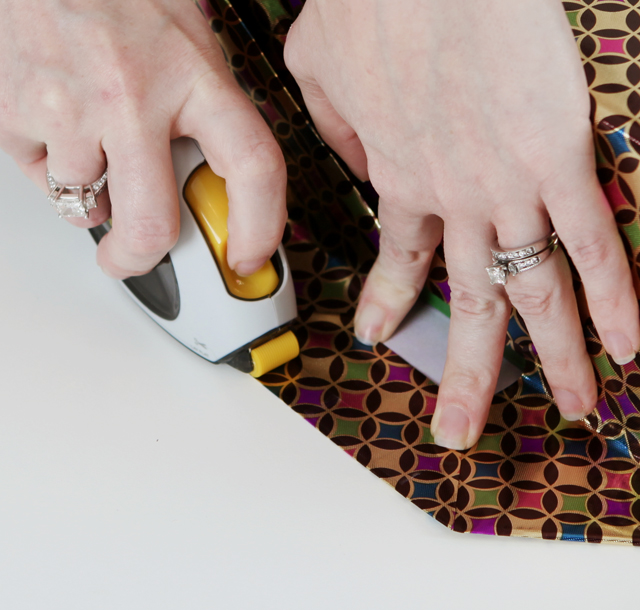 Take a piece if ribbon and measure out the length, width and depth two times each way and then give yourself another 12″-14″. Basically enough to wrap around all edges and tie a knot with a bit of excess.
Place the box face down in the center of the ribbon. Gather each end and pull up on the ribbon, giving it a half twist in the center and flip the box.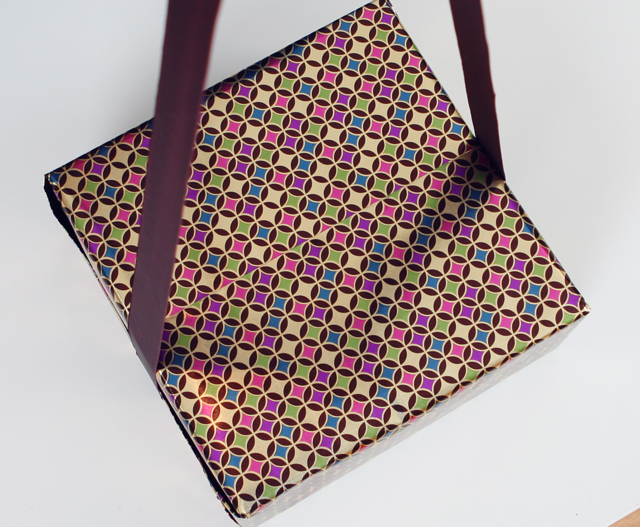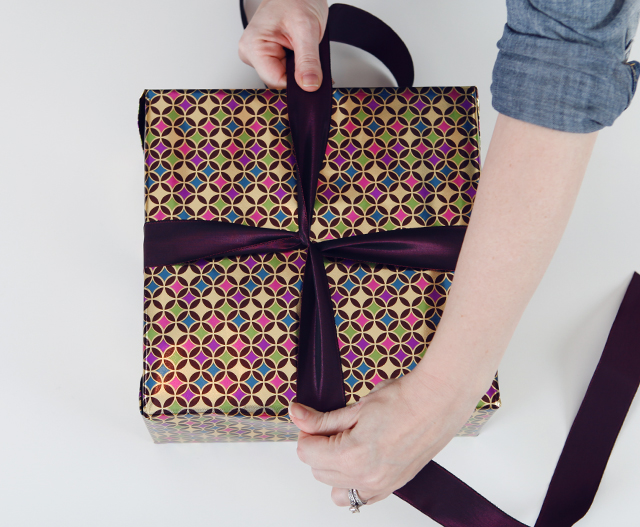 Tie the ribbon in the center. Believe it or not, that was the hardest part.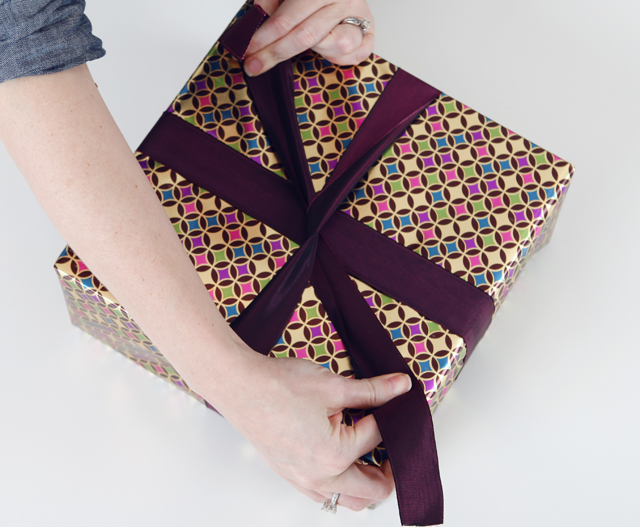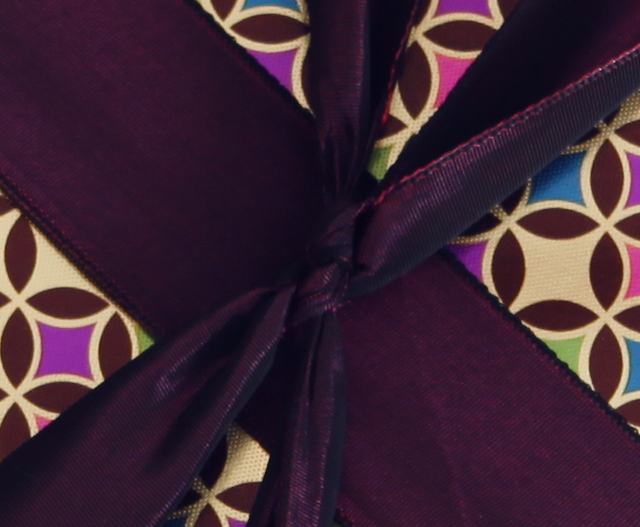 Take s separate piece of ribbon, mine here is 5′ long and start to fold it over on itself like so.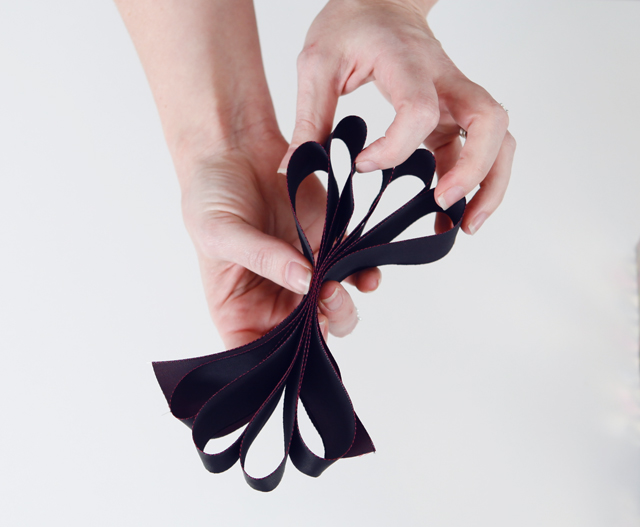 Remember that clear metallic wire ribbon, yea, you need a bit of that right now.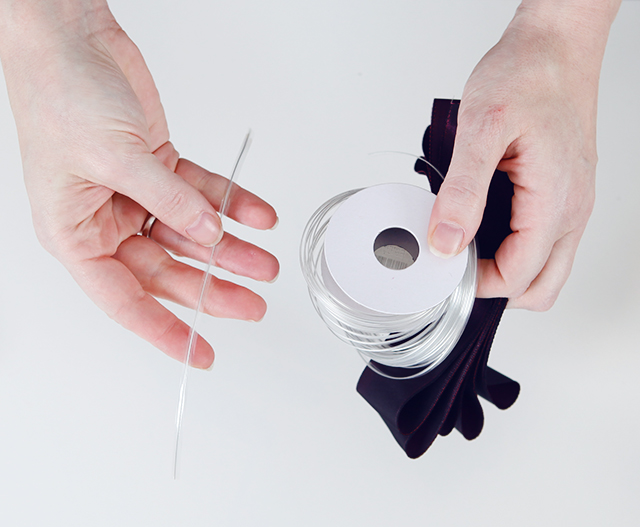 Cut a small triangle on either side in the middle. Mine is a bit off, but that's okay. No one will ever know. Just don't get the 2 end points too close or your ribbon will fall apart. No one wants a sad face.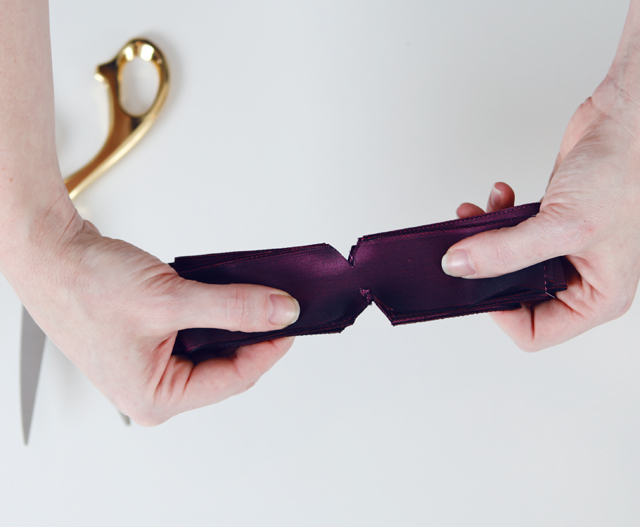 Take the clear wiring and twist tie at the triangles.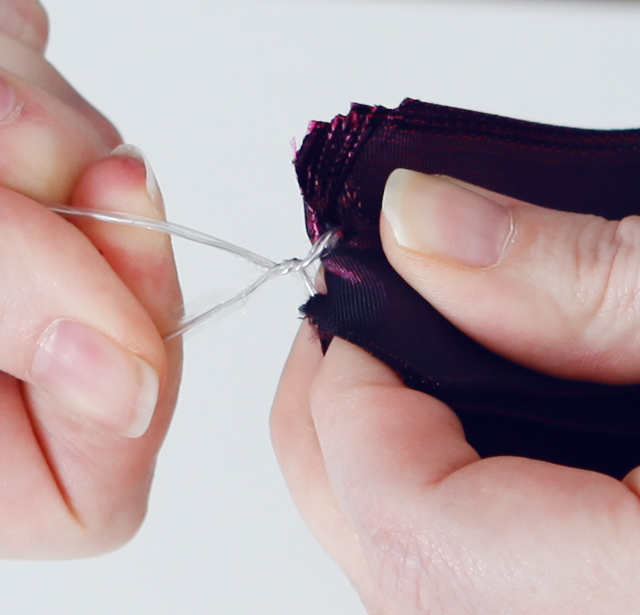 Ugh, I really need a manicure! Anyhoo, now comes the fun part. I made a little animation to kinda help you see how to fluff your bow.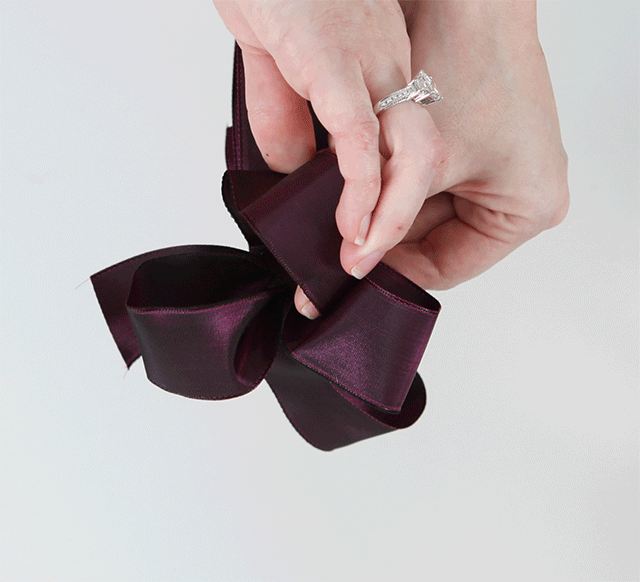 I'm basically pulling on a loop and giving it a good half a twist puling it towards me. Repeat with each loop. I like to start with the inner most loop on one side and work my way to the outside loop. Then switching sides, repeat.
Take the ends of the wiring and secure it to your package.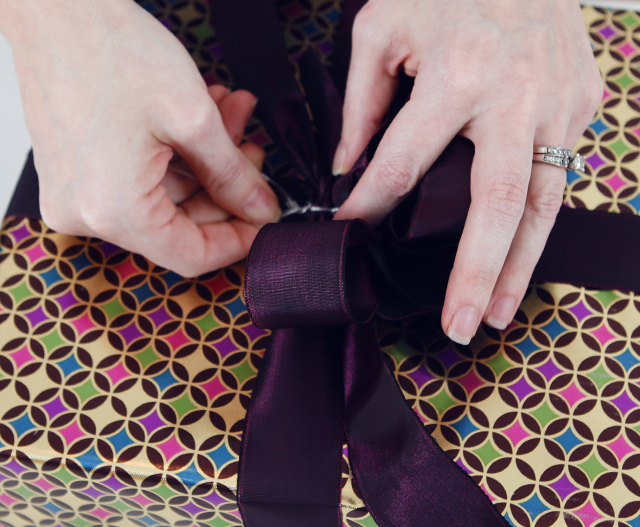 Refluff your bow cuz you just crushed it a bit. And kind of mold and shape it.
Angle cut the ends like so to give it the finishing touches.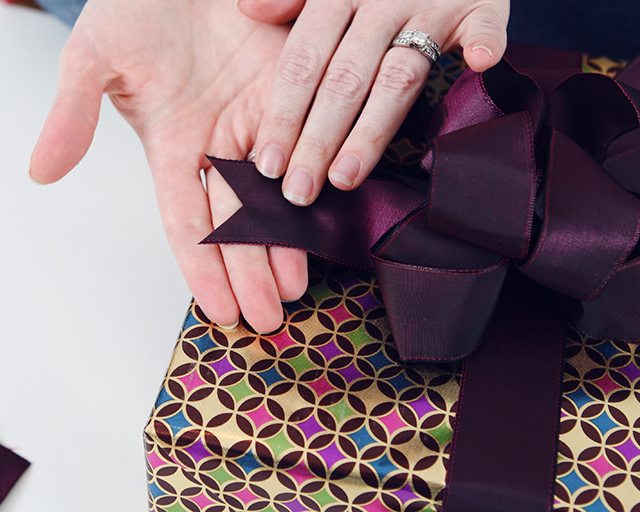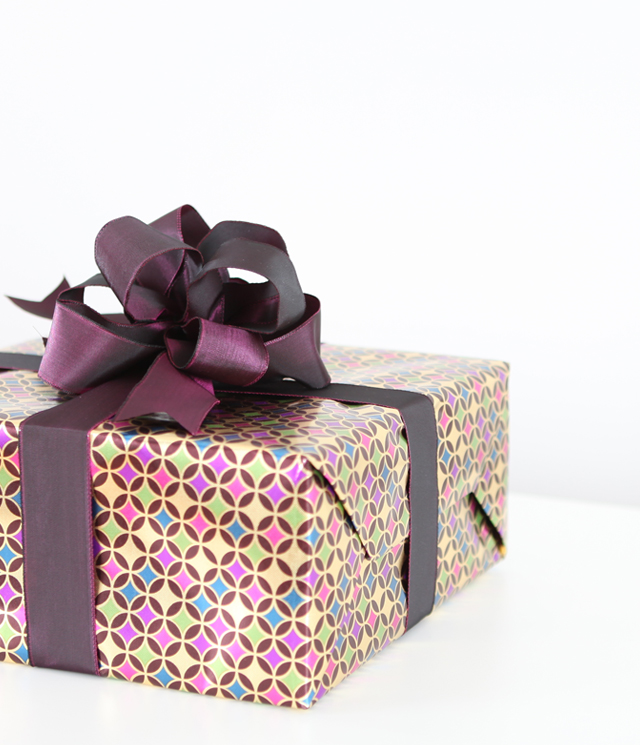 And there you have it young padawan! A Pinterest perfect gift complete with a DIY Easy Pom Pom Bow that looks pretty flippin' amazing! You guys have an excellent weekend. I'll be here Saturday night for our Found & Foraged Linky Party extravaganza at 8PM CT.
Linking up with Fry Sauce and Grits Brepurposed Pink When