Mid-Century Modern Mix & Match Style Challenge with Chairish
Last Updated on August 25, 2023
Mid-Century Modern. It's everywhere you look these days. Mad Men, The Daily Show, even the April issue of Elle Décor predominantly features Mid-Century Modern furniture. Knoll, Thonet, Jens Risom, Bertoia, Saarinen, and I'm sure most of you know Eames just to name a few. Classic designers inspired by clean lines. All from the 1950s, and in vogue now. But how do you get your hands on these gems? Well, I used to spend hours upon hours scouring Craigslist, eBay, flea markets, and estate sales. More often than not, it was a bust. Nowadays, the answer for me is Chairish. They make it fun and easy to buy vintage furniture, and gloriously curated.
As you already know, I'm a huge Chairish Instagram Sale fan, recently they asked me to participate in their Mix & Match Style Challenge. I danced with glee jumped at the opportunity. A chance to shop Chairish and create an inspirational Mid-Century Modern space that I would be dreaming about for years to come? Ummm, challenge accepted!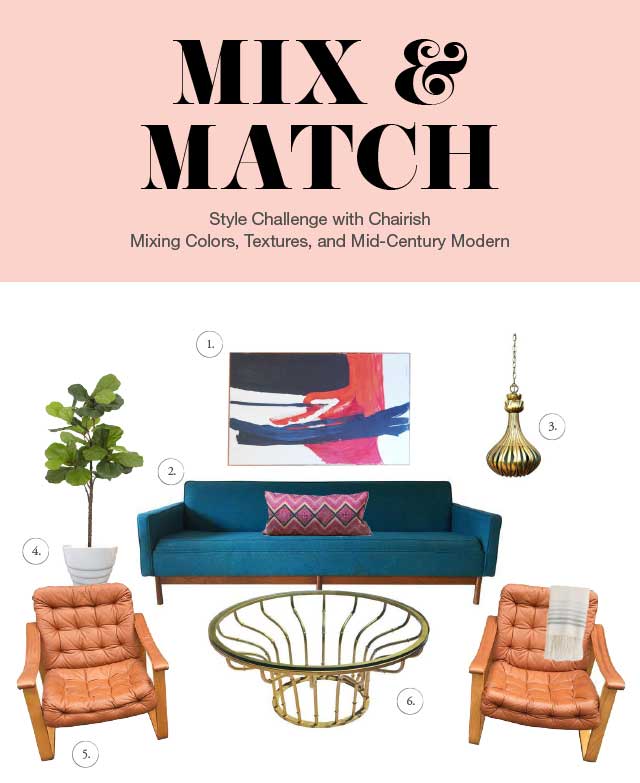 Can we just take a moment to admire this modern sofa. It's insanely gorgeous and only a 1-hour drive from my home. I wouldn't even have to pay for delivery (which Chairish coordinates for you if needed…how awesome is that?). But where to put it. Maybe The Boy will let me put an addition on the house? OK, OK, let's get on with it already.
I thought this style challenge would be easy peasy. I mean every piece at Chairish is killer, right? Right. And that was my problem. Looking through their Mid-Century Modern furniture, I could design a thousand rooms. Narrowing everything down was so difficult. I started with the coffee table. A different piece for me, but this was a challenge. I chose a big, round, brass coffee table. Normally I go for rectangular and wood, but we are thinking out of the box here people.
I was immediately drawn to these safari-style leather chairs that look like they feel like butter. If I bought them, I would pet them every day. They were a go. And how cute is that pendant lamp!?!? I picture it hanging in a corner over a wooden side table. Clutch the pearls. I'm in MCM heaven.
Finding unique artwork above the sofa was a bit more challenging. I knew I wanted something abstract, but my love affair with pink made my search a bit more specific. This piece is actually supposed to be hung vertically, but I liked it better horizontal. My room, my rules.
The next click of the mouse led me to this perfect little white mid-century planter. Add in a faux fiddle fig tree for height to balance out the pendant and the space is looking crazy good.
Technically, my style challenge was complete, but I was having WAY too much fun, so I added in a few more pieces.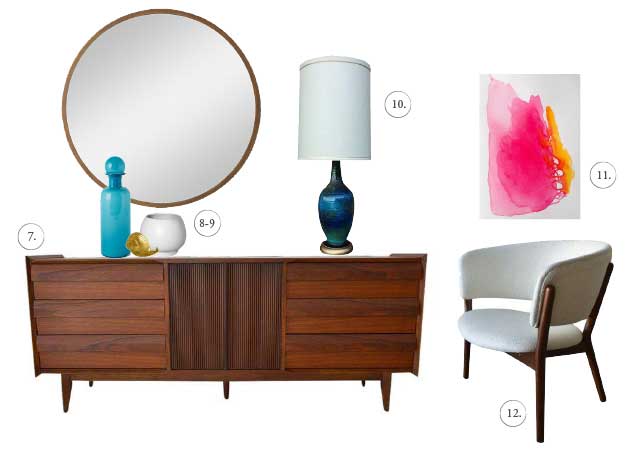 So I have to say this because it's really important. While designing a room, one has to walk a fine line of mid-century modern sophisticated and kitsch. Kitsch is super cute, and I love it. But push it too far and you wind up living on the set of The Brady Bunch. Not that there's anything wrong with that. And suddenly I'm screaming, "Oh my nose!" and "Mom always said never play ball in the house." I digress. Anyhoo, I had a purpose behind this statement. I paired the vintage pieces with modern touches. The pink pillow is from Amber Interiors, the mirror from Restoration Hardware and the throw is from The Citizenry. By adding these touches into the room, I've brought my space out of the 1950s and into 2015.
The dresser is my foundation, and I brought the color of the navy sofa over to the other side of the space with the vase (West Elm) and lamp. The miniature brass snail and vintage white vessel make a nice trio and balance everything out. I added a small white accent chair and another splash of pink with the abstract painting. And that is my Mid-Century Modern Mix & Match Style Challenge with Chairish. What do you guys think? I know I'm ready to move in!