Wild By Cheryl Strayed Book Review
Last Updated on December 8, 2022
So, first thing's first you guys. I have to apologize; this book club discussion page is way overdue. Summer just kinda got away from me, but we are back at it. Pinky swear. If I didn't lose you, the HOH Book Club was last reading Wild by Cheryl Strayed – BUY THE BOOK HERE. A powerful and honest memoir about a young woman on her solo hike of the Pacific Coast Trail (PCT). A woman reeling from catastrophe. Pretty much broken and scattered.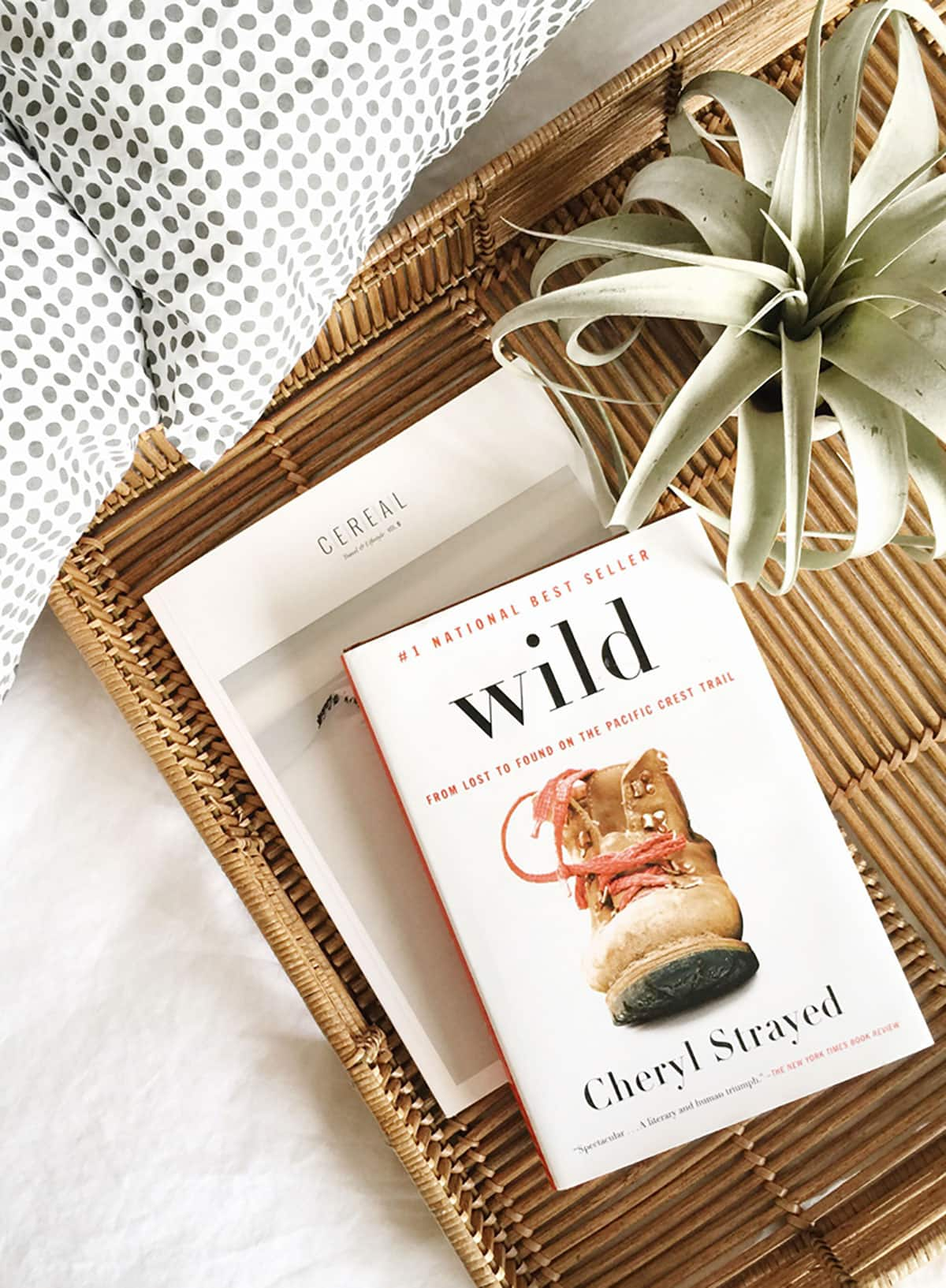 Wild By Cheryl Strayed Book Review
Now, I'm not a hiker, but despite the rattlesnakes, bears, blisters, and horrendous weather conditions, this book made me want to hike the PCT. If anyone who knows me just read that sentence, I'll have you know they are rolling on the floor belly laughing. They know I cringe at nature, bugs, and critters. The last time I was in nature, I said, "I have bugs in my hair and poop on my shoes. I'm walking back to Oma's house to have cake". Needless to say, I wouldn't have lasted a mile into this trek. So that statement in itself should let you know how powerful this book is. To travel the Mojave Desert through California to Washington State and to do it alone, especially as a woman (please don't slam me for that), is absolutely incredible.
Some have compared Wild by Cheryl Strayed to Into Thin Air by Jon Krakauer, and I'm not sure I can go that far. Was it enjoyable? Certainly. But I did a really dumb thing, and maybe this ruined any and all expectations. Three-quarters of the way in, I traveled to Germany…a grueling 9-1/2 hour flight. Yep, you guessed it, I watched the movie. And it was good. Did it blow me away? Nope. Did Reese Witherspoon bring to the big screen what I interpreted? Nope. Was I bummed moving parts of the book were not included? Yup. And to be quite honest, what kept me reading was the anticipation of, "will she get eaten by a bear?" Spoiler alert. No, she does not. But then again, it would be difficult to write a memoir if you had been eaten by a bear. Reviewers have said Wild brought them to tears. Call me cold, but I don't understand this. Yes, her hike was powerful, and she was brutally honest. Between her father's abuse, step-father's abandonment, mother's death, heroin addiction, divorce, pregnancy, and broken relationship with her siblings, her story is heartbreaking, but that emotion never brought me to tears.
I felt as if she portrayed the story of her past as a "this is life" attitude. For me, it was never overly dramatic as depicted in the movie trailer. I felt the book was more matter of fact. Her divorce is a great example of this. I felt it was more blasé than heartbreaking. It was almost as if she said, yep, I cheated on my husband multiple times with multiple men and never felt any remorse nor was I ashamed. When her divorce was finalized, she met some dude in Portland and got hooked on heroin. Whoopsies. And I get it…kinda…I mean not in a cheating on your husband and becoming a drug addict way. When my sister died, I fell into a deep depression and have never been the same person I was. I'm more standoffish than I was 9 years ago. Less trusting. More emotionally detached from the world. Colder.
Why do you think the Pacific Coast Trail captured Cheryl's imagination the way it did? She embarked on this journey completely unprepared. Maybe it was that she still was at the young age of, "I'm invincible". I know I would have tried out the stove and put up the tent and broke in a pair of hiking boots prior to a 1,100 mile journey into the wilderness. It's ludicrous. Just sayin'. I can't wrap my head around someone seeing a book in the checkout line, only to later buy it and drop everything to hike. Was that the reason? The fact that she had nothing else to lose because she had already lost herself?
She never reveals her birth name. During her divorce, she realizes she cannot live with a hyphenated name, "nor could I go back to having the name I had had in high school and be the girl I used to be. . . . I pondered the question of my last name, mentally scanning words that sounded good with Cheryl. . . . Nothing fit until one day when the word strayed came into my mind. Immediately I looked it up in the dictionary and knew it was mine." "Strayed: to wander from the proper path, to deviate from the direct course, to be lost, to become wild, to be without a mother or father, to be without a home, to move about aimlessly in search of something, to diverge or digress." What do you guys think about the choice of her last name?
Before I sign off to read your comments below, I'd love to know how you felt about Monster. A character in itself. A character I missed in the movie although it probably would have been perceived as a rip-off of Wilson from Castaway. And she never really spoke to Monster…only referenced. But the backpack definitely represented her load both physically and mentally. In the beginning she stagers against its weight, but during the trek, friends on the trail help lighten her load. By the end, the load is still there, but the burden is not. She has become stronger in every sense of the word.
So now it's your turn. What did you think of the journey? What surprised you the most? I can't wait to read your comments below. I encourage this to be a discussion, if you reply to another reader's comment, they should receive an email prompting a response. I will be responding as well.
The next book was chosen by a blog follower, and what I've been hearing is that it is a nice easy beach read. Cheers to that, I think we all deserve it. The Vacationers by Emma Straub. A story about a family on vacation to Majorca that doesn't go as planned. I'm only a chapter in, but so far, I like it.
HOH Book Club Reviews
Book club is discussing All The Light We Cannot See and I'm sharing all the reasons why I hated this book with every fiber of my being.
Let's review the book Girl On The Train. As a daily train commuter into Chicago, I could totally relate to this book because you do see into the same people's home every single day.
Yes Please by Amy Poehler book review. This one fell a bit flat for me, but I would love to here your thoughts.
If you're looking for the best interior design books or looking to give a decorating book as a gift for the holidays. Don't miss that roundup, and be sure to book mark that post because I'm always updating it with my favorites.
If you're looking for the best book to read from booktok, you've hit the jackpot. I've shared a list of my top books that you must read and are perfect for your next vacation.