The Girl On The Train Book Review
Last Updated on December 8, 2022
So we're almost halfway through March, and quite a few of you…including myself…have finished The Girl On The Train by Paula Hawkins. All the reviews I read had compared it to Gone Girl, so I was thrilled to be reading this month's book picked by Ashley from Bigger Than The Three Of Us and Thalita from The Learner Observer, and my co-worker Mary Kate. This book is narrated by three different women, which can sometimes make for a difficult read, but in this case, was well done. It just took some getting used to. The only thing I found myself paging back to were the dates. Confused initially, I didn't realize Megan's dates were completely different from Rachel's. I was also suddenly taken aback when Anna jumped into the mix a quarter of the way in. I thought I had missed the boat and had to double back to make sure. I mean, I do read in bed, half-asleep, so ya never know.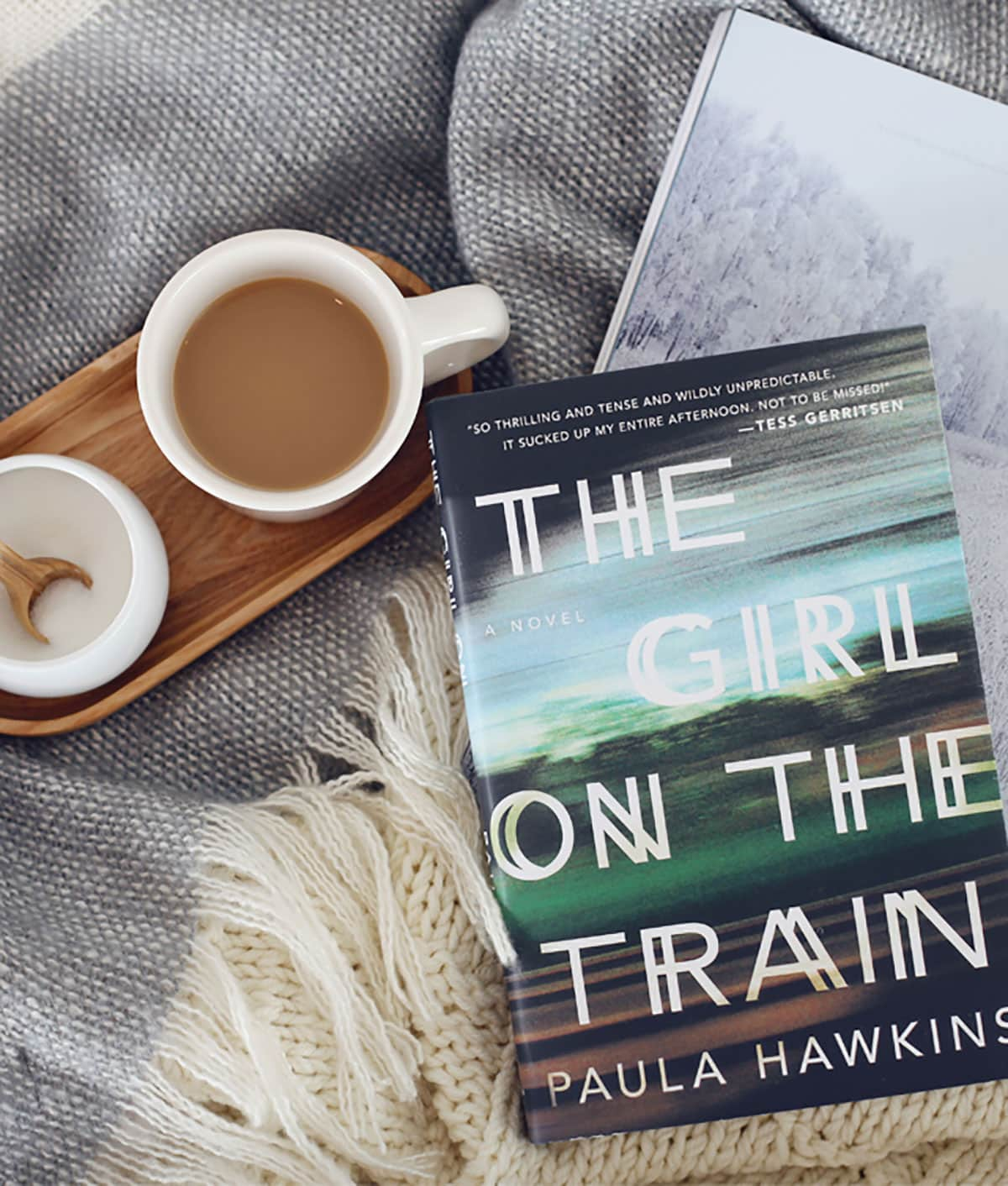 This book, for me, was completely relatable, to a degree that is (not in the murderous way). I take a daily commuter train to and from Chicago and have done so for years. I sit in the same train car every day, in the same seat. By a window. I've seen kids grow up, people move, celebrations, the same people having breakfast, drinking their morning coffee…for years, I watched a homeless couple who lived on the old warehouse dock. I'd watch them sleep, wake…watch me watching them. Suddenly, one day, they disappeared. I never saw them again.
Whether we care to admit it or not, we all participate in voyeurism. Watch daily life happen around us. Observe. I don't think Rachel's voyeuristic ways are all that unusual. However, I do think she took curiosity to an extreme. Obviously. She actually interjected herself into lives that did not belong to her. But, in a weird way, you do become attached to these strangers. Like the homeless couple, I mentioned above. Even after all these years, I sometimes wonder what happened to them.
A couple of times I was super annoyed with Rachel. I understood how Tom and Anna felt. At first, I was angry with Paula Hawkins for making Rachel behave like a lunatic. Like when she went to see Abdic, I was like, seriously, good grief, who does this!?!? It was absurd. One night, disgusted, I snapped the book shut, placed it on the nightstand, rolled my eyes, and turned off the light. Laying there in the dark, I realized this is how the other characters perceive Rachel. Cathy her flatmate, Anna, Tom, her co-workers, were all frustrated with Rachel. Paula Hawkins, you are a genius! Did you guys feel like this? Were you as annoyed with Rachel as I was? I just wanted to be done with her.
There's a lot of lying in this book. Everyone is lying to everyone else. Secrets kept from loved ones. From friends. I personally don't think it's justifiable to lie. It hurts way worse when the truth comes out…and it always comes out…eventually. What about the lies that the characters tell themselves? I'm not going to have another drink. I'm a good person. I'm a good mother. I'm a happy wife. I'm in a happy marriage. I am a caring husband. I want to be a mother.
With all the lying, I started to question the trust. Who trusted whom? Anna trusted Tom. Scott trusted Rachel. Rachel trusted Tom. Megan trusted Kamal Abdic. And yet, in the end, they all rejected each other. Well, I take that back. Rachel trusted herself. Not at first, but deep down, she knew something wasn't right. Everyone, including Rachel, had different assumptions about her character. A drunk, an unreliable source, a lunatic, a stalker, a wife, a trusted friend, a lover. Did your assumptions change for her throughout the book? Have you finished? What surprised you the most? I can't wait to read your comments below. I encourage this to be a book club discussion, if you reply to another reader's comment, they should receive an email prompting a response. I will be responding as well.
Next Month's Book Review
Next up, we will be reviewing All The Light We Cannot See. From what I've read about this particular book is that you have to commit yourself to it, but it's apparently life-changing. I'm going to shoot to have the discussion page up on Wednesday, April 22nd. Do not feel pressured to complete the book by that date. Remember this is a no-pressure, no-obligation book club. The page will always be up for you to discuss. Also, you can always find the latest book image and a link to the latest book club discussion in the sidebar to the right. Be sure to check out more book reviews and discussions.
Read More Book Recommendations
If you're looking for the best interior design books or looking to give a decorating book as a gift for the holidays. Don't miss that roundup, and be sure to bookmark that post because I'm always updating it with my favorites.
If you're looking for the best book to read from booktok, you've hit the jackpot. I've shared a list of my top books you must read that are perfect for your next vacation.